Our second day in Paris ended up being fun, but it was supposed to be a day spent in Normandy. We more or less cut out Prague from the original idea of this trip and decided to stay three nights in each city, which in turn would allow us to do a full day trip to Normandy. And then a rail strike hit and pretty much all train services were interrupted, thus canceling our means in getting to Normandy.
Arc de Triomphe
With the open day, we decided to go back to the Arc de Triomphe and go up this time. (Yesterday we only walked around outside.) We bought tickets head of time, saving us from standing in one line. We went shortly after opening and climbed the 284 stairs to the terrace. (Note: Nik has participated in the Hustle up the Hancock two years in a row, and that's 90+ flights of stairs. I was pooped half way up to the Arc's terrace!) The day was a little hazy, but we still enjoyed some nice views:
Sacré-Cœur
From there we went to the Sacré-Cœur, a popular Paris landmark. The exterior is absolutely beautiful. (I'm a sucker for architecture, as you're probably catching on to by now.) They had a pretty efficient way of having people walk through the church, keeping everyone moving along. There were signs that said no photography, but when I saw others breaking that rule, I did too. Once outside, the hazy sky again limited the views of the city, but we still enjoyed the stop.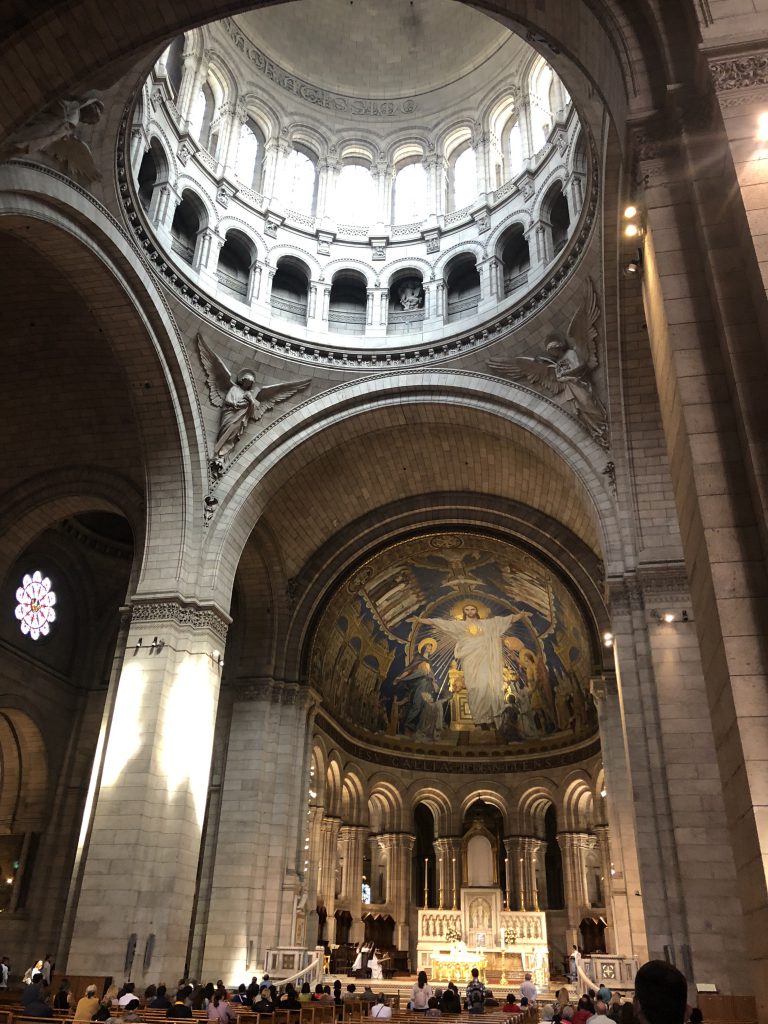 Paname Brewing
Next was a little bite to eat and some beers at what we think is Paris' only brewery, Paname Brewing, located on one of the canals. By the time we got there, the sun had come out a little more so we got to enjoy the outdoor seating on the water. We really liked the brewery and probably would've stayed longer if they weren't out of about half their beers. So we crossed the street to a German bar for a beer before setting off to the Marche des Enfants Rouges, a covered market with a long history. (Click here to read about it.) We got seats at a little wine bar and enjoyed some lite bites.
We ended the day by catching a little of the sunset near the Arc de Triomphe followed by a casual dinner.