This trip to Europe was an idea of ours for a couple years and this past fall we finally decided to just do it. It was Nik's idea to splurge for American Airlines Business Class seats.
The Airport Lounge
The tickets came with access to American Airlines' new Flagship Lounge at O'Hare. We made a point to get to the airport early…who are we kidding, I'm always early for flights…so we could check out the lounge. All the food and drink you could possibly want was available and for free. I'm talking a complete bar that you pour the booze yourself, a variety of hot and cold food items, desserts and other snacks and a well stocked cooler of beer and nonalcoholic beverages as well.
The flight itself was pretty comfortable. Nik researched the seating layout ahead of time and read that for two people traveling together, seats across from each other were the way to go. Especially if one of the people didn't want to face backwards. (Raises hand.)
The Food in Business Class
Once boarded we were given a glass of champagne while the rest of the plane filled up. Shortly after takeoff, dinner service started with a beverage and some nuts to snack on. Then came a small plate of cantaloupe and a spinach/arugala salad, followed by the entree and dessert. We pre-selected our dinner meal, both of us going with the filet, which was good for being on an airplane. After a little "sleep" it was time for breakfast. I went with the omelette and Nik went with the fruit bowl.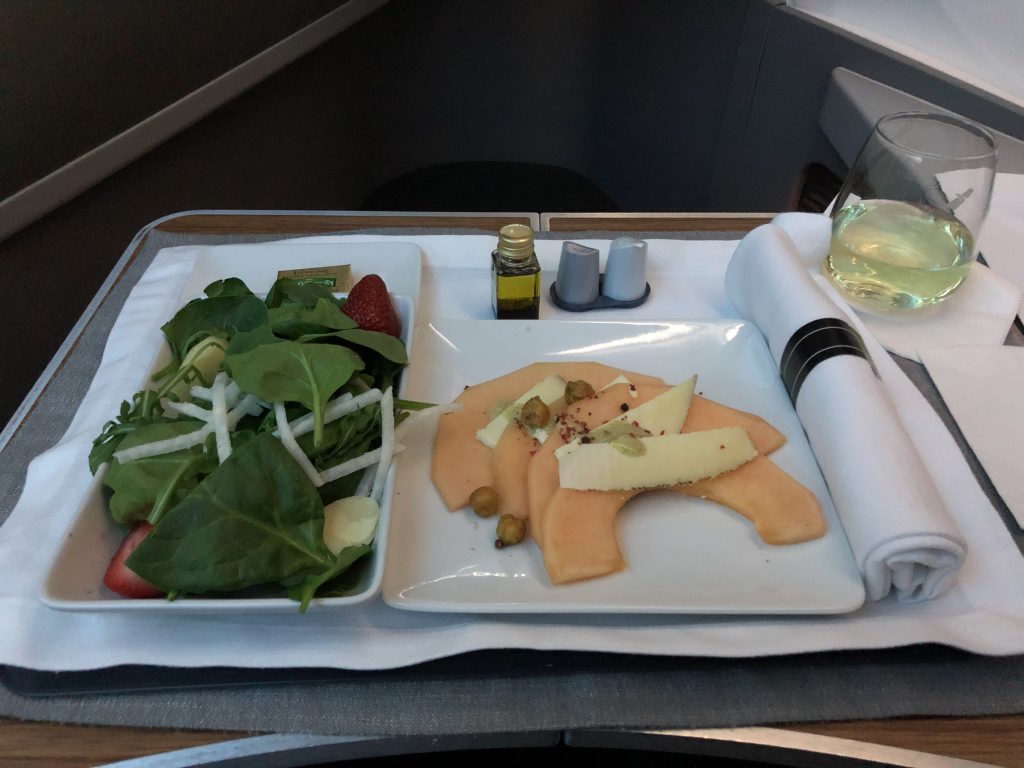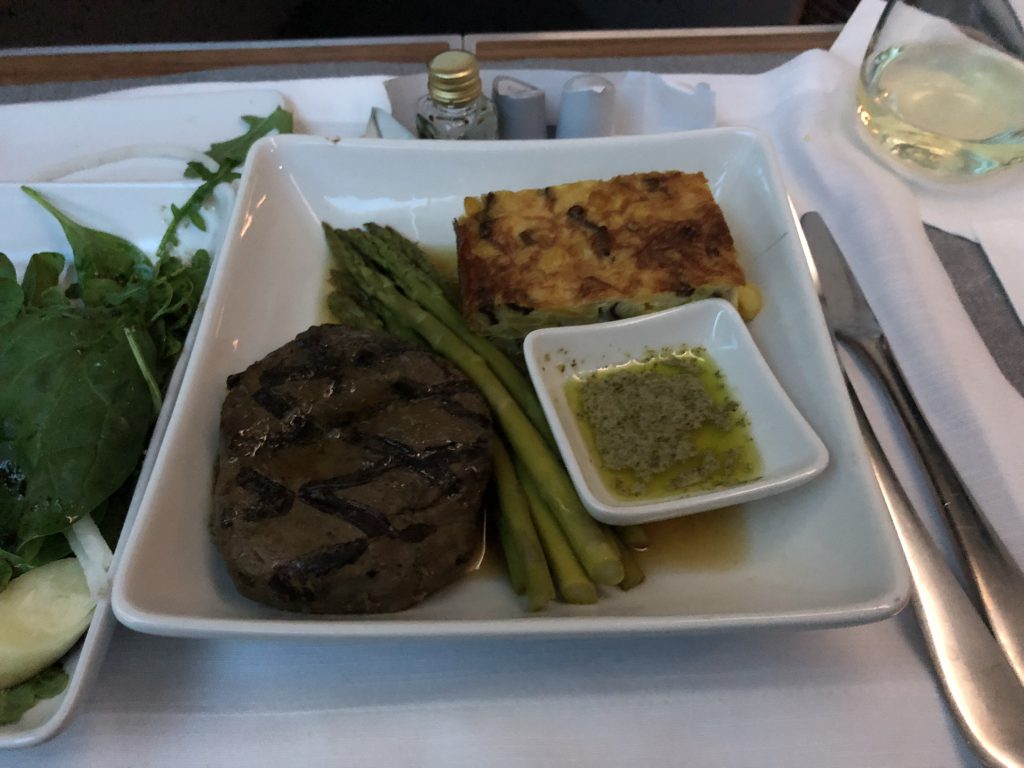 We might not have slept the best because you're still laying flat on a plane, but the pods were otherwise great. We had our own TV, which had some pretty good movie options. I could feel a little turbulence here and there, but nothing too bad. I think the larger plane makes a difference in not noticing as many bumps along the way. Overall, we liked the American Airlines Business Class experience quite a bit and would definitely fly it again if the opportunity arises in the future.
We landed at Charles de Gaulle Airport in Paris around 10am local time. We were given a fast pass through Customs and that was a breeze. Our luggage came pretty quickly too and then it was off to the hotel via the metro. At check-in, because of Nik's Marriott status, we got a few treats brought to our room: a basket of madeleines and a few macarons.
After a shower and quick snooze we were off to explore the city.