On our last day in Barcelona (Wednesday) we slept in a little bit and then headed to Granja M. Viader for a hangover breakfast of a grilled cheese, churros and cokes. I'm not sure how we had this place on our list but it's one of the oldest places in the city. The grilled cheese hit the spot and the churros were ok. I wish we had time for more churros around the city.
With full bellies, we took a taxi to La Sagrada Familia, Gaudi's unfinished Cathedral. We opted not to go in and just walk around. The place is giant and pretty gaudy. (See what I did there?) It's an interesting work of architecture and Nik just doesn't understand how it's not completed yet.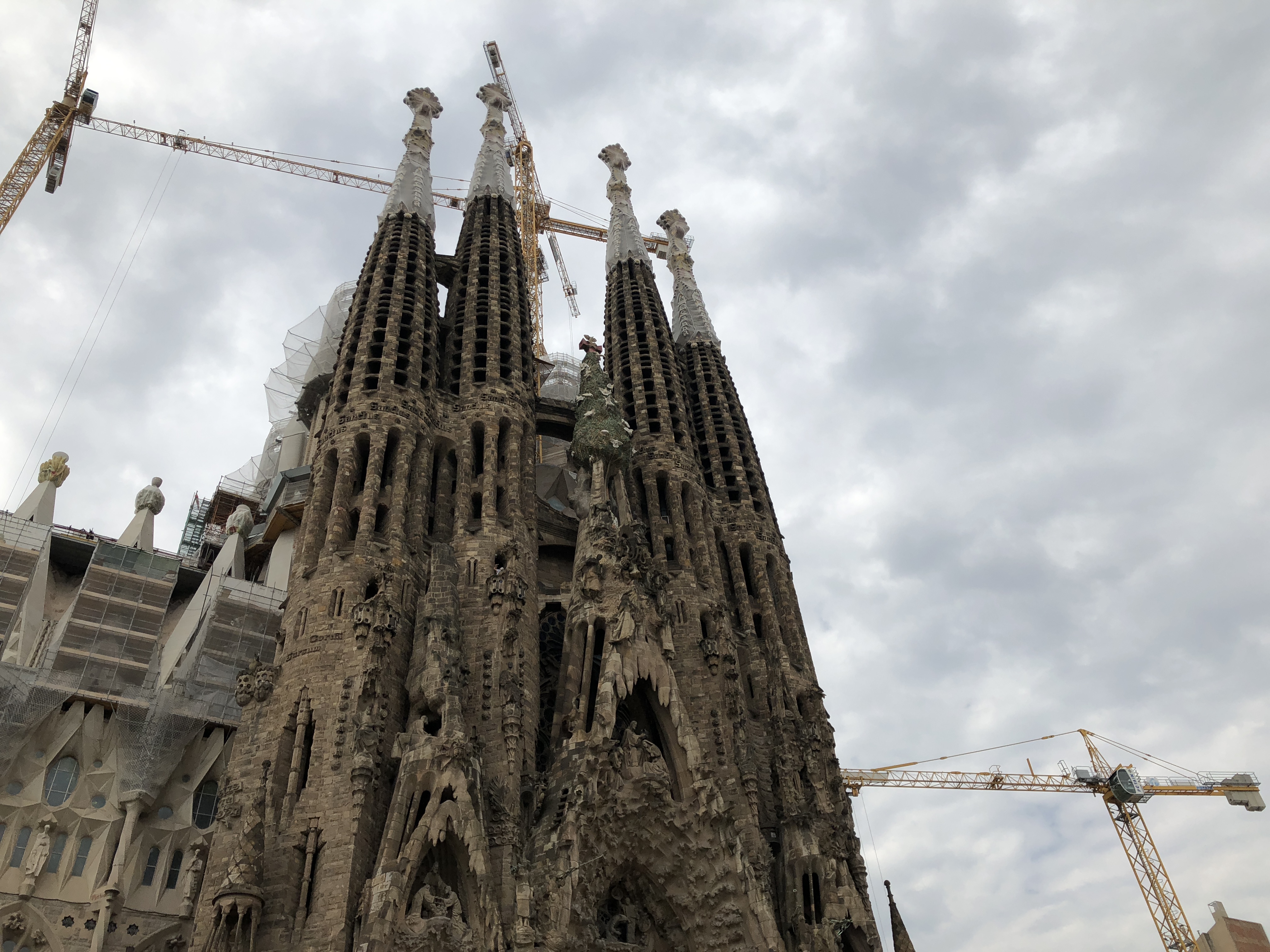 From there we walked to the Arc de Triomf, built for Barcelona's 1888 World Fair and which leads into Ciutadella Park. It was a beautiful day, so we enjoyed walking around the area before heading to Montjuïc via cable car.
On Montjuïc Mountain is Montjuïc Castle, a former fort that dates back to the 1600s. We did not go inside, but just walking around the exterior, you could get an idea at how it defended Barcelona over the years. The roundtrip cable car ride provided really great views of the city, even if it was a little hazy:
Once back at the bottom of the mountain, we walked to La Boqueria to pick up an afternoon snack and then relax at the hotel pool before starting the rest of our night.
Cerveceria el Vaso de oro
Our last meal in Barcelona was at Cerveceria el Vaso de oro which was on recommendation as a place to get a good beer and tapas which did not disappoint.  The place was slam packed around 9pm but we managed to get a couple stools at a small table in the back.  The beer of choice was Tradition Barcelona Common Beer by Cerveza Fort which was served in large and small flutes.  For food we went with the spicy sausage and strip steak which were both up there with anything we've eaten so far on the trip.  One of the highlights of the trip by far.
With that, we headed back to the hotel, got ready for an early morning flight to Menorca, as we're officially in the homestretch of the trip.