Stop two along our Christmas Market trip was in Salzburg, Austria for a one night stay and a chance to do a little exploring in the city. The Munich train station was pretty bland and could use more signage. Luckily we had no issues finding our train and snacked on a couple pretzels as we rode along.
We stayed at the Wyndham Grand Salzburg Conference Centre which was conveniently located to the train station, but that's about all it was good for. The front desk service could've been better and the room amenities were practically non-existent.  They did have a vending machine with glass bottles of beverages, which the bottom of was riddled with broken glass.
Christmas Markets in Salzburg
Since we were only staying one night, we identified two Christmas markets in Salzburg that we planned to visit. The Schloss Mirabell Market and the main Christkindlmarkt at the Dom and Residenzplatz. The cold weather and constant flurry of snow added to the experience.
Schloss Mirabell Market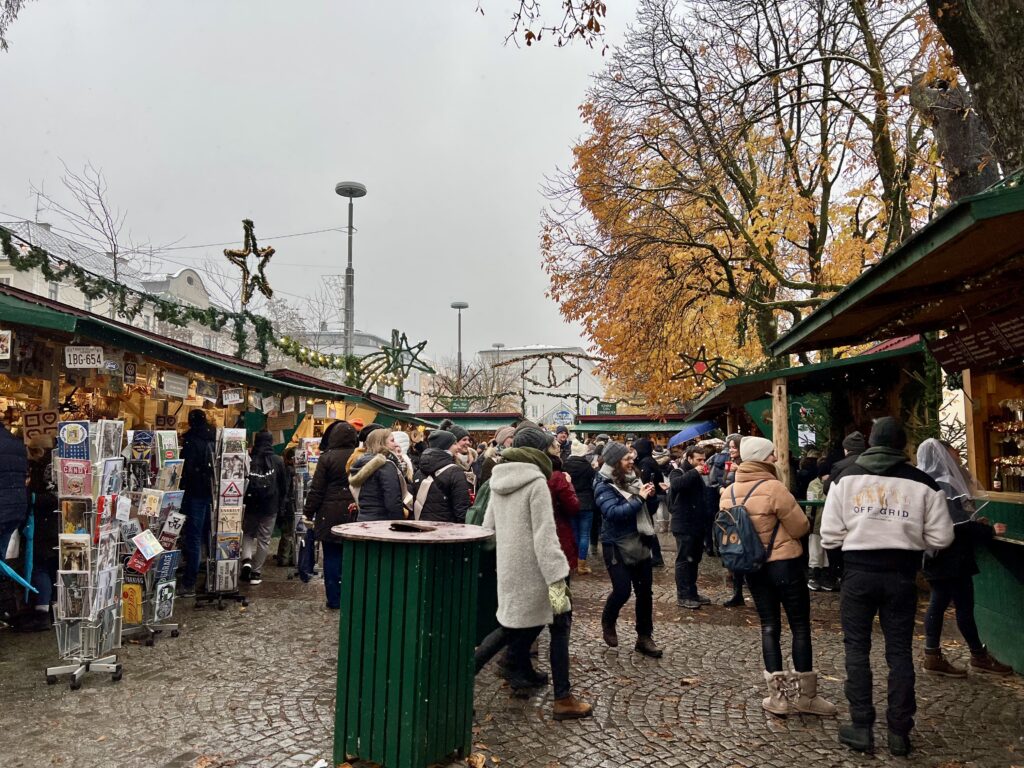 Roughly a 15 minute walk from our hotel was the Schloss Mirabell Market in front of Mirabell Palace. It's a smaller market with not a lot of crowding. It had a good variety of food and hot drinks to enjoy. Much like the markets we saw in Munich, plenty of vendors selling holiday items and things of the sort.
It was hard to sense if the area had a wow factor. Not sure if it was the flurries, the cold or location, but we didn't stay long, just enough time to pass through and snap a few pictures.
Salzburg Christkindlmarkt
We continued walking towards Salzburg's main Christkindlmarkt at the Dom (Salzburg Cathedral) and Residenzplatz Square. We walked through some cute narrow streets and passed a few Stumble Stones (more on them below.)
This market had the wow factor I was looking for. It's situated at the beautiful Salzburg Cathedral and the Residenzplatz square. The main area of the market was set up in a circular layout. Most shopping vendors along the outer ring and food vendors in the inner area.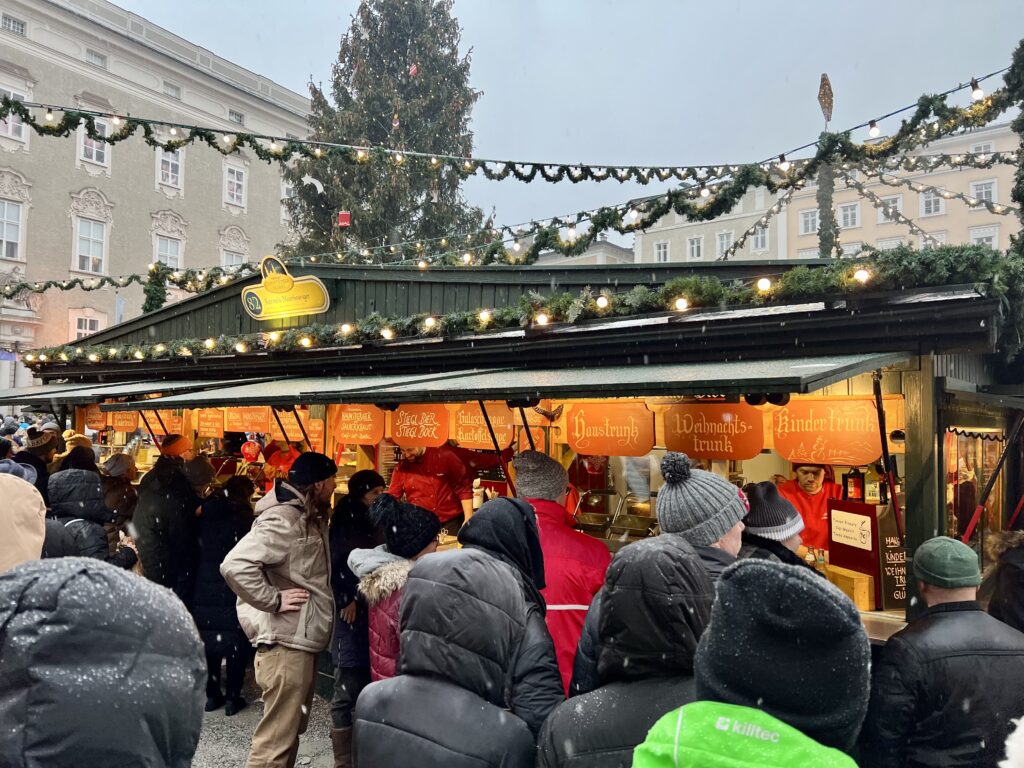 We enjoyed a bowl of goulash – perfect for the cold weather, and Bauernkrapfen – a fried dough pastry topped with cheese. Sauerkraut is another topping available  but we passed on it.
Walking around the exterior of the cathedral led you to more rows of vendors and a view up to the Fortress Hohensalzburg, one of the largest medieval castles in Europe. Due to the flurries and overcast weather, it was hard to see the full scale of the fortress, but you could get an idea of its grand size overlooking the city.
Related: Recap of our trip to Munich
Eating and Drinking in Salzburg
Hotel Stein
Looking for something indoors we found the rooftop restaurant at Hotel Stein. We were able to get seats that looked out towards the river and across to the Fortress. You can also see a little of the Salzburg Cathedral.
I would love to see these views on a non-overcast day because I can only imagine how beautiful it would be.
Cocktails at Darwin's
After a drink at Hotel Stein, we went around the corner to Darwin's for a couple cocktails. It was a really cute space with a wide variety of drinks available.
Alchimiste Belge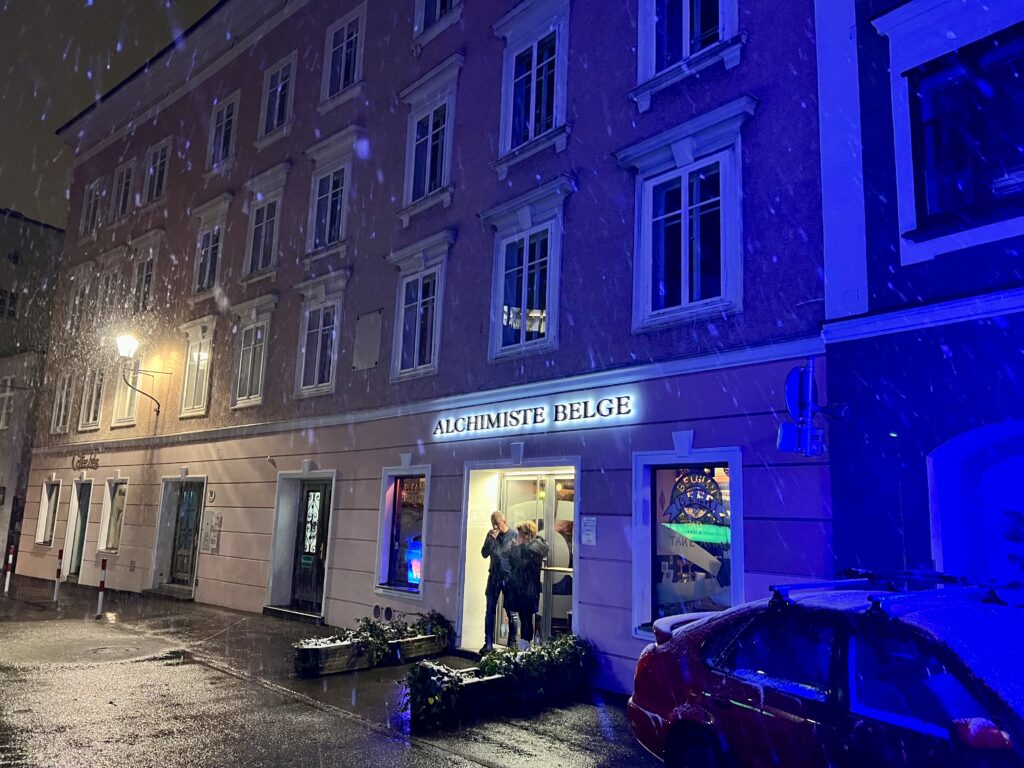 A Google Map search for craft beer led us to Alchimiste Belge, a very short walk from Darwin's. For future reference, it's cash only. Other than that, it was a good spot that focused on Belgium beers. Several drafts but mostly bottles.
Restaurant Stadtkrug
Nik and I are usually pretty good about planning our meals ahead of time, but for some reason we didn't have a plan for Salzburg. Walking around the area by Darwin's we passed Restaurant Stadtkrug, which seemed like it was part of a hotel. At first thought I didn't want to eat a hotel restaurant. Upon closer review, it looked like a very quaint local spot and we were able to snag a table.
As an app, we started with a cheese dumpling soup that was amazing. It was a glorified fried ball of cheese in hot soup and perfect for trying to warm up from being outside. For entrees, we had a weiner schnitzel and a quarter roasted chicken. Nik and I shared and they were both very good.
Despite initial thoughts of a limited menu, we're glad we ate at Restaurant Stadtkrug. The food was delicious and we highly recommend eating there.
Salzburg and World War II
On most of our trips, we either try to mix in something historical or see what we come across. In this case, two sets of very interesting Stumble Stones.
Stumble Stones in Salzburg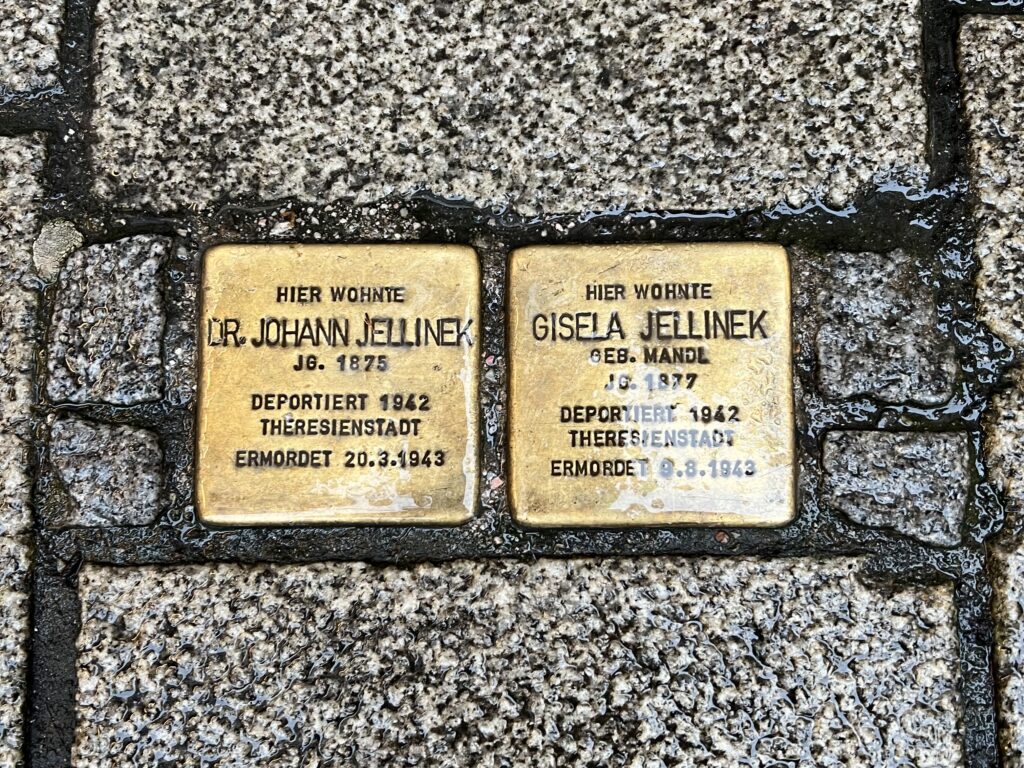 Knowing the history of Salzburg, we were not surprised to come across Stumble Stones. What we were surprised about was the history of a few that we came across.
One set were for Gisela and Dr. Johann Jellinek. Their story is really quite fascinating. Johann studied medicine in Vienna becoming a specialist in skin, urinary, venereal diseases and cosmetics and went on to work in Salzburg out of an office in their home at Dreifaltigkeitsgasse 1 (or Platzl 2.)
They had a son, Kurt, who also studied medicine in Vienna and from 1936 worked as a general practitioner in Salzburg. In 1939, both Jewish doctors closed their practices. Kurt and his wife received visas and affidavits for the USA, and were able to travel to New York via Genoa and then lived in Massachusetts.
Johann and Gisela had to vacate their apartment and practice, eventually making preparations for departure with the next Far East transport in 1941. Unfortunately, they were diverted to Theresienstadt where they would both die. (Johann's death of natural causes, according to the article.)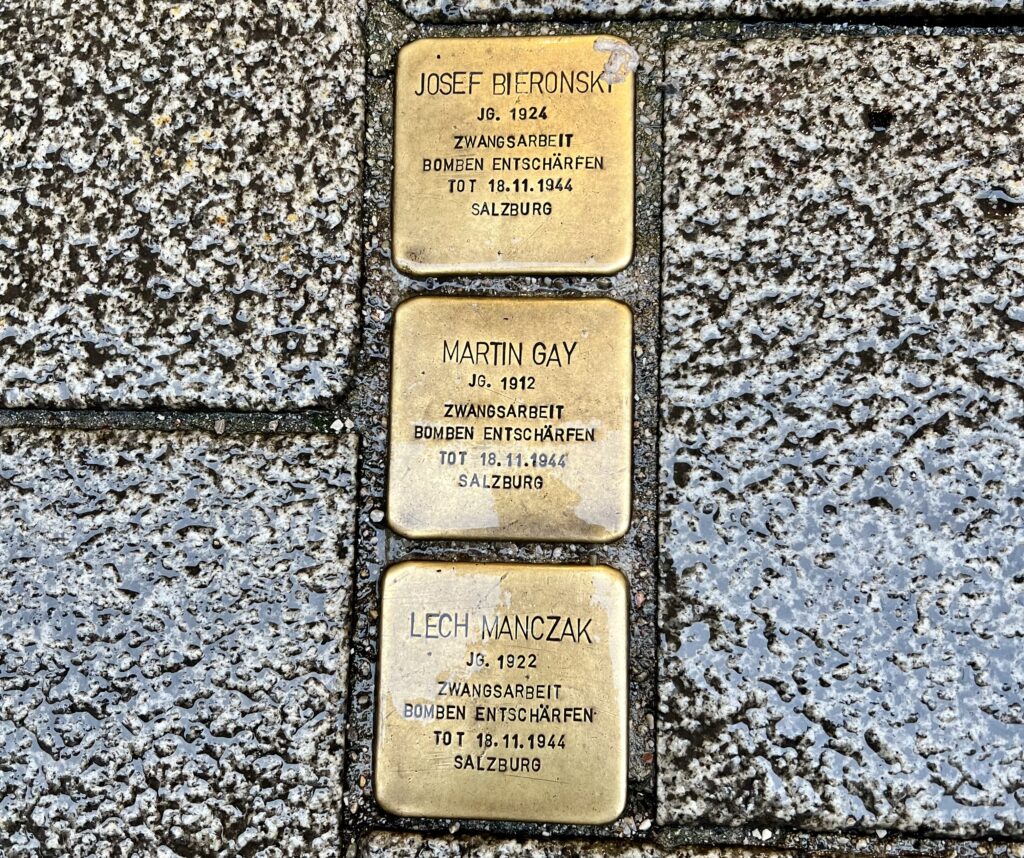 Another set of Stumble Stones that we saw were different than any we had seen before. Under the people's names, the text loosely translates to "Forced Labor, Died Defusing Bombs."
Josef Bieronski, Martin Gay and Lech Manczak were three political prisoners from the Dachau concentration camp who had been assigned to the Salzburg Police sub-camp. They were killed while attempting to defuse a bomb. Much more detailed information on each man in this article.
Staatsbrücke Bridge
We crossed over the Staatsbrücke Bridge going to and from the main Christkindlmarkt. The most prominent bridge in the city, it went through many iterations and the current bridge began construction in 1939, often with the help of slave laborers from Eastern Europe.
This was only recently commemorated by a plate with an inscription pointing out the fate of these Nazi victims. The bridge was completed after the end of the war and opened in 1948.
Salzburg in the First World War
Not to leave the First World War off the list, the first memorial we walked by was to the more than 5,000 soldiers of the Rainer Regiment who died fighting for the Austro-Hungarian Army.  The division was named for Archduke Rainer Ferdinand of Austria who was the sponsor of the regiment until his death before the war.
The inscription reads:
Named After The Glorious Salzburg Upper Austrian Infantry Regiment/Archduke Rainernr 59, created 1682:

In The World War Of 1914 In 1918, Our Country Sons Sealed Their Loyalty With The Blood Of Five Thousand The Fall.
This memorial is outside a museum dedicated to the regiment which inside lists the names of the the missing and dead soldiers from this regiment in the firs tWorld War.
Onto Vienna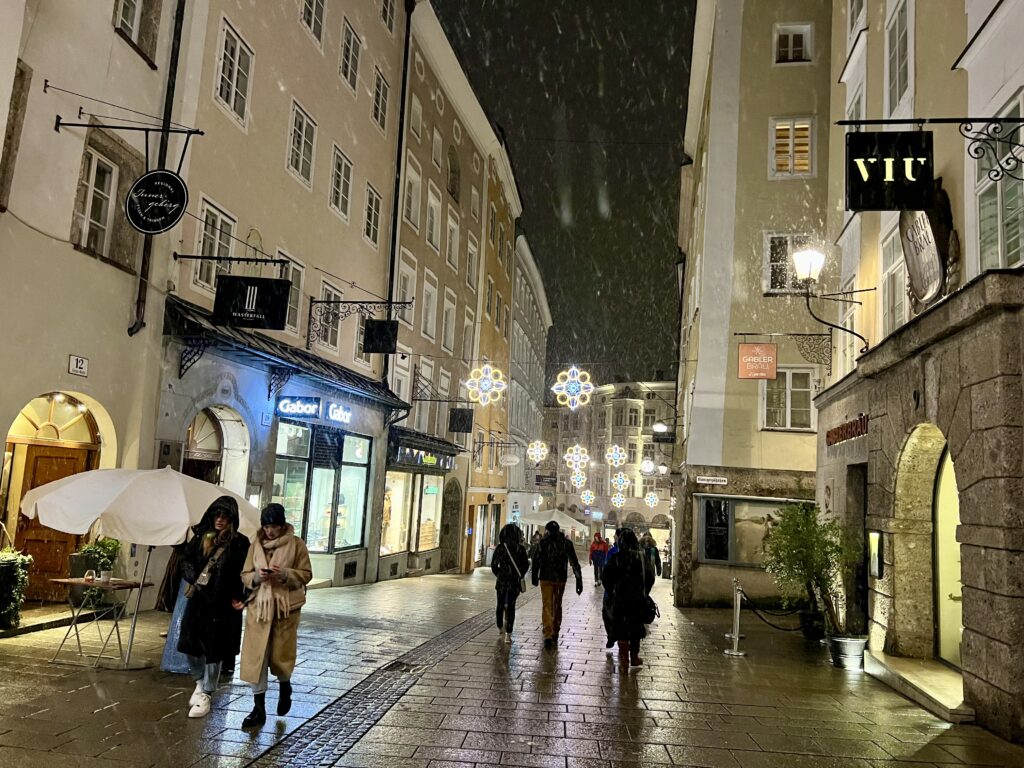 That puts a bow on our one night in Salzburg. I would love to visit the city in the spring or summer for a different experience. That said, we did thoroughly enjoy our quick visit and then headed off to Vienna via train.