To conclude our Christmas Market themed trip, we decided to spend one night in Vienna. It's a city we've been to previously, most recently this past May, but we wanted to experience the winter and holiday season for a change.
Traveling by train from Salzburg to Vienna was pretty easy and even easier to get to our hotel via local tram once we arrived into the city. We stayed at the Vienna Marriott Hotel near the Stadtpark and got to use our last suite night for an upgraded larger room with two bathrooms. Since our flight home wasn't until early evening the next day we had a good amount of time to explore things before flying back to Barcelona.
Vienna Christmas Markets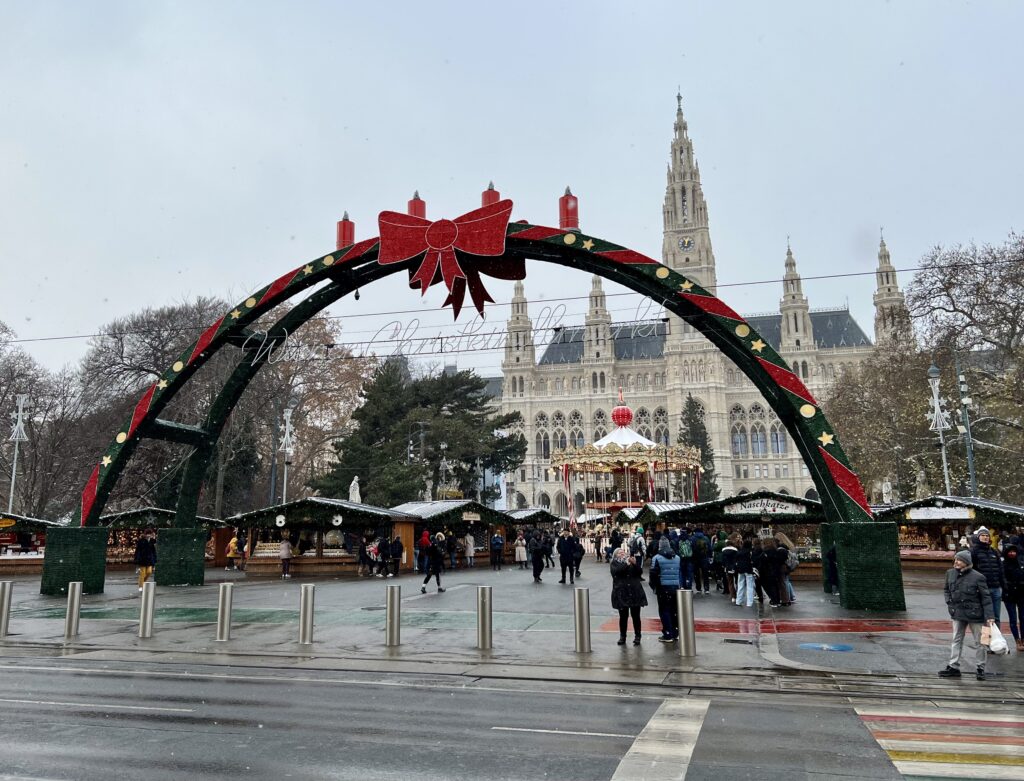 While doing research for this trip, it seemed like there were endless options of Christmas markets to visit. But with only one day/night in Vienna, we had to narrow it down.
I knew I wanted to visit the market at the Schönbrunn Palace. I asked a friend of ours who lives in Vienna if he had recommendations and he suggested the market at Freyung for its small and quaint setting. He also suggested Karlsplatz and Spittelberg, but we didn't have time to get to either.
Schönbrunn Christmas Market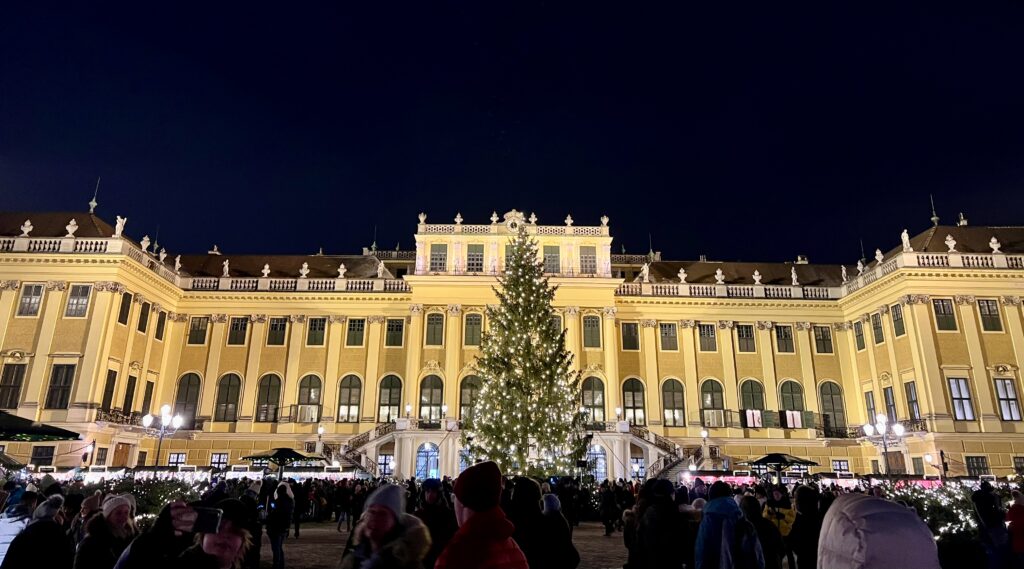 Nik and I toured the Schönbrunn Palace way back in 2006. It's an absolutely beautiful palace and the market that sits in the front of the palace comes across as very elegant. After checking in at the hotel, we took the train out to the palace, about a 25 minute ride. It was a short walk from the train to the palace gates and there were a lot of other people walking towards it. I was worried the market would be crazy packed but once we got there it wasn't too bad.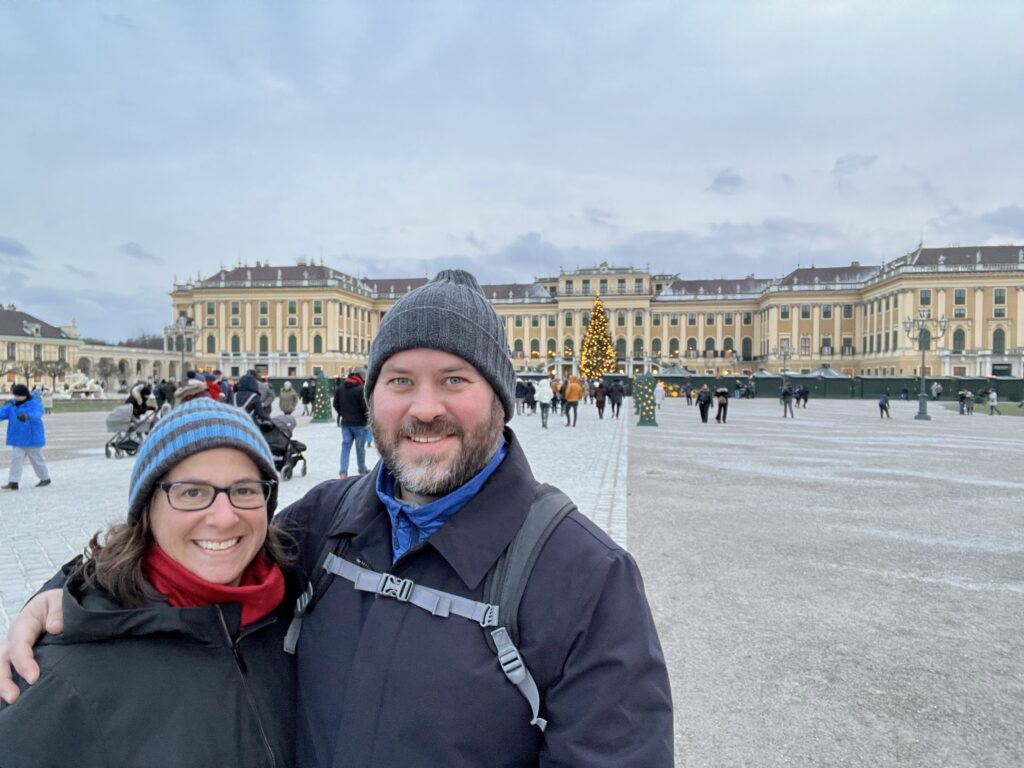 The market was spread along the front courtyard and had an outer ring of vendors and a few smaller clusters of vendors in the center. Spacious walkways made it very comfortable to walk around and explore.
Nik and I both got a hot punch to start and they tasted much better than the mulled wines we drank in Munich. The craft vendors were similar to what we had seen at our previous stops but the food had some new variety. The one food item I hadn't yet gotten on this trip was a raclette sandwich and we finally solved that at this market!
Raclette is a delicious heated cheese that is scraped off onto foods such as bread or potatoes. This one came as a flat toast and I chose crumbled speck, a cured smoked ham, as my topping. This raclette was different than ones I have had at the Christmas market in Chicago which came as a baguette sandwich. None the less, it was tasty.
We also snacked on Kaiserschmarren, which is shredded pancake with a choice of topping or sides. We went with applesauce on the side and it was pretty good. Since it was another cool day we sought out goulash in a bread bowl that ended up being really good.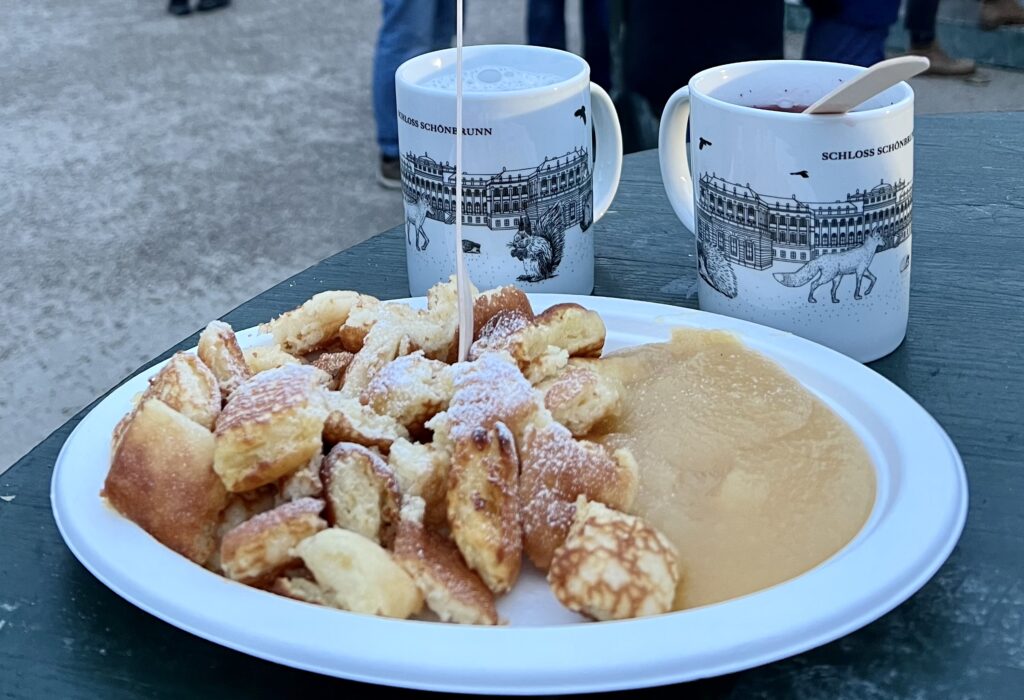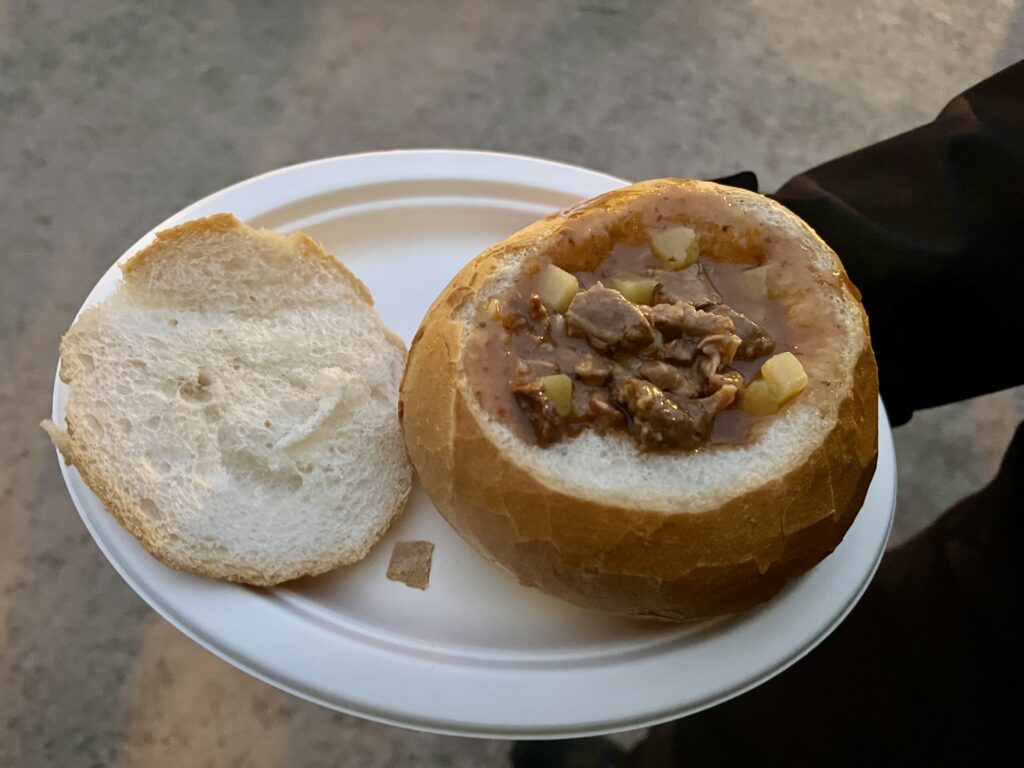 I am really glad we visited this market. We arrived with some daylight and left when it was dark and so we got to experience it with different lighting. It made for an absolutely wonderful atmosphere.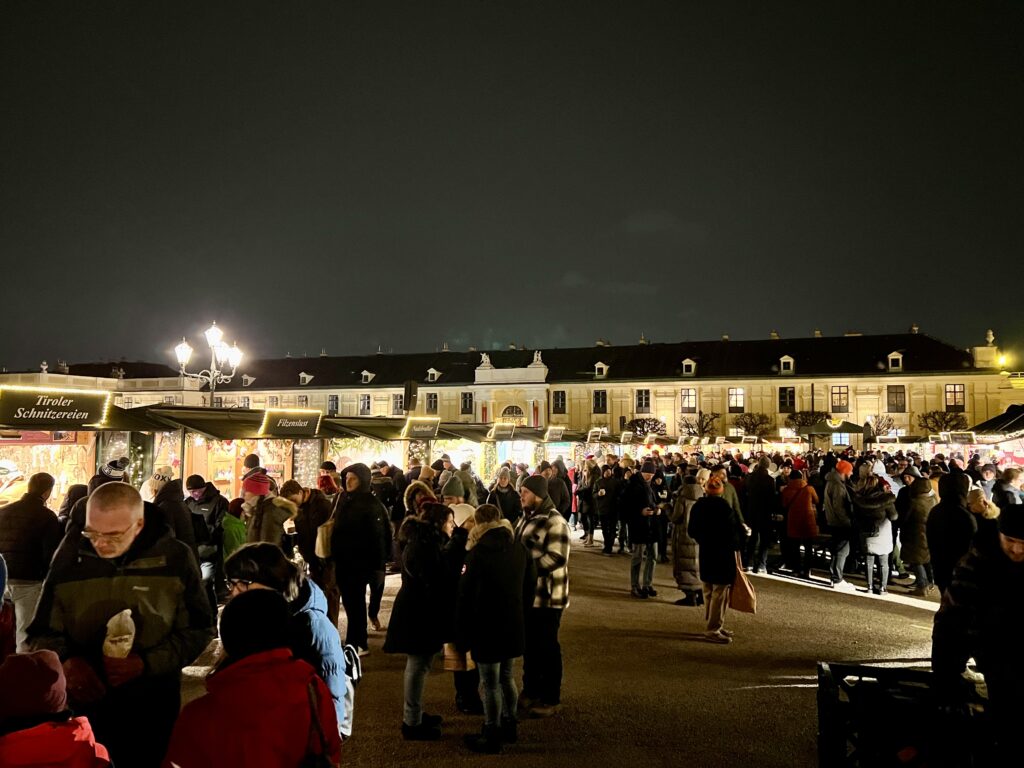 Related: Munich Christmas Markets & Craft Beer Scene
Stephansplatz Christmas Market
After our time at Schönbrunn we headed back to the city and walked to the Stephansplatz Christmas Market situated at the Stephansdom Cathedral. It was on the smaller side, with vendors lined along the exterior. It was cold and lightly snowing so not very busy. We did a quick walk around and ended up passing through it again the next morning.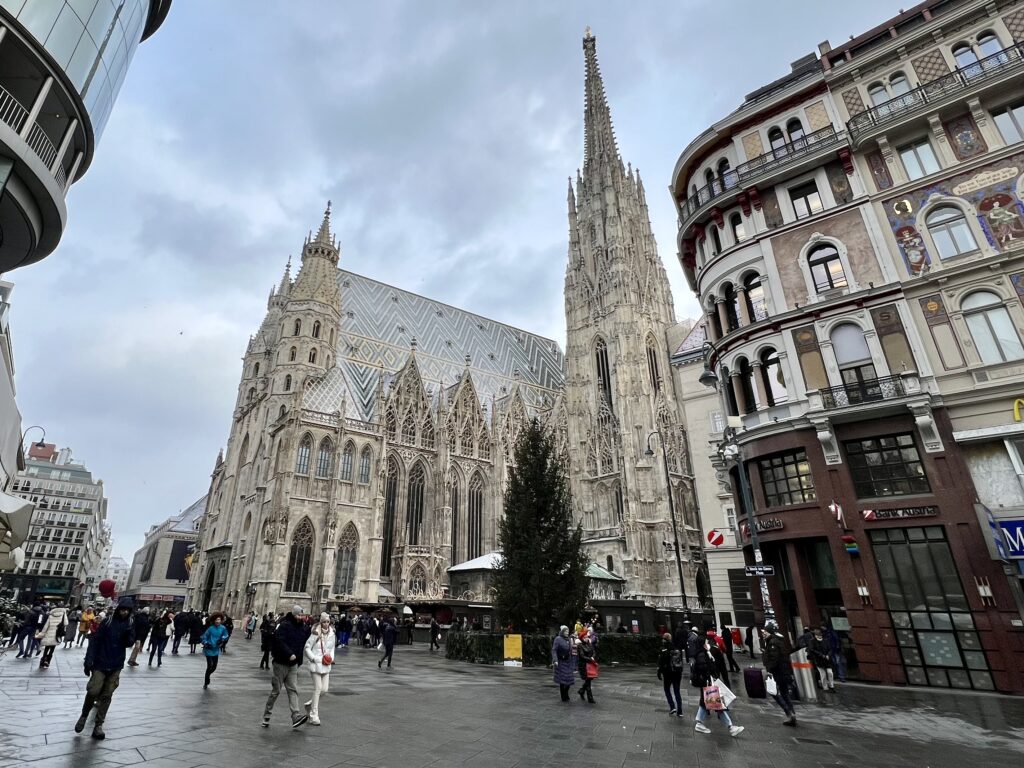 Much like our time at Schönbrunn, it's really nice to see these markets at different times of day.
Am Hof Christmas Market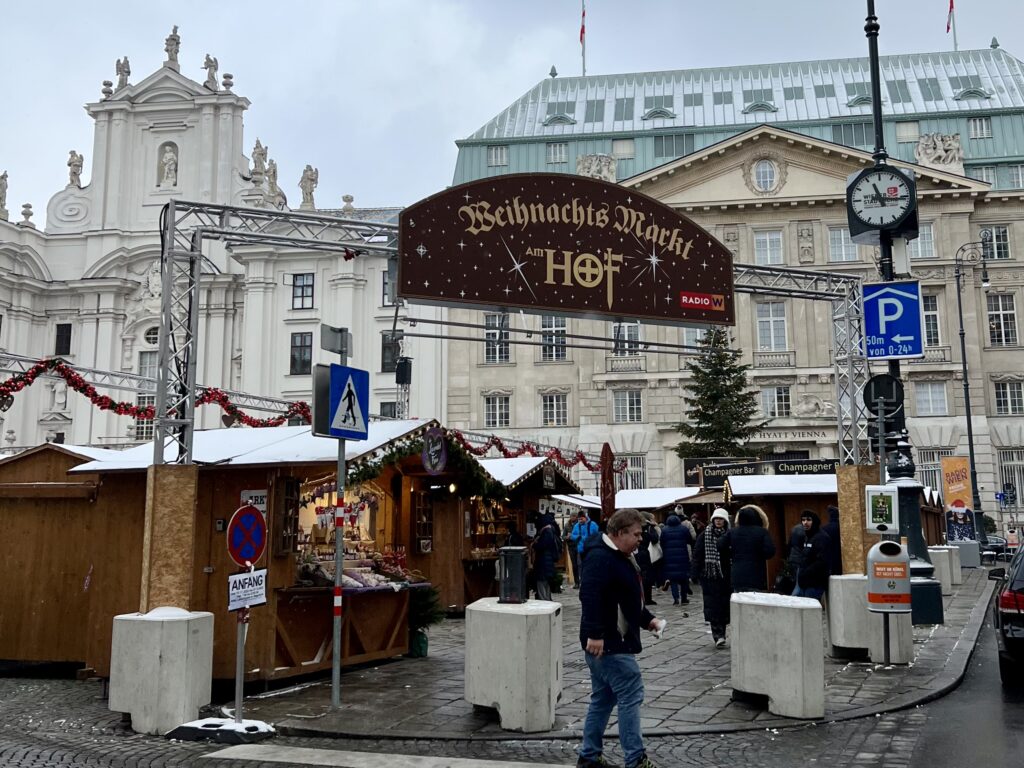 A short walk from Stephansplatz takes you to the Am Hof Christmas Market. It's in a main square of the city with a nice mix of buildings surrounding it. This market was also on the smaller size but that was fine. We got there shortly after it opened for the day and it wasn't too busy yet.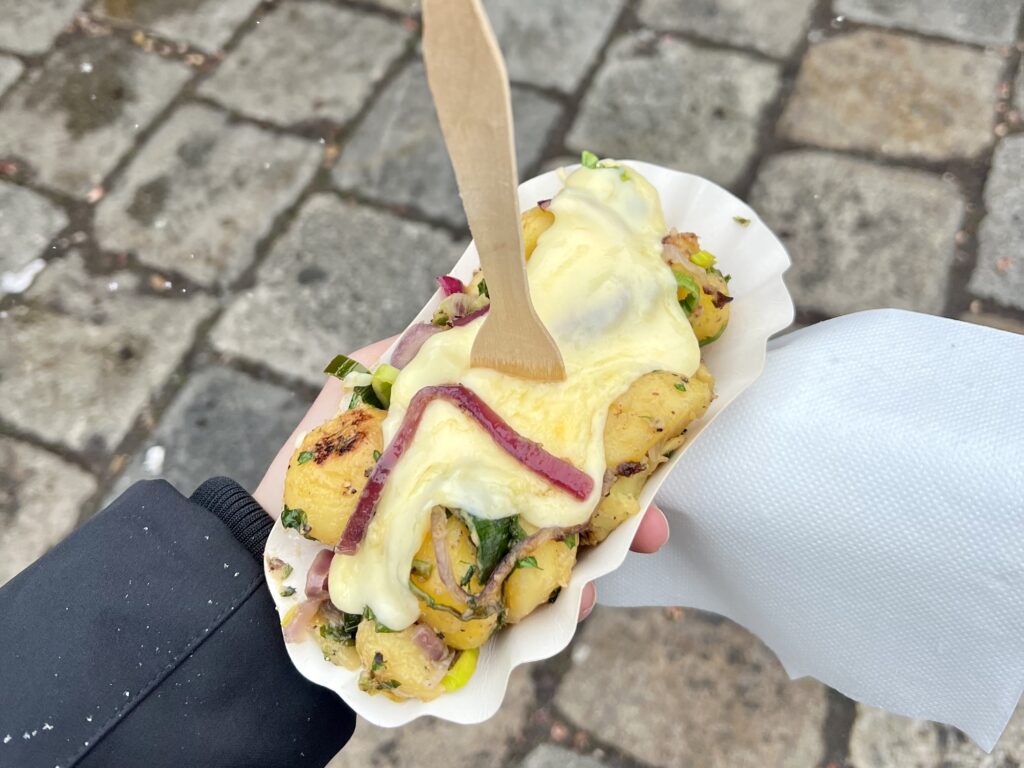 I enjoyed some raclette on potatoes and both Nik and I had a glass of champagne at the cute champagne bar located near one of the entrances to the market.
Altwiener Christkindlmarkt at Freyung Square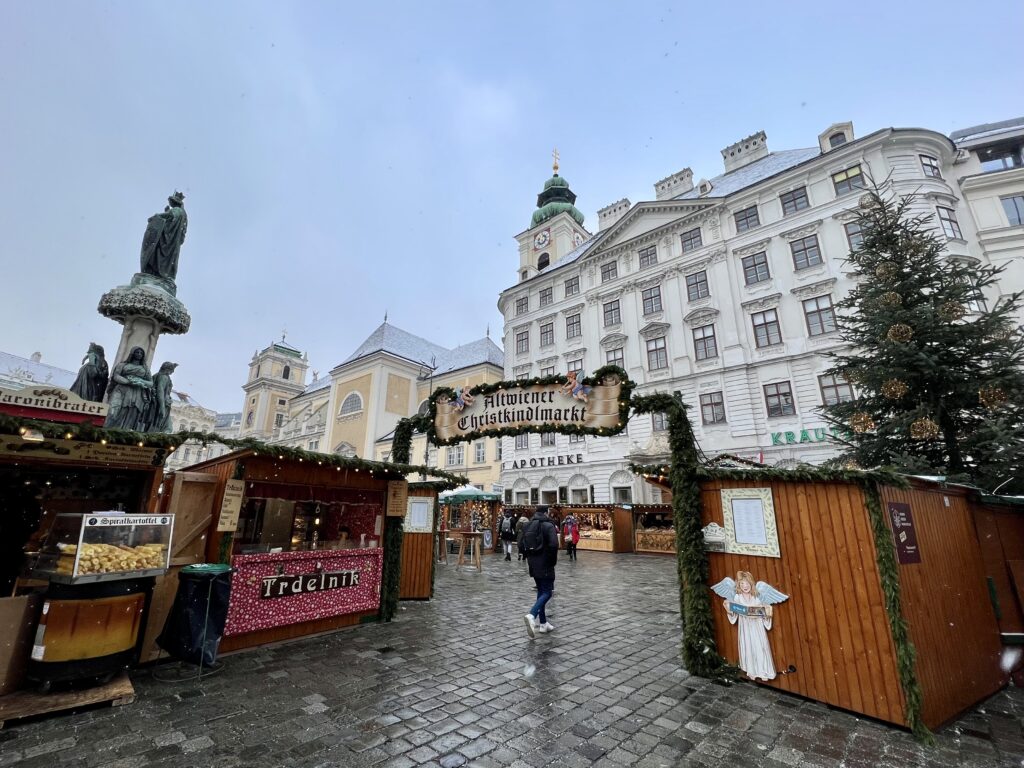 Not far from Am Hof was the Altwiener Christkindlmarkt. This too was on the smaller side, but I just love how you can stroll a few blocks and hit another market. We walked around a little and snapped a few pictures but never ate anything here.
Rathausplatz Christkindlmarkt
Vienna is a very walkable city so we decided to walk over to the main market at Rathausplatz, the square in front of Vienna's town hall. It was more or less on our way back towards the hotel.
This market is by far the biggest in the city. Front and center is a carousel and a big Christmas tree. It was also flurrying at this point and between the gray sky and daytime, it was a little underwhelming. I can picture this area being a much more lively and enjoyable atmosphere in the evening when it's dark everything is lit up.
Regardless, we enjoyed walking through the area.
Other Drinking and Dining
Since this was our third overall visit to Vienna, other than visiting Christmas markets, we kept it simple. We made a return visit to Loos American Bar for a couple cocktails.
Salm Brau Brewery
One other food craving we had was for pork knuckle. Nik found Salm Brau brewery, next to the Belvedere Castle (and museum) that had pretty good reviews for its food and beer.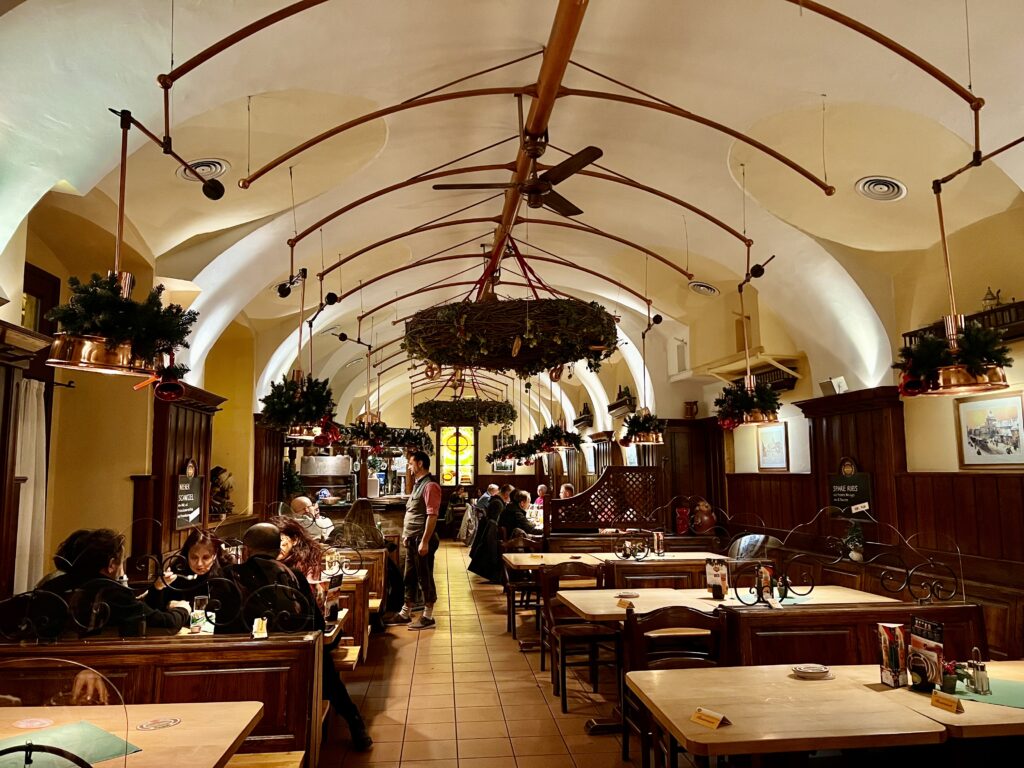 We were able to get seated and the restaurant reminded us of a beer hall with its decor. The building is in what once was a stable for the Empress's coach horses and the restaurant is in the former servants' quarters of a convent.
We ordered the small goulash to warn up and the surstelze, otherwise known as roasted ham hock or pork knuckle. The goulash was good but not needed since the pork knuckle was giant. We barely made a dent it in. The skin was really crispy and the meat inside was pretty tender and very tasty. It was a large portion and I felt guilty not being able to take leftovers with us.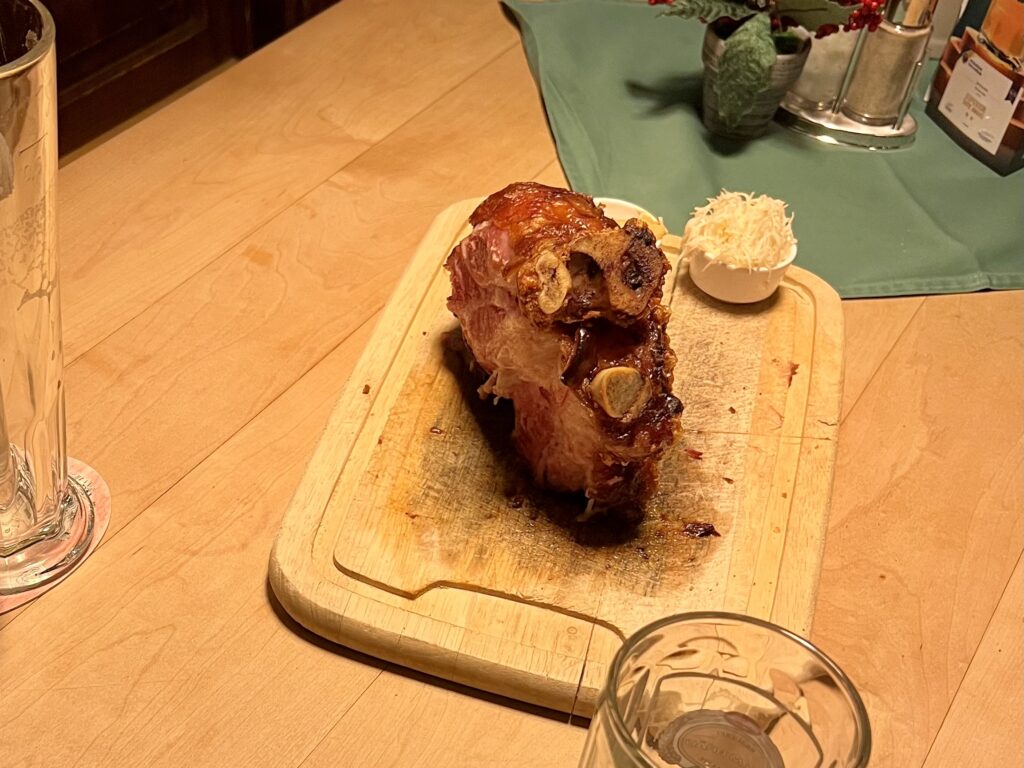 Bitzinger Würstelstand at the Albertina
We also made a stop at the Bitzinger Würstelstand by the Albertina for a grillwurst. This stand is by far our favorite in the city. Even if you don't go in to the Albertina museum, go up a level to take in the views.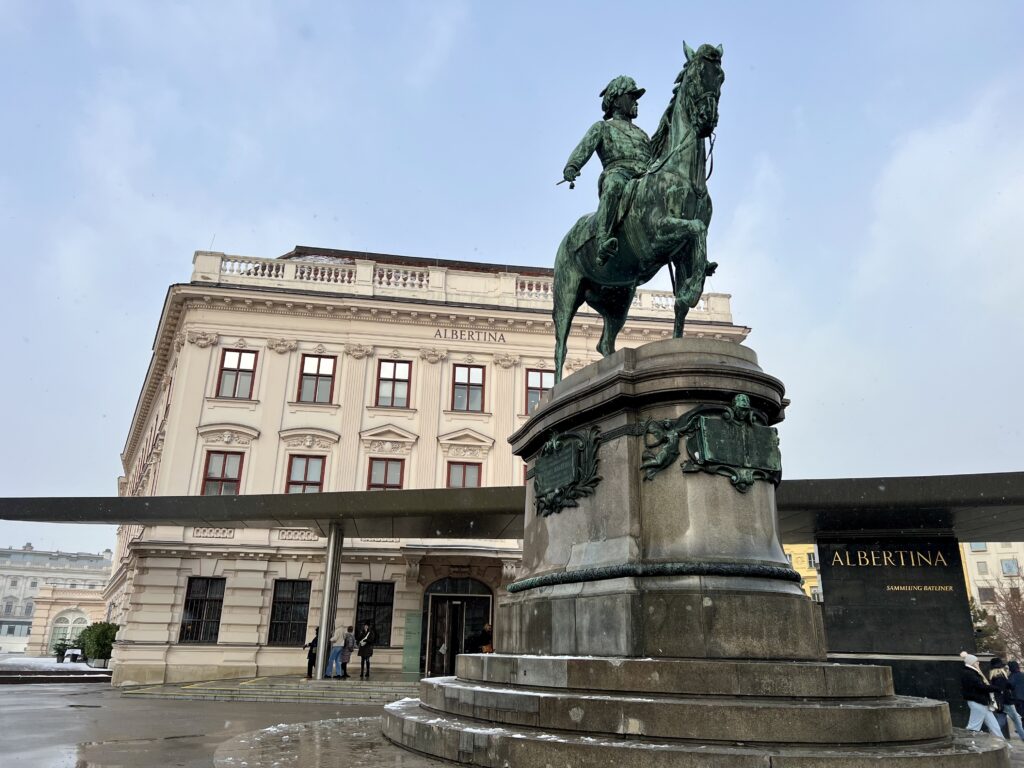 I just love the Vienna Opera House architecture.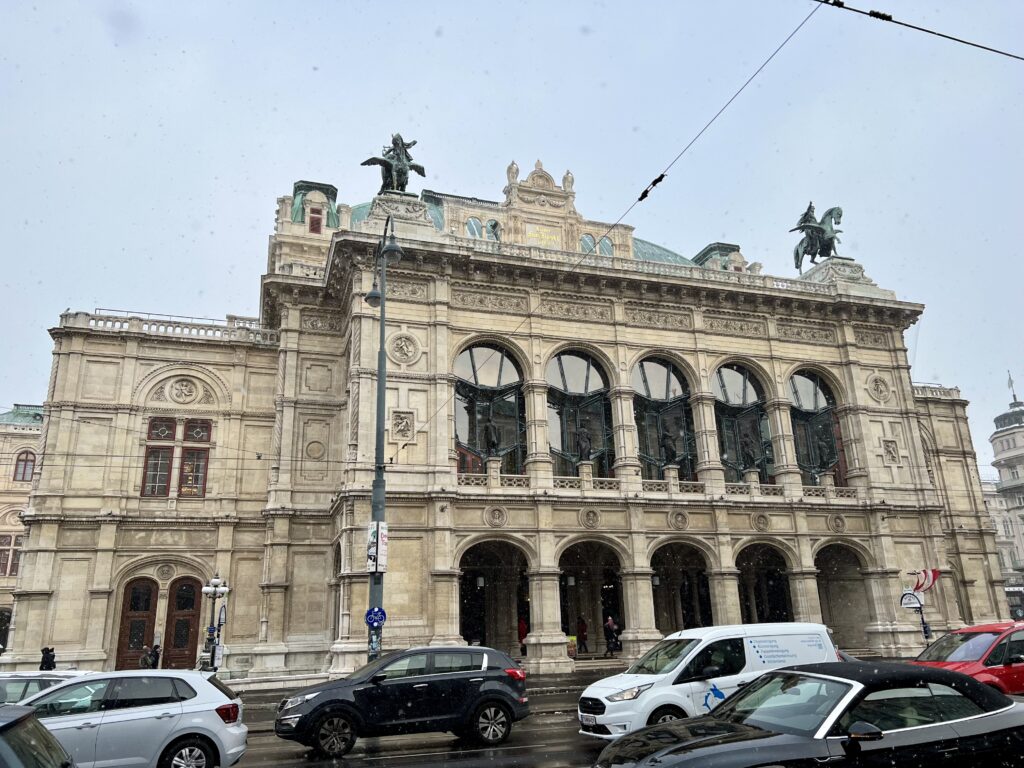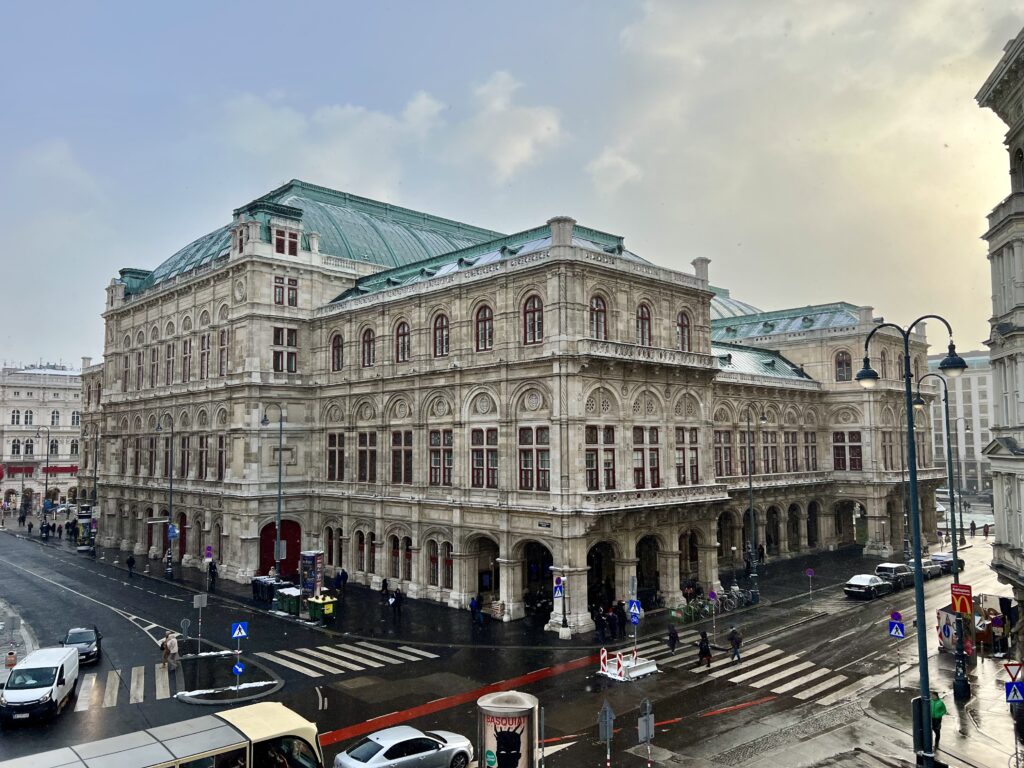 That concludes our Christmas market trip that fulfilled our need for cooler temps and a taste of winter. We really enjoyed ourselves, covered a lot of markets and didn't gain any weight with all the food we ate. It was great to end with one night in Vienna, a city we've really enjoyed visiting a few times.
Have you been to any markets in Munich, Salzberg or Vienna? If we do another trip like this, which city should we check out?