When U2 lead singer Bono announced a 14-city tour called "Stories of Surrender" to perform stories from his memoir, Surrender: 40 Songs, One Story, I knew that I'd want to go if it included a stop in or near Spain. Of the 14 cities, only four shows would be in Europe, including Madrid, Spain. (Berlin, Paris and Dublin being the other European cities.) Having already visited Berlin and Paris since living in Barcelona, so the Madrid show made the most sense and luckily I got tickets during the on-sale. So Nik and I decided to take a quick trip to Madrid for the show, staying 48 hours to see Bono and eat at a few places in the city.
Getting to Madrid
Nik and I were previously in Madrid in May 2019 and covered a lot of the city during that trip. For this trip we decided to take the Renfe high-speed train there and back and take it easy during our quick trip to Madrid.
We arrived just around midday Monday and went to our hotel, the Círculo Gran Vía, to check-in and drop bags off. As part of Nik's status with Marriott, he gets the chance to request an upgrade to a suite for free, and this hotel was able to accommodate that. Our room ended up being in the rotunda of the building with great views out to the street.
Stories of Surrender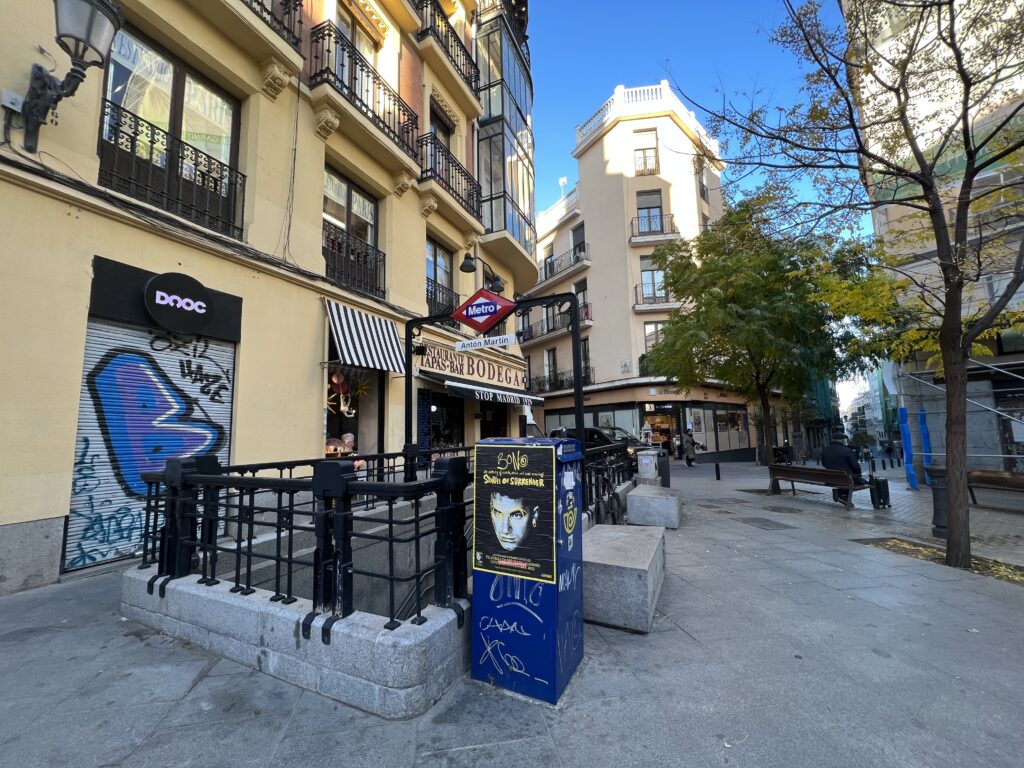 Let's get to it!
Bono's "Stories of Surrender" show was in the Teatro Coliseum, a theatre that is currently home to "Tina, The Music of Tina Turner" and so there was very little signage showing this special performance. While in line to enter, we heard noise from a crowd on the side of the building so Nik went over and was able to get a few pictures of Bono as he arrived.
Once inside, our phones were put in a locked bag that we held onto and would be unlocked by staff at the end of the show. We were given our free copy of the book, which was included with the ticket purchase. The book is in Spanish, which should be a nice challenge for us to read.
Our seats were one level up, almost center, in row 5, with a great view to the stage and the screen that would display illustrated animations drawn by Bono. I read some early reviews of the show and knew Bono had three musicians with him for the show – cellist Kate Ellis, harpist Gemma Doherty and longtime U2 producer/mixer Jacknife Lee.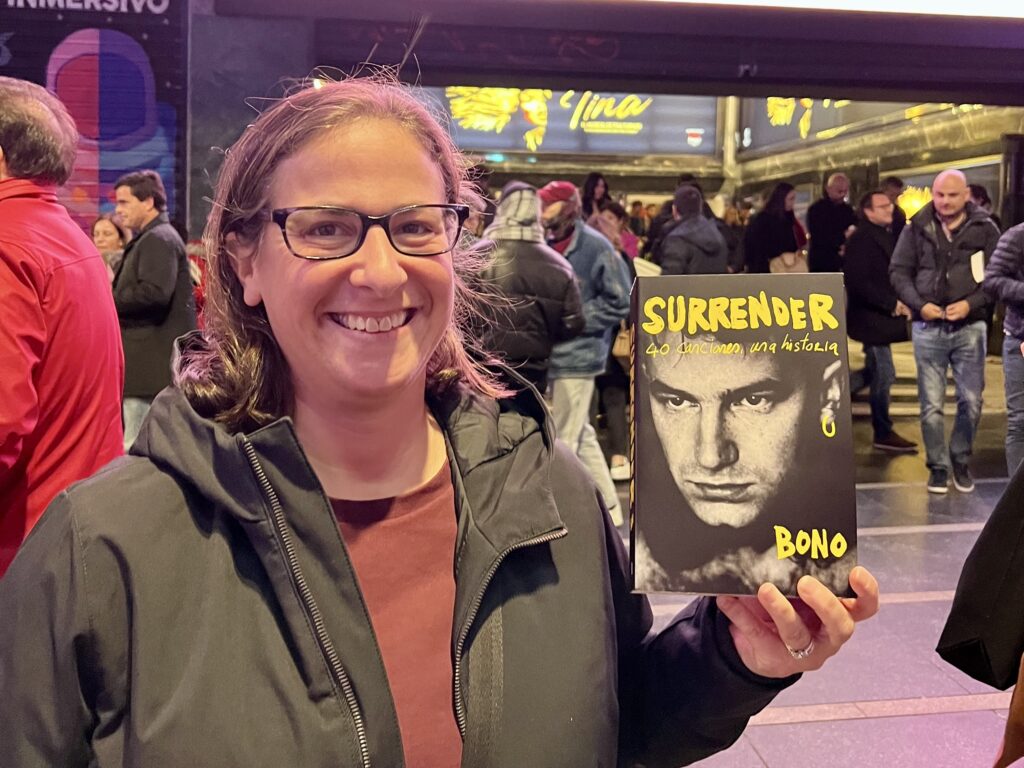 Nik and I started listening to Surrender on audiobook while recently driving in France. It's read by Bono and has some musical interludes and other sound effects. This live show was a scaled down version of the book and went for about two hours.
Bono is an amazing performer. He wove stories from his memoir, complete with his voicing of his father and other figures from his life. His voice is top notch as he sang snippets of U2 songs (setlist here) with his accompanying musicians.
✨ La magia de Bono ayer en el Teatro Coliseum de Madrid. El líder de U2 presentó sus memorias 'Surrender: 40 songs, one story'.

📸: Ross Andrew Stewart. pic.twitter.com/t38CPVo147

— Live Nation España (@LiveNationES) November 29, 2022
A lot of the show is Bono reflecting on his mother passing away when he was 14, meeting his now wife and of his relationship with his father, affectionally referred to as 'Da.' It was all very moving and I am thankful to have been able to see this performance live.
If you're even a remote U2 fan, I recommend his memoir, hardcopy or audio. Here's to hoping U2 is back on the road soon.
Related: Seeing Mavis Staples in Brussels
Eating and Drinking Around Madrid
In no particular order we covered a decent amount of eating and drinking during our quick trip to Madrid. A couple places were repeat visits and a few were new. Our hotel was well located and most things were a 15 minute walk or 15 minute public transit ride away so we chose to walk and get our steps in. For being the end of November, the city was definitely busy in some parts.
Churros at Chocolatería San Ginés
Every day should start with churros and chocolate! It's how we started our second day in Madrid. The most known place is Chocolatería San Ginés and we were there in 2019 as well.
Chocolatería de San Ginés is located halfway between Puerta del Sol and the Teatro Real, in the heart of Madrid. It is one of the oldest chocolate shops in the capital, having been founded in 1894.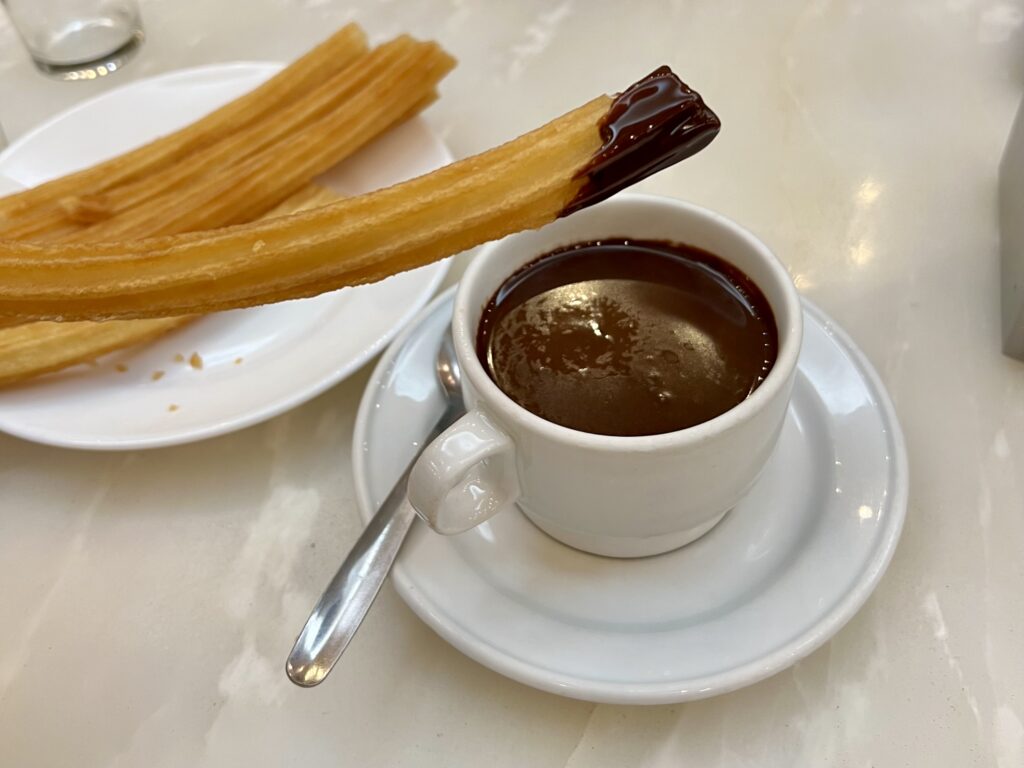 There was a short line at the door, but it moved quick. You order at the counter and when a table opens you get seated and your order is brought to you. From when we arrived to getting our food, it was maybe 10 minutes. Not terrible and totally worth it.
Los Huevos de Lucio
There's a delicious dish in Spain generally called Huevos Rotos that consists of fries, eggs and jamón. And I love it! I had one of the more delicious versions in 2019 at Los Huevos de Lucio and so we headed there for lunch on Monday but couldn't get seated because they were closing soon and may have been full.
To make sure I got my fill, we went back the next morning and had lunch there. Nik had red peppers stuffed with bolognese sauce that was really good.
San Miguel Market
As a backup for Monday lunch, we went to the San Miguel Market instead. It's a food hall with a bunch of different food options, mostly of Spanish cuisine.
We had a variety for lunch: fried calamari that was meh; empanadas that were okay and a sliced piece of entrecôte and side of fries. Nik and I stopped at this food hall in 2019 and we both agreed it was better then. Not sure if the pandemic caused a lot of the food to go downhill, but the prices went up and just didn't fit the quality of what we ate.
Beers at La Maripepa Cervecería and Be Hoppy
From the market we headed to La Maripepa Cervecería, a beer bar that was recommended to us by a bartender we know in Barcelona. It was a good spot. Very old school vibe with wood paneling and about 12 or so draft lines.
A few doors down from La Maripepa Cervecería was Be Hoppy. A craft beer shop with a couple draft lines. We stopped in for a drink and chatted with the owner who was working. He knew all about the Chicago beer scene but hasn't been able to make a visit yet.1The owner told us about a Untied Airlines pilot who brings him back a selection of Goose Island BCS. It was a really nice spot and hope more people make their way there.
After the Bono show on Monday we had an average late dinner at Oven Mozzarella followed by cocktails at Museo Chicote, a place we stopped at in 2019.
Cervecería Deportiva Sports Bar
On Tuesday afternoon we were looking to keep it low key since we slept in and had a dinner reservation later. As mentioned, we covered a lot of Madrid sightseeing in 2019. A quick Google search led us to a cool dive sports bar, Cervecería Deportiva Sports Bar, that was showing two of the World Cup games, Ecuador vs. Senegal and Netherlands vs. Qatar. We got two of the last seats and enjoyed the local vibe. From here we went around the corner to Beer Station for a few pints of Guinness.
Roostiq
Nik had heard about a restaurant called Roostiq that serves a nice mix of wood fired items and is known for their torreznos appetizer, a kind of fried bacon snack popular in Spain.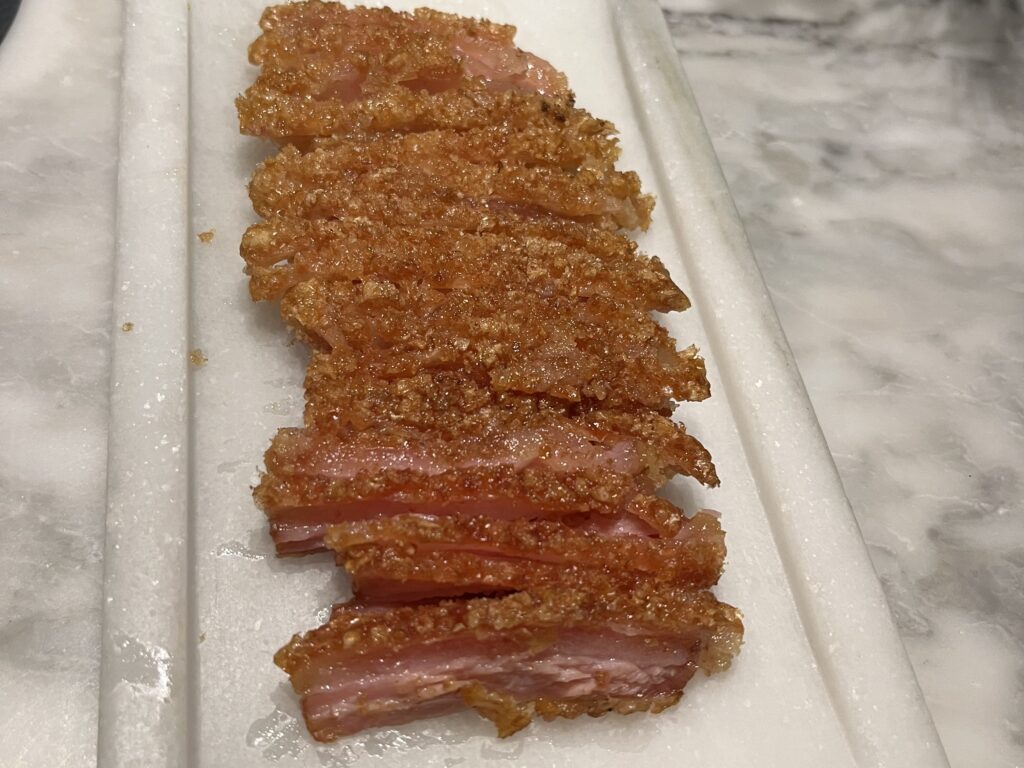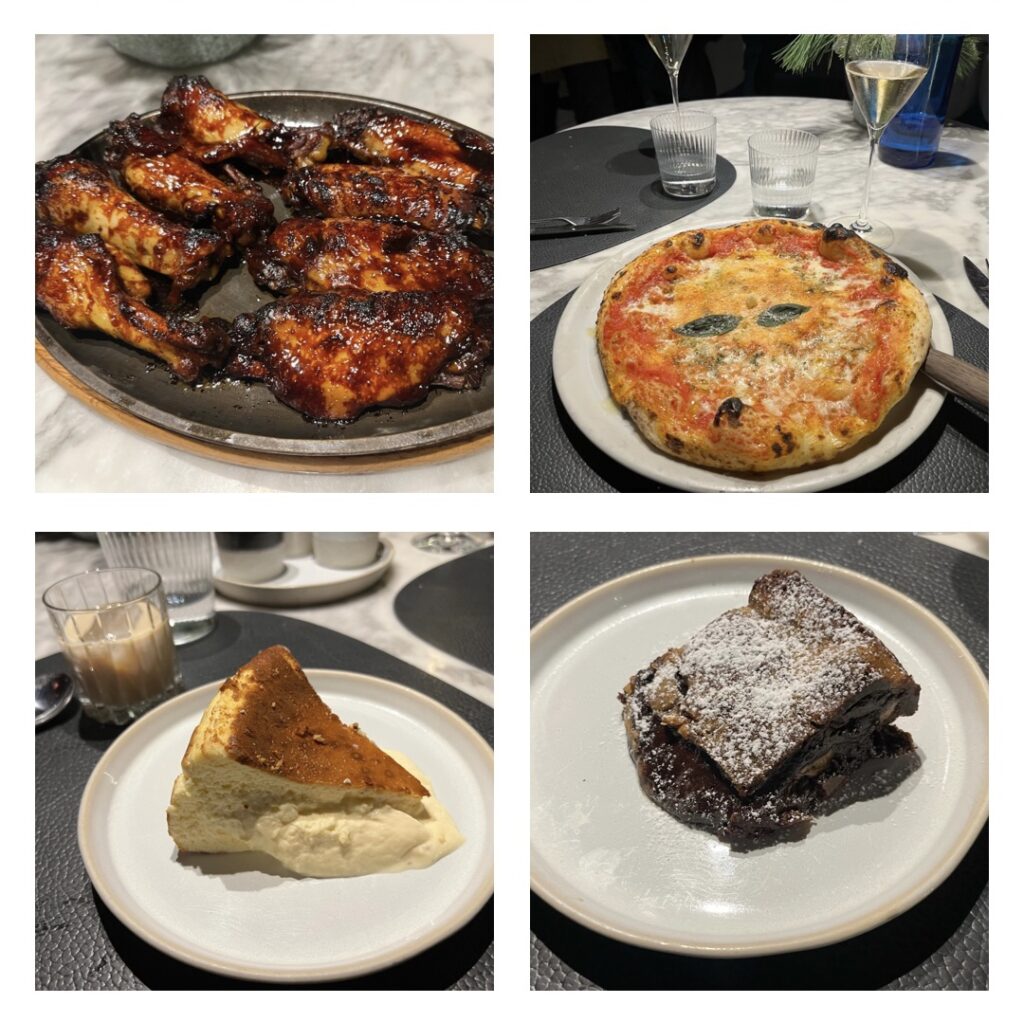 Following the torreznos, Nik and I shared their margarita pizza and Roostiq chicken wings. The wings were smoked, but not too charred and had a tasty bbq glaze sauce. Desserts were over the top portions of cheesecake for me and a brownie with ice cream for Nik.
To end the night we found a beer bar nearby called Bee Beer so we could watch the end of the US Men's Soccer World Cup game.
That wraps up our quick trip to Madrid. We really enjoyed the visit and having a chance to take it easy and not run around to sightsee.