After our one night stay in Bilbao, we were up fairly early to get to the airport for our flight to Madrid. Homestretch of the trip, here we come!
We took a cab from the airport to our hotel, Hotel Santo Mauro of Marriott's Autograph Collection. It's the "former residence of the influential character of Madrid's society at the time, the Duke of Santo Mauro, and located in the area of Chamberí." Similar to our stay in Elciego, we got a very nice upgrade. Instead of your typical hotel room, I'd call it more of a townhouse. It was two levels, with two bathrooms (both complete with rubber duckies!) and two lounging areas and a king size bed. Check the video below for a tour:
First priority after checking in was dropping laundry off. We found a drop-and-go place ahead of time and walked over. It was in Madrid's Old Town, so a little bit of a walk from the hotel. But it was a good place to start our afternoon. Somehow we read about Cervecería Alemana, an old Hemingway hang out spot, which ended up being around the corner from the laundromat, so we headed there for a drink and a complimentary plate of olives and sausage.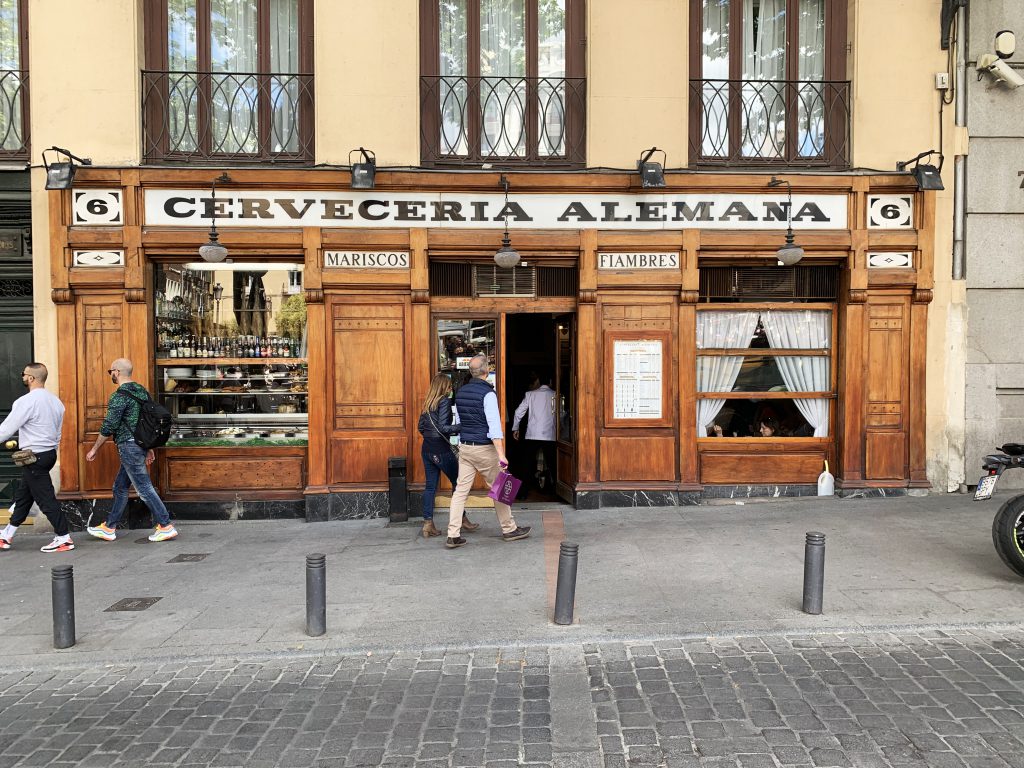 From there we made a short walk to La Casa de Abuela, known for their gambas al ajillo (garlic prawns) and their own wine – a sweet tempranillo. We also got some prawn croquettes. All of it was delicious! Next stop was next door at Casa Toni where we had a tapas portion of their chorizo right off the grill. Delicious!
Editors note: We heard about these places (and many others) from the YouTube channel of Spain Revealed-James Blick. He creates videos that are mostly about tapas, Spanish wine, Spain travel guides, tips and insights and we spent a lot of time watching them as we planned for this trip.
After lunch we planned on checking out the rooftop at the cultural center for some views of the city. There was a short line, but it was going to cost us a few Euros to go up, so we decided to pass. We instead took an indoor break for drinks at the historical Westin Madrid. From there we headed to a really cool cocktail bar called Salmon Guru where every drink is served in its own style of glassware and often with extra edible props.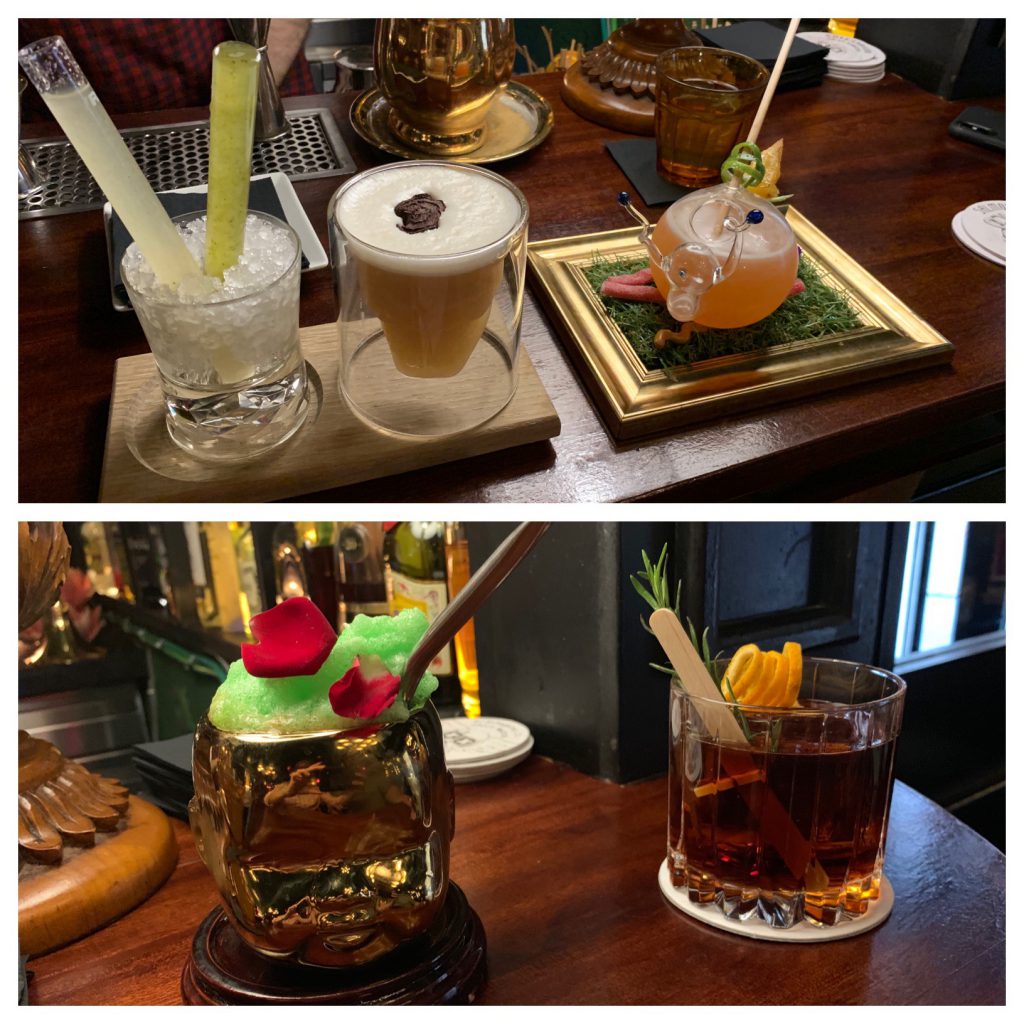 Of course we found a brewery! Next stop was next door at Brew Wild. It was a comfortable place and the beers were solid.
Dinner was supposed to be at Sobrino de Botín, the oldest restaurant in the world according to the Guinness Book of Records, and known for its suckling pig. We arrived thinking we had a reservation (Nik swears he made one) but they didn't have our name and the wait for a table would've been lengthy. We agreed to go elsewhere else for dinner and try again another day as a walk-up when they first open. Reservations are usually made weeks in advance. It's that popular of a place.
Our backup plan turned out ok. We were close by Calle de la Cava Baja, a street lined with tapas spots that we had heard about from the aforementioned YouTube channel so we went to Diaz y Larrouy, a cozy spot for tapas and wine. We were glad to have ended up there. It was a small space but the bartender was very friendly and we enjoyed our time there.
From there we stopped for a quick beer at Fogg Bar Birras & Cheese, which I found to be meh.
Our first night in Madrid finally ended with a drink at The Gin Bar in our hotel.