When we planned this trip, we found it more cost efficient to fly roundtrip from one city (rather than into Paris and out from Barcelona, for instance) and so that city was Paris. It also was one of the few where we could find a direct flight.
After our stay in Menorca we had to get back to Paris by flying through Barcelona. We had the fight booked on Vueling Airlines, which we used for a few of our other flights between European cities and had decent success. The planes were comfortable and we arrived most times without much delay. The flight departing Menorca was a little delayed and it was going to cut into our 90 minute Barcelona layover. I was a tad worried because of our checked baggage, but we went with it.
Once in Barcelona and boarded for Paris (we even saw our bags on the luggage cart for the plane!), the flight crew started making an announcement in Spanish. Before they made the same announcement in English, most everyone on the flight was getting up to deboard so we followed. Turns out the plane had a mechanical issue.
So here we are in Barcelona where my Spanish is very basic and Nik's is even less basic and we have to figure out how they're going to get us to Paris. (Yes, most of the employees spoke English, but still, you never know how these things can go.) The gate crews don't work the same as they do in the state's in helping rebook. You have to either call the airline or go to the ticket desk outside security. We saw a flight that was leaving to Paris in an hour (at 12:35 in this case) and tried to talk our way on, but had no luck.
Then an airline staff person walked everyone from our flight out of the way of the gates. We were thinking we'd get some better direction as to next steps, but nope.  Instead, like a giant class field trip, the entire population of the plane was walked through the airport as a gate crew member led the way.  At one point she stopped and made a call and then continued to lead us up an escalator to one of the private lounges.  From here we all just packed outside the lounge as she went in and talked with the cleaning lady.  I'm not sure what purpose this was but it seemed to us that the rebooking of our flight hinged on the cleaning lady of the first class lounge.  After a thorough discussion, the cleaning lady left and we were still left with the employee who was on the phone.  At some point she suggested we check our phones for an email which might have been what she was doing all along.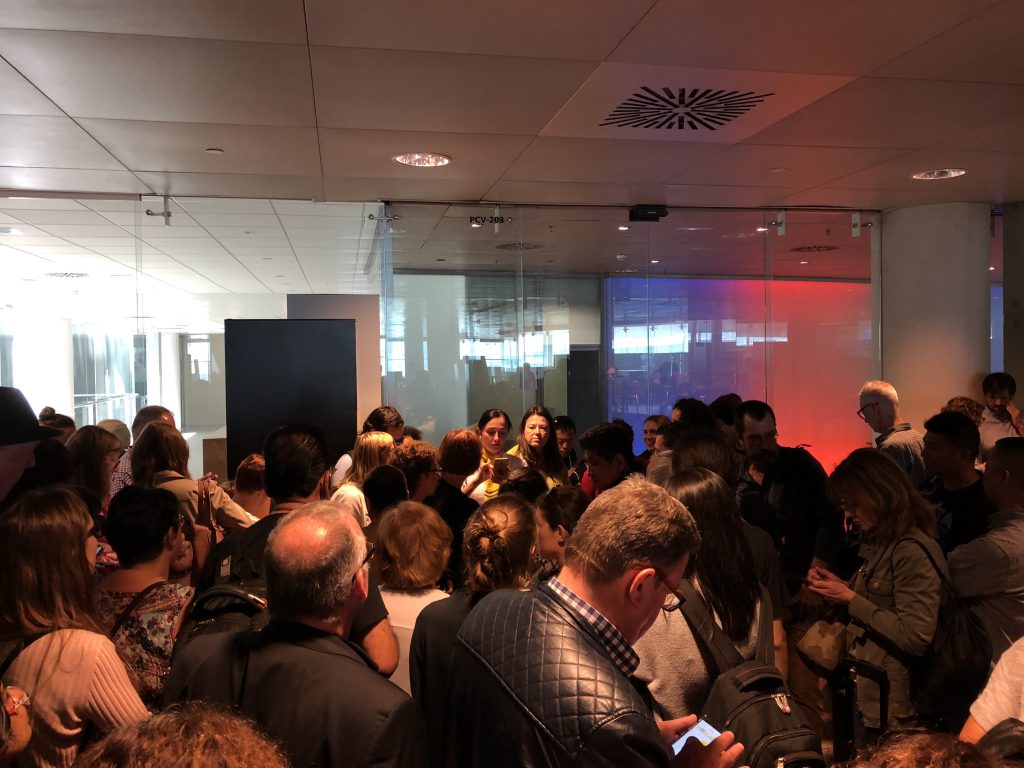 Luckily we got an email and we had to hustle back to the gate for that 12:35 flight. We kept talking how there was no way our luggage was going to make it on that plane. As we approached the gate about 10 minutes before takeoff, I don't see a plane nor many people waiting and I'm thinking we missed it. And then I remember how a lot of Barcelona flights land on the tarmac and shuttle you back and forth to the terminal, and that was the case here. One of the gate workers banged on the window to the shuttle driver to wait for us and one other person.
It ends up that we get seats in the emergency row and have an extra seat too. (The extra space was really the only silver lining to this debacle.) We landed in Paris at Orly Airport and our bags never made it. I was holding out hope by waiting at the carousel while Nik went to talk to a desk person. He made a claim and because of our short stay for the night, we have to hope our bags make it home to Chicago., since we're flying out of Charles de Gaulle Airport and the bags probably weren't going to make their way there. Luckily we don't have too many things of importance in the bags and we also have trip insurance, should we need to file any claims.
The other silver lining: at least this happened at the end of the trip and not the beginning or middle. We've also learned to carry a few more personal items with our carry-ons, should this ever happen again.
And now we're in the American Airlines Admirals Club waiting to board our flight home.