This past Monday Julie and I headed out to Missoula, MT for the Pearl Jam Rock2Vote show which is part of the 'The Home Shows' X 'The Away Shows' tour.  I've spent a couple of days in Missoula for work several years back and this was a decent enough excuse to make another visit.  Missoula is the second largest city in Montana after Billings and is located on the Clark Fork River near its confluences with the Bitterroot and Blackfoot rivers in western Montana.  Missoula is also home to the University of Montana which played host to the concert at the Washington–Grizzly Stadium.
Drinking in Missoula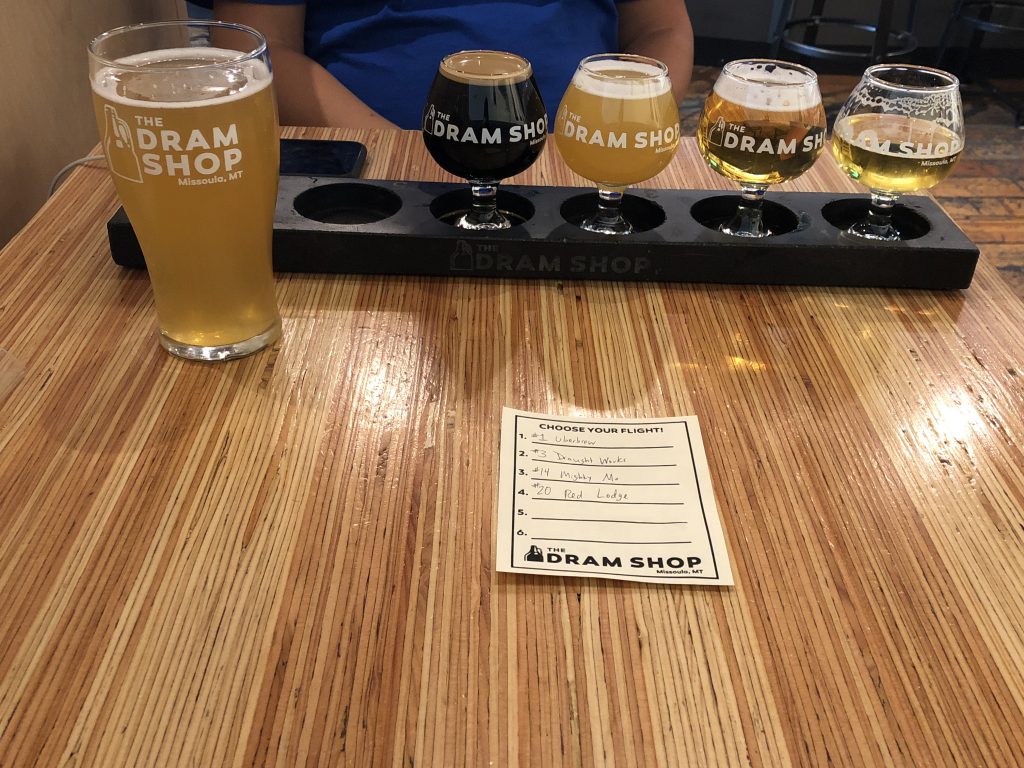 We made a concerted effort to cover as many breweries/local beer bars as possible in our short time in town.  The first thing we learned upon arrival is that most of the breweries do not have a liquor license so they operate under a law that prohibits them from serving more than 3 pints per person. Most of the breweries handle this by handing out tickets or stamps to track your beer intake.  While not ideal, this definitely encourages you to experience more breweries.
In addition to stopping at breweries, we always try to visit tap rooms or beer bars as a way to try a variety of local beer all in one location.  Considered one of the Best Beer Bars in Montana, Dram Shop is a taproom located in the historical Mercantile Warehouse building in downtown Missoula.  Dram Shop has more than 35 beers on draft from all over Montana, including probably my favorite beer of the entire trip, Little Things (Amarillo Everything) brewed by Imagine Brewing.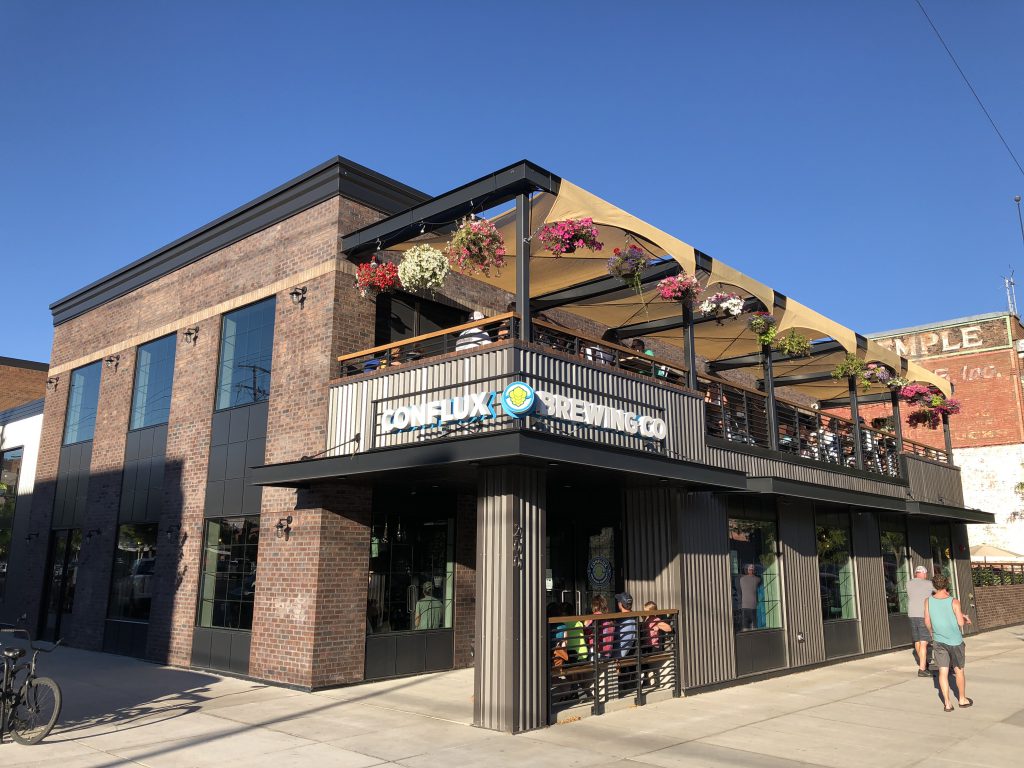 A couple blocks from Dram Shop is Conflux Brewery where we had a bison burger, some poutine and a beer on their rooftop patio.  I believe Conflux just opened the week we were there (maybe even the that day), it was definitely one of the larger spaces of all the breweries we visited and the burger was great.
Two other breweries we visited were Imagine Brewing and Highlander Beer and both happened to be completely overwhelmed on a Monday afternoon with an influx of people for the Pearl Jam concert.  There were beer lines extending from the bar to the entrance way of both places with initially just single bartenders on hand.  They eventually staffed up as the afternoon went on.  Imagine Brewing had the best beers of the weekend overall (additional beers than the one I had a Dram Shop):  Navigator Stout, Freedom Fighter and Rock2Vote.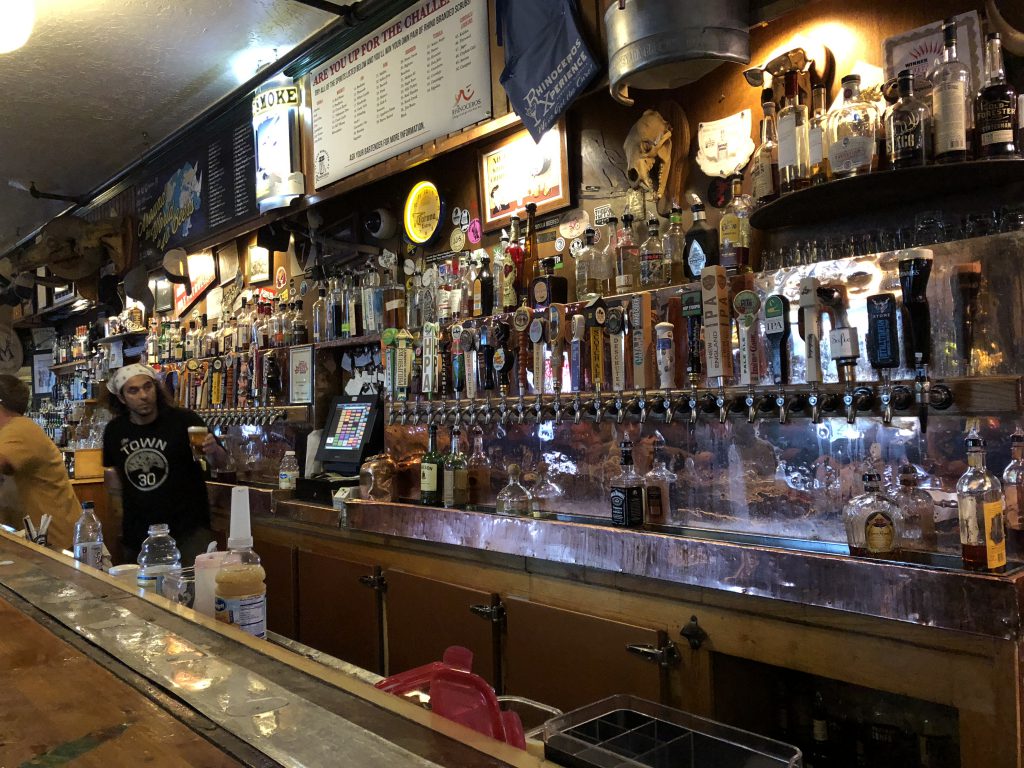 As far as beer bars go, we stopped at the Rhino Bar (pictured above) and Old Post which are both known for their quality tap lists but didn't quite compare to the Dram Shop except that they were both open much later.
We also visited Tamarack Brewing as soon as we got into town but only stayed for a beer while we got our bearings.  Tamarack does not fall under the 3 pints per person law but their beer wasn't anything to write about either.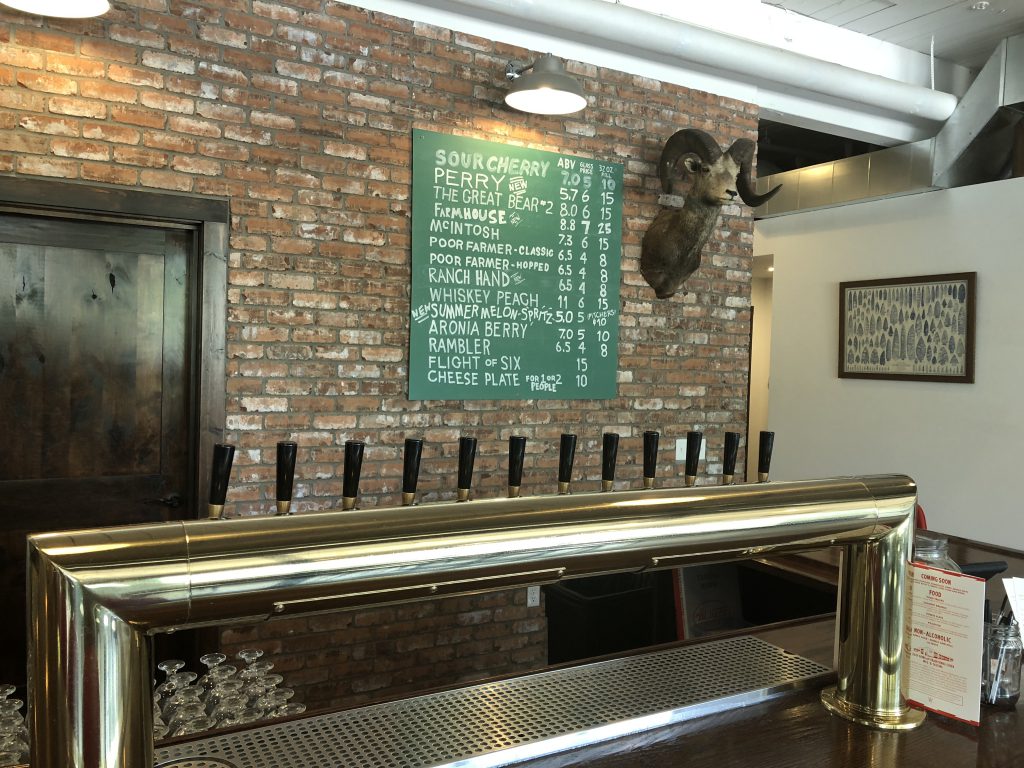 Beer isn't the only thing in Missoula.  There is a decent cocktail bar in the way of the Montgomery Distillery which serves cocktails made from their spirits.  Similar to the brewery law, I believe distillers in Montana can only serve two drinks.  For good measure there is also a cidery in town, Western Cider Company.  Western Cider sources it's apples from orchards they planted just south of Missoula in the Bitterroot Valley. Western Cider was one of the more low key places we visited the entire trip, nice selection of good cider.
Eating in Missoula
For lunch (on arrival day) we stopped for BBQ at Notorious PIG and split a combo plate of ribs, smoked brisket and Mac & Cheese.  The ribs were great and brisket was decent.  A couple of other food stops we made were Rattlesnake Market, which is a solid breakfast and lunch spot and Piehole Pizza for late night Pizza which is open until 3AM and serves pizza by the slice.
Pearl Jam
The Merchandise Line
We decided to give the Merchandise line a try when it opened the day of the concert at 9am.  Throughout Sunday we came across people who had been in the line the day before the show and got a decent feel for how the process worked and how the line was organized.  By the time we found street parking on campus and got in line we only waited a little more than an hour and once the line opened it moved quickly.  They had run out of a couple of small things but I'd say we were within the first 100 people in that day and were able to get a poster (pictured above) as well as the t-shirts we wanted.  We didn't spend much time taking a detailed look at the poster but it became something of a thing after word spread.
The Show
This is our first experience seeing Pearl Jam outside of Chicago in quite some time and being in a football stadium setting instead of a ballpark or an arena was a nice change.  Our seats were Reserved Ten Club seats, at this point we're far too old for General Admission.  Our section was to the right of the stage about 16 rows back on what would be the 35 yard line.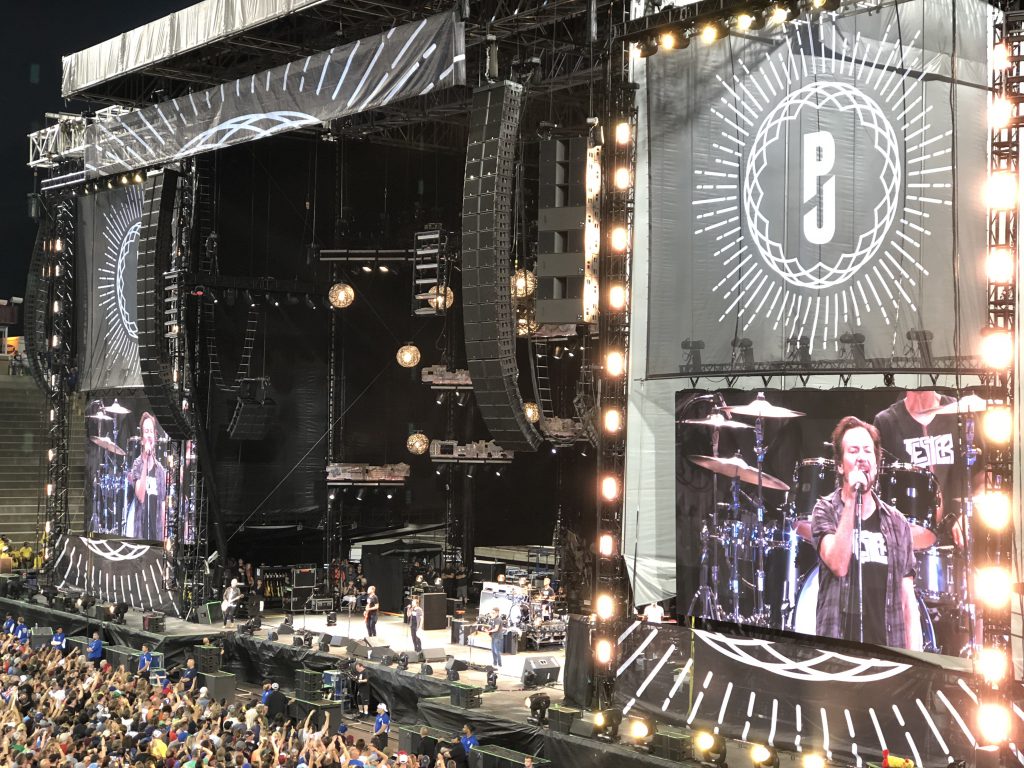 There was no opener and after a little technical difficulty with one of the video boards the show started just after 8:30PM but well before the sun went down.  The setlist was unique in my experience, including Fatal and a cover of Know Your Rights.  The sound was good and we actually had a lot of room in our section, so it was very comfortable which is what matters at this point (in addition to easy access to facilities).  There were some solid interactions with the crowd, and at one point there were about 10 tambourines that were handed out to everyone in GA that seemed to be under 10 years old.  There was also a couple that were handed beers from Eddie Vedder from the stage and another person was ejected from the show.

Setlist
Aye Davanita

Pendulum

Low Light

Go

Do the Evolution

Arms Aloft

Mind Your Manners

Corduroy

Pilate

Even Flow

In My Tree

Down

Lightning Bolt

Not for You

Daughter

Setting Forth

Elderly Woman Behind the Counter in a Small Town

Can't Deny Me

Porch
Encore
Bee Girl

Fatal

Imagine

Given to Fly

Throw Your Hatred Down

Better Man w/ "With or Without You" (U2 song) and "I Wanna Be Your Boyfriend"

Jeremy

Know Your Rights

Alive

Rockin' in the Free World

Indifference
Hiking Mount Jumbo
We had full intentions to hike the M on Mount Sentinel the morning of the concert but once we attempted to get to the trail head after the Pearl Jam merchandise line we discovered that the trail was closed for security reasons.  The traffic person directed us to the L on Mount Jumbo, suggesting that it might be a smaller letter but it would have to do.  The trail up to the L is about 1.5 miles with an elevation of 500ft, various parts of the trail are at steep angles.  The L is for Loyola Sacred Heart High School compared to the M for the University of Montana.  It was somewhat disappointing not to hike the more famous M, but the L provided similar views overlooking the valley and the town of Missoula.  Below is a view of the L from our seats at the show.
Travel
Getting to Missoula was somewhat of a challenge.  There is currently only one direct flight in and out of ORD each day via United Airlines that is hardly reasonably priced.  We were able to get a decent price on the outgoing flight but the return trip was north of $1,000 for a non-stop flight so we risked a tight connection through Denver.  Originally we had an hour between flights which was already testing fate.  A weather delay set us back about 20 minutes and then we were diverted to Terminal A, but we were still able make the connection in Terminal B with a little time to spare.
Manhole Cover