Following our trip to Germany and Austria, Nik and I had a several week stretch without any travel so we decided to take a roadtrip and spend a couple days in Alicante, Spain before the Christmas holiday. It's roughly a five hour drive south of Barcelona and would be a chance to take Koval with us on another trip.
Staying in City Center
Hotel Hospes Amérigo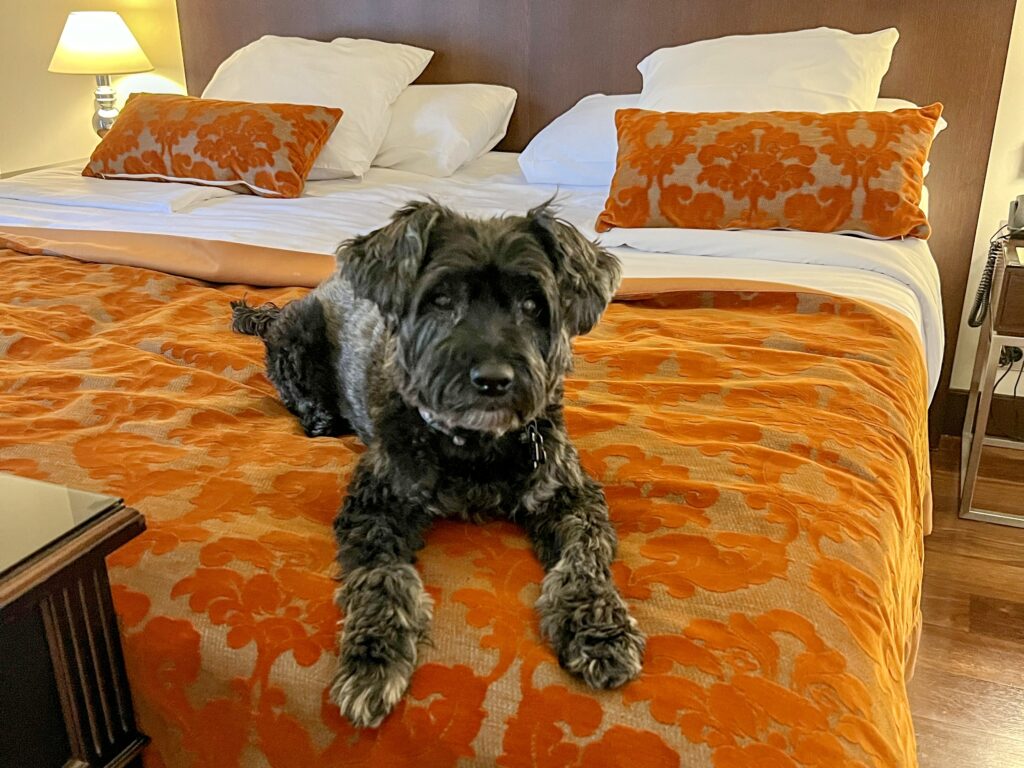 Alicante is a smaller city compared to the likes of Valencia, and certainly Barcelona. We wanted to stay somewhere that would be easy walking to most things around the city. Looking to stay at a Marriott property, we found another dog friendly hotel, Hotel Hospes Amérigo, and it did not disappoint. The location, a few blocks from the main beachfront promenade, was perfect for our couple days in Alicante. Without putting in a request, we got upgraded to a larger room that had a balcony. They also left a dog bed and dog bowls in the room for us.
Each day around 5:30 or so, the hotel delivered to the room some sort of happy hour treat. The first night was a bottle of cava and cookies. The second night was a plate of jamón, cheese and crackers. Our last night was another bottle of cava and two fruit skewers. We're not sure why we got them, but we weren't charged and didn't ask any questions.
Related: Roadtrip to Valencia and Koval's first hotel stay
The only negative of the hotel was that we couldn't adjust our thermostat. It was pretty warm outside, sunny and close to 70 each day and they kept the hotel at a certain temperature and we couldn't adjust our room temp.
Alicante Sightseeing
Santa Bárbara Castle
Possibly the most known sight to visit in Alicante is Santa Bárbara Castle, one of Spain's largest mediaeval fortresses. It sits atop M­ount Benacantil…you just have to get up there.
The origins of the castle dates to the 9th century. In more "recent times," from April 1939 with the end of the Spanish Civil War, it was used as a Francoist concentration camp for Republican prisoners until the end of that year. The castle remained abandoned until 1963, when it was opened to the public.
While you can take a bus or cab up, Nik and I chose to walk. We started a few blocks from our hotel on the cute side streets of old town. We knew it'd be warm in the sun but cool in the shade so we both worked up a little sweat.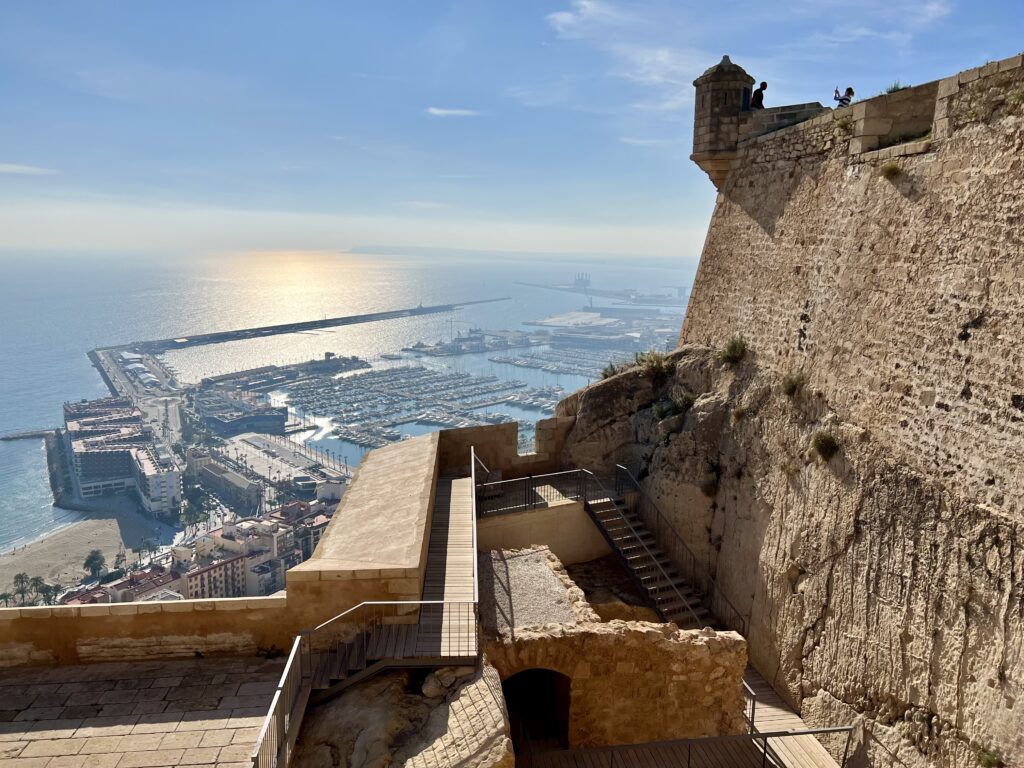 It was worth it as the views from the top were amazing. One side looks out towards the sea. Another side looks out at a different part of the city.
The castle itself is very impressive and has been really well maintained. The amount of land it's spread across seems never ending. From the top looking down, and along the beach looking up, you can also see the various walls that run down the side of the mountain.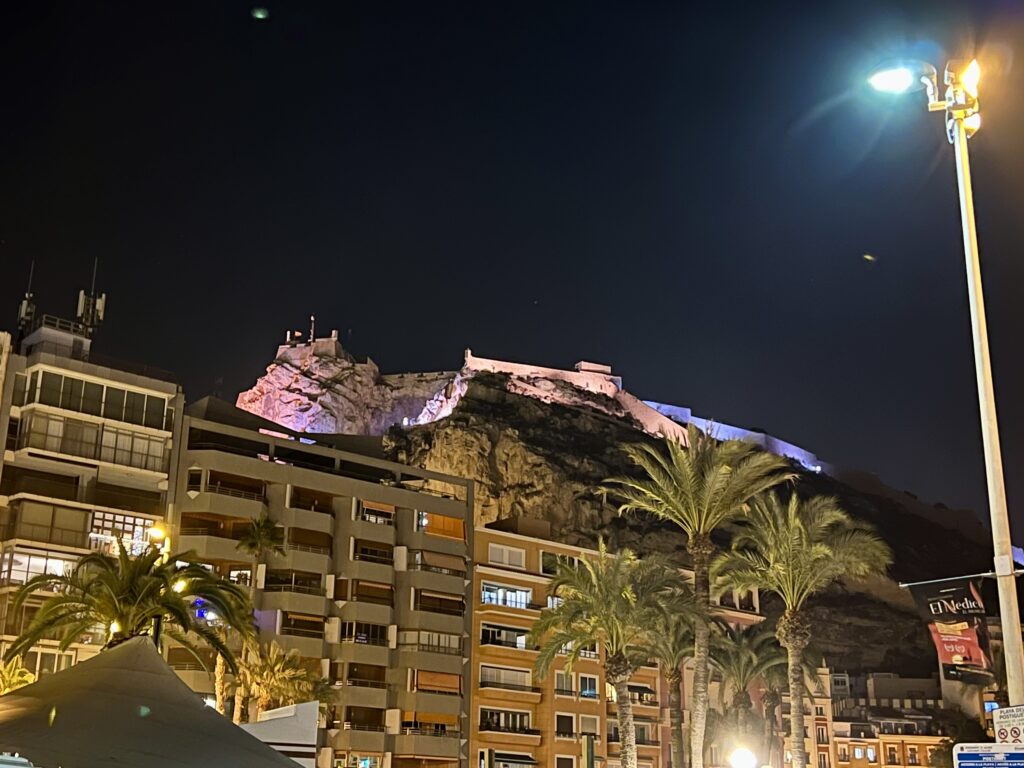 There's also a restaurant on the castle grounds that we stopped at to take in some sun while having cold beers before walking back down into the city.
The Beach and Promenade
Esplanada d'Espanya is the main pedestrian promenade that runs along the Alicante coast. You have a couple beach access points, a marina for boats large and small, a casino and restaurants.
The promenade is made of tri-color wave-like mosaic marble tiles, lined with rows of palm trees. We walked the area numerous times with Koval and it was just beautiful, including the view up towards Santa Bárbara Castle.
We did manage a couple drinks right on the water at Noray Cafe and Bar.
Since it was Christmas season, the city was well decorated with lights and nativity scenes along the promenade and some smaller side streets.
El Carrer dels Bolets (The Mushroom Street)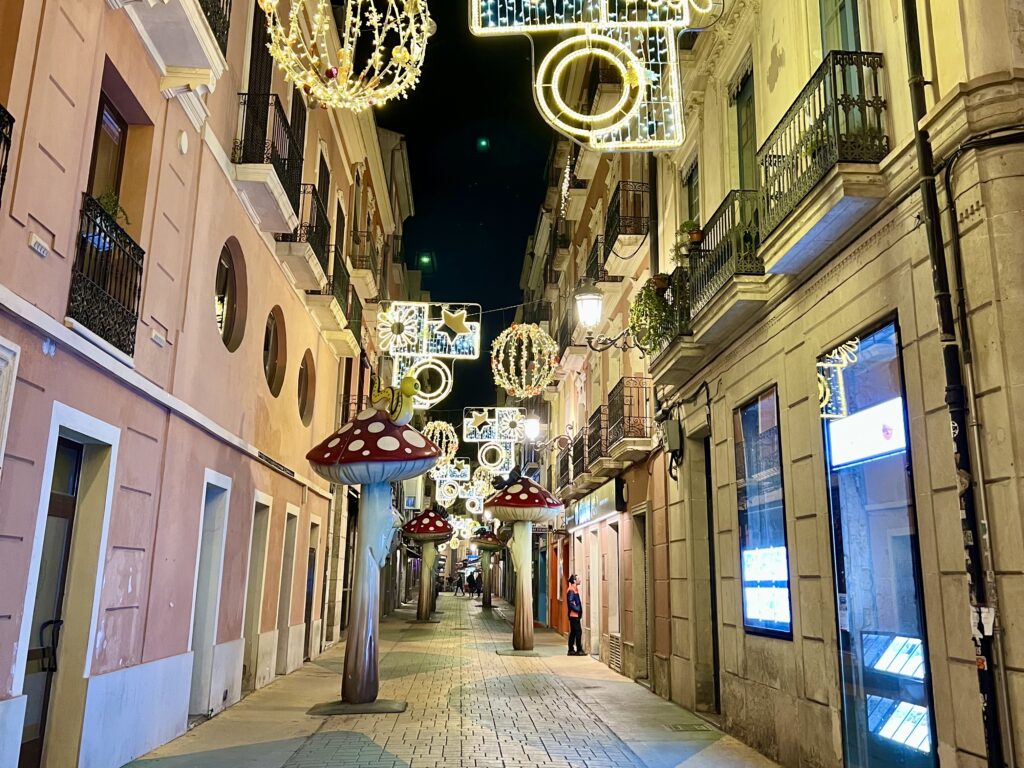 Call it what you will, El Carrer dels Bolets in Catalan or Calle de Las Setas in Spanish, The Mushroom Street took root in 2013. Part of Alicanate's San Francisco Street was transformed into a cute, fantasy wonderland of yellow brick roads, toadstool houses, and towering mushrooms. This was to help the street attract more foot traffic to the local businesses and restaurants.
Eating and Drinking in Alicante
We ate and drank very well on this trip. While we skipped taking a lot of food pictures, we did cover a good mix of restaurants and cocktail bars.
Restaurante Monastrell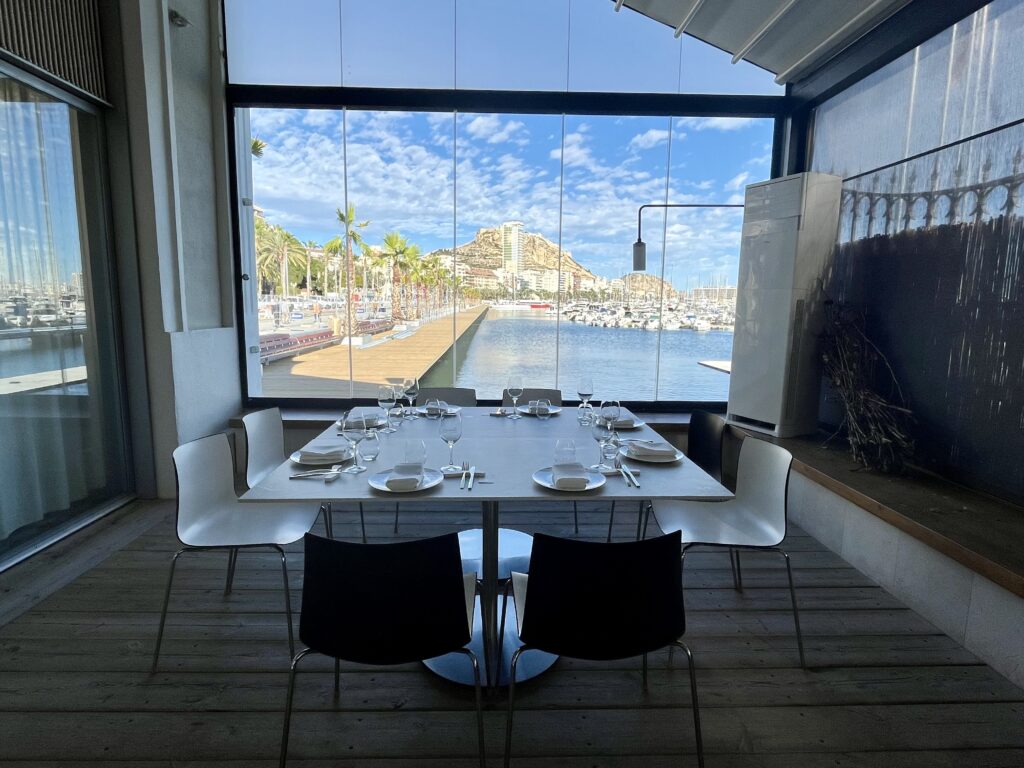 The best meal of our couple days in Alicante, and possibly on any of our trips so far, was lunch at Restaurante Monastrell. Nik read about the restaurant and that it's renowned for its use of local ingredients and the expertise of its Michelin star chef, Maria José San Román. Not sure if it's seasonal but only lunch reservations were available so we booked one.
It's located at the far end of the beachfront promenade, a 15 minute walk from where we were staying. We got seated in a covered side room that had an amazing view looking out to the sea and the Santa Bárbara Castle in the distance. There were two tasting menu options to choose from but we opted to order a la carte.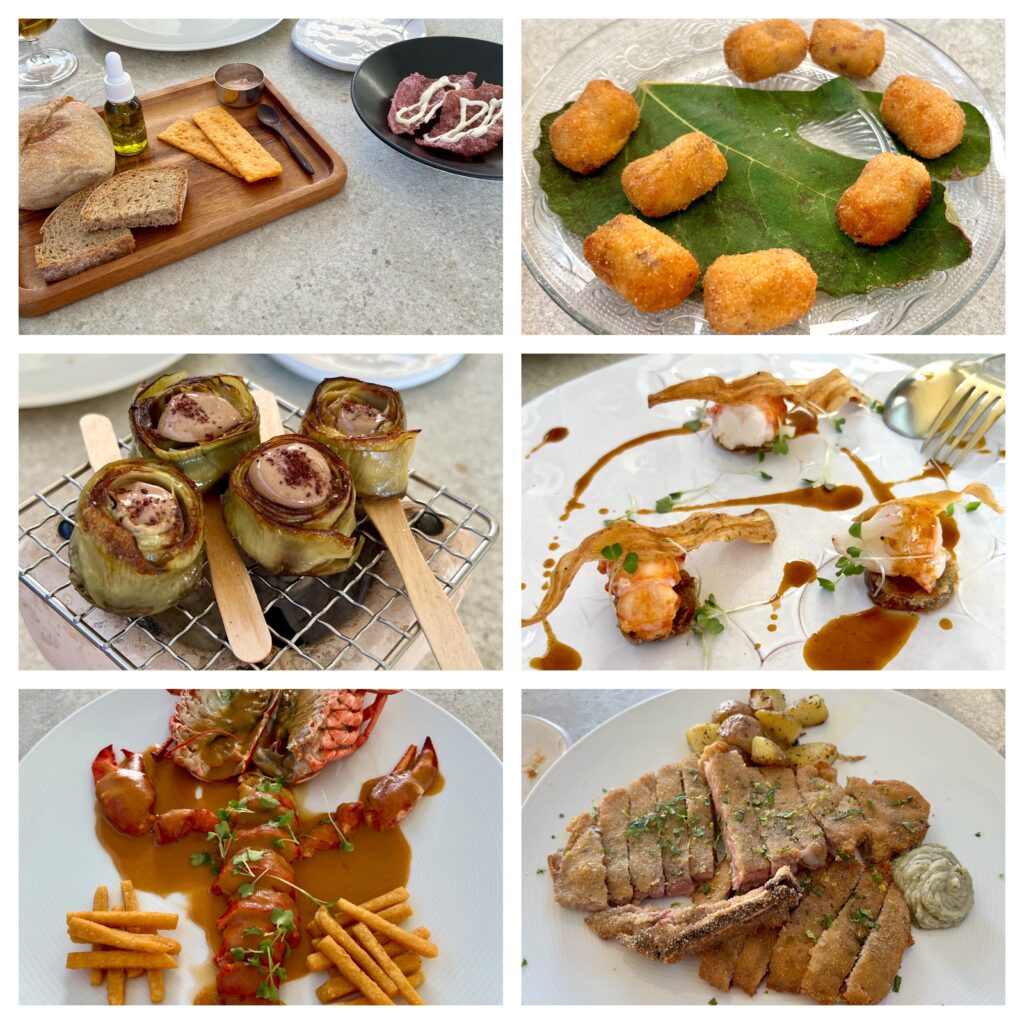 Pictured above top row left: the bread plate which came with red cabbage chips topped with a cream that were amazing. Top row right: mini croquettes of Iberian chorizo.
Middle row left: grilled little artichokes with cocoa alioli. Middle row right: langoustine tails with veal meat and cochinita pibil sauce and parsnip crisp on top. We could've eaten more of these. Supposedly it's one the chef's favorite.
Bottom row left: My entree of a whole shelled lobster with thermidor levantino suquet, chickpea panisse and mustard sprouts. Bottom row right: Nik's entree of a breaded veal chop with potatoes.
I cannot stress how good this meal was. We are so glad we went. We happened to strike up a conversation with some locals on our first night in town and they downplayed Restaurante Monastrell and suggested others. I'm glad we kept this reservation and would absolutely recommend it and eat there again.
El Portal Alicante
Our first night in Alicante led us to El Portal, a classy restaurant for tapas, seafood and cocktails. The restaurant had your typical bar and then another bar in the middle of the floor. We were seated at the middle bar and it's where all the drinks were made. Both Nik and I had several cocktails and made conversation with the couple next to us. Before we knew it, it was close to 11pm and we hadn't had dinner. Luckily the kitchen was still open so we got a couple small plates – pan con tomate, jamón croquettes and dessert – to hold us over. No pictures, but everything was delicious and we regret not ordering food sooner and having a normal dinner there.
Nou Manolín
One of the older and nicer restaurants in Alicante is Nou Manolín. We had a dinner reservation for here and you enter on the ground level where their fresh seafood counter is. The area was booming with people and chatter. So we were pretty disappointed when we got seated upstairs in a side room. No music. Five tables arranged and absolutely no ambiance. Luckily each table was full so we weren't awkwardly alone. Those gripes aside, the food was very good. Mostly small plates so Nik and I shared: jamón croquettes; meatballs in wine sauce and sauteed garlic red prawns.
26 Cocktail Bar
Not far from our hotel was 26 Cocktail Room. While we opted to sit indoors, they did have outdoor seating too. The menu was via QR code but the cell connection wasn't the best. Their selection of drinks were pretty vast and creative, being served in unique presentations.
My first drink was the Solero, which tasted like an orange creamsicle and was served in a popsicle vessel. My second drink was the Rainbow Molecular: gin, lemon juice and sugar and served with three "molecules" each of a different flavor that you had to guess. I do not remember what they were but they were strong and boozy!
Nik started with the Kriptonyte cocktail: gin with notes of melon and citrus with a fluorescent green color. His second drink was an Old Fashioned with Blanton's.
Gatsby Cocktail Club
A short walk from 26 Cocktail Bar was Gatsby's. Unfortunately we only had time for one drink because of a dinner reservation to get to. We really liked the more calm environment and easily would've stayed for several drinks.
I had the Whispers Of Violets: gin, elderflower liqueur, lime juice, violet syrup, egg white and plum blossom bitters. Nik had the Bramble: gin, sugar syrup, lemon juice and blackberry liqueur.
Templo Restaurant
Our last dinner in Alicante led us to Templo, a steakhouse we walked by that looked good. And it was. Nik had a 45-day aged ribeye and I had the sirloin. Both were very good and big portions. Since we traveled with a cooler bag, we were able to bring the leftovers back to the hotel and then to Barcelona and used them to make delicious steak sandwiches.
El Palacete Coffee & Brunch Restaurant
Our one true breakfast out in Alicante was at a place we passed on our way to the castle. El Palacete Coffee & Brunch on a cute little side street was so good. Fresh juice and smoothies and more breakfast foods than just pastries to choose from. I had a bagel sandwich with scrambled eggs with diced ham. Nik had a chicken caprese wrap. We're glad we stumbled upon this pace and we almost went back for a second meal.
Alicante Beer Scene
This was Nik's department of research but because of timing and not wanting to leave Koval alone for too long at night, we only fit in two beer-specific places: Bubbles  Beer Club and Malatesta. Bubbles had a pretty young vibe while Malatesta reminded us more of a dive bar.
Where to next?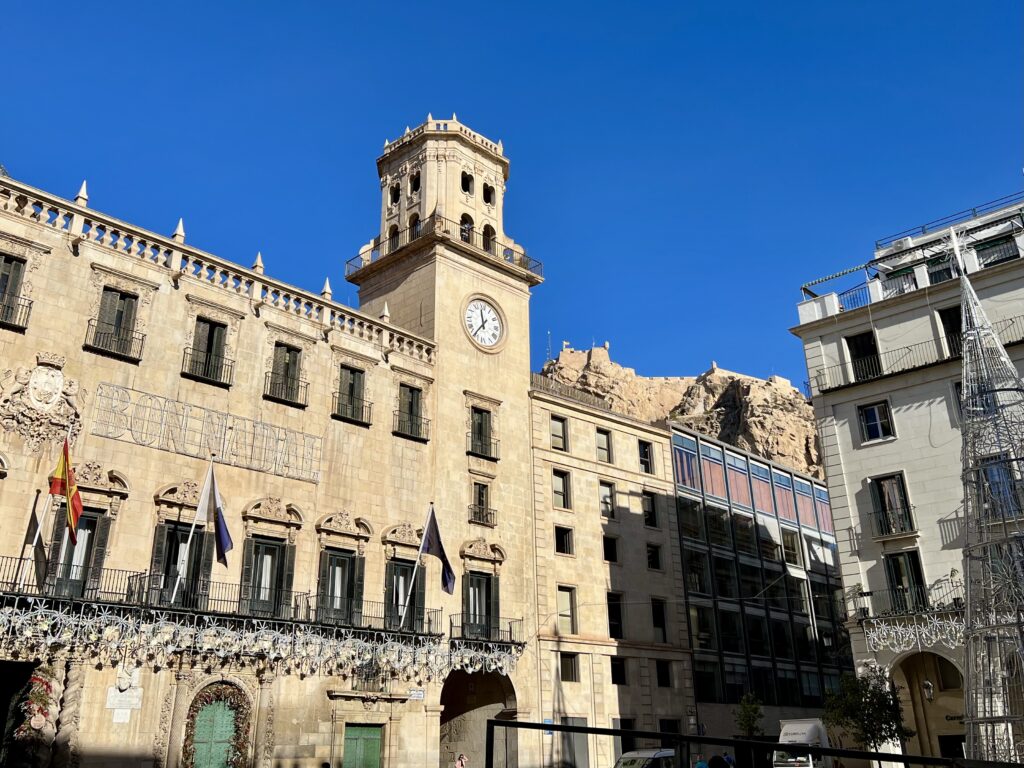 We had a great couple days in Alicante. The weather was absolutely perfect, sun all day and a just a little warmer than Barcelona. We're glad we took the trip and are already thinking about our next roadtrip with Koval.