---
You might think Estrella is the only beer in Barcelona, and while it is everywhere, there is also craft beer in Barcelona! After living in Barcelona for 13 months, we got the sense that craft beer scene has exploded over the last few years and I want to share some of our favorite places for craft beer in Barcelona.
Beer Bars
In no particular order, here are some of our favorite craft beer bars in Barcelona.
Conesa Beer Barcelona
In the Eixample neighborhood is Conesa Beer Barcelona, owned by Montse and Joan. They are siblings and two of the nicest people you'll meet if you start chatting with them. The tables, chairs, stools and bar are also designed and made by the Conesa family.
Conesa Beer has 12 craft beers on draft and a few more in cans. While Montse and Joan both pour the drafts, Joan mostly handles the food prep. They offer a variety of hot and cold tapas – don't sleep on the "toasts" or the chicken fingers.
This is also the place to go for your soccer viewing. You'll always find the Barcelona (La Liga) games on and often some bigger matchups from other leagues too. We enjoyed watching a few of the 2022 World Cup matches there.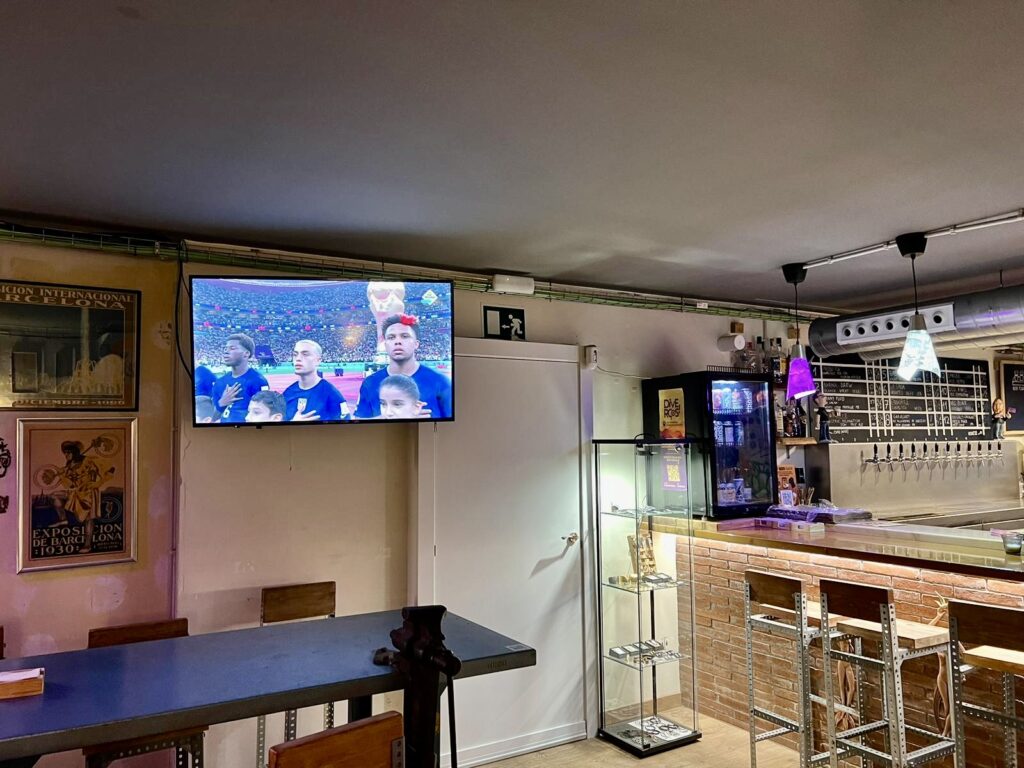 In addition to always spotless bathrooms, Conesa Beer has adapted their space to accommodate people with reduced mobility. Check out their Instagram here.
Address: Carrer de Casanova, 62 (Eixample)
Humble Beer
For a selection of 10 craft beers on draft and several coolers more of craft beer in cans and bottles, head to Humble Beer, also in Eixample. Everything, including the epic record collection, is curated by Mark, the owner.
Humble Beer also has a selection of chips, cold meats, cheeses and gildas1A gilda is any combination of a toothpick skewer of olives, a salt-cured anchovy, a pickled green guindilla pepper, and (sometimes) a gherkin pickle or sundried tomato. to nibble on while you enjoy your beer.
The space is a long room, with brick walls and wooden tables, a very nice spot to enjoy a few drinks and tapas. When we would visit during the hot summer months, Humble Beer had some of the best air conditioning. Additionally, the bathrooms were always clean and fresh.
Address: Carrer del Rosselló, 185 (Eixample)
Hoppiness
Located in the Poblenou neighborhood, Hoppiness boasts over a dozen craft beers on draft and more in cans and bottles. We would often hit up Happiness following a few hours at Playa de Bogatell, one of several beaches in the area.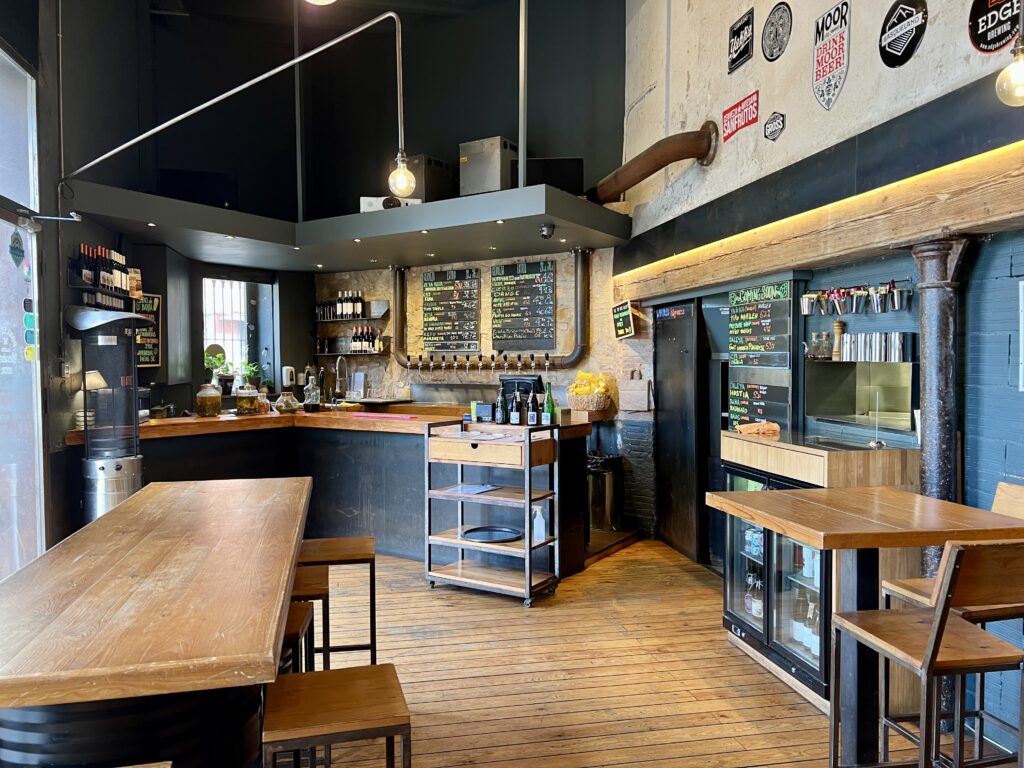 Their patatas bravas were some of our favorite because the sauces came on the side so you can use as much or as little as you want. A portion of their food menu consists of "fajitas" or the "Hop-Roll." Pictured below is their Cow Boy Hop-Roll with bacon, fried egg, arugula, pico de gallo and cheese with a side of their bravas. Delicious!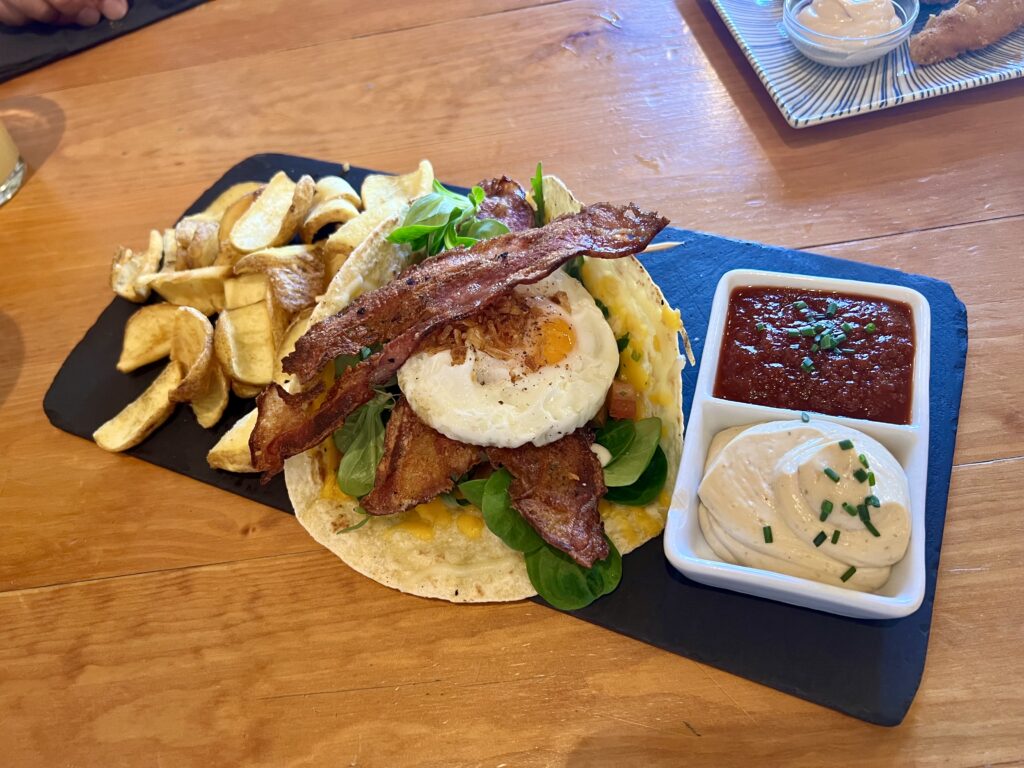 In the time we have been gone from Barcelona, they recently opened a second location in the Hostafrancs neighborhood, near Sants at Carrer de Vilardell, 23, Barcelona.
Address: Carrer de Ramon Turró, 180 (Poblenou)
Related: Our Favorite Market – Mercat del Ninot
Ølgod
You'll more than likely be in the Gothic Quarter and Raval neighborhoods of Barcelona walking the narrow streets and enjoying the old town. As you explore the area, keep an eye out for Ølgod.
A dimly lit space, Ølgod appears rough around the edges, but in reality is anything but. Close to 20 beers on draft, and on our last visit, food available from a partner restaurant next door.
We first visited Ølgod in 2018 and returned a few times while living in Barcelona. Definitely keep an eye out for it and stop in for a cold beverage.
Address: Carrer de l'Hospital, 74 (Raval)
Kaelderkold
A sibling bar to Ølgod is Kaelderkold. Located in the Gothic Quarter, they're a six minute walk from each other. Kaelderkold has a nice variety of craft beers on draft and some tapas to choose from. Don't let it's small storefront fool you, it's a good spot to have a drink and people watch.
Address: Carrer del Cardenal Casañas, 7 (Gothic)
Breweries and Tap Rooms
The places below are only a few of the breweries and tap rooms that Barcelona has to offer.
Garage Beer Co.
While their brewing facility is a little outside the main neighborhoods of Barcelona, Garage Beer Co. does have three locations in the city that you can visit: in Eixample, Raval and Poblenou. We have been to two of them and each have their own vibe and are both worth visiting.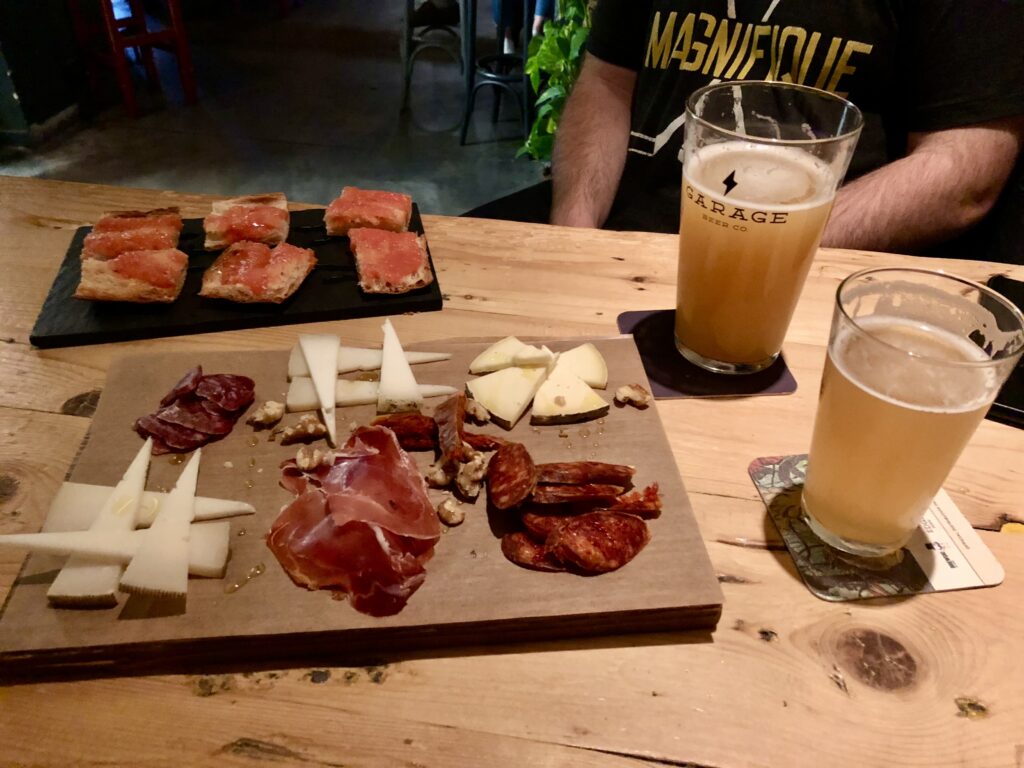 The Eixample location has been around for awhile and attracts a younger crowd because if its proximity to University of Barcelona. This location also a nice selection of tapas, your typical meat and cheeses and even larger plates such as nachos.
Garage's location in Raval is newer, opening in late 2022 in an old Irish pub. You can see some of that history in the woodwork that was preserved, along with some of the wooden benches and tables still in use.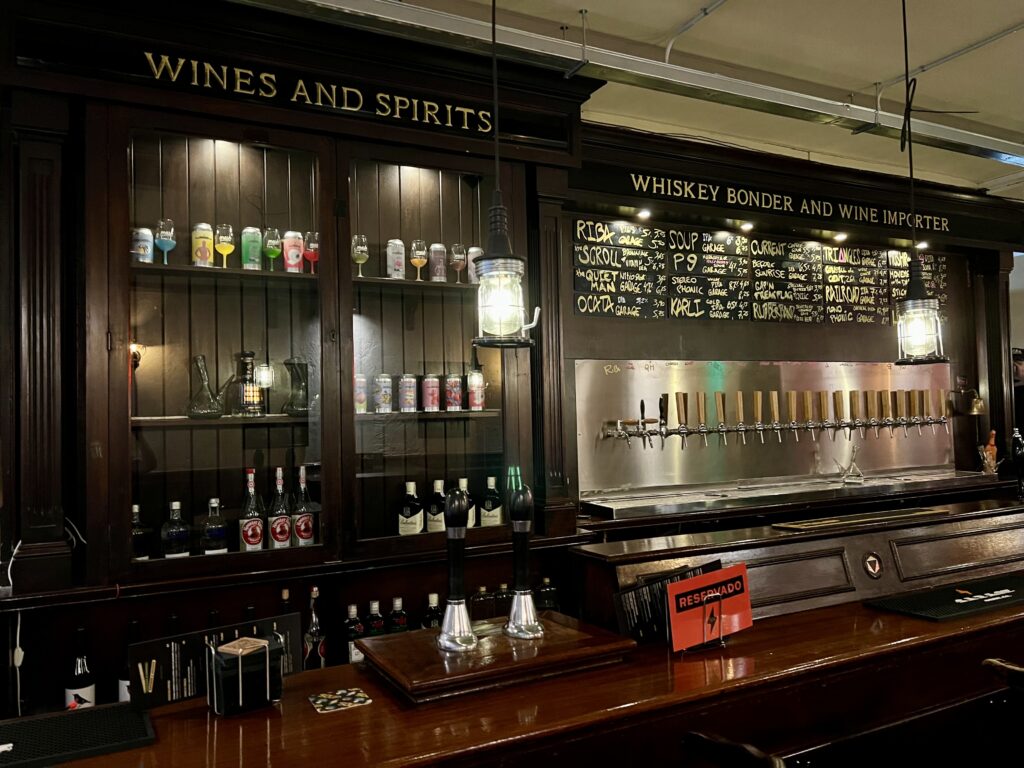 Offering 20+ beers on draftbcnbeer, there is something for everyone to enjoy. Additionally, they partnered with Warike, a delicious Peruvian restaurant, to serve food at this location.
Addresses: Carrer Consell de Cent, 261 (Eixample) and Carrer del Marqués de Barberá, 11 (Raval)
BlackLab Brewhouse
Not far from Garage Beer's Raval location, in the Barceloneta neighborhood is BlackLab Brewhouse & Kitchen. It's a really nice spot with great outdoor seating in a bustling area. You're also not far from the port for yacht watching and a short walk to the beach. Due to it's location, there'll certainly be a lot of tourists around.
While we didn't frequent BlackLab, it's definitely worth visiting if you find yourself in the area.
Address: Palau del Mar, Pça. de Pau Vila, 1 (Barceloneta)
El Vaso de Oro
Also in Barceloneta is El Vaso de Oro, a very lively tapas bar. You'll want to try and squeeze in at the bar for the best view of the action. The staff are all dressed in ship uniforms, which you don't see everyday. Their beer and how it's poured is something special. Served in tall slender glasses, you're guaranteed to have a lot of head on it, but you go with it.
Their menu of tapas is very good. Some of our favorites were the the solomillo con pimientos (sirloin steak and peppers) and the spicy sausages.
Note that they don't take reservations and tends to always be pretty busy. So be patient. It'll be worth it.
Address: Carrer de Balboa, 6 (Barceloneta)
Barna Brew
Underrated and a place we didn't frequent too often is Barna Brew. Located in the Sant Antoni neighborhood, they pour Belgian inspired beers and draw big crowds on the weekend evenings. I can't speak to how their food tastes but it looks good.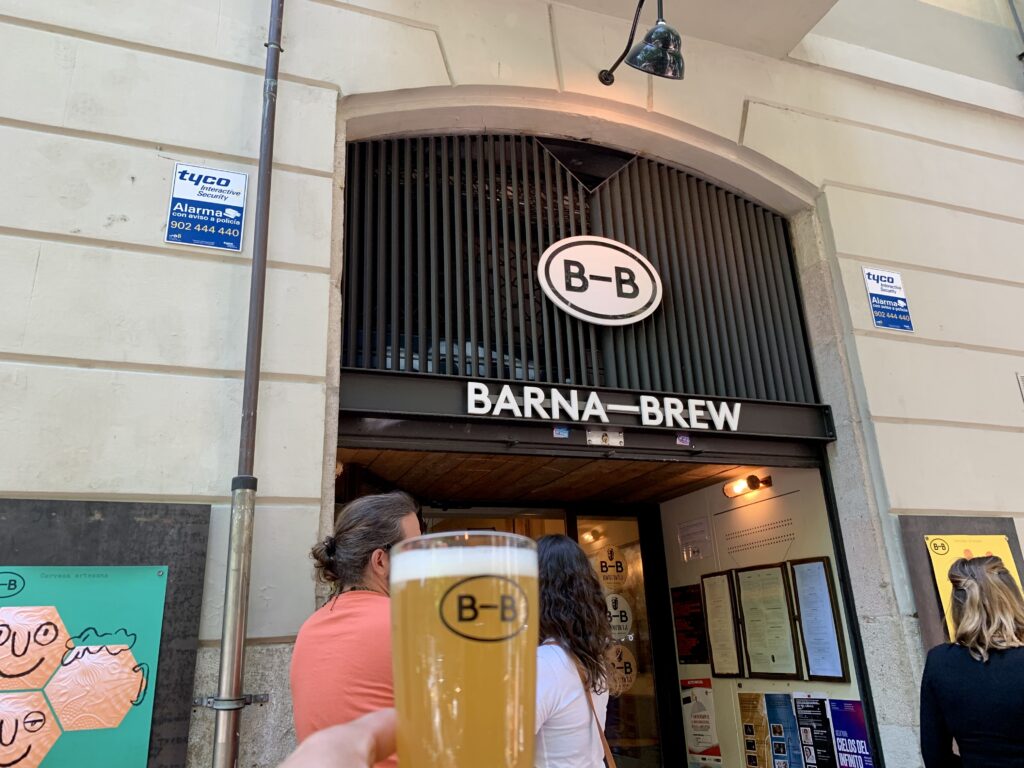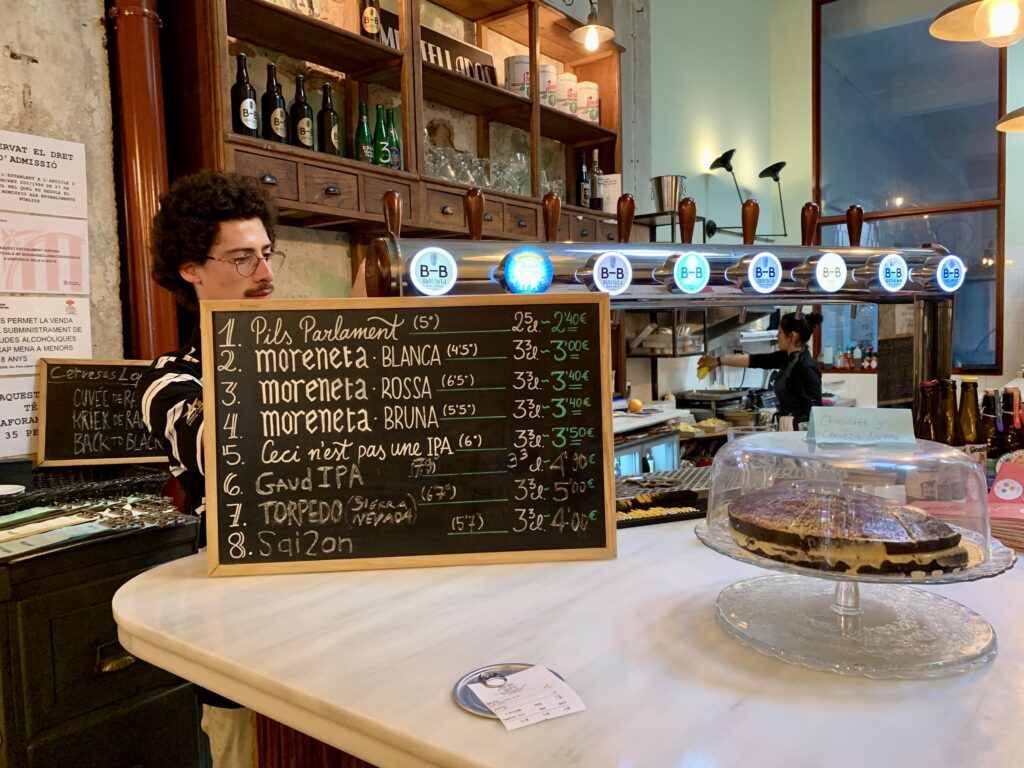 The Sant Antoni area is one that you should take some time to explore. Step out of the Gothic and Raval quarters and get a more neighborhood vibe here.
Address:Carrer del Parlament, 45 (Sant Antoni)
Beer Festivals
Barcelona even plays host to several big beer festivals. The Mash Beer Festival is probably the biggest and attracts brewers from all over. Unfortunately, we were never able to check it out.
One that we did get to experience was the Poblenou Beer Festival. It was well organized with a lot of beers to try and numerous food options available as well. I also really like the Poblenou neighborhood so I'm glad we made it to that festival.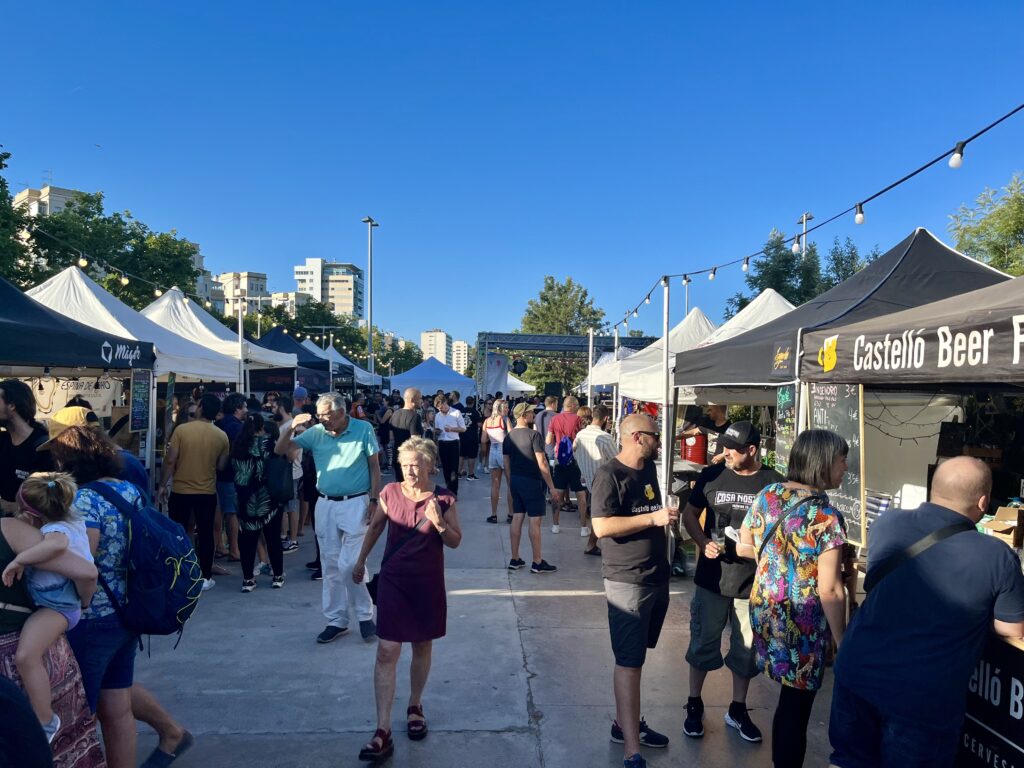 Save this post for your travels to Barcelona and let us know if you visit any of these wonder places for craft beer!