One of our favorite places to shop for fresh food and have the occasional lunch is at Mercat del Ninot located in our neighborhood, Eixample. Everyone knows Barcelona's famous La Boqueria located just off the busy Las Rambla, but Mercat del Ninot is much more of a neighborhood spot.
Brief History of Mercat del Ninot
Dating back to the early 19th Century, Mercat del Ninot has gone through a few changes. In 1993 it went from being an open-air market to being covered and most recently it underwent renovations in 2014-15 and re-opened as an expanded space to include stalls for both markets and tasting spots. There are a couple mixed stories1Originally it was known as El Porvenir (The Future) due to its location in a very prosperous area. However, its name was changed because of the daughter of a local tavern owner. The girl went out for a walk one day along the beach and found the figurehead of an old ship in the shape of a puppet, that she liked very much. So much so that she put it up in the entrance to her father's tavern, and for that reason it became known as the "la taverna del ninot" (Puppet Inn). By extension, the market, which was very close by, also became known as "El Ninot" market. Today, this figurehead can be found in the Maritime Museum, but there is a reproduction of the puppet in the main entrance to the market.about the figure that hangs on the outside of the original building.
Restaurants of Mercat del Ninot
In addition to numerous stalls to buy fresh food, Ninot has a handful of places to stop at and enjoy a bite to eat. Two spots that we've eaten at more than a few times are De Cruz Morales and La Medusa 73.
De Cruz Morales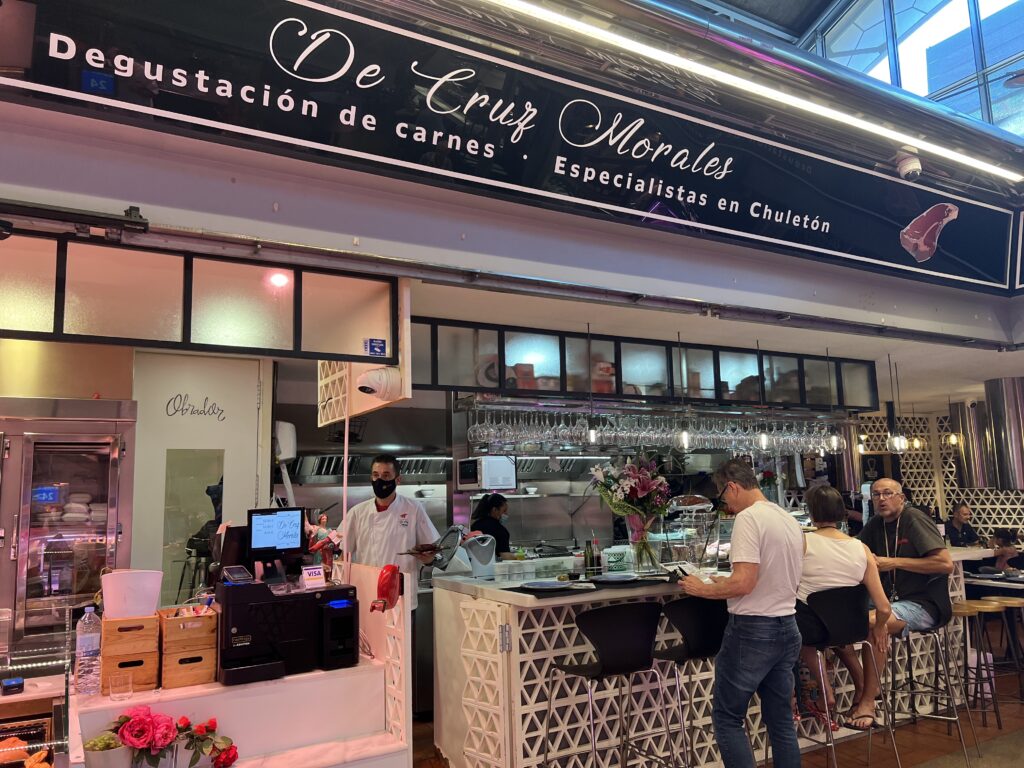 De Cruz Morales is a butcher shop and restaurant. We wandered by once and saw people cooking steak on a hot griddle in front of them and were intrigued. When we finally went for a lunch, it was outstanding. The butcher picked a ribeye from the display case, grilled it on each side for a char, then sliced it real thin for us to finish cooking over the hot griddle. The meal came with two sides; in our case we chose the thinly cut fries and sautéed padrón peppers, a traditional Spanish tapa.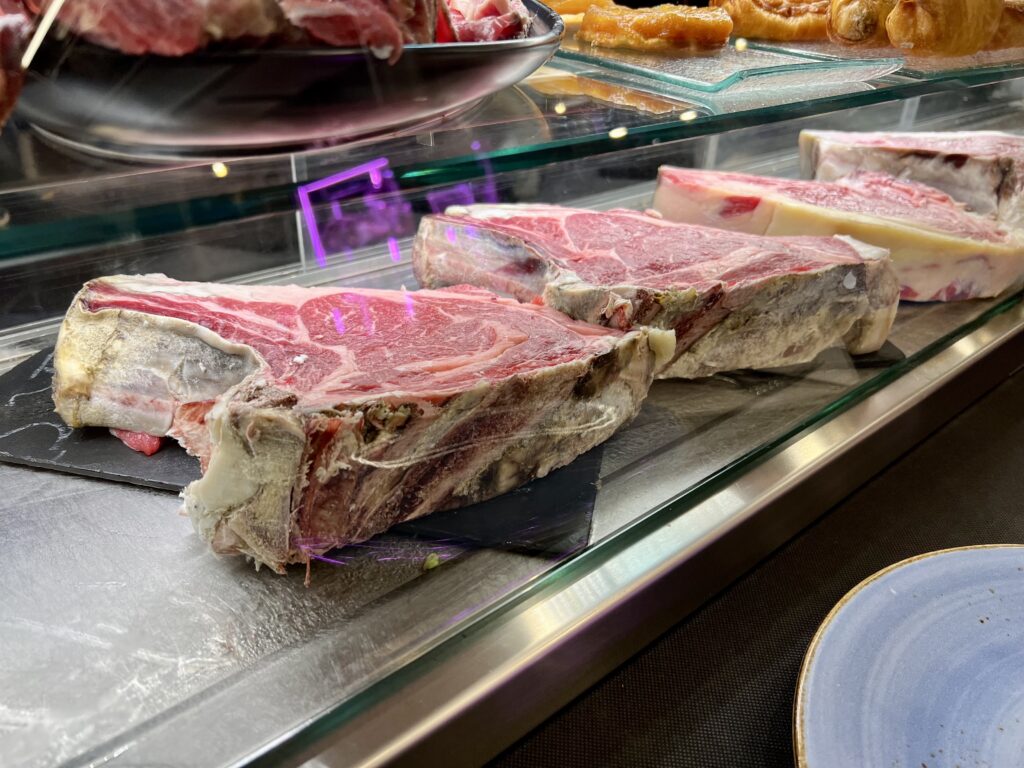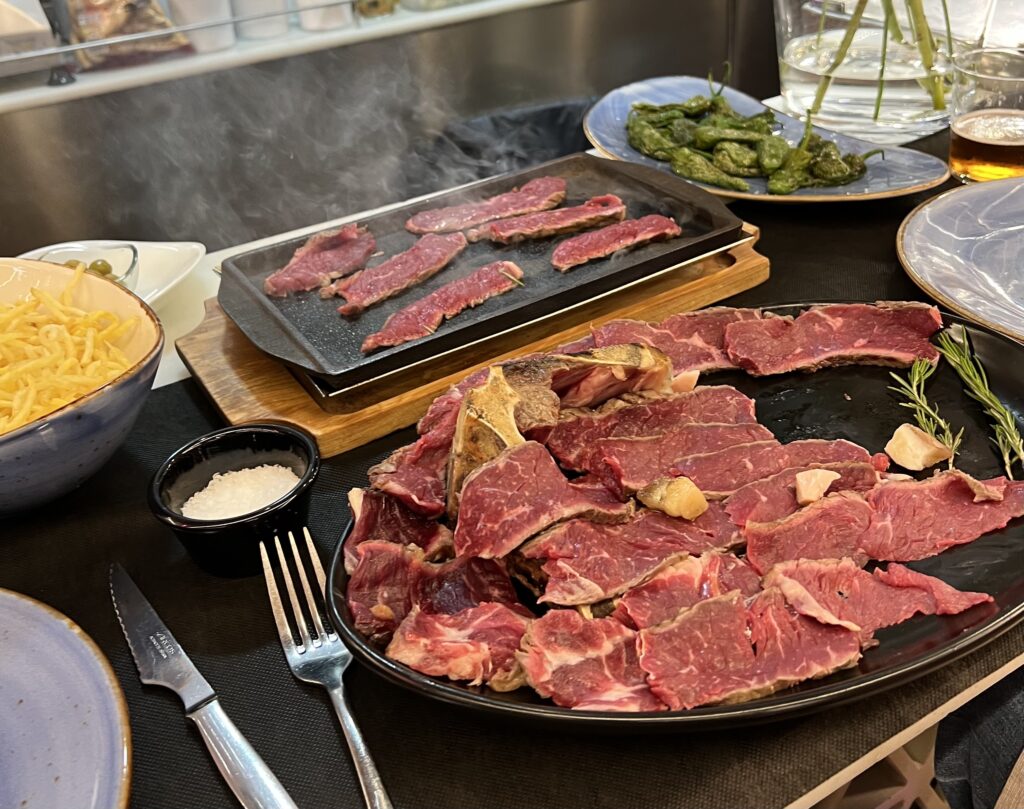 On our next visit we got an appetizer of their "chupa chops," a chicken drumette and the entrana, a style of skirt steak. The chupa chops came with a salsa teriyaki for dipping and were delicious. The entrana was prepared the same way as the rib eye and we cooked it in front of us.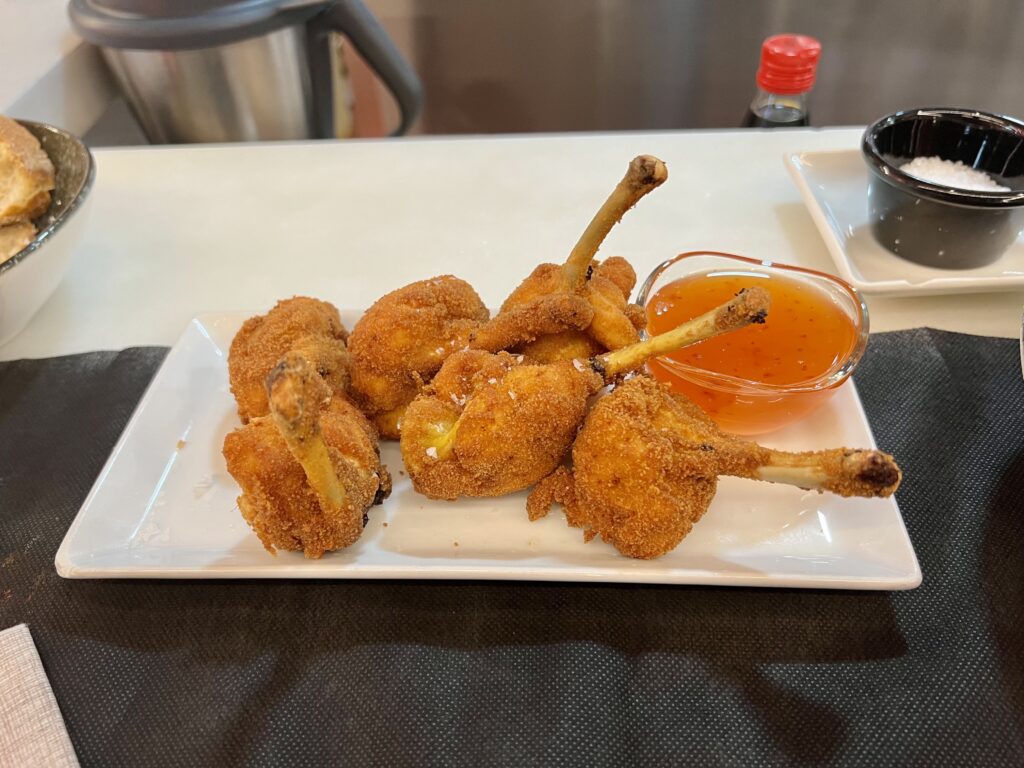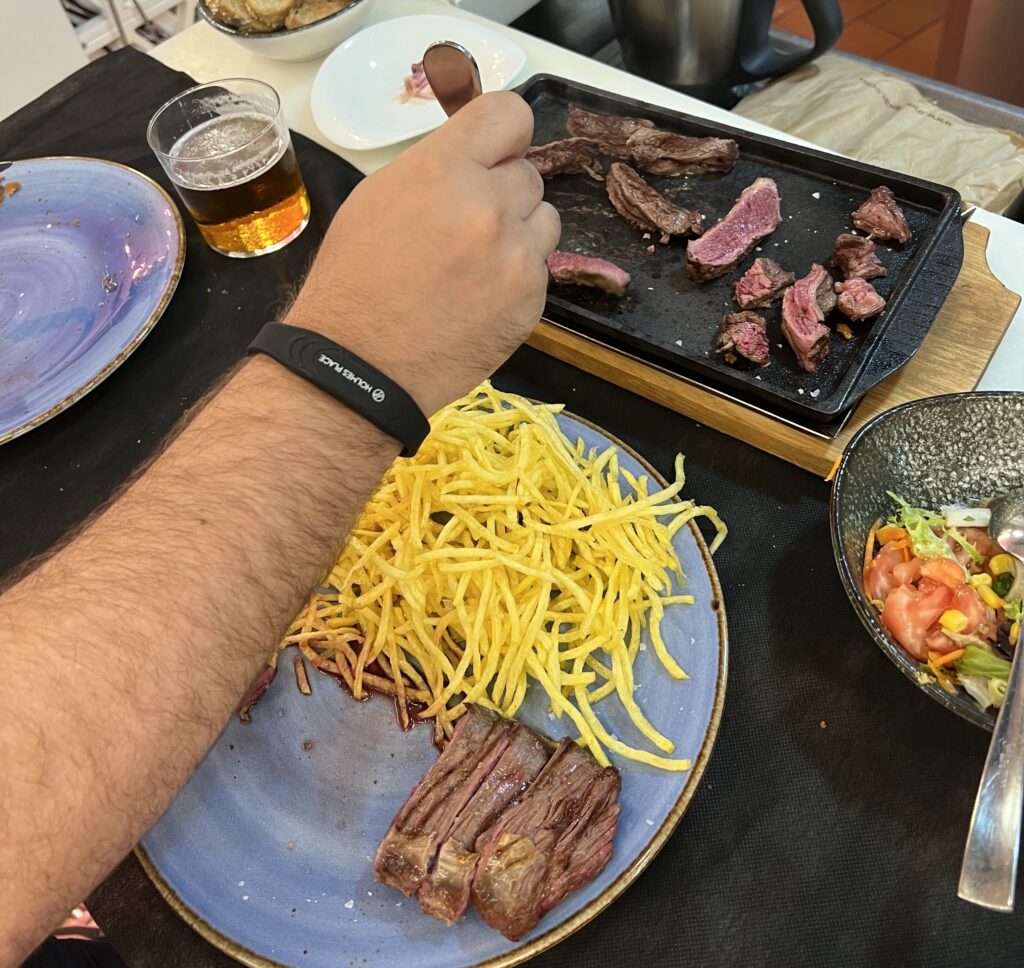 La Medusa 73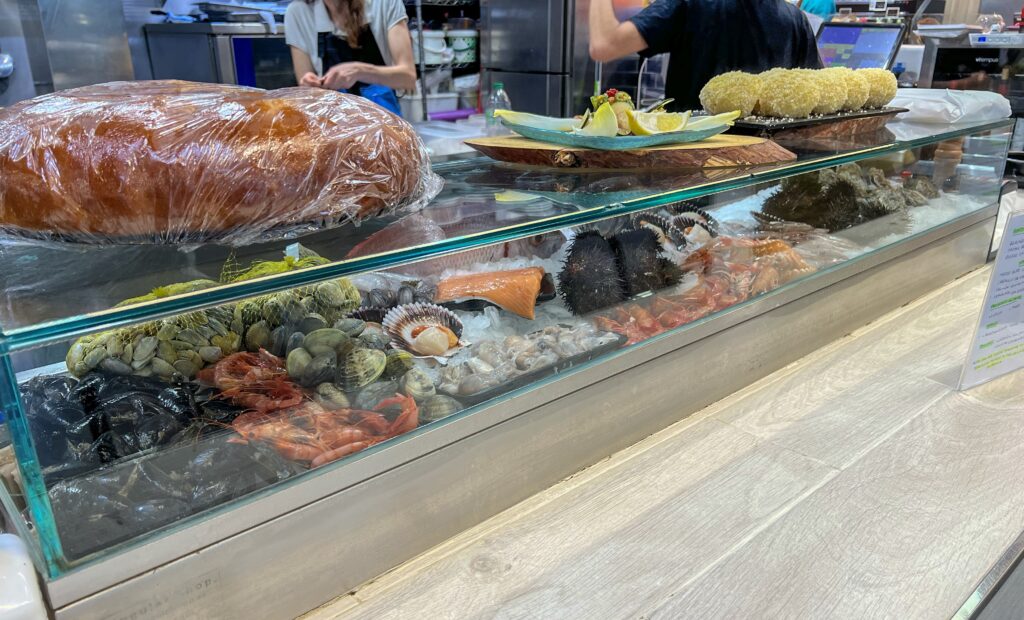 The eatery we probably frequent the most in the market is La Medusa 73. They are a fish shop and seafood bar with stools where you can try their dishes with fresh fish from the same shop.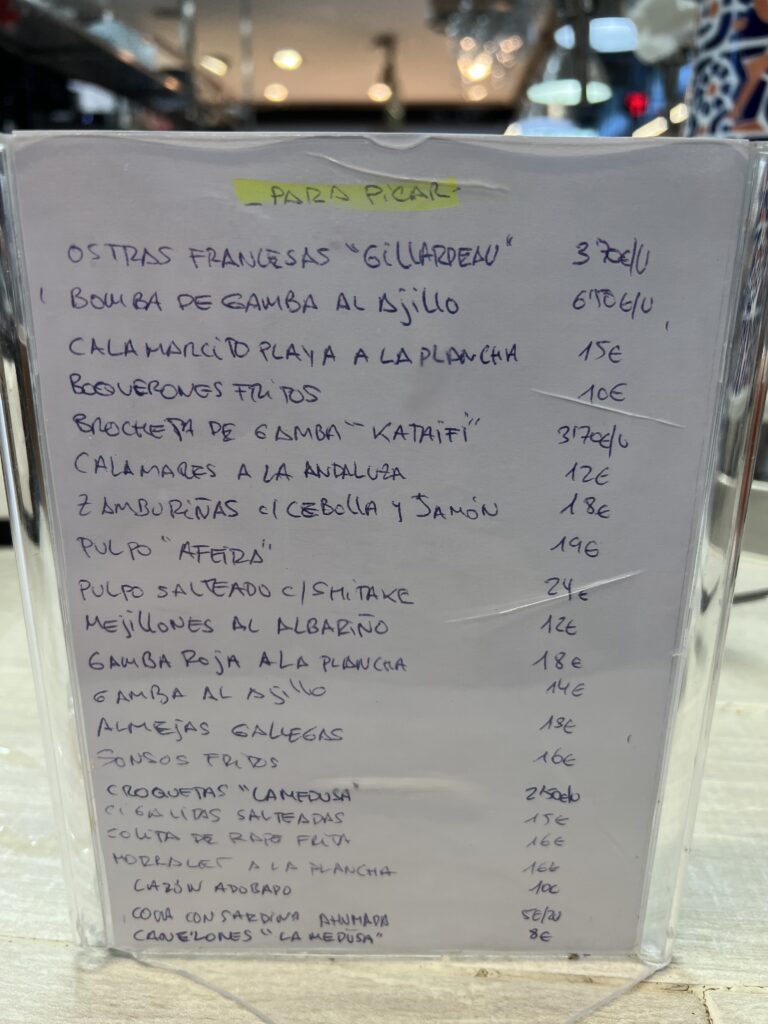 Some dishes such as the bomba de gamba, calamares a la andaluza, pulpo cooked in different ways, are available almost everyday, but others are specialties of the day. Everything is fresh and made to order. We haven't had one bad thing there.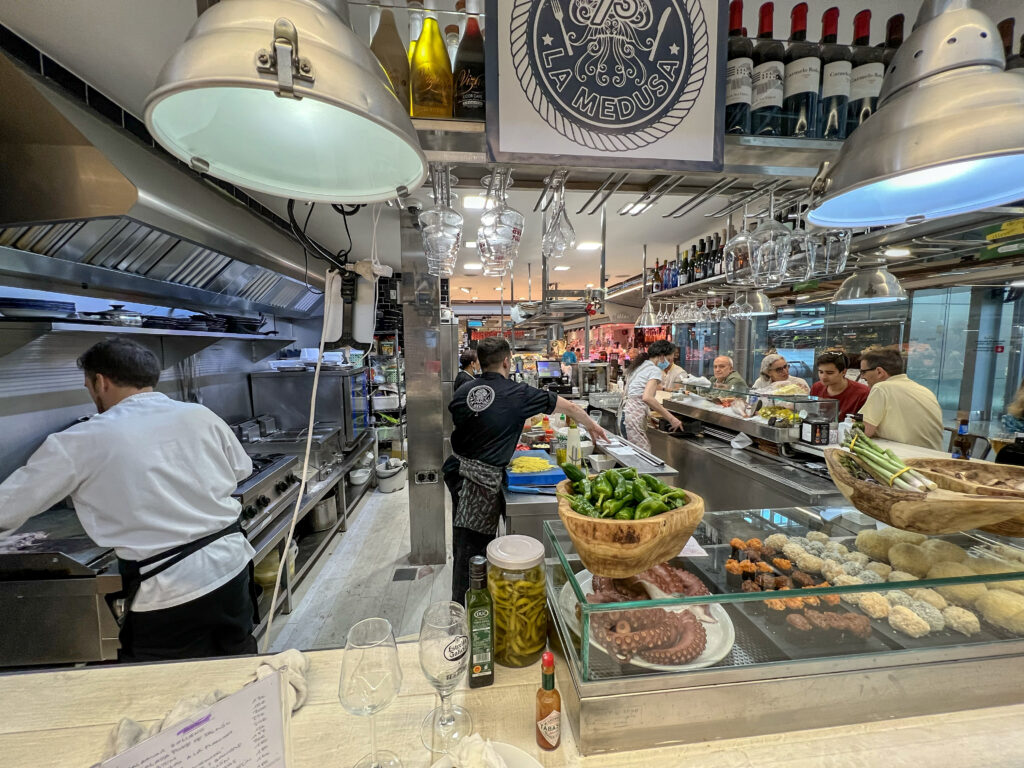 The workers are all very friendly and we've taken a liking to them, as seen below. They're efficient in the kitchen, the wait staff hustles like no other place in the city and the food is delicious.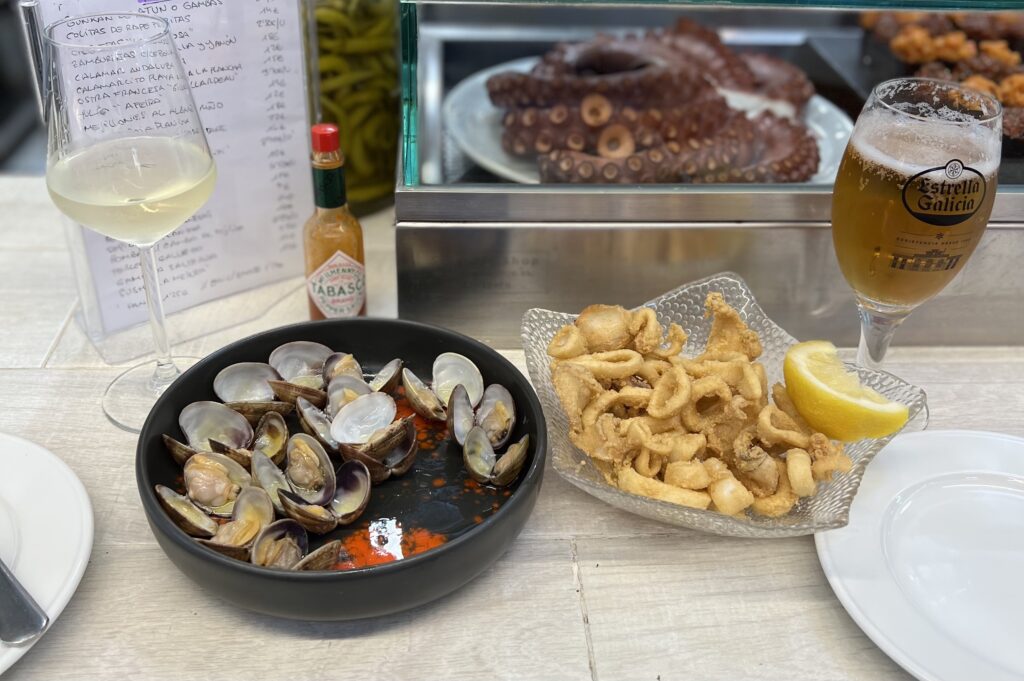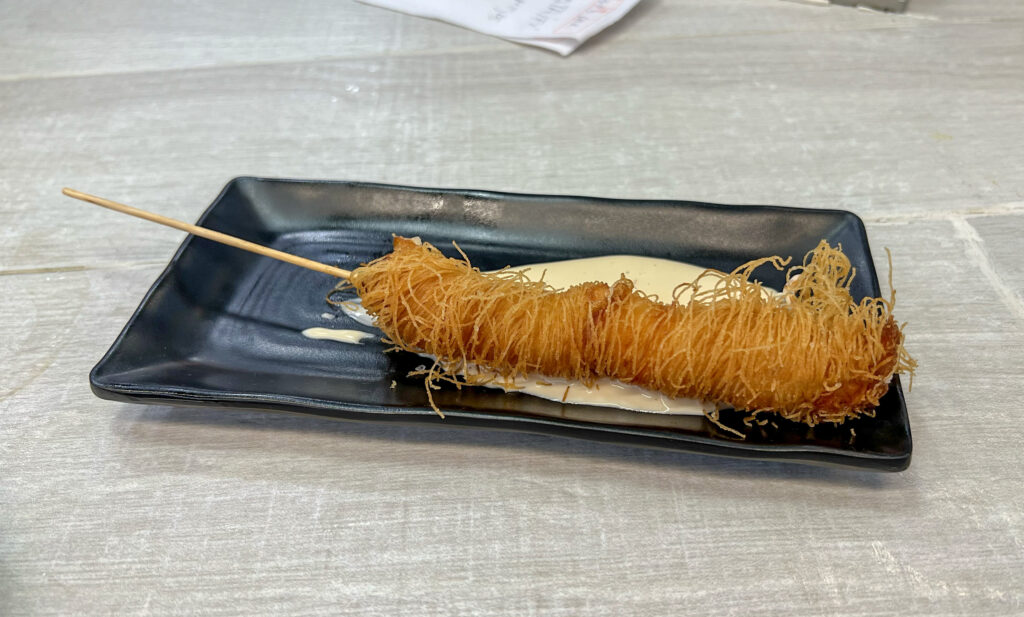 Often, we'll use Google Translate to figure out what certain things are on their menu, but other times, when we see something brought to another table we ask about it. That's how we got the Lubina, a sea bass, one time. And their fries are some of the best we have ever had. Thin, crispy and not too oily.
We're excited to have friends and family visit because going to La Medusa for a lunch will be on the to-do list!