After roughly 13 months of living in Spain and taking numerous trips with and without Koval the dog, we made the decision to return to Chicago. Along with that came the  anxiety-ridden process of flying a dog back to the United States.
Flying a Dog on Lufthansa
Since we had a good experience flying a dog on Lufthansa, we booked our return flight with them as well. Just like the flight we took in April 2022, this flight went through Frankfurt. The layover was longer this time, closer to four hours, but we were comfortable with that. We also attached an Apple AirTag to Koval's crate and it worked when we tracked him after drop-off in Barcelona and during the layover in Frankfurt.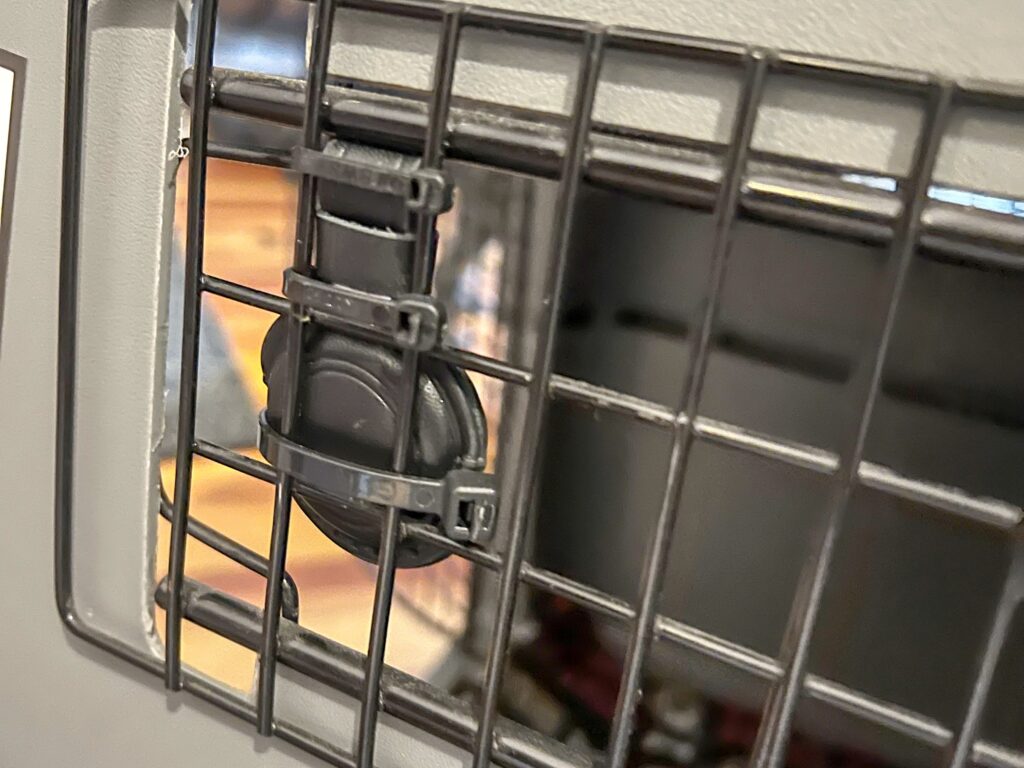 Barcelona-El Prat Airport
Checking in at Barcelona-El Prat Airport was a much more pleasurable experience than when we departed O'Hare. The desk check-in area was less busy and the terminal as a whole had more room. Koval was incredibly comfortable this time and walked in on his leash. The counter staff loved him, even when he jumped on the conveyer belt.
Koval's paperwork was checked and crosschecked with our flight itinerary. Our flight was scheduled to depart at 10:30 and I think we were done checking in around 8:30  (I like to be early.) Since we were so early, Koval got to hang with Nik and I in the terminal until 9am when we took him through security. Things could not have gone better.
At our gate, I decided to wait and be one of the last to board. I wasn't worried about overhead space or anything and it worked out. I saw Koval being brought out to the plane. Once I boarded, I introduced myself to some of the flight crew and shortly after they told me Koval was loaded.
Fast forward to Frankfurt where the AirTag worked as we got his location. We did not see him taken off the plane upon arriving, but like the Barcelona departure, we saw him being brought out and waiting to get loaded on for the flight to Chicago.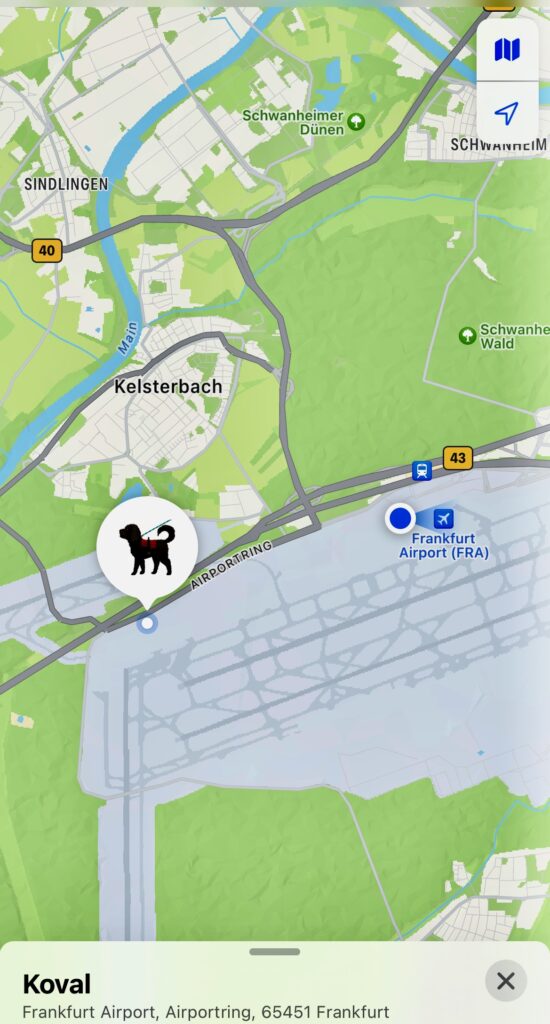 Vet and Paperwork Process
The paperwork process for our return was specific to Barcelona and was pretty easy. We had an appointment with our vet, Veterinari del Clinic, 10 days before departure where they did an exam and submitted a "healthy certificate" to the official vet of the city. The city then processed that certificate along with my passport and Koval's pet passport and created a "Certificado Generico." After a few days, I had to pick up both certificates, one from my vet and one from the city. Luckily the latter was conveniently located near Plaça Catalunya and was easy to get to.
As mentioned above, these papers and my passport were checked at the airport. And with no issues, we were on our way.
Arrival at O'Hare
Before leaving BCN, I had heard that the international arrival area at O'Hare was a disaster with construction. I was hoping that Nik and I having Global Entry would help us out and sure enough it did. We breezed through customs quickly. The walk to the kiosk was probably longer than being at the kiosk. Meanwhile the regular entry line was long, probably several hours long. I can't imagine having to wait in it knowing that Koval is waiting for us on the other side.
As Nik went to gather our bags, which was a shitshow in itself, I went to look for Koval. I brought a luggage cart with me and he was already waiting for me in a corner of baggage claim along with two other dogs. No one was there to check us and luckily I had mini scissors with me to cut the crate zip ties. I got Koval's collar and harness on and leashed him. He was overly excited to get out. I gave him some water and we navigated our way back to Nik. (In my excitement too, I never took any pictures at arrival.)
Once we had our bags on another cart, we headed for the exit and that's where some border patrol officers, and not CDC staff, checked Koval's paperwork. It all happened pretty quickly and I think they just skimmed the papers and looked at Koval. As I was putting the papers away, I looked down and Koval had just peed near the desk! I guess he wanted to declare something before leaving the airport.
We cleaned up his mess and were on our way. My good friend Nicole picked us up and we breezed on out. To make up for a lack of pictures at O'Hare, here is Koval ready for bed after arriving to our Airbnb.
I can happily say that we had very successful flights with Koval, from he States and back again. While I'm not in a rush to do this again, as long as you do some research and are patient, this process is easy to do. While it may not always be comfortable and can cause anxiety or nervousness, there are more good stories about flying a dog than bad stories. Hope this helps someone's nerves one day.