Once we decided that we were going to make this move, my first point of attention was Koval and flying a dog to Barcelona with us. If you didn't know, I'm a helicopter dog mom, and was most worried for him and his wellbeing. This is how we went about the process of flying Koval the dog to Barcelona.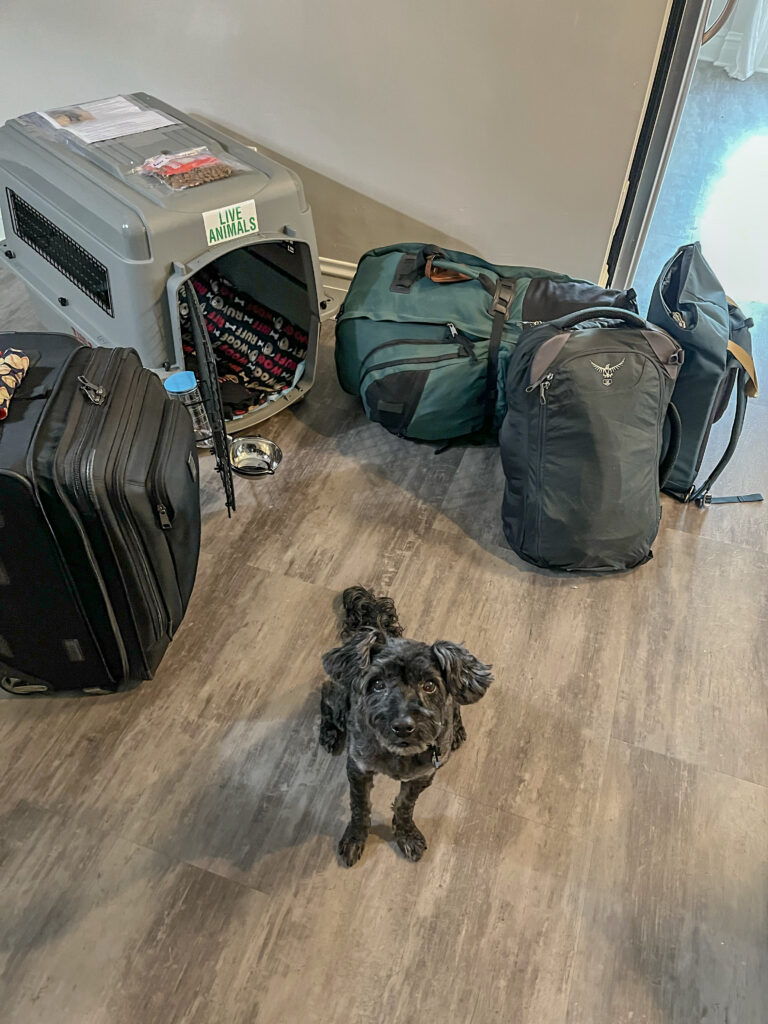 Getting Started
Flying Research
We are very lucky that Koval is crate trained and does very well in his crate…all except when traveling. When we've taken road trips, he whines initially but then settles down. We hope that was the case as he flew from Chicago to Barcelona via a layover in Frankfurt.
Through some Facebook groups, I became acquainted with several people who have flown dogs in the hold of a plane. The hold is an area where checked luggage goes, but animal crates get loaded differently and have more safety measures in place so crates don't move around. I learned flying a dog in the hold is far more frequent than I expected and quite safe. Trust me, I see those bad stories, but those happen so far and few between, that I was ok flying Koval. For some, putting their pet in the hold is a deal-breaker and I get that. But there are very few other options and we knew Koval was coming with us.
After lots of research and messaging with people who have flown dogs before, we decided that Lufthansa was the airline we wanted to fly. Unfortunately they don't fly directly to Barcelona, so a transfer through Frankfurt was our only option. We purposely booked a longer layover in Frankfurt so Koval would go to their pet hotel for a break. (You need a layover of 3 hours or more for the pet to go there.)
Vet Appointment and Paperwork Process
This is/was probably the most confusing part of preparing Koval, or any pet, for a flight to the EU from the US. Each country has different requirements. For Spain, he needed to be microchipped – which he already was – and we needed a USDA accredited vet (which our Chicago vet is) to fill out and submit online a health certificate which the USDA will certify with a seal and send back via UPS. Then, the certified health certificate must be used for flying within 10 days of your arrival to the EU. Confusing, right? You have to hope the timing of your vet appointment, the turn around from the USDA and your flight all align properly. Luckily ours did. Our arrival was April 14, so I back-tracked from then to see when it would be best for the vet appointment. Luckily, the USDA sent the certificate back the next day and we didn't have any issues.
Checking in
It was not easy rolling into ORD with Koval in his crate and whining. The ticketing line was longer than I expected and we had two carts, one for Koval in his crate and the other for luggage. Since Nik was coming off back surgery, he had to take it easy and couldn't bend, lift or twist, otherwise we would've walked Koval in on his leash.
We prepped Koval's crate with a note on top, ziploc of food and had a water bottle attached from outside so water could be poured in, and a bowl attached inside the crate door.
Upon check in at the ticket gate, I think the ticketing agent was a little flustered and/or annoyed. He asked for the vet/usda approved paperwork, asked Koval's weight and had me fill out a sticker card that he then attached to the crate. He said to fill the water bottle, so we did. Then he said, the water bottle cannot be attached on the outside because the crate door needs to be flat, so we took it off, emptied it and tried to attach it to the top of the crate with heavy tape. No-go. So we finally attached a sealed water bottle to the top and that was accepted. Here is where I was pretty annoyed. Everything I read, said to attach the water bottle that way. If I had known it wouldn't be accepted, we wouldn't have done it and would've saved everyone involved a few minutes.
Anyway, we squared away the paperwork and were escorted to a less busy area for Koval and his crate to be screened for security.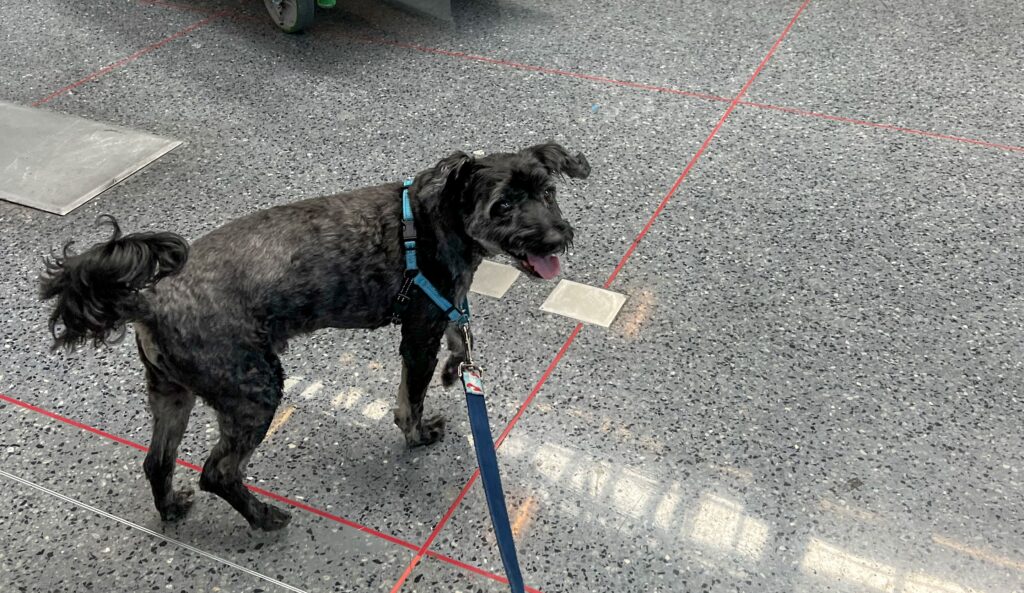 Security Process
Once we were in the security area, I took Koval out of his crate so TSA could take his crate for screening. I was so preoccupied keeping an eye on Koval to make sure that he didn't pee in O'Hare, I never really noticed what they did with the crate. I just remember trying not to cry and a friendly TSA agent joking about my Shady Pines Golden Girls t-shirt. He could probably see my nerves and was trying to distract me.
There were probably 3-4 agents around and it was an overall good experience. Once the crate was back on the cart, we fixed it up to make the crate pad, blanket and shirt comfortable for Koval. He went back in, collar and leash removed for us to hold onto, TSA added a few zip ties to ensure the door wouldn't pop open and we walked out together while an airport worker wheeled Koval away to wait for his boarding. This is where I shed a few tears.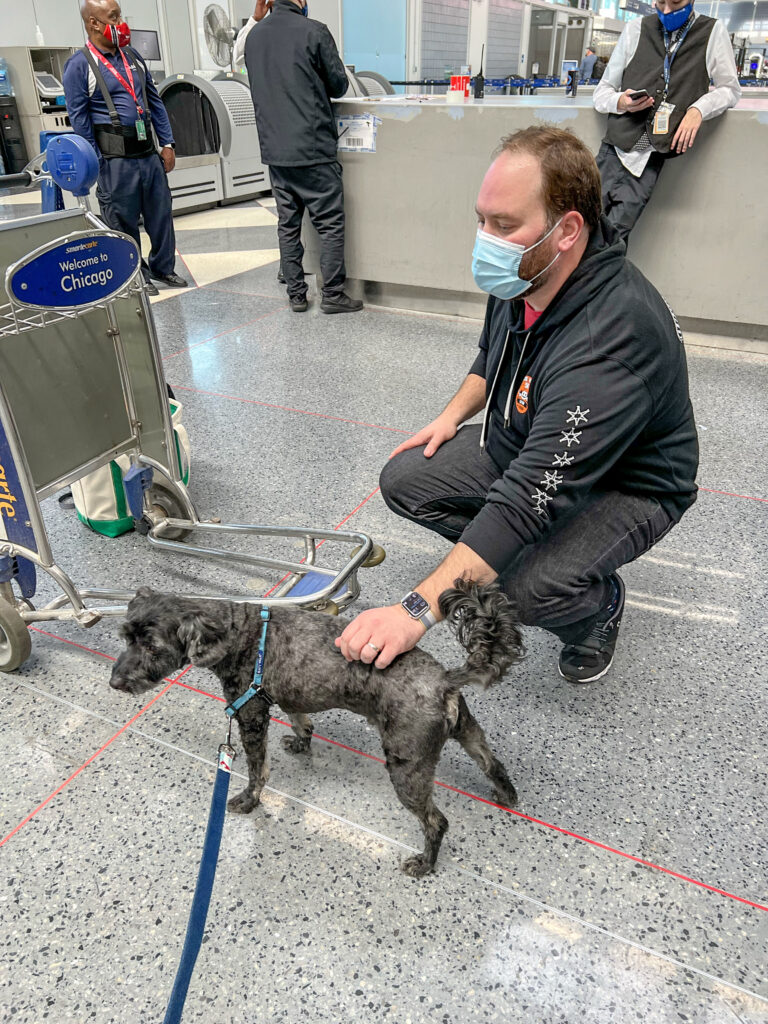 Boarding and Updates
Probably 20 minutes before actual boarding time, we recognized some of the gate agents from the ticketing area and asked to confirm that Koval was boarded. We asked too early so we waited. As we were in line to board, the agent recognized us and made a radio call and confirmed the pets were ready to board, but not on yet. (There were also 2 cats on this flight.) Once on the plane, I tracked down the lead flight attendant and asked her to confirm he was boarded. Nik and I took our seats and a few minutes later the flight attendance confirmed Koval was on the plane.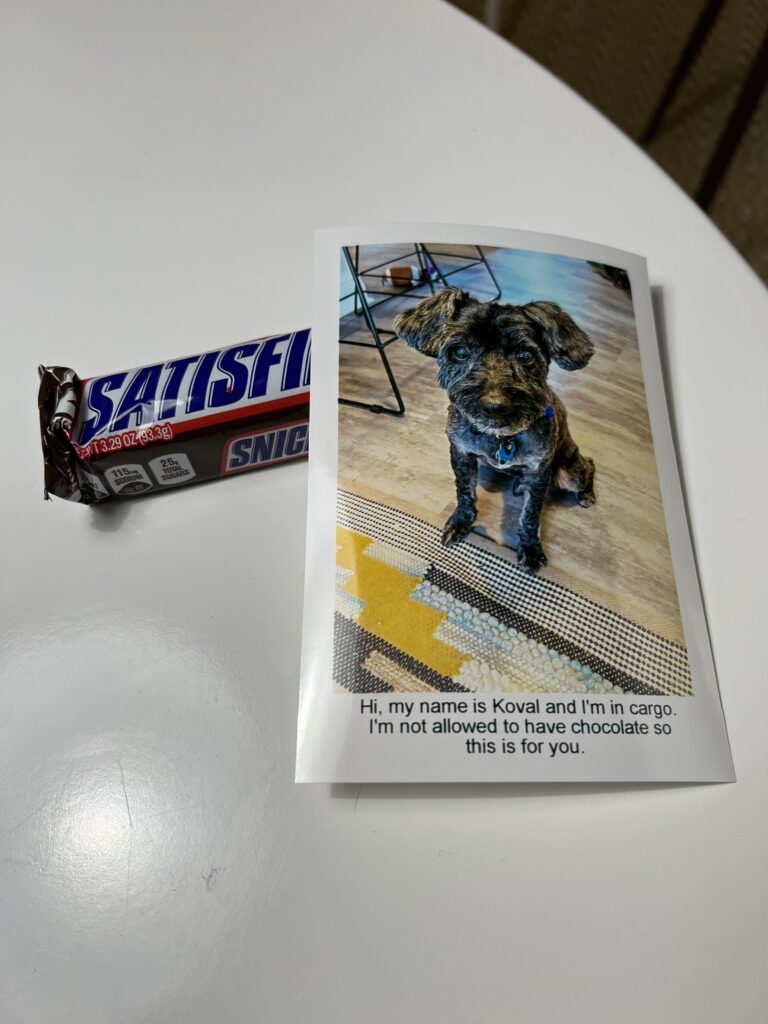 As an aside, we printed off four 4×6 pictures of Koval (above) with a note and put in a ziplock bag with a snickers bar. Our plan was to give them out to the flight attendants or crew who gave us updates. We only gave out two, which was fine. The lead flight attendant had a good chuckle when I gave her one.
Frankfurt Layover
As Nik and I got off the plane, we had a great view of the bags and things being taken off our flight and we saw Koval's crate from afar. (His is the bigger one in the picture.) That gave me some relief. For the layover, we had access to a Lufthansa lounge and asked for a pet hotel update but couldn't get one. The woman assured me he was in good hands. We never saw Koval get on the second leg of our trip to Barcelona, but again, we confirmed with the flight attendants that he was on. They seemed pretty preoccupied and it wasn't till the plane backed out that we got confirmation, so I was a little nervous not knowing for sure, but generally felt he was ok.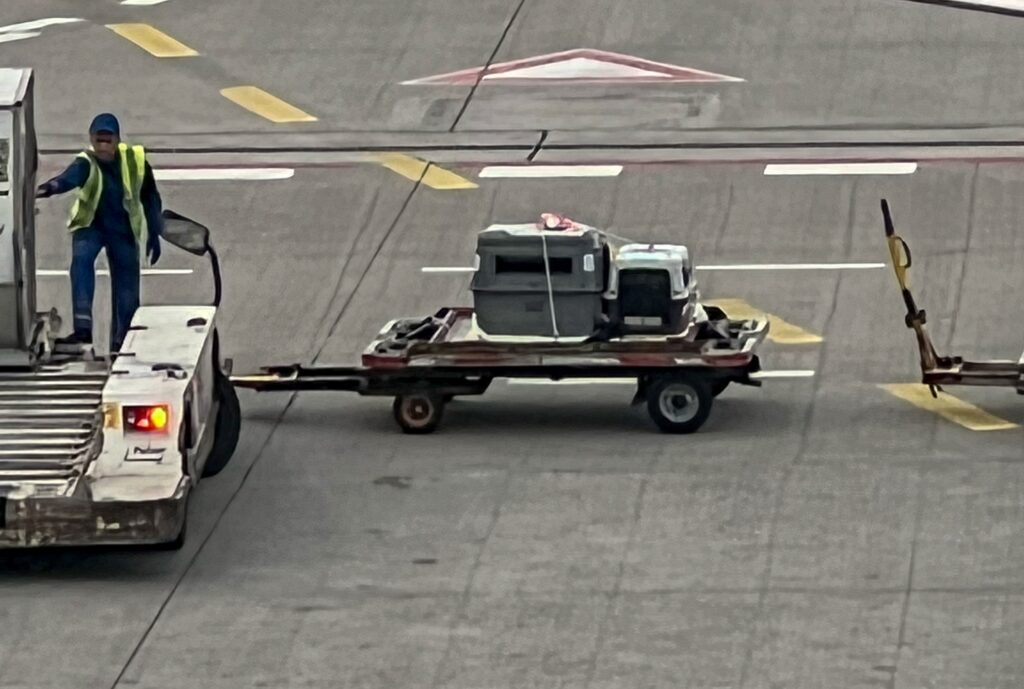 Barcelona Arrival
This part was pretty easy, once we figured out who to ask and where to go. While I waited for the bags, Nik went to ask around about where we would get Koval. He never got a good answer so we finally asked the police who were there and they were probably the most helpful. We had to walk to a cargo help desk in the baggage claim area and the worker there said to walk to the other end to a certain area. As we walked that way, Koval was being wheeled to us (I could hear him whining the whole time he was being wheeled) and we met back by the police. The kind officer brought us around back to where the health official was and cut the zip ties. We put Koval's collar and leash back on and tried to contain a very excited and whiny dog while the official checked the vet/usda papers, checked one of our passports and scanned for Koval's chip. The whole process didn't take long at all and then we were on our way.
Also of note, there was a sticker on the crate that said he had water at the pet hotel, not sure if he was fed and just didn't eat the food. I wasn't too concerned since I knew he was let out – the zip ties were different than when we originally departed.
Transportation to our Apartment
I somehow stumbled upon Pet Taxi Barcelona on Instagram so I arranged for one of their taxis to pick us up and take us to our apartment. Was super easy and plenty of room for Koval's crate and our bags in the SUV trunk with Nik, Koval and I in the back seats. I'll be using them anytime we need to go somewhere with Koval that isn't walking distance.
In the end, this wasn't that bad, but I'm not in a rush to have Koval fly again. I was less nervous once we were in the air than I thought I would be. I wish dogs could talk so I could hear how the flight was for him, but in the end he was happy and excited to see us, and that's all that matters.
How has Koval been doing?
We think ok. Our block is far busier than the blocks around us back home in Chicago and there is less greenery here. But with each day, and treats, he's getting more comfortable on walks and we're finding slower paced areas to explore. We have a huge outdoor space that I've taken to calling the lanai, in honor of Golden Girls, and he loves it. Between sitting in the sun and the couch cushions, I think he's doing just fine.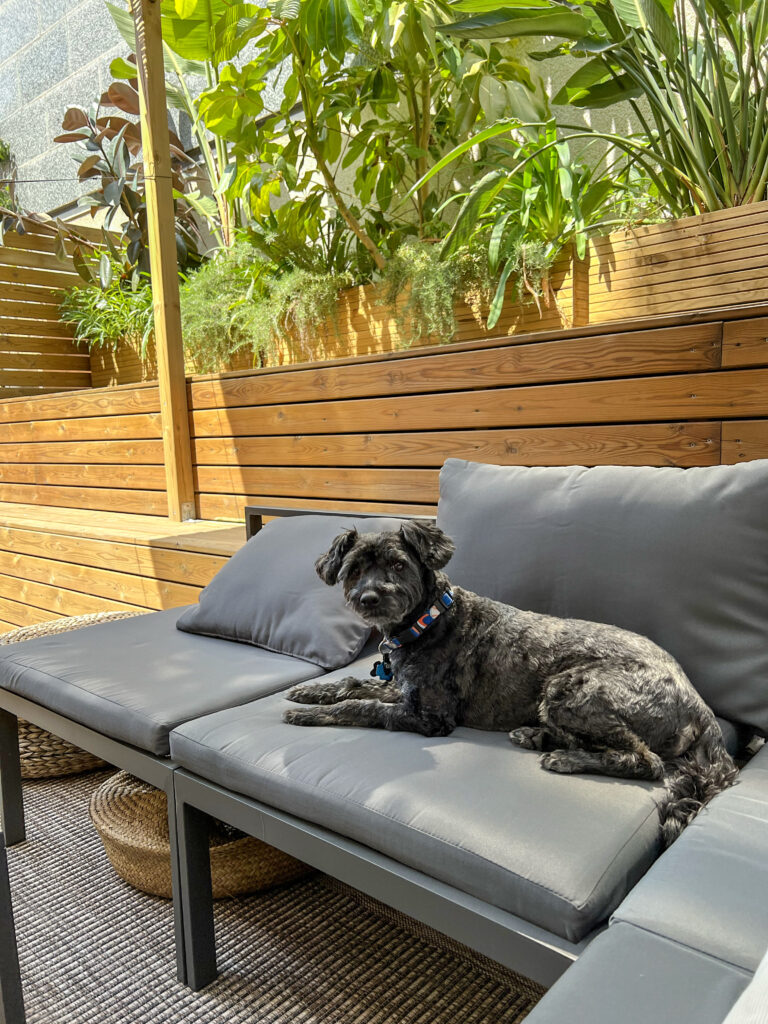 What's next for Koval?
A vet appointment! We have to get him registered here and want to get him an EU Pet Passport so he's legal for when we take trips outside of Barcelona.
While we'll probably have to fly Koval back to the states, this process of flying a dog was ok. People do it frequently and I was definitely nervous but he was fine when we landed in Barcelona and we're excited for what's ahead.