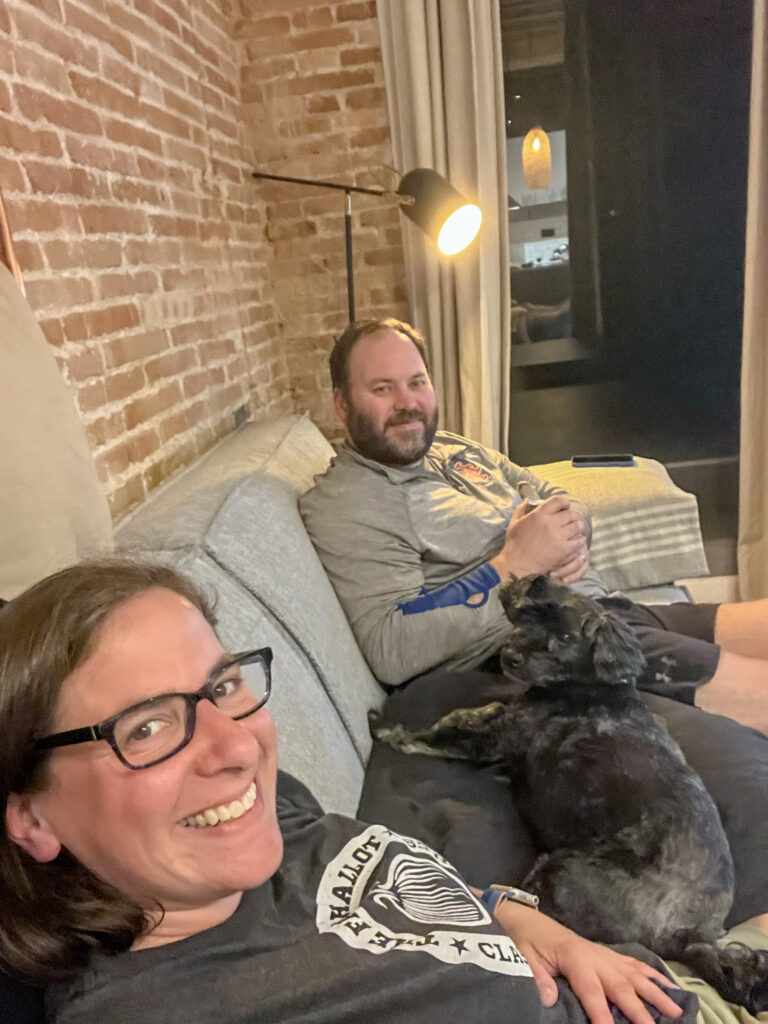 After a year (or so) of researching and planning we finally arrived in Barcelona! Luckily, it was a pretty uneventful trip and Koval the dog was excited when we retrieved him at the BCN airport. (More on the process of flying a dog to come in a later and more detailed post.)
Packing and Pairing Down
After weeks of packing and pairing down, we set off with three bags of luggage, one dog and dog crate for checking and 3 smaller size carry-ons. It was perfect. Though, I feel if Nik wasn't recovering from back surgery and was able to lift, we may have packed a fourth checked bag. But we'll make do. We arranged for a car service to drive us from our Chicago Airbnb to O'Hare (ORD) and we were very pleased with the service of SUV Chicago Limo.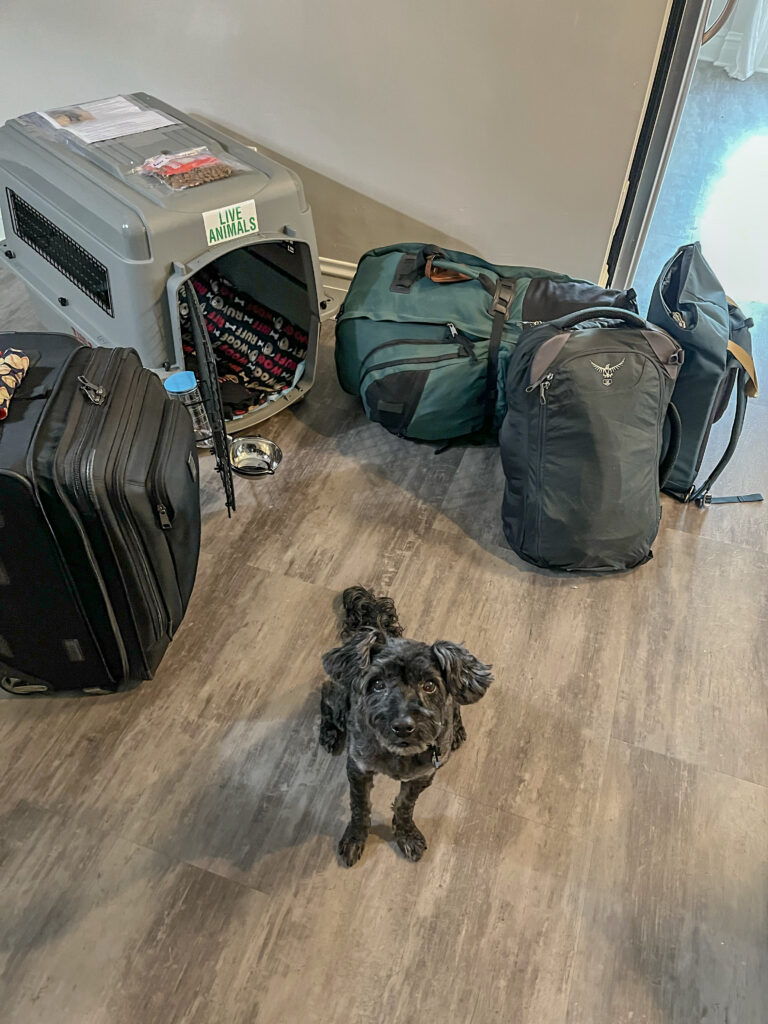 Choosing an Airline for Pet Travel
Through lots of research and messaging with people who have flown dogs before, we decided that Lufthansa was the airline we wanted to fly. Unfortunately they don't fly directly to Barcelona, so a transfer through Frankfurt was our only option. (Again, more on the process to fly Koval in a later post.) It definitely was not easy rolling into ORD with Koval in his crate and whining, but we got through check-in and security and I only shed a few quick tears after his security check when we went separate ways.
We decided to treat ourselves with Lufthansa Business Class seats, partly to sit in the upper deck of a Boeing 747-8, aka, the Queen of the Skies. With Business Class seats came access to the various United lounges at O'Hare and priority boarding at the gate. Because I'm the overbearing dog mom, I wanted to be at our gate on the early side to check on Koval's boarding status so we went to a United Club that was near our gate. It was meh. Clean and comfortable, but didn't offer a whole lot of food or drink options, compared to our previous American Airlines experience at ORD.
Once we were at the gate, I asked about Koval but he hadn't been loaded yet. Then again once we were boarding, one of the gate agents recognized us and made a call and confirmed the animals were ready, but not on yet. (At ticketing, we saw two cats in crates for the same flight.) Once onboard, I looked for the head flight attendant and inquired about Koval. She made a call and he wasn't on yet, but took my seat number and would come let me know. A few minutes or so later, she came to confirm he was on board. Ahh, relief. And now for that welcome drink!
Food
Above is the menu; both Nik and I went with the scallops and shrimp appetizer and the grilled beef filet entree. Both were pretty good. I chose the pot de creme for dessert while Nik chose the cheese platter. The coconut chia pudding for breakfast was also pretty good. The option for some Bailey's after dinner was also delicious.
Koval on his way to the Lufthansa Pet Hotel
Fast forward through a little sleeping and lots of reading, we landed in Frankfurt. As we started walking away from our arrival gate, we had a great view of our plane. And sure-as-shit, we saw Koval being moved onto a cart that would be taking him to the Frankfurt pet hotel for the layover. I might've cried a few happy tears seeing this from afar.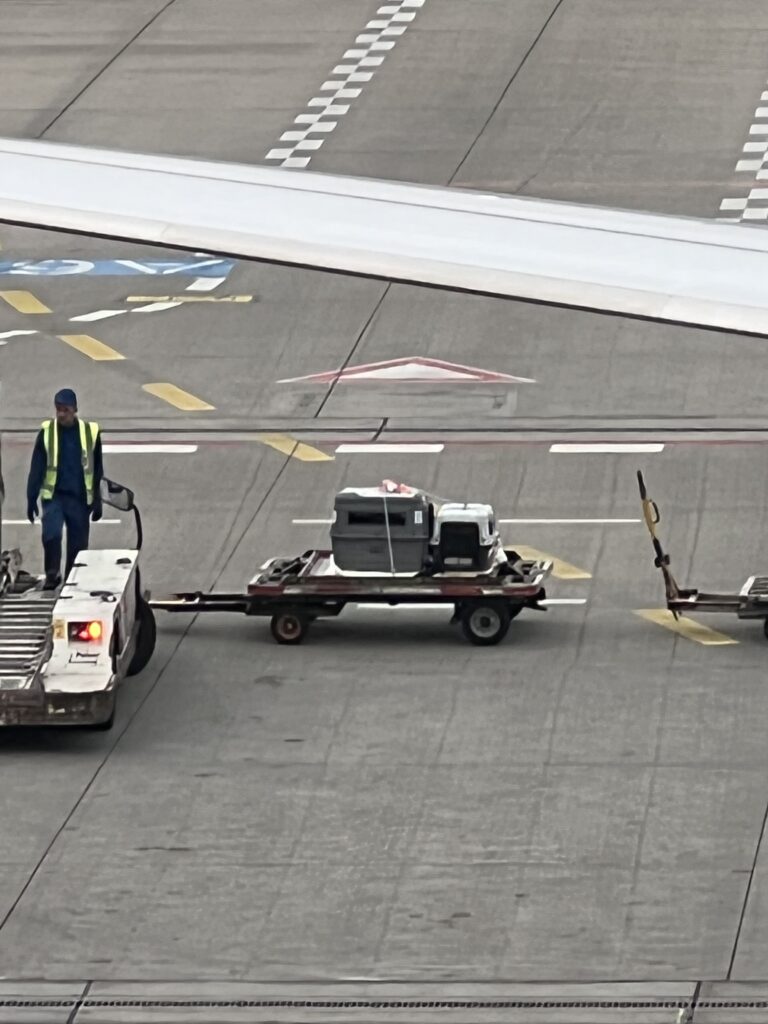 Customs
Customs was pretty easy. I got to use my EU (Austrian) passport for the first time. No questions asked and no passport stamp. Nik came in the EU line with me and did have a few questions asked of him, and had his passport stamped, but we think we'll be ok in the long run.
We stopped in one of the Lufthansa lounges in Frankfurt, and it was also meh. It was about 8am local time so the food was breakfast: runny eggs and croissants. The beverage options were wider than ORD, but we weren't terribly hungry.
At our Frankfurt gate for boarding, I told an agent that my dog was traveling on this next flight and asked for an update. She didn't have one and I was a little annoyed but we went with it and walked away. The gate was far more busy for boarding and I decided to take my chances and not ask the gate agent about Koval but rather a flight attendant as we boarded. There were two there and said they'd check and get back to us. We still hadn't heard anything by the time boarding seemed complete, so Nik went and asked. A couple minutes later we got confirmation he was on. Nothing like making me sweat it out and worry.
The flight went quick and before we knew it, we landed in BCN. More on picking up Koval in the baggage area in that other post, but we were excited to see him and he to see us.
Using a taxi that caters to people with dogs, we loaded up and got taken to our apartment. We unloaded and met an apartment rep who gave us the lowdown about the place.
Since we arrived a day before Good Friday, we made a point to hit a grocery store for some items to get us through a few days. And then we finally unpacked and started to settle in.