They say dogs are resilient, and that is so true from what Nik and I see with Koval daily. Moving a dog to a foreign country is not easy, but it's doable. And we'll do anything to keep Koval happy and healthy.
Busy Streets and Dirty Sidewalks
When we first arrived to Barcelona, we were renting an apartment that was just off a very busy intersection. For the first week or so we'd be at a crosswalk and Koval's legs would be visibly shaking.
We were also in area where there wasn't a lot of grass nearby so luckily he was partly a city dog already and was used to pavement and brick sidewalks. The dirt of the sidewalks has definitely added to whatever allergies Koval already had.
Finding a Vet
One of the first things we had to do for Koval was find a vet and get his chip registered and also get him vaccinated against Leishmaniasis, a parasitic disease, generally found in Spain or other Mediterranean areas. Koval also needed to get his own pet passport, so he can travel between EU countries and even back to the US. He recently had his annual vaccines and those were added to the passport to keep track of.
Through a Facebook group I became friendly with a woman who was moving from the US with her husband and dogs about a month before us. We stayed in touch once I arrived and have become even more friendly. Through some Google searches with good reviews, my friend found Veterinari del Clinic. Turns out the vet office was a short walk from our apartment and so we decided to use them too.
My friend and I joke that our pets are keeping them in business because we've both been there so often.
Allergies and Barcelona Filth
Almost immediately, Koval was licking under his back legs and they looked red and raw. The vet helped treat that. Shortly after, Koval started having a bunch of dry flaky spots along his back and side of his legs. The vet helped treat that. Then it was an ear infection. Then it was an inflamed spot on one of his paws between two of his paw pads.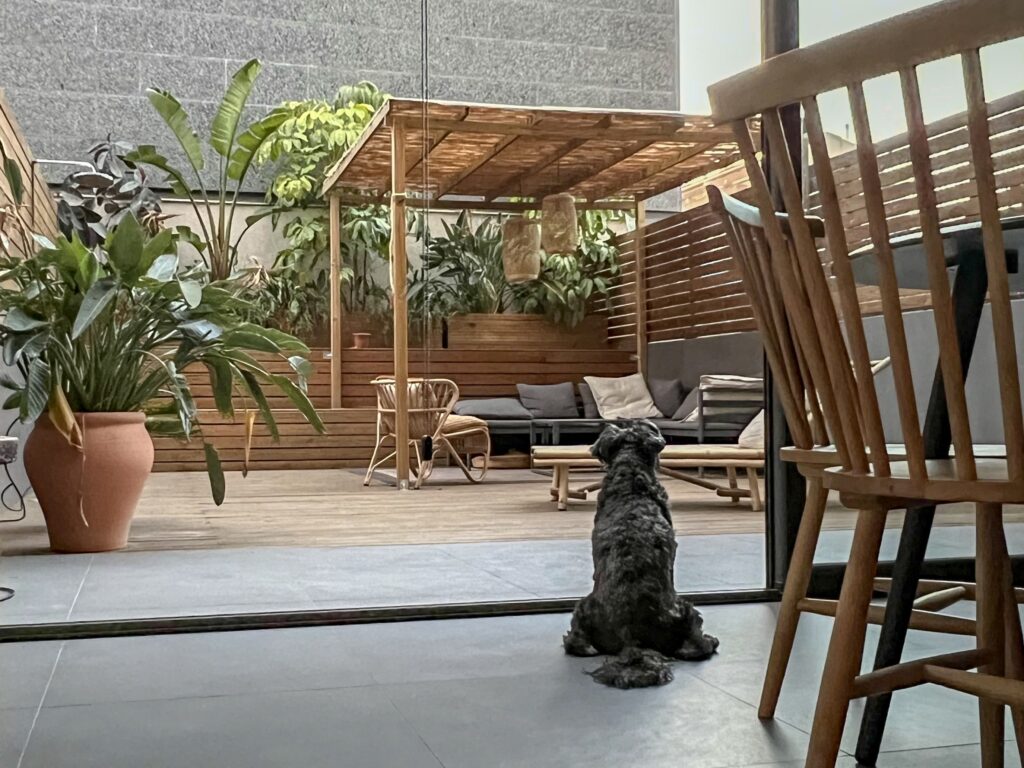 The paw issue was just addressed by having the inflamed thing removed last week. Koval was a champ with the surgery and the area is still healing. The ear infection went away but has returned and we're currently treating it.
The vet is adamant this is all from the allergies in this area. Between the dirty sidewalks and streets and different air quality, I believe it. We haven't gone for any second opinions just yet. Should we? I don't know. The vet office is run by two women, and the one we see has a specialty with dermatology issues, so we've trusted everything so far.
Differences to Vets in Chicago
I will say the vet appointments here feel a little different. We see the vet right away as opposed to in Chicago, where a vet assistant starts the appointment and then the vet comes in. Probably due to making sure we understand everything in detail, the appointments always seem to last a little longer here too. I will say everyone at the office speaks very good English. Way better than my Spanish speaking skills.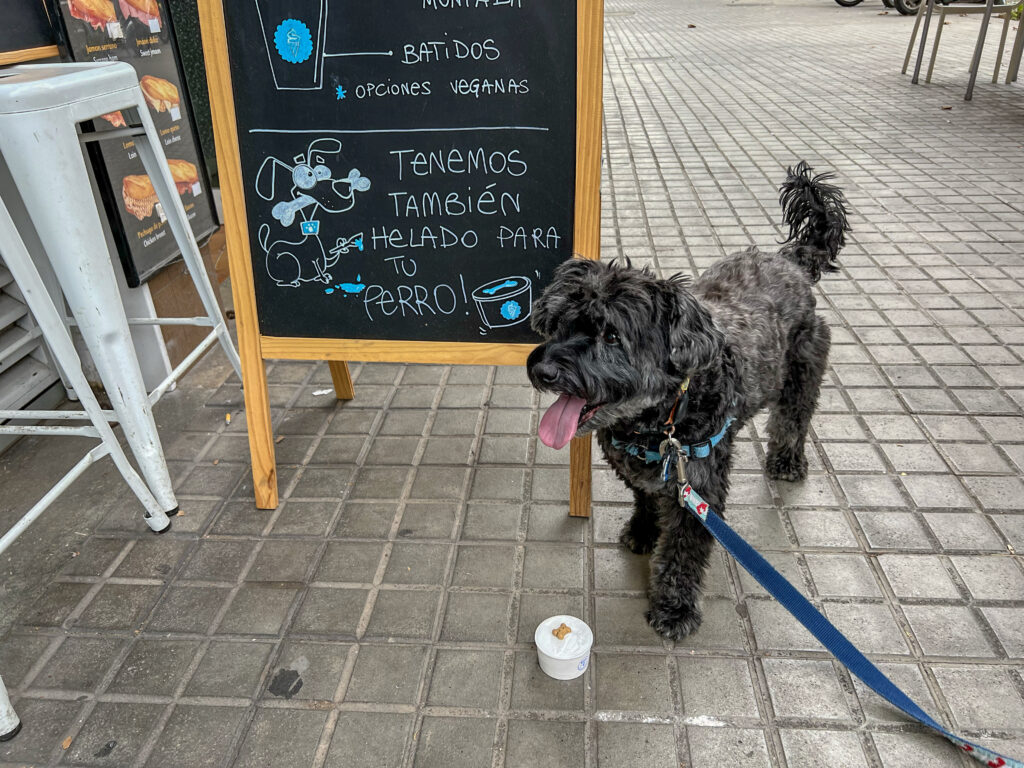 Grooming
In case you didn't know, Koval doesn't always like to be poked and prodded, whether for a vet appointment or a grooming appointment. We had a great groomer, Emily Grooms Dogs, who knew him (and dogs in general) well. When you throw in a language barrier, I wasn't sure how haircut appointments would go. Turns out, our vet has a groomer come to the office and sees clients there. We used that groomer a few times, and the results were good.
Then we moved a little south and it wasn't as convenient to get there for the groom appointments; vet appointments no problem. But I figured the groom appointments would be more frequent and there was a place around the corner that looked promising. Koval has been there once so far, and came home looking good.
That all said, Emily, we miss you.
Dogsitting
As you know, Nik and I have taken a handful of trips so far. Dog boarding and daycare options are slim here. Barcelona just doesn't have the building space for these services like Chicago has. Most dogsitting takes place at the dog's home. Some take the dog to their home, but we prefer Koval to be the only dog and since he sleeps in a crate, we found it easier for the dogsitter to come to us.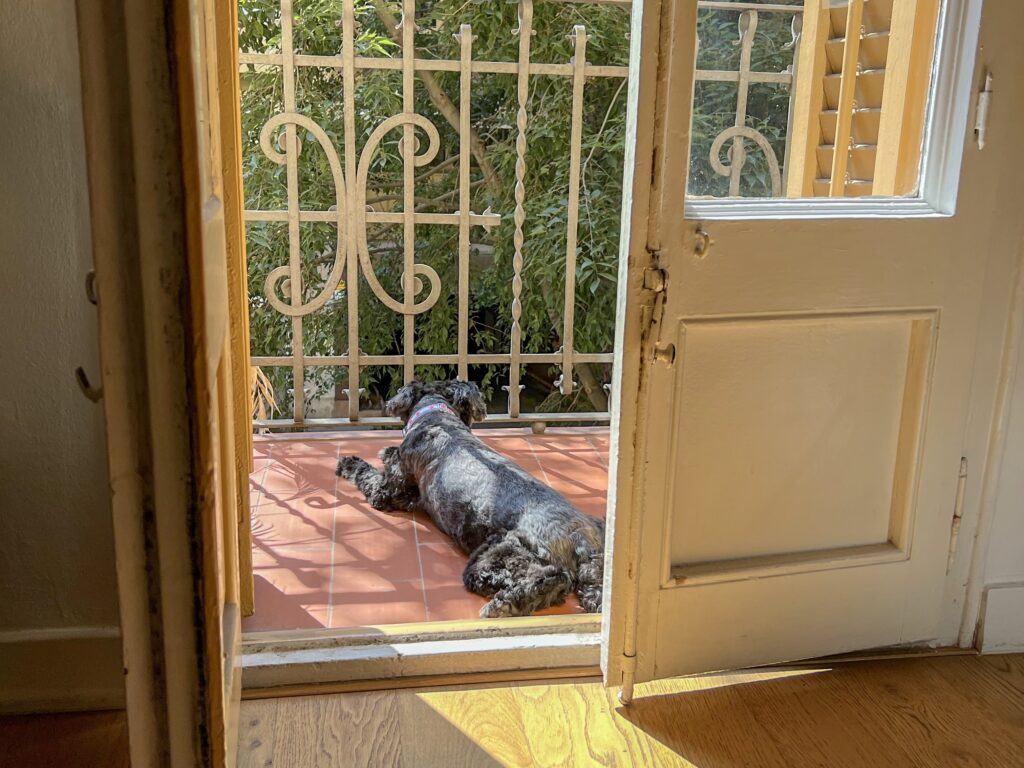 During our first trip out of Barcelona, we used a woman I found on Facebook that dogsat and had good reviews. When she wasn't available for our second trip, we used someone from Rover. We've been using the same person since and she has been very good and reliable.
Koval's Pen Pals
We haven't had a chance yet to meet many other dogs in Barcelona, but Koval has sent a few postcards to his paw-pals back in the States. Want a note from Koval, let us know!
Koval The Local Tourist
Once June rolled around, Barcelona got hot and humid. For three months it'd still be 80 degrees and no breeze at night when we would take Koval out for his last walk before bed. It was uncomfortable for all three of us, so we took it easy during the day, keeping the walks short.
The temps are finally cooling a bit and once Koval's paw is healed from the stitches, we plan to take him around the city for pictures at some of the iconic landmarks here. We have found some grassy areas, but it requires a 15 minute walk to get there, as opposed to stepping out the front door to grass like we had in Chicago.
Koval on Vacation
Much like Nik and I taking trips ourselves, Koval has gone on a few with us. Back in June, we drove to Platja d'Aro, a beach town about 90 minutes north of Barcelona. Koval has even crossed the border into France when we took a roadtrip to Nice for a few days. More recently, Koval had his first hotel stay when we drove to Valencia and spent a few days at a dog friendly Marriott.
Anything else you want to know? Ask in the comments and stay tuned for his next adventure!