Once Nik and I knew we'd be returning to Chicago, we wanted to make a return visit to Nice before leaving Europe. Our first visit was in September 2022 and it's a trip we can bring Koval on because we drive from Barcelona. We booked a cute looking airbnb close to old town and the port for five nights. This return visit to Nice allowed us  a chance to see and do different things. First up, the food. We ate so well!
Dining Out in Nice
La Merenda
Nik learned about La Merenda from a 10 best Nice restaurants article where it's listed as no. 3 in the area. Owner/chef Dominique Le Stanc is a Michelin starred chef, having worked in Monaco and Nice's famed Hotel Negresco. (More on Hotel Negresco later.)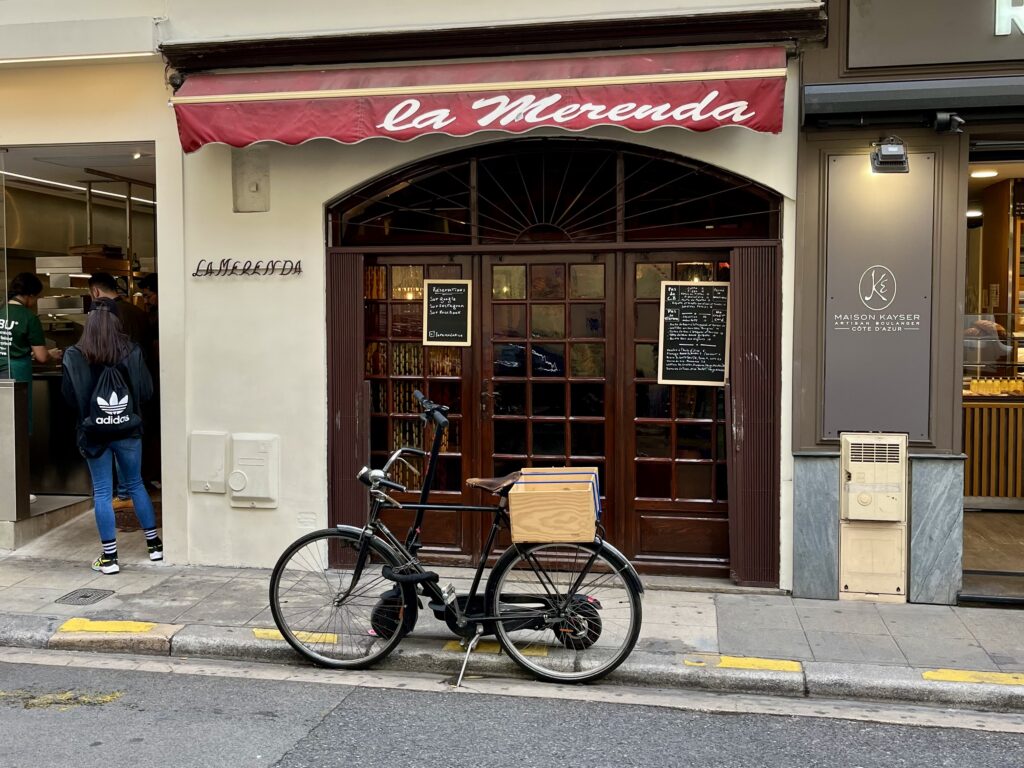 It's cash only and reservations are required. I set a calendar reminder and stalked the website to make sure we could book a dinner reservation. It's a small space with maybe 10-12 tables and an open kitchen concept at the far end.
The menu is handwritten on a chalk board and changes seasonally and sometimes daily. The star of the menu is pasta with pesto.
Nik and I shared the pasta with pesto as a starter and it was outstanding. By far the best pesto we've ever had. The whole dish was just perfectly prepared. We each had our own entrees and they too were delicious. So good that we didn't get before pictures. Nik had the sausage and lentil dish and I had the beef stew provencal style.
If you find yourself planning a trip to Nice, book dinner at La Merenda. You won't regret it.
Olive & Artichaut
When we visited Nice in September, Nik and I walked by the cutest little restaurant called Olive & Artichaut. At the time, they didn't have any open tables and we were leaving the next day so we didn't get a chance to eat there. For our return visit to Nice, we made sure to have a reservation for dinner and it was worth it.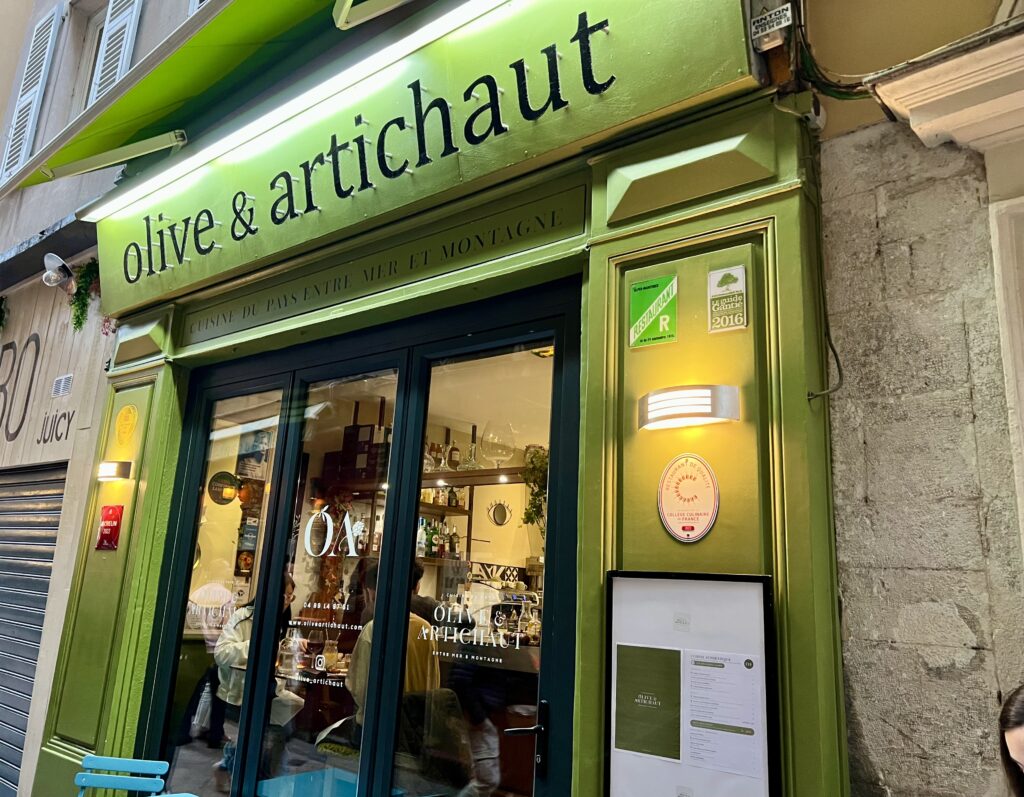 It's a small space, though not as small as La Merenda. The kitchen was also open concept and chef Thomas Hubert was busy cooking.
At the time of our dinner, Olive & Artichaut recently took bronze in the Best Brigade of France competition1Basically a competition that rewards excellence of teamwork in a trio composed of a chef, his clerk and a butler.. Nik and I were seated at a two-top that had their bronze trophy on the table. Our waiter, Olivier, was part of the winning team.
While Olivier and most of the staff spoke English, the menu was only in French. Luckily the Google Translate app came in strong for this one. The menu had so many good looking options it was hard to decide what to order. We started with a tasty green asparagus salad, followed by entrees of beef shoulder and roasted pork chop. Dinner was capped with a delicious dessert of brioche French toast with ice cream and caramel.
On our way out, as I was taking a picture of the restaurant, the hostess (and chef's wife, Aurélie) asked if we wanted a picture with the chef. Sure, why not. Everyone was so nice and the food was outstanding.
Highly recommend eating at Olive & Artichaut. Reservations recommended and they're even open for lunch.
Peppino
Due to its proximity to Italy, there are a lot of Italian influences around Nice, including the food. That in mind, we had an unbelievable lasagna lunch at Peppino in Nice's old town. We didn't have a reservation but luckily got seated at a table outside.
This was a spot Nik learned about Trip Advisor. Peppino's menu was also on a chalkboard and I don't even remember what else they offered because lasagna is their main dish. Nik and I each had our own but probably could've share one portion. Served piping hot, it was possibly the best lasagna I've ever had.
If you find yourself in Old Town Nice or have a craving for Italian that isn't pizza, this is the place to go. Reservations recommended and they're open for lunch and dinner.
Drinking in Nice
On this return visit to Nice we were able to try a few new places for beer and cocktails. However, we did make a return visit to Movida because the views from their balcony overlooking the Promenade des Anglais are worth it.
Le Negresco
The Hotel Negresco is located on the Promenade des Anglais and opened in 1913. It's full of rich history, pun intended.
Between the art collection throughout the hotel and the celebrities known to visit and stay at the hotel, it's a little too out of our budget to stay at. So we did the next best thing and went for cocktails! The Bar at the Negresco is gorgeous.
Original wood paneling from 1913 with pieces of artwork and a tapestry from 1683:
Several cocktails were drank and we had a very enjoyable experience. Perhaps on a future visit to Nice, Nik and I will splurge for a one night stay at the Negresco.
Delano Cocktail Bar
Another new spot we had cocktails at was Delano Cocktail Bar located inside Hotel Roosevelt.
As you would expect, pictures of FDR were all around the bar, especially on the shelves of a little corner nook. It was a cute space, the drinks were good and we're glad to have stopped in.
BDA Bar
Last but not least of our eating and drinking during our return visit to Nice, we did visit a beer bar. BDA Bar was conveniently located near our Airbnb so we stopped in twice while staying nearby.
There were probably 15+ beers on draft and additional beers available in cans. They have a full food menu as well and had an overall cool vibe. We're glad to have found the bar and recommend it for your craft beer cravings.
If you've been to any of these places, or plan to go, let me know your thoughts!