I don't remember where the interest came from, but I have long wanted to visit Nice, France. A seven hour drive from Barcelona, Nice is located on the French Riviera or the Côte d'Azur along the southeastern coast of France. Nik suggested we take a roadtrip to Nice and bring Koval with us, since seven hours is a somewhat doable drive. We picked some random days in early September, found a pet-friendly Airbnb, rented a car and hit the road to Nice.
Mont Boron Neighborhood
Our Airbnb was located in the hilly neighborhood of Mont Boron, an easy 10 minute bus ride to Old Town. To find a pet-friendly place, we had to make some concessions and one was location. But that was fine by us because the place we stayed had a very lovely pool that we thoroughly enjoyed. In the picture below, our Airbnb building is towards the top left with one red awning showing.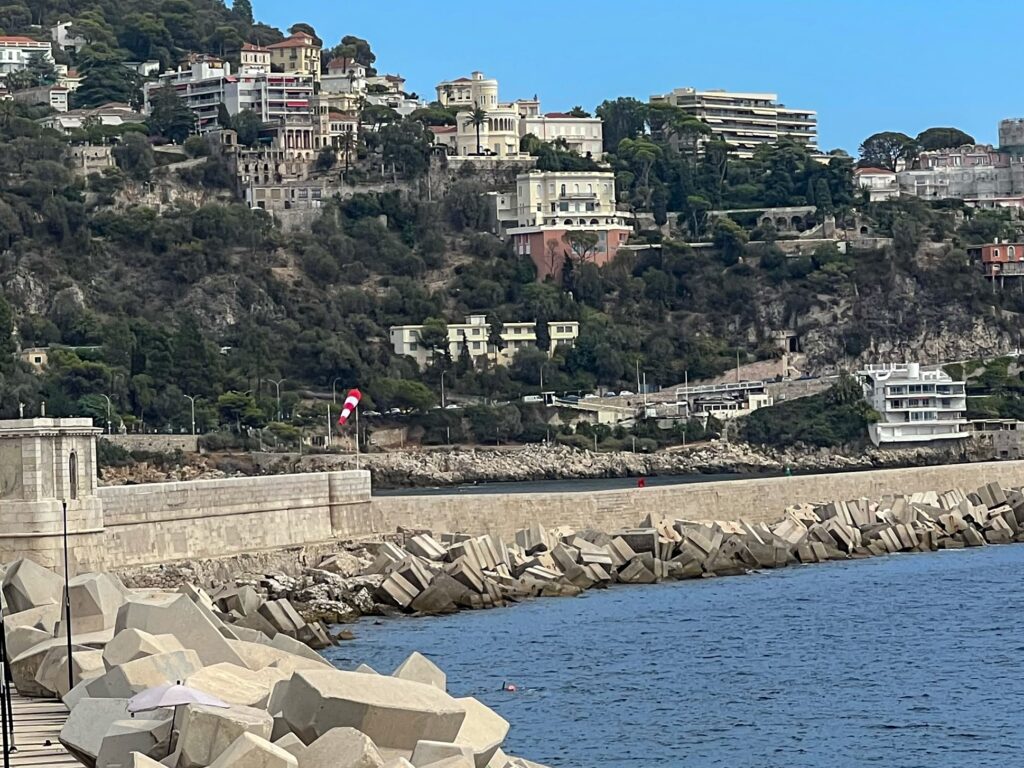 Mont Boron has some beautiful looking mansions, amazing sea and city views. Just down the block from our Airbnb was a scenic lookout offering views towards the Old Port of Nice. It never got old walking by and it was also where the bus stop was.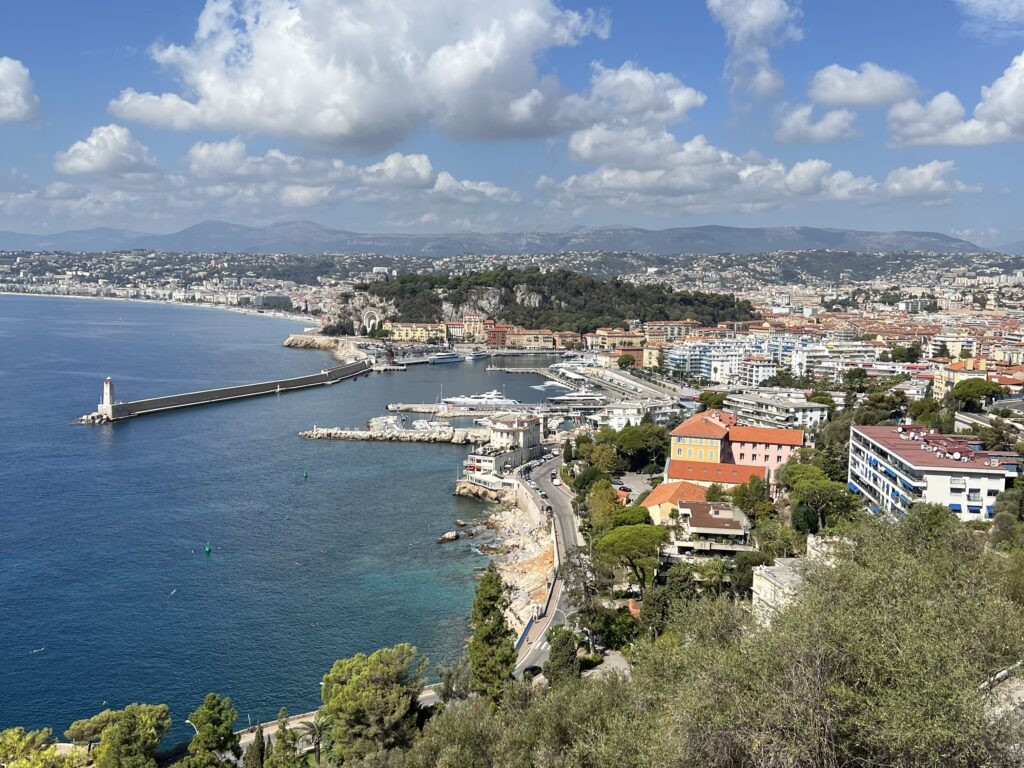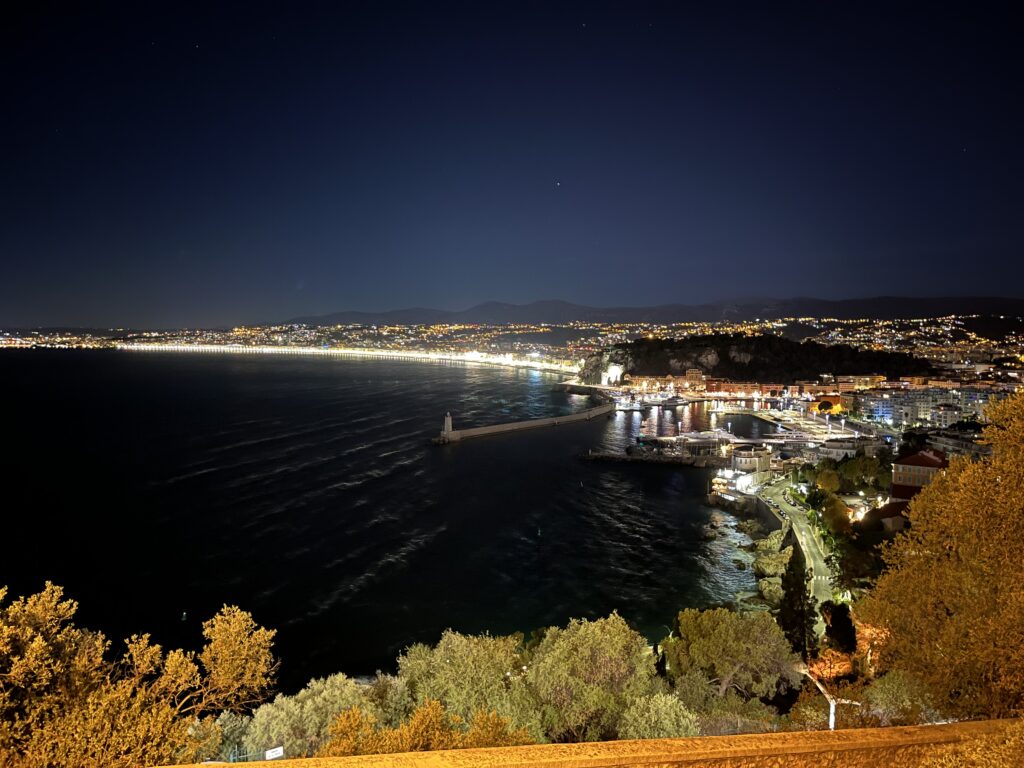 Jumping ahead a bit, on our last full day in Nice, we got an early start and drove with Koval to the nearby Parc du Mont Boron. We probably spent an hour walking around the area and finally found the walls of the old fort. There was a very nice area that looked out at the sea and towards the neighboring town of Villefranche-sur-Mer.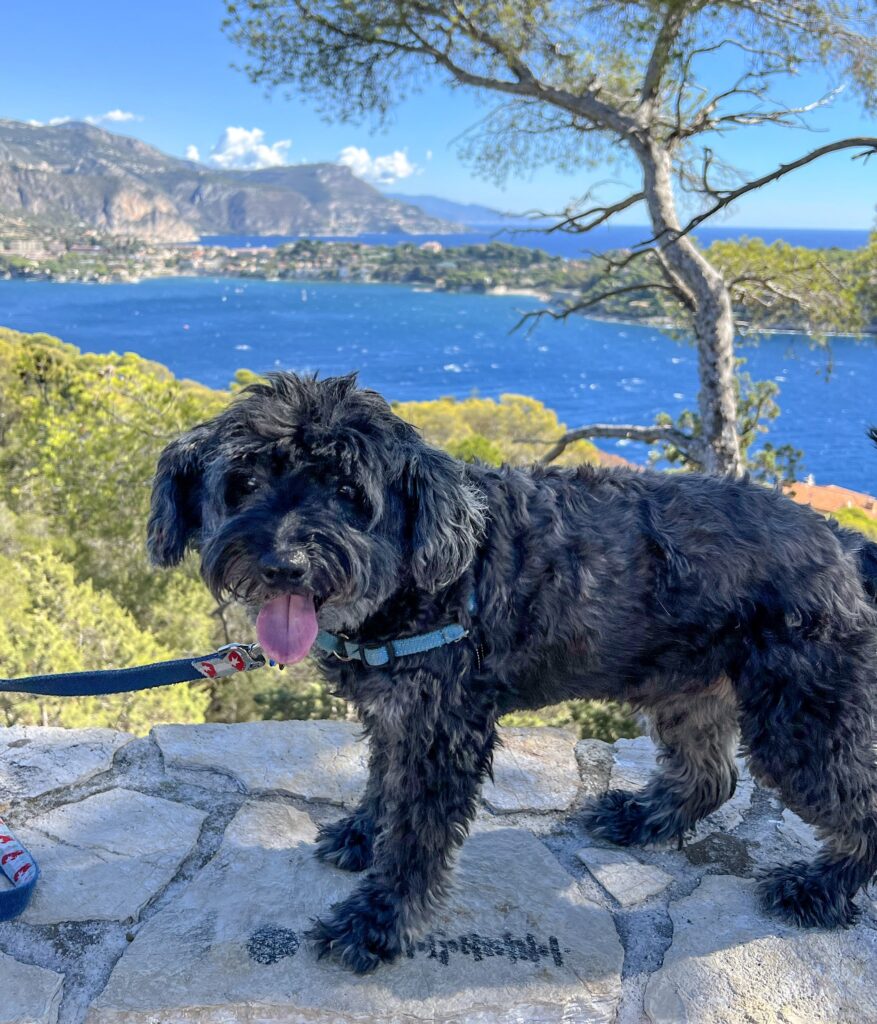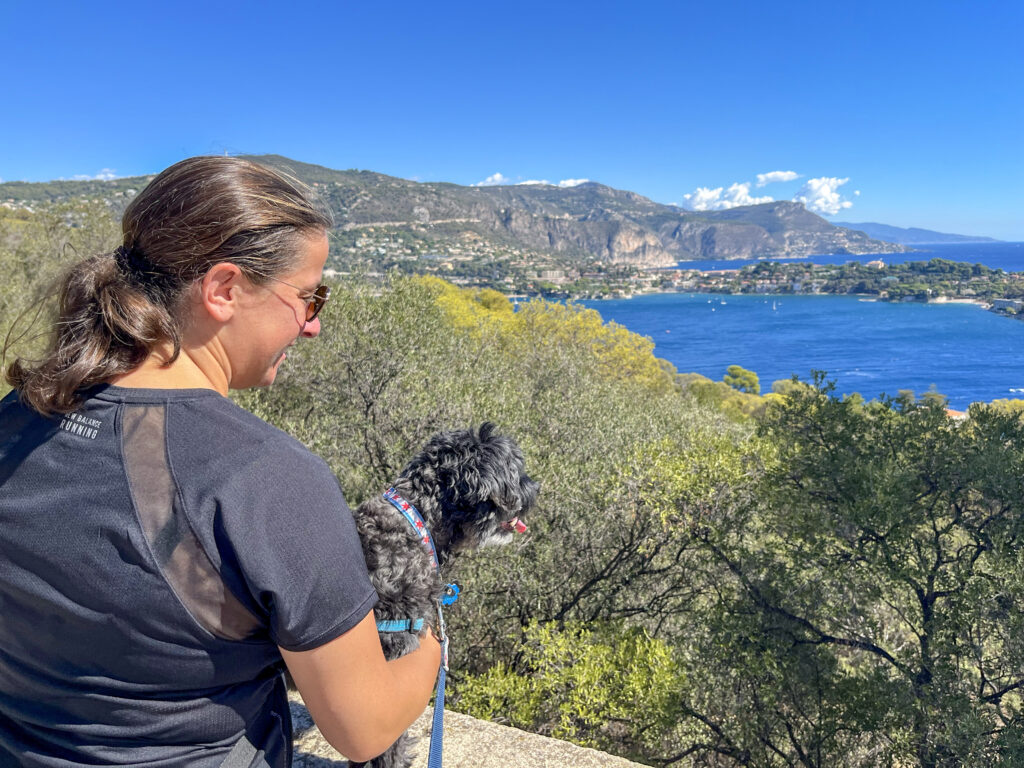 Across from our Airbnb is Villa Beau Site, a historic mansion that's listed for sale at €7,400,000. Not sure how long it's been vacant, but the disrepair is obvious. Looking at the neighboring villas, including Villa Château la Tour, the potential to rehab it is amazing.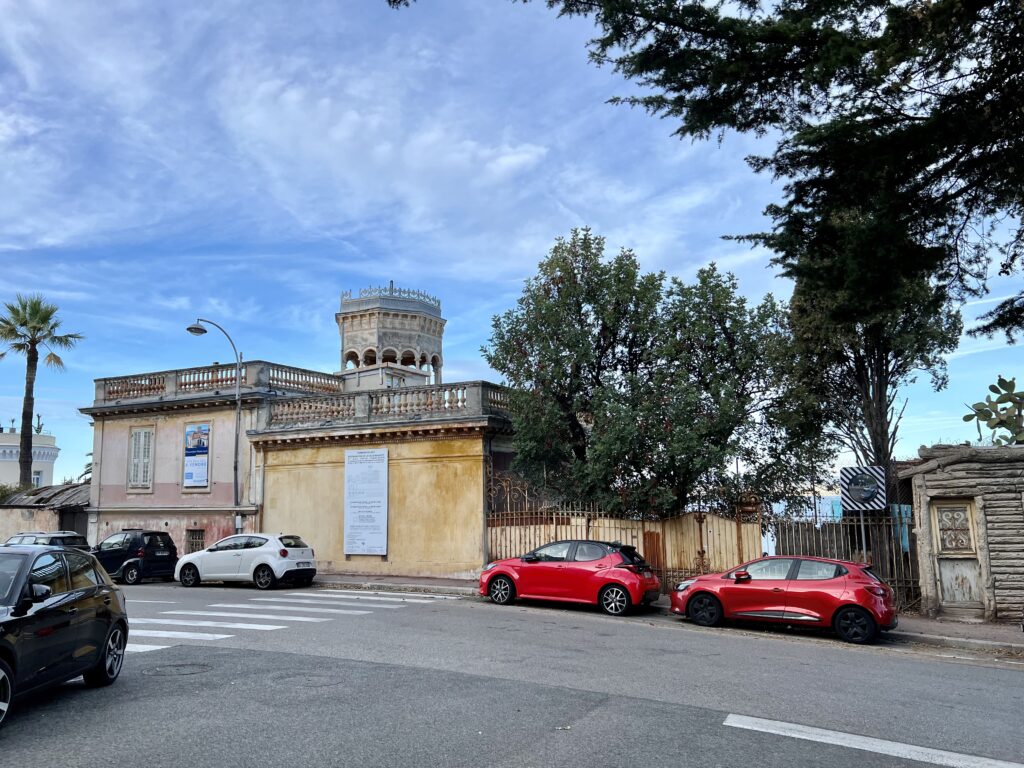 The coolest thing in our neighborhood may have been a mini version of the famous "I Love Nice" letters. Perfect size and location for Koval.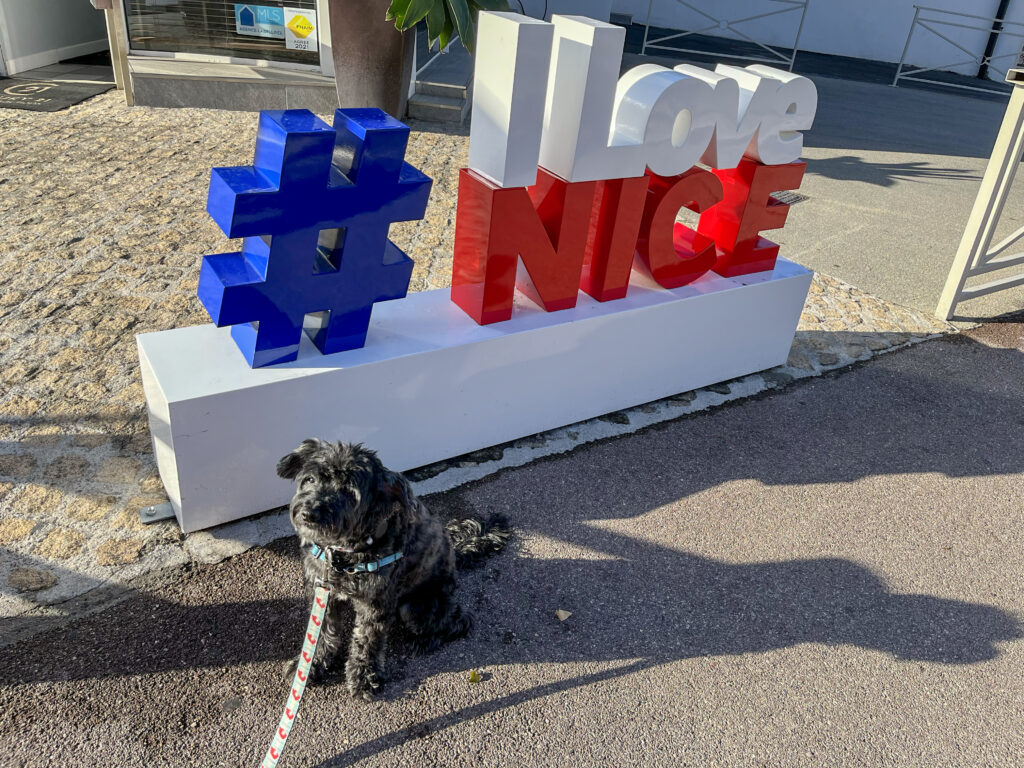 First Night in Nice
We made our way to the Old Town of Nice each day. I think our timing of early September allowed us to miss a lot of tourists. The area was busy, but it was never uncomfortable to walk the narrow, cobblestone streets. (Unlike our visit to Sitges, Spain that was hot and cramped.)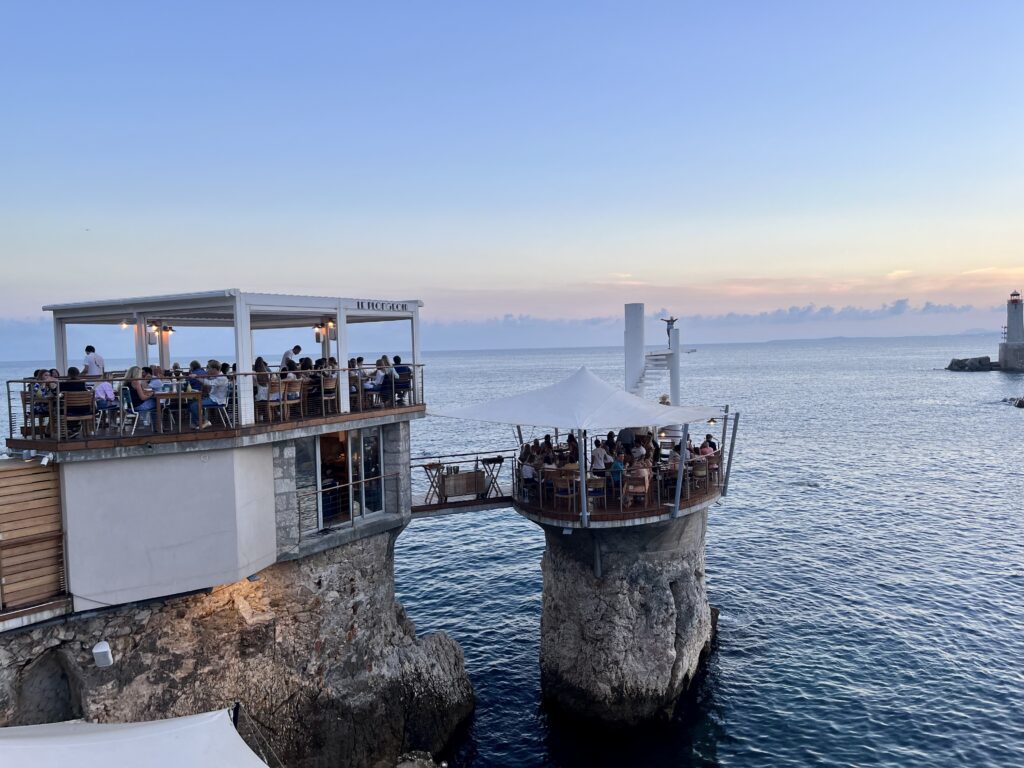 On our first night (Tuesday) we decided to walk towards the Old Port and stopped at the lounge of Le Plongeoir for a couple drinks. Located above the water, the spot was very cool. Next, we walked to Ma Nolan's where we enjoyed some Guiness, a few bar bites and watched the Champions League game between PSG and Juventus.
Second Day in Nice
Wednesday started with the bus to Old Town to scope out the area and get a peek at the beaches. There was no shortage of cool little shops and cafes, but we opted to stop at Movida, a cocktail/tapas spot across from the beach where the people and car watching was quite enjoyable.
Then we walked along the Promenade des Anglais towards the popular "I Love Nice" giant letters.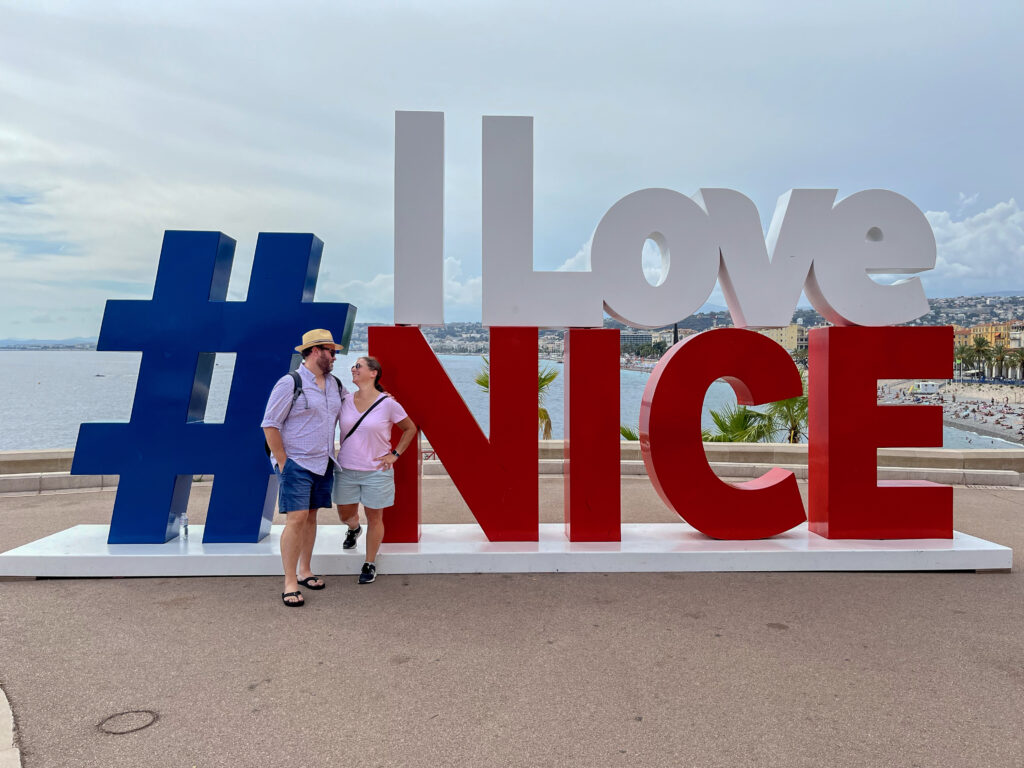 To wrap up the afternoon, we made our way to Rotisserie where we picked up dinner and grabbed the bus back to the Airbnb for some afternoon sun by the pool.
Thursday – Beach Day in Nice
Luckily for us, the roadtrip to Nice still gave us sunny and warm weather each day, making Thursday our beach day. We took the bus down, and again, such an easy way to get there. (The buses also had some of the best air conditioning we've experienced over the past three months.) After buying a hot pink floaty for the water, we set up our spot on the rocky beach. Nice is known for the rocks and no sand. (I came prepared with beach shoes. Yes, I am that person.) Nik went for a run along the promenade while I read. When he returned we went into the water and it was so refreshing. The views were amazing and it was at this time I decided I could live in Nice.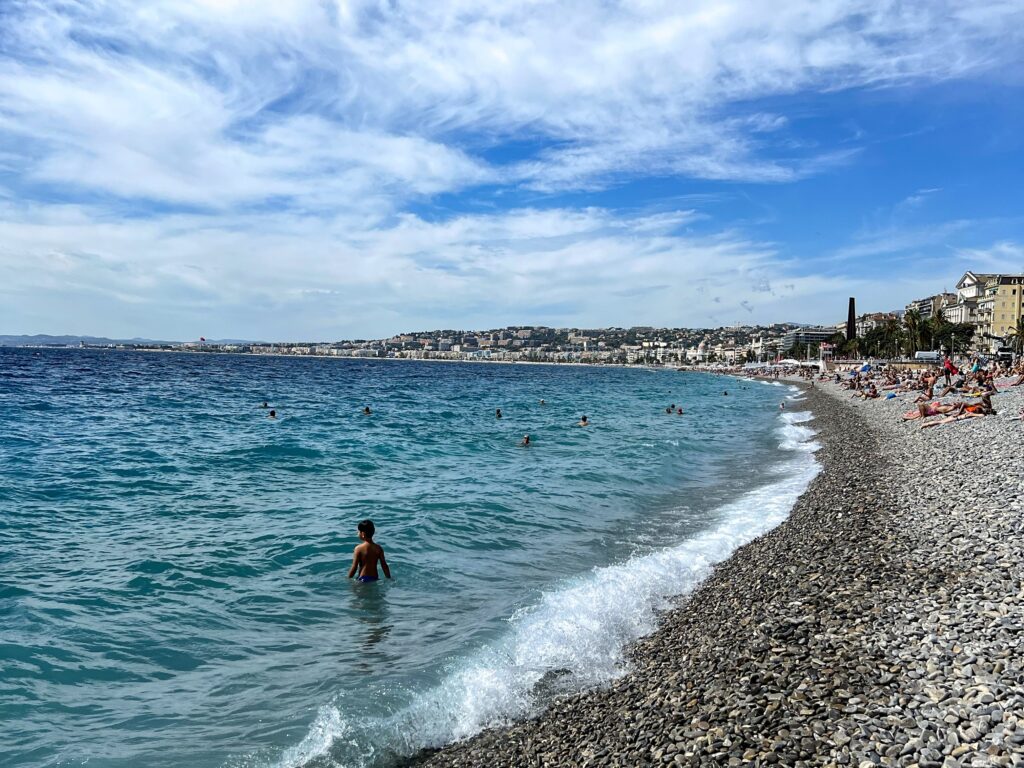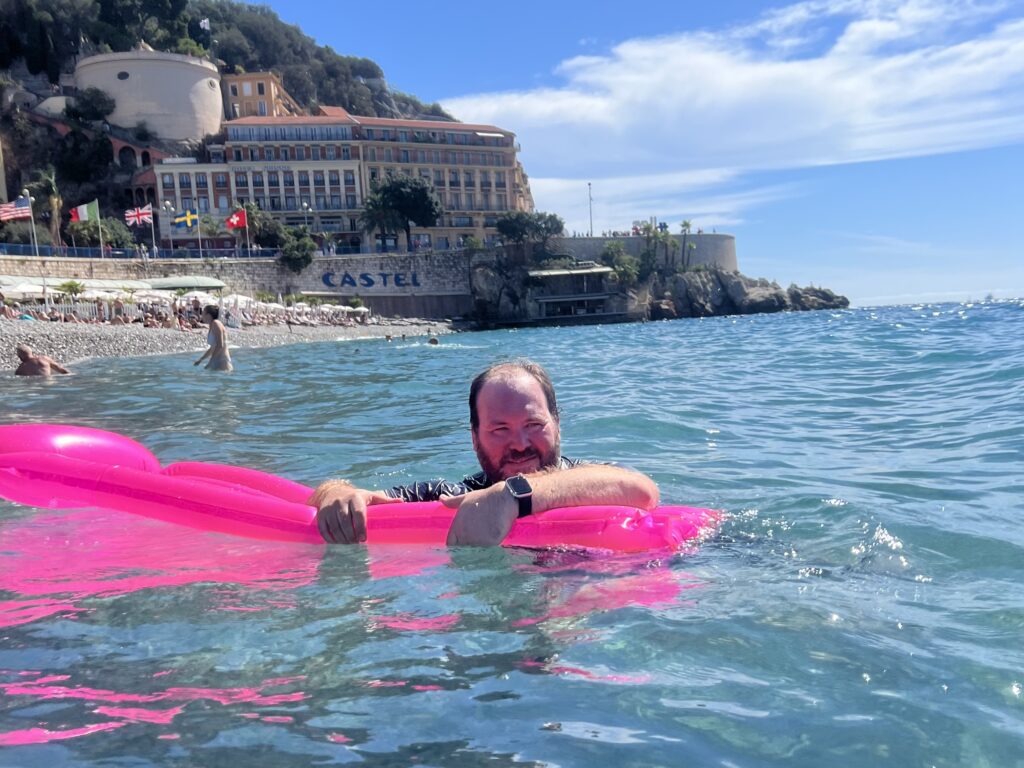 Following a late lunch/snack and drinks at Waka Bar across from the beach, we took the bus back to the apartment, freshened up, hung out with Koval before going back out for the night.
We took an Uber (which were easy to get in Nice) to a craft beer bar called Beer District. It was a little outside of Old Town, so it was nice to see a different neighborhood. Following drinks, we went for dinner at La Pizza Cresci. Nik ordered a spicy pasta, I got a Margherita pizza and we shared both entrees.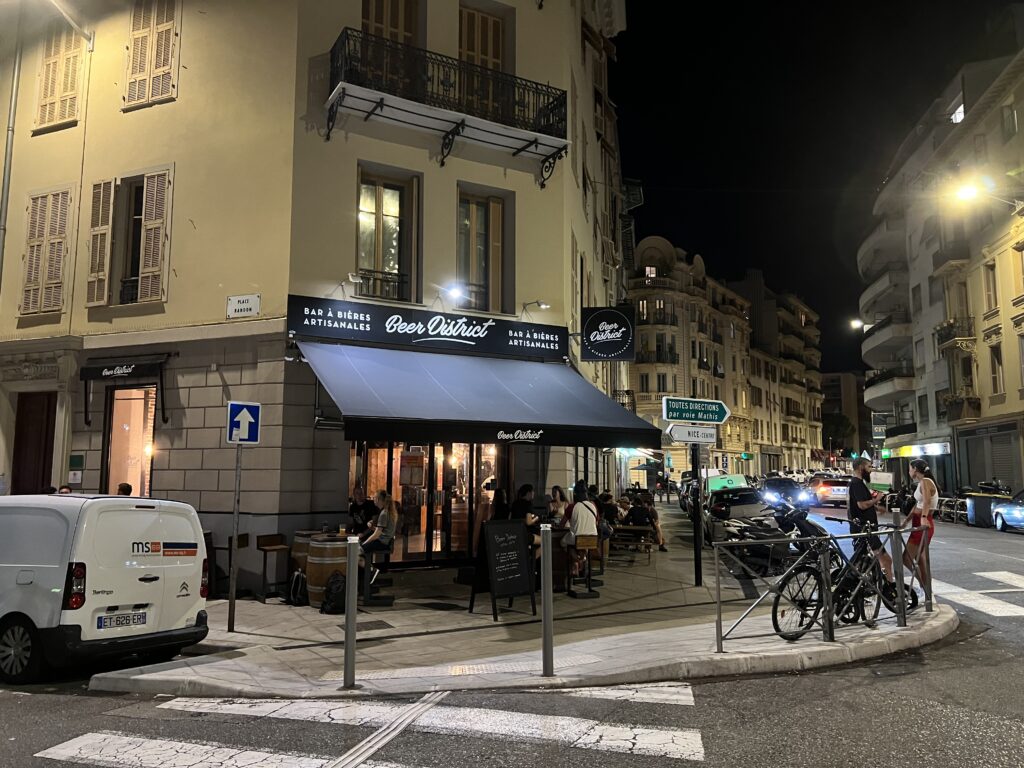 Last Full Day in Nice
As mentioned above, we started Friday by exploring Parc du Mont Boron. Having been in the sun for a bit we headed back to the Airbnb, ate leftovers for lunch and spent a few hours at the pool. Once we cleaned up, it was back to Old Town for the night.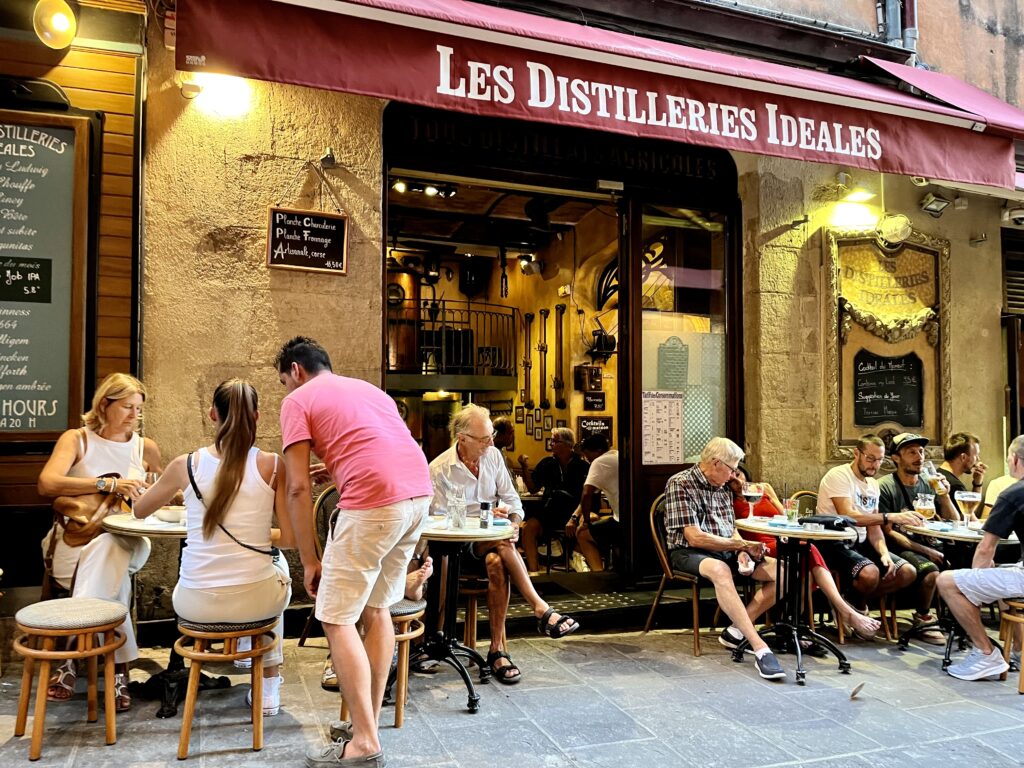 First stop was at Snug and Cellar, then to Les Distilleries Idéales. Every time we walked by this place, it was booming. We were able to get a table and stayed for a drink before trying to figure out dinner. While walking around looking for a dinner spot, we just missed a table at Olive & Artichaut, which we decided we'll try and eat at when we return to Nice.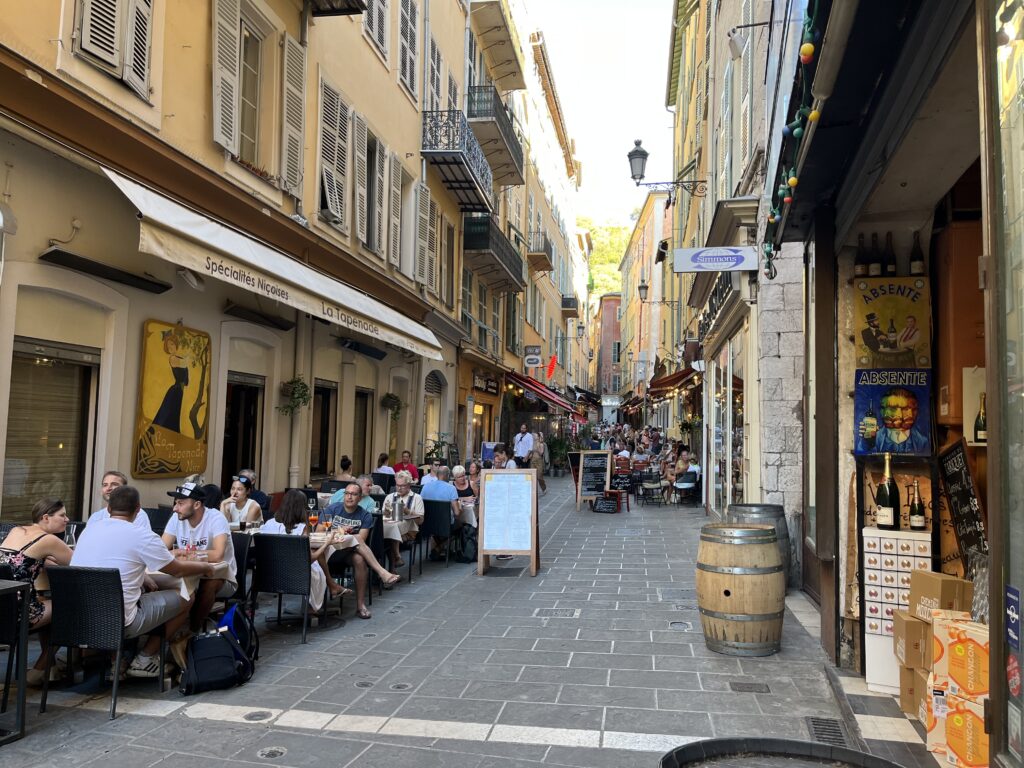 To the surprise of no one, we had pizza and pasta again, eating at Acqua & Farina. Another Margherita pizza and a pretty good ravioli dish. The night wrapped with drinks across the way at O'Neill's Pub.
Monument aux Morts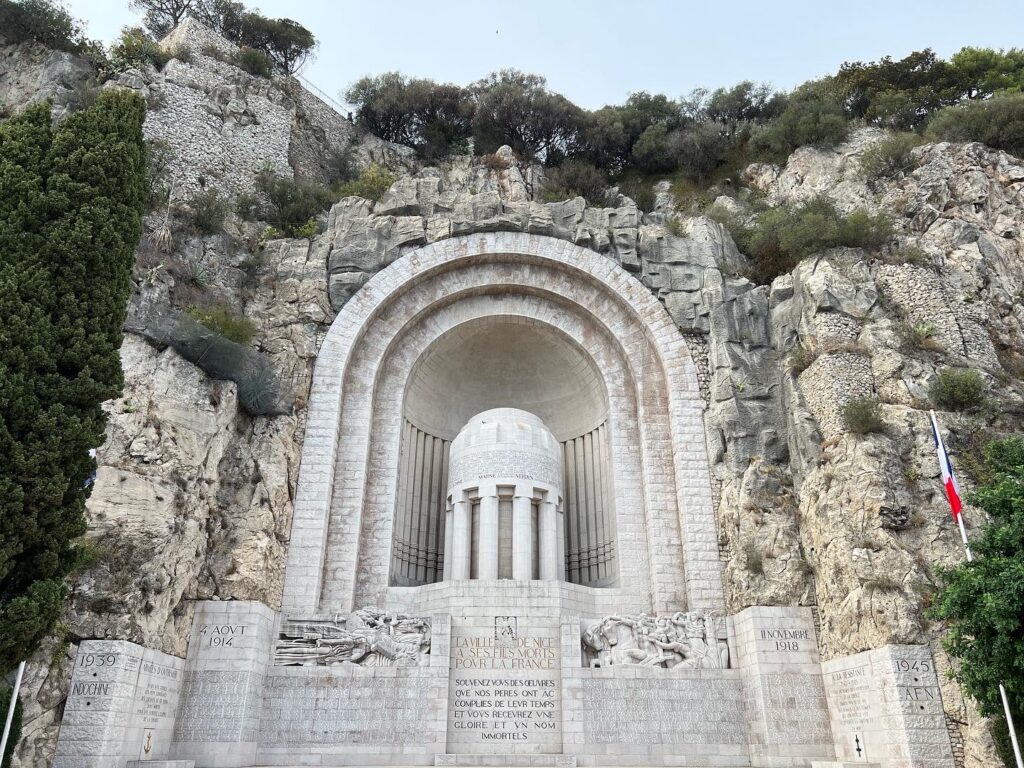 Overlooking the port is the Monument aux Morts which is a massive memorial carved into the side of Castle Hill to the war dead of Nice from the First World War.  The memorial was constructed in the 1920's to honor the more than 4,000 people of Nice who lost their lives in the war.  The monument was updated after the Second World War to honor those soldiers as well.  As the base of the monument is inscribed the following:
La Ville de Nice à ses fils morts pour la France : Souvenez-vous des œuvres que vos pères ont accomplies de leur temps et vous recevrez une gloire et un nom immortels.
Translation: The city of Nice to its dead sons for France: Remember the work that your fathers accomplished in their time and you will receive glory and immortal name.
Until Next Time, Nice
And with that, Saturday was the drive back to Barcelona. Nik was a trooper doing all of the driving on this roadtrip to Nice. Koval did pretty good too. We all got our share of McDonald's on the drive each way.
I loved our trip to Praiano on the Amalfi Coast, but I loved this trip just as much. Nice, in my mind, is a bigger scale Amalfi Coast and a much more livable city. For one thing, it has its own airport. I cannot wait to visit Nice again, by flight and not roadtrip, and hopefully make our way over to Monaco for a day.