During our trip to Stockholm, Sweden, we made a quick trip to Denmark to visit my stepsister Leyden, who lives and works in Copenhagen. As we were planning our trip, Nik discovered a 3-legged race pub crawl for St. Patrick's Day in Copenhagen that piqued his interest, so we booked a two-night stay.
Craft Beer in Copenhagen
Since we were only staying for a short time in Copenhagen and I had previously visited before, we decided to skip some tourist attractions and explore the city's craft beer scene instead.
ÅBEN Brewery
To start our first afternoon, Nik and I walked from our hotel to the Meatpacking District to have a few drinks at ÅBEN. My stepsister joined us, and although we didn't take any photos, we enjoyed the beer.
Warpigs Brewpub
Next, we went to the nearby Warpigs Brewpub. Nik and I are familiar with Warpigs Brewing since they're a joint venture between US brewer Three Floyds from Indiana and Danish brewer Mikeller. A few of their beers are available in Chicago. Their Copenhagen brewpub serves Texas style BBQ and pours 15+ beers from draft.
The brewpub is a long space made up of shared picnic tables. While it was pretty busy we were able to get a couple spots relatively easy.
The three of us shared the "trooper tray" that consisted of a couple ribs, pulled pork, social sausage and two sides. We added some chicken and brisket, a side of smoked wings in buffalo flavor and their mac-n-cheese bites. Yes, we probably over ordered, but oh well.
The meat was all very good and I loved the mac-n-cheese bites. The wings were very underwhelming and instead of wasting them offered them to our seat neighbors who gladly accepted them.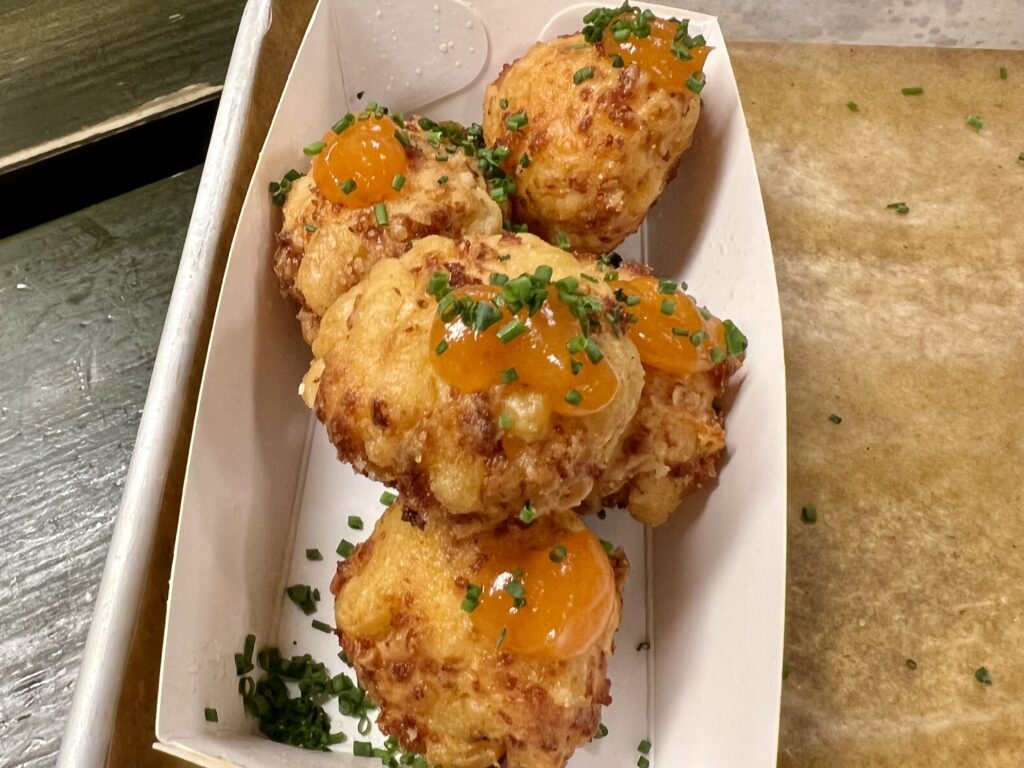 Mikkeller Bar
Afterward, we visited a small Mikkeller location nearby to see what they had to offer. It was a small space and not the most comfortable, so we only stayed for one drink each.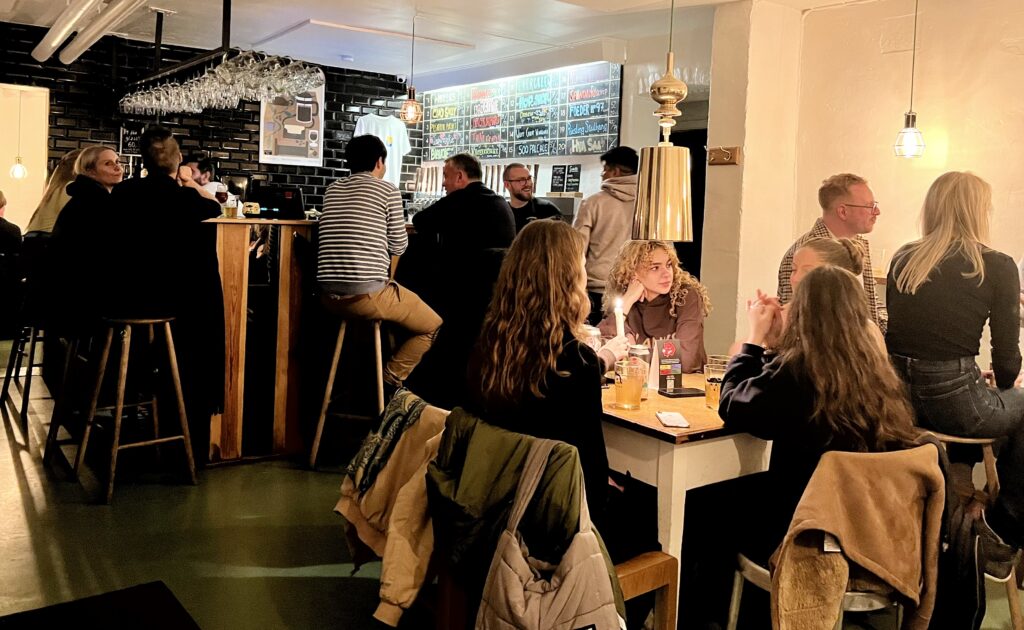 Zeppelin Rock Bar
While not really a craft beer spot, we made our way to Zeppelin Rock Bar because it looked like a decent spot. They had a special for a salty caramel shot, which is a local liquor only available in Copenhagen. I liked it so much, we bought a bottle of it at the airport before returning to Barcelona.
St. Patrick's Day in Copenhagen
This years St. Patrick's Day was on a Friday which meant my stepsister had to work, but would meet us later. Nik and I spent the morning taking it easy before getting ready for the three-legged race.
3-Legged Race
As mentioned, Nik found this race and he loves a good competition and any chance to get creative with a team name. We came up with Bailey Made It as our name…mostly because I've done a lot of Bailey's drinking this past winter.
Before leaving Barcelona, we bought green tutu's for part of our outfit. In Stockholm, we found a t-shirt printing place and got custom sweatshirts made while we waited. (Nik designed the front and back logos.) Long green socks rounded out our outfits.
Organized by a group called Shamrock Love, the 3-Legged Race pub crawl is a 2.6km route with five pub stops, including the starting point. Each participant had to drink a half pint of beer at each stop. Registration equaled roughly $30 and all of the registration funds and money from merch sales went to charity. There's a great article about this year's event that you can read here. As of this writing, just over $5,200 has been raised for three different Danish charities.
Race check-in and the starting point was at Kennedy's Irish Bar. From the moment we arrived, everyone was incredibly friendly.
I had a few emails with head organizer Siobhán, so it was nice to meet her in person. Nik and I were tied together with a velcro band that was somewhat uncomfortable at the start and incredibly uncomfortable by the end. 100 teams were signed up and participants started to line up at 1pm for a 2pm race start.
Racers were sent off in groups of 10 and we all grabbed a pre-poured beer to drink as we started walking. It was definitely a challenge to try and drink the beer while walking tied to another person who is a different height.
Some teams were very good with their 3-legged walking pace. Nik and I, not so much. We managed to finish without killing each other and without any injury. We finished 78th out of 100 with a time of 1:10:56.
It was a lot of fun. Leyden met us at the final bar, The Dubliner. Awards were given out and somehow we won the "Cinderella Award" for having traveled the furthest. The prize was a St. Patricks Day themed pair of Brooks sneakers that happen to be my size. It was a pleasant surprise to win and a nice way to wrap up the St. Patrick's Day 3-legged race pub crawl.