Nik and I previously took a day trip to the Costa Brava, the northeastern coastal region of Spain, but wanted to spend more time in the area before returning to Chicago in May. We settled on a few days in the beach town of Cadaqués, in the north eastern most corner of Spain. It was the perfect break from the hustle of Barcelona.
Getting to Cadaques
There's really only one way to get to Cadaqués from Barcelona and that is by car. It was roughly a two and half hour drive with the last 30 minutes being a narrow two-lane road (roadway GI-614) that wound through the mountains. Nik did the whole drive and it was a white knuckle affair. See below:
The scenery was beautiful, especially as we approached the town with a final descent down a hill.
Our airbnb host wasn't in town to meet us but sent a realtor friend to meet us and follow to the apartment. Thankfully. Cadaqués is a small town and some roads are only one-way. Some are also two-way and it was sometimes hard to tell, so we're glad to have followed someone to the apartment.
We parked and had a short walk to the apartment. We were in the cutest little area, quiet and clean. The apartment overlooked the town and had the most amazing view looking out to the bay.
The apartment itself was beautiful. Modern, comfortable and spacious enough for the three of us.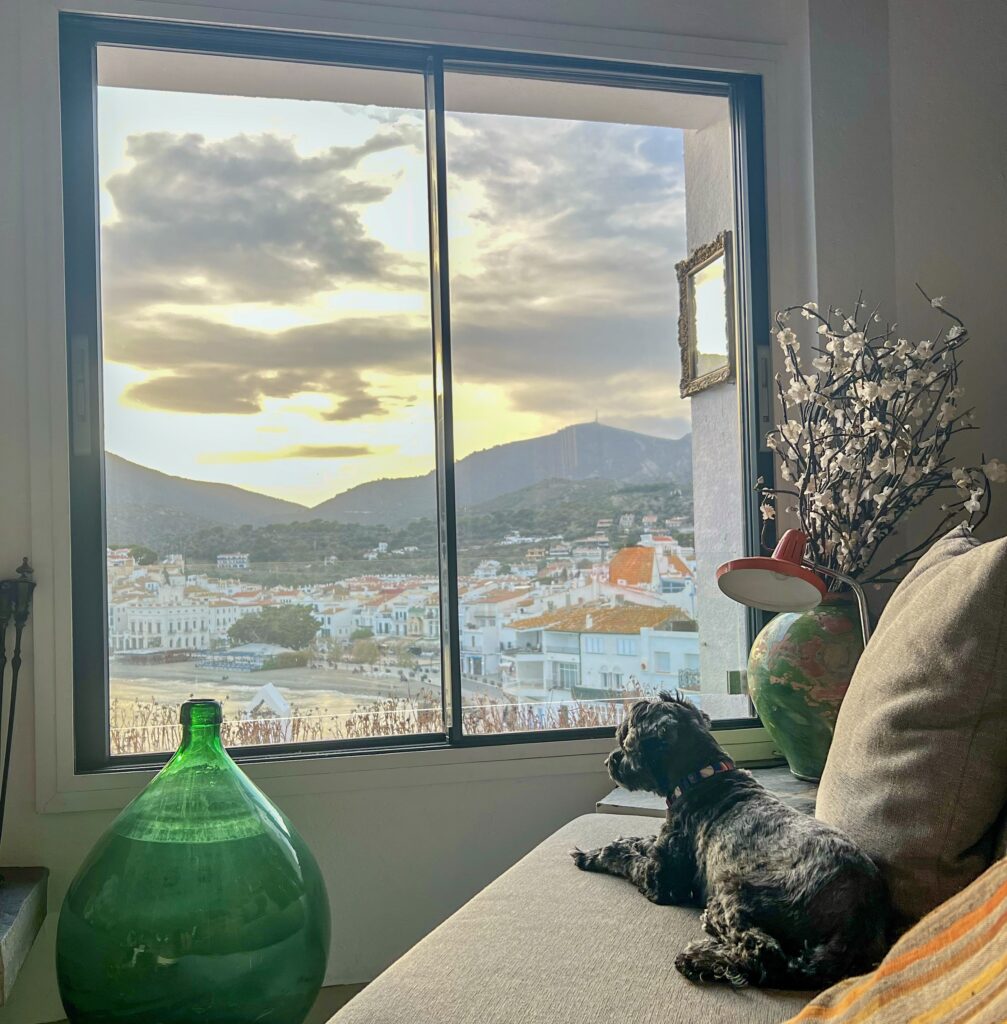 This article has a lot more interesting historical information about Cadaques and is worth reading.
Cadaqués was so picture worthy. Below is Casa Serinyana, built for the wealthy Serinyana family. (According to this website, Octavio Serinyana was a wealthy Barcelona doctor.) The main house is connected to a small warehouse by a bridge over the alley.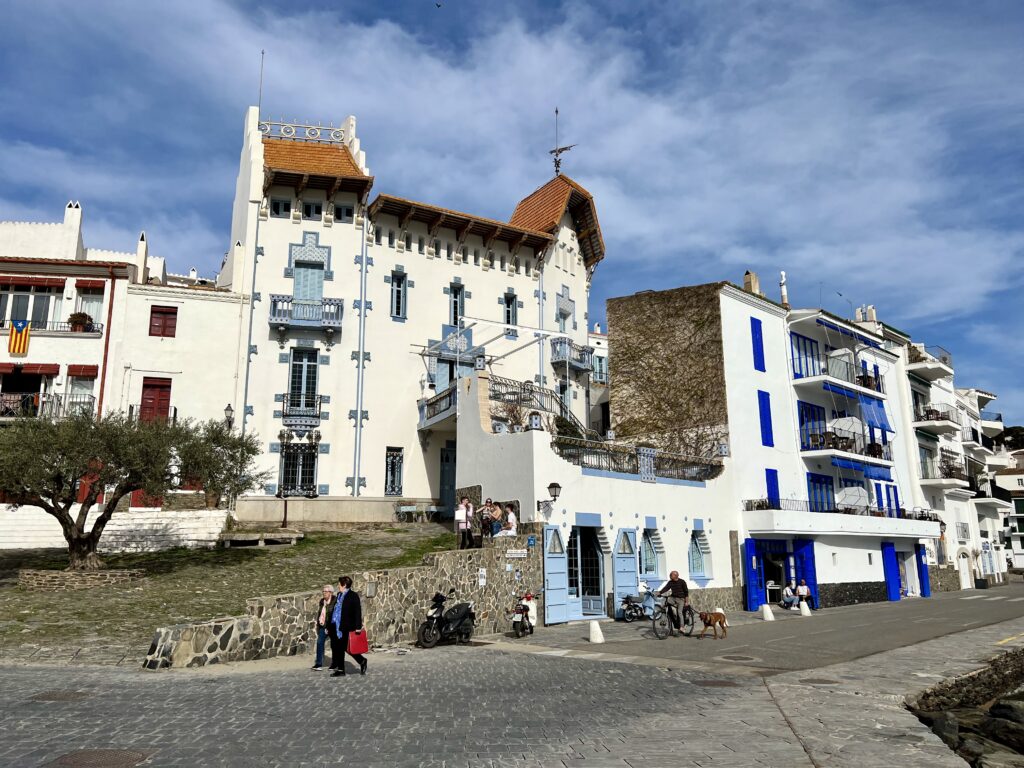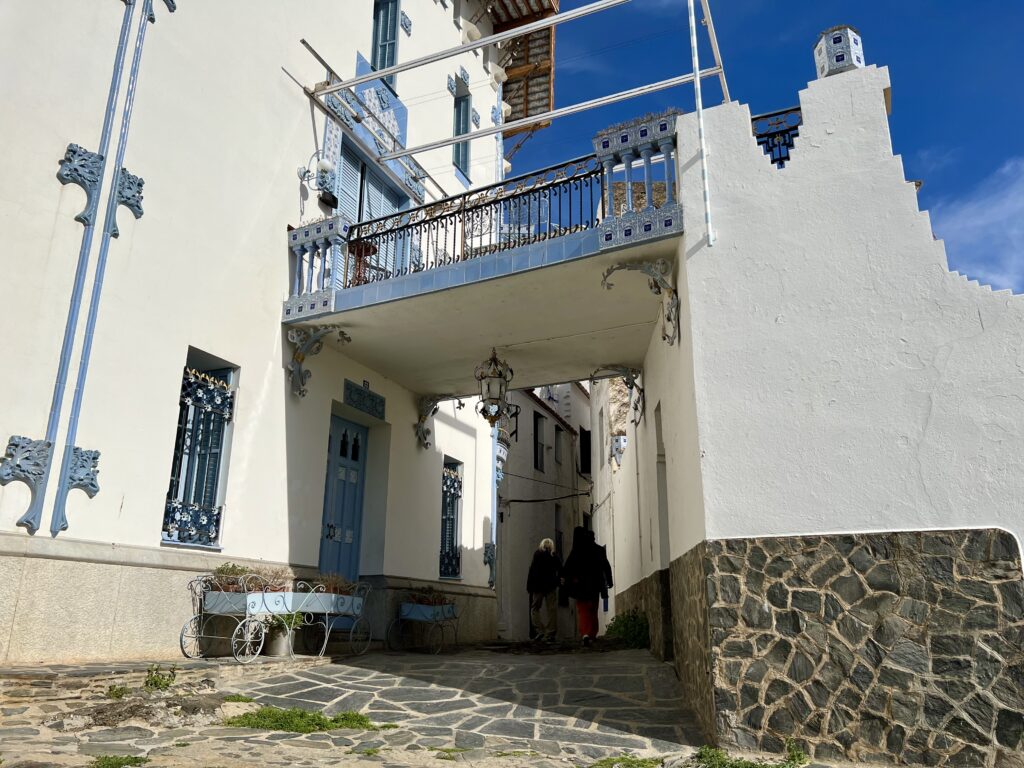 Eating and Drinking in Cadaqués
We were in Cadaqués for five days and four nights at the end of March, the perfect time because it was warm and sunny during the day and not very busy with visitors. As our week went on, it did seem like more people arrived, but it wasn't bad at all.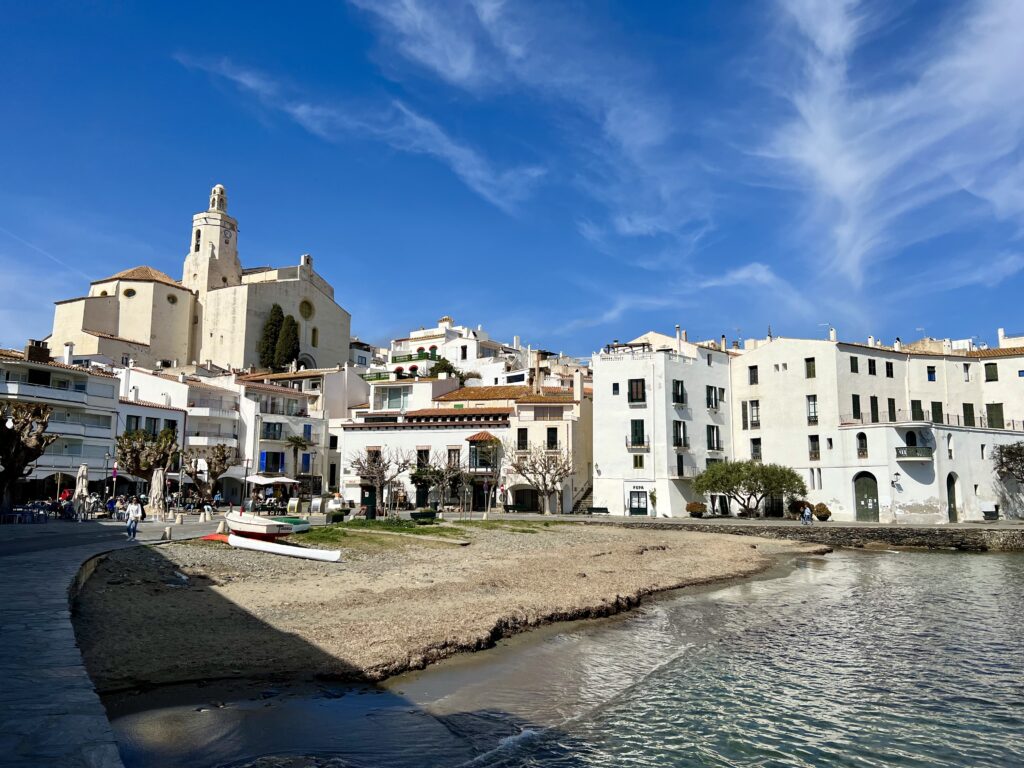 We found a couple restaurants that we had great meals at and there was no shortage of beachside bars to sit at and enjoy some sun.
Casa Nun Restaurant
Walking along the waterfront we noticed a cute spot, Casa Nun, tucked up a little hill that overlooked the bay with outdoor seating. After looking up the restaurant we decided to go for lunch.
We ordered their house specialty, a soupy lobster rice. Some might think it shouldn't be soupy and should be more like a paella. It came with two whole lobsters, rice and broth. It was so delicious. Granted it became a little messy because we had to get the lobster meat out of the shells, but it was worth it.
El Viatge
Another restaurant we ate a delicious meal at was El Viatge, located around a bend in a different part of the town. I'm glad we walked around the area because this place is tucked away in a quieter part along the beachfront. Maybe it's less quiet in the high tourist season.
El Viatge's kitchen was a modern space with an open kitchen. For dinner service, there were four people working and everything worked very smoothly and the food was delicious. We started with the churros bravos (top left), a light and fluffy potato formed with a pastry piping bag in the shape of a churro. They were topped with typical bravas sauce (spicy red sauce.)
We rounded out our meal with seafood entrees, cod for me (top right) and seabass (bottom left) for Nik. We had a local traditional dessert of taps de Cadaqués. They're sweetened biscuits in the form of cava corks.
Everything at El Viatge was so good. If you find yourself in Cadaqués, make a stop there.
Day Trips from Cadaques
Though there is only one main route in and out of Cadaqués, there are several cute smaller towns nearby including Roses and Figueres. The latter is home to the Dalí Theatre-Museum which we took a day trip to.
Dalí Theatre-Museum
A 50-minute drive from Cadaqués took us to the Dalí Theatre-Museum in Figueres. We bought tickets in advance for a timed entry, which saved us a few minutes at arrival because there were lines for ticket purchasing.
Spanish artist Salvador Dalí was born in the town of Figueres and spent most of his time there and in Port Lligat, on the coast near Cadaqués. In the early 1960s he was asked by the mayor of Figueres to donate some of his art to a museum. Instead of doing only that, he wanted to make a whole museum of his own artwork.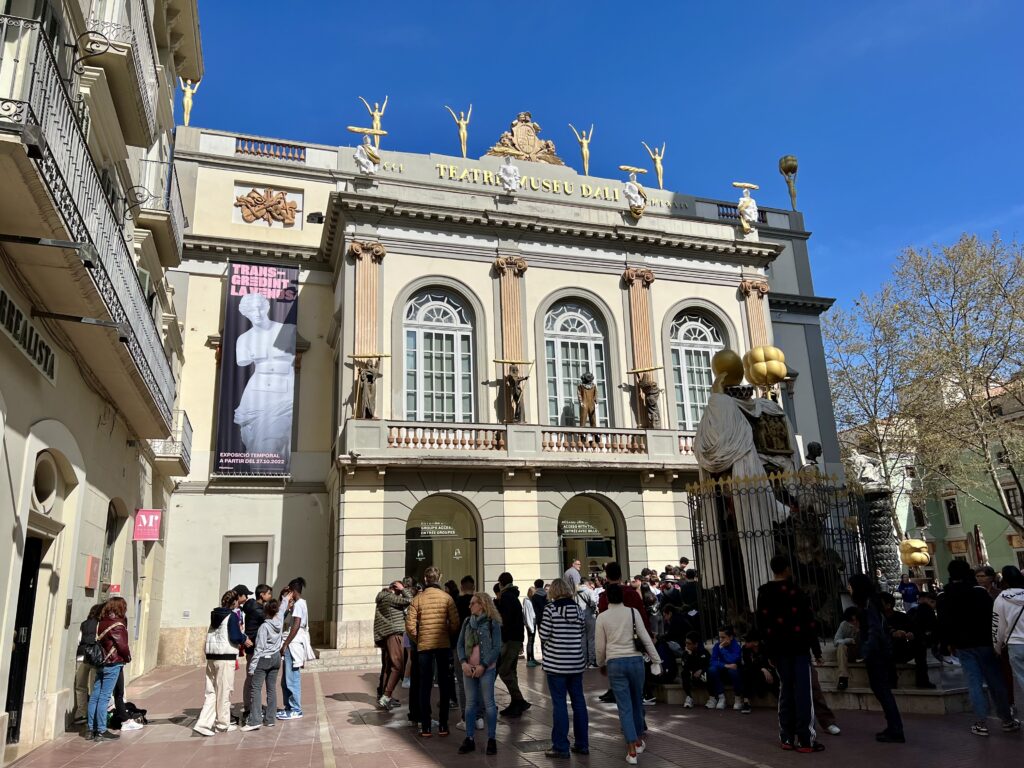 The heart of the museum is the former Municipal Theatre that was mostly destroyed during the Spanish Civil War. A glass dome crowns the stage of the old theatre, and Dalí is buried in a crypt below the stage floor.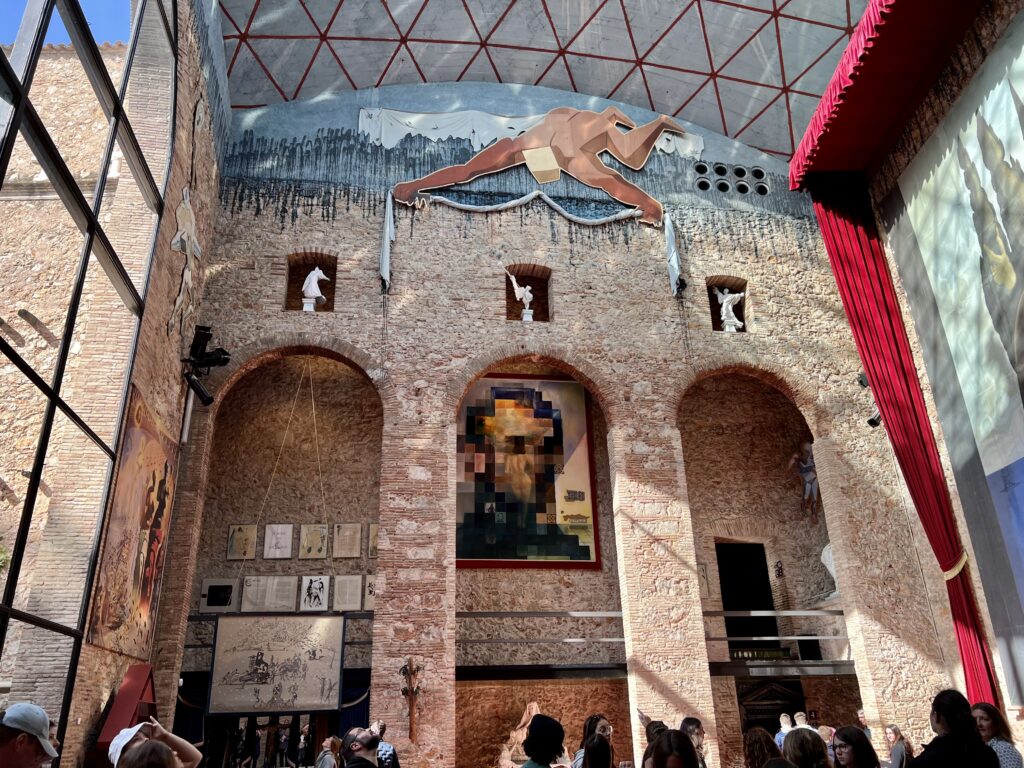 The theatre space formerly occupied by the audience has been transformed into a courtyard open to the sky, with nude figurines standing in the old balcony windows. The main installation in the courtyard is Rainy Taxi, a three-dimensional artwork by Dalí, consisting of an actual automobile with two mannequin occupants.
Other unique installations include the double image called Gala Nude Looking at the Sea Which at 18 Metres Appears the President Lincoln. It's pictured above from afar in the Cupola room. And below is a closeup:
Another highlight is the Mae West Lips Sofa, a custom sofa that looks like the face of Mae West when viewed from a certain spot.
The museum was interesting and Salvador Dalí was a unique artist, that's for sure. It was definitely worth the visit.
Until Next Time, Costa Brava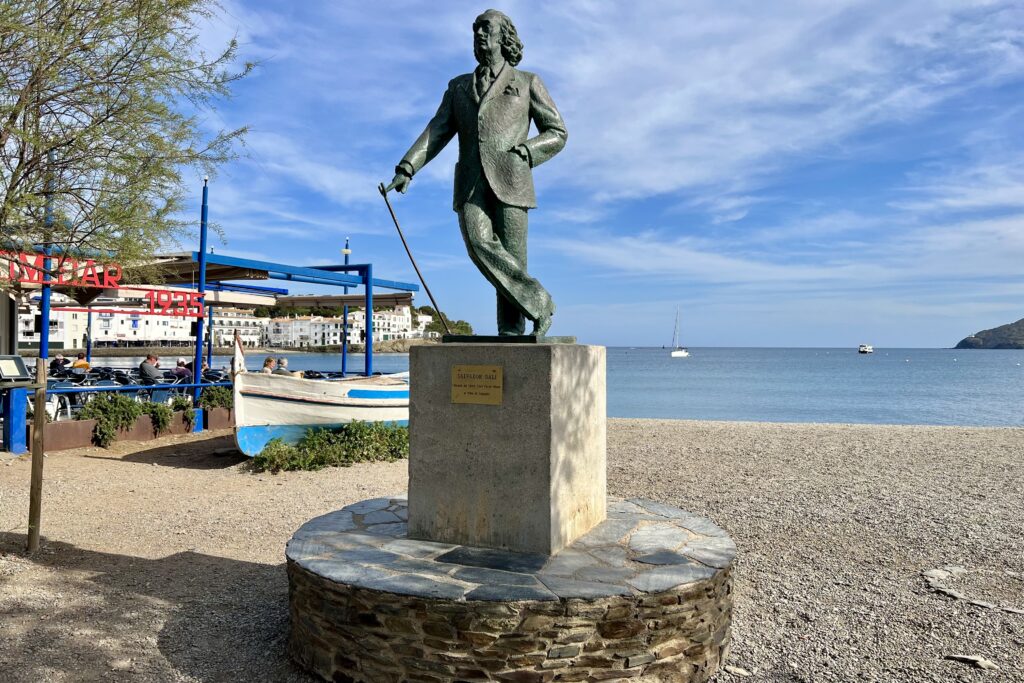 Overall, we really enjoyed our visit to Cadaqués. It was the perfect escape from busy Barcelona and we had a lot of fun with Koval and the various photo ops around town.