So much good eating and drinking in Sevilla. Our previous post was dedicated to sightseeing in Sevilla and various historical spots in the city while staying at a great hotel which thankfully had a pool. As we waited to get into our hotel, we decided to get lunch and that started our two days of some good food.
Eating and Drinking in Sevilla
The various tapas bars were a nice change from Barcelona and the city as a whole had a different vibe.
Bodeguita Romero
The delicious eating started almost immediately with lunch at Bodeguita Romero. It was a short walk from our hotel and we passed a bunch of other good looking places on our way.
Bodeguita Romero is a traditional tapas spot I learned about in the previously mentioned Spain Revealed Facebook group. (Pretty much every place in this section you're about to read about, was recommended in the Facebook group.) There was a short wait to be seated and damn was it hot while waiting.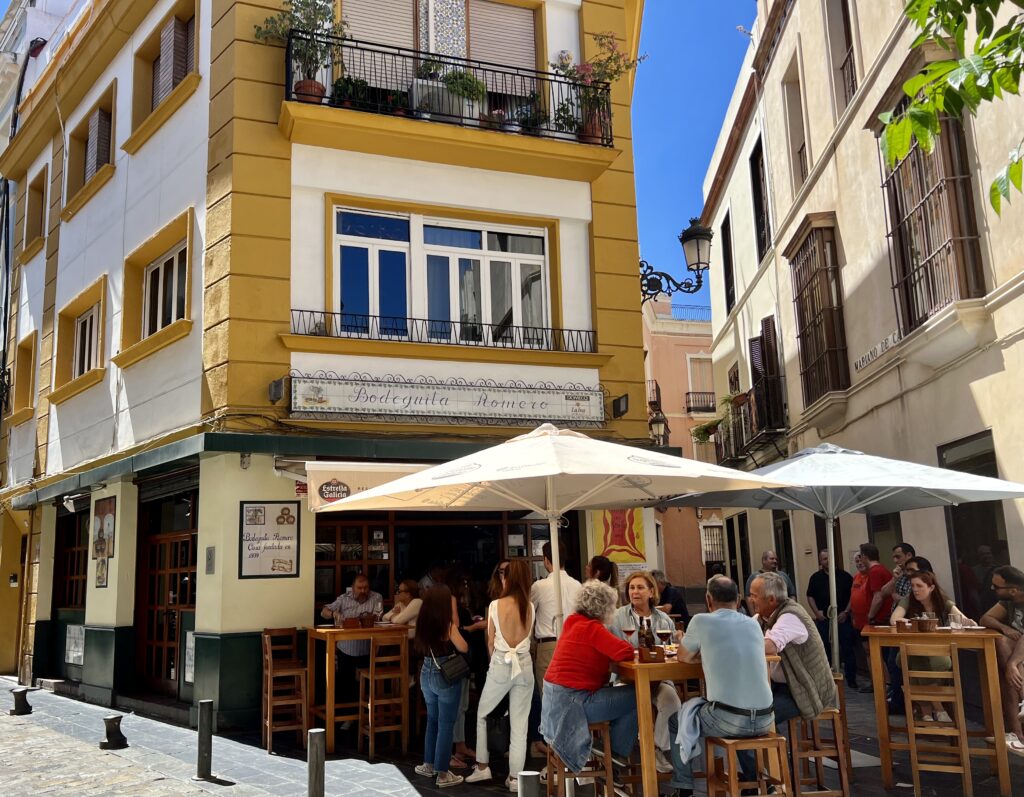 We did a pour job of taking pictures of the menu but Nik and I shared a few small tapas plates. Solomillo (Iberian sirloin), meatballs and cispy shrimp pancakes. Each one was so good we could've ordered more but wanted to pace ourselves on the day.
Bar Casa Morales
Following lunch at Bodeguita Romero, we headed back towards the hotel and stopped at Bar Casa Morales. Their front room was pretty packed but we were able to squeeze in at the counter in their back room.
The place oozes with old school charm. Menus written on chalkboards and old clay tinajas (barrels). Very little English was spoken by the staff, but we managed. Nik and I only had drinks on this first visit but returned a second time and got a few tapas plates.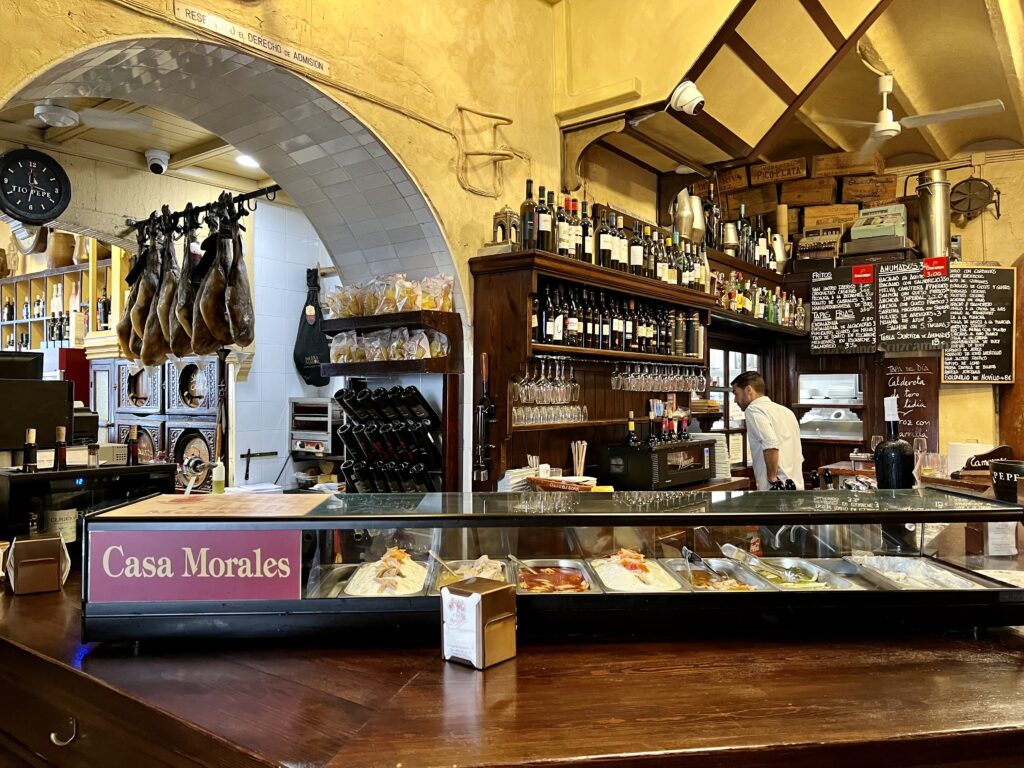 Delicious meatballs, not pictured. And the huevos fritos con patatas y chorizo (eggs, potatoes and chorizo), pictured below. This is one of my favorite dishes in Spain and it can be made so many different ways.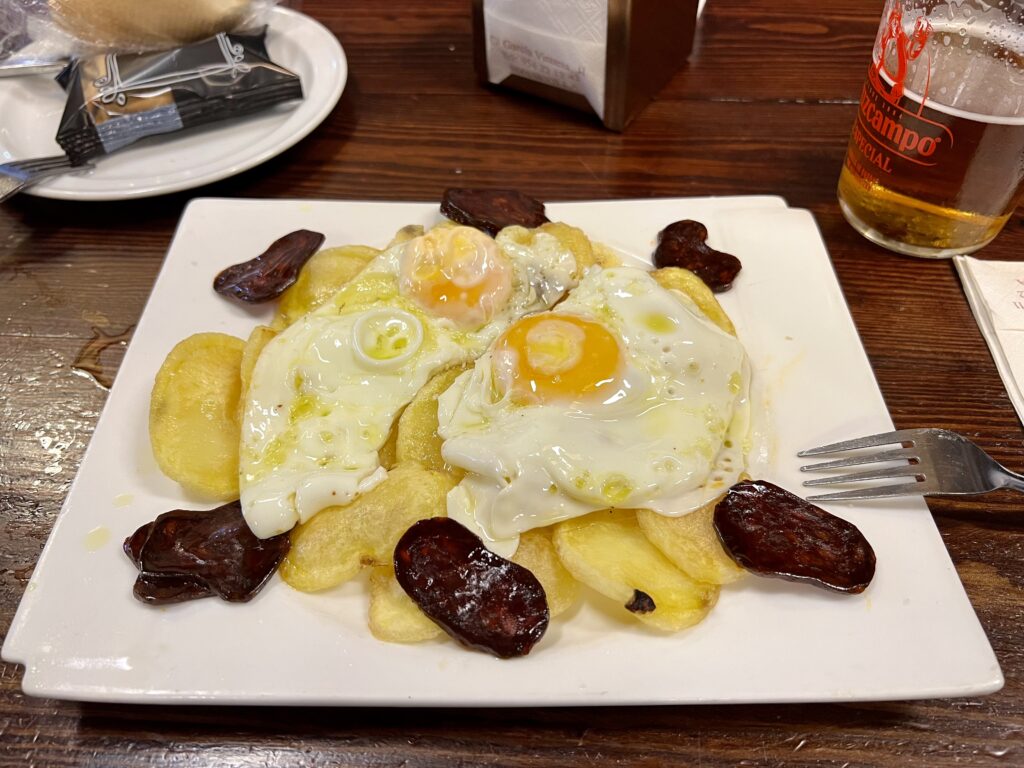 Great tasting food and a great value for the money. This was definitely one of our favorite spots. Bar Casa Morales must be on your list if you visit Sevilla.
El Rinconcillo
Our first dinner in Sevilla was at El Rinconcillo. According to its website, El Rinconcillo was founded in 1670 and holds the title of the most ancient bar of Seville. The interior ornamentation has been preserved over the years and is very eye catching.
After a very short wait, we were able to get a spot at the bar. Some of the older places with wood bar tops will use chalk or an eraser marker to write your tab down.
Nik and I shared a big bowl of clams in marinara and another mouth watering portion of solomillo. Both dishes were delicious.
Casa Ricardo
Another well known tapas spot in Sevilla is Casa Ricardo. While the website says it's only been around from 1985, it felt like it was a lot older. The walls are covered with photos, I assume of family and friends. The walls also had a very holy theme with religious pictures hanging throughout.
Casa Ricardo was already very busy when we arrived shortly after opening time. We were able to get some standing room along the wall before moving to standing room at the bar. The bar location is the spot to be.
The must-have item is their croquetas de jamón. A nice creamy texture on the inside, they were outstanding. We also had their mini burger, which was Iberian pork with goat cheese and red pepper jam and one of their specials, a delicious tasting tapa of artichoke, shrimp and chopped up jamón. I want to eat all of these items again right now.
Craft Beer in Sevilla
The Man vs. Globe Travel Blog once again came through with a post about craft beer in Sevilla.
Maquila Bar
One of two craft beer places we visited in Sevilla was Maquila Bar. A space that is more modern pub vibe than old school charm. It was bright and felt very new. We stayed for a couple drinks and would recommend a stop there. While we didn't eat anything, what we saw others eating, looked very good.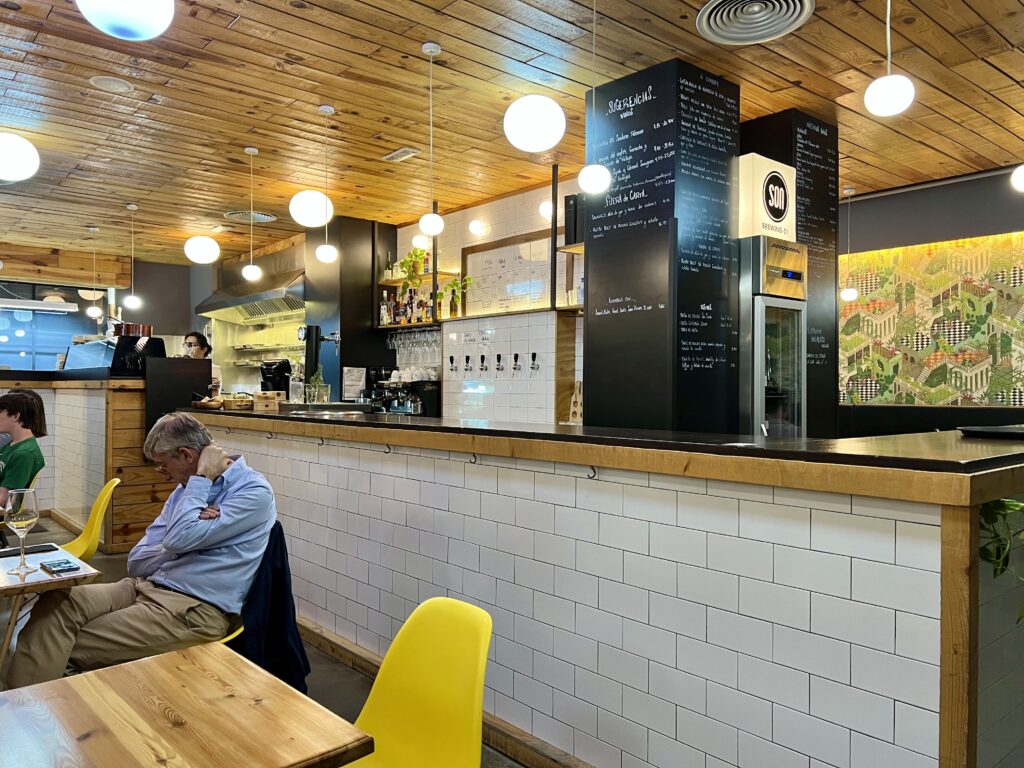 Hops & Dreams
The second craft beer spot we stopped at was Hops & Dreams. Probably one of the places furthest from the old town area where we were staying, but still an easy walk.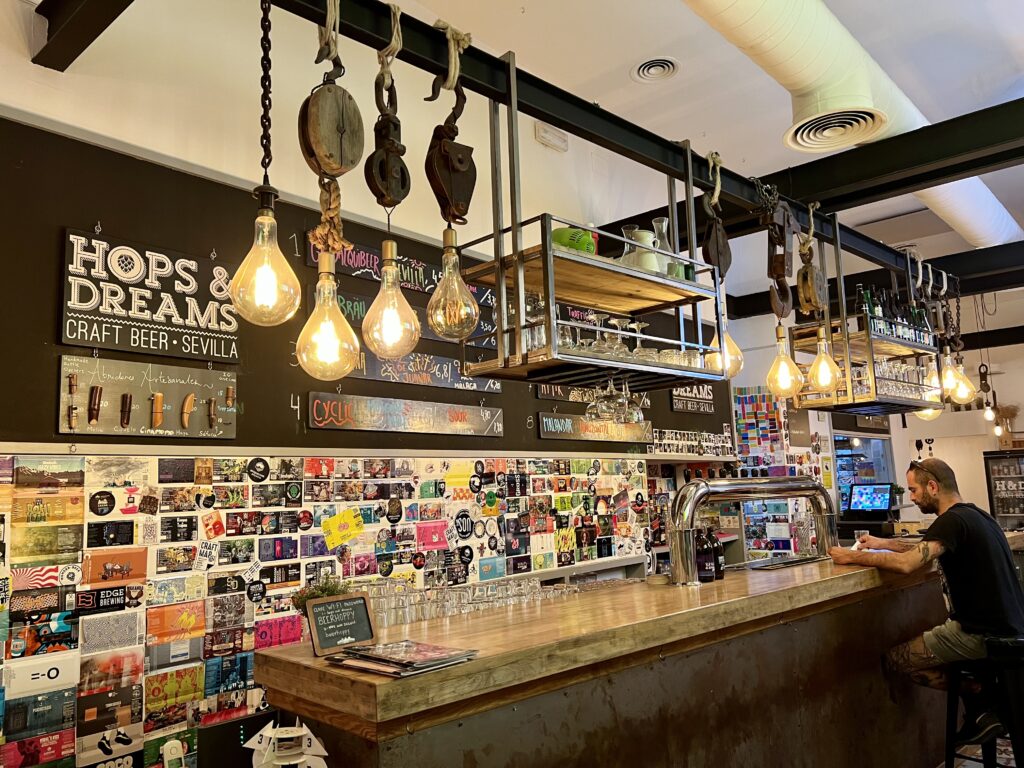 They had eight beers on draft and several more offerings in cans. We stayed for a few drinks and am glad we read about this place.
As you can see, Nik and I ate really well while visiting Sevilla. I definitely recommend everything written here and I would go back to all of these places should I visit Sevilla again.