After the night in Rotterdam and arriving back in Amsterdam from the train ride, we headed to our hotel, the Sir Albert. Our room wasn't ready, no biggie. It was just nice to finally visit Amsterdam, following our cancelled trip from May 2020. It was also nice that on this trip we'd be seeing some of my family: my dad Ira, my stepmom Joyce and my stepsister Leyden.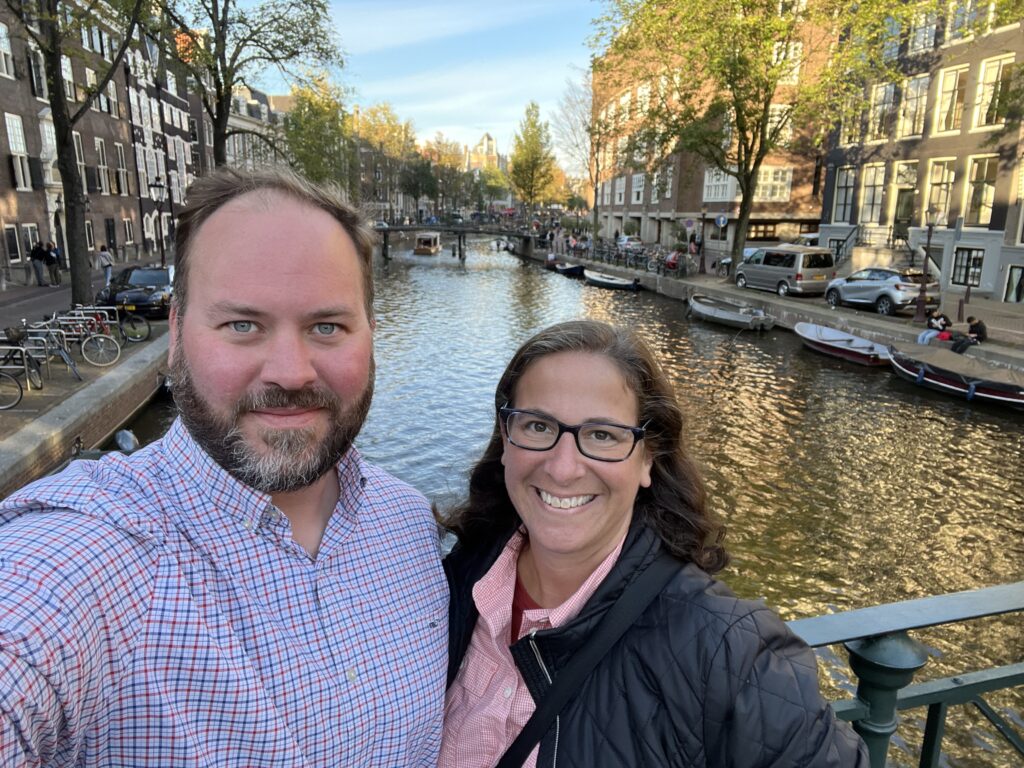 First Day in Amsterdam
Proeflokaal Arendsnest Beer Bar
Once we dropped our bags at the hotel, Nik and I headed to Proeflokaal Arendsnest, an intimate beer bar that only serves beers from Holland.
50 beers on draft and many more in bottle. They also have a mix of meats and cheese to pair with your beverages. It's situated on a canal, of course. A very cool interior of wood paneling and various pictures and articles adorn the bar. Nik and I hung out here for a few drinks until our 3:30 entry to the Anne Frank House.
We would also return to this bar for two additional visits. That's how much we liked the environment and highly recommend it on your visit to Amsterdam.
Stumble Stones
On the walk to the bar we passed numerous Stumble Stones. Amsterdam marks the fourth city that we've seen these and by far the most we've seen since we've been in Europe. So many families deported from Amsterdam on the same day and who did not survive the Holocaust. The stones really stop you in your tracks.
Anne Frank House
If you're reading this blog, I hope you know who Anne Frank is, the story of her and her family in hiding and her diary.
Since my parents had previously been to the Anne Frank House, just Nik, myself and Leyden wanted to go. The Anne Frank House can only be visited with a ticket bought online for a specific time slot and those slots will sell out. We paid 14 Euro for each adult ticket. To ensure you don't miss tickets, make note that every first Tuesday of the month, all tickets for the following month become available.
The Anne Frank House and Museum was on our must-do list while visiting Amsterdam. Seeing the Secret Annex that Anne, her family and others hid in for two years was absolutely moving and heart-breaking. Eight people in that space. I just cannot imagine. Pictures inside the museum and annex were not allowed so I recommend you take time to visit in-person.
Dinner at Cafe Restaurant Amsterdam
Following our visit to the Anne Frank House, we walked around a little bit looking for a cafe to settle at for an afternoon drink and snack. We settled on Cafe Brasserie Blazer where my parents met us before we all headed to dinner at Cafe Restaurant Amsterdam.
The restaurant has a very cool history as the building was a pumping station in the late 1890's. We all enjoyed a variety of dishes: oysters, salmon, steak, beef bourguignon and some beverages.
While my family went back to their hotel, Nik and I went to Brouwerij Troost, not far from our hotel. And we felt old! Not sure if it was because of the De Pijp neighborhood, but this brewery had a pretty young vibe going on. After a couple beers, we called it a night.
Second Day in Amsterdam
Our second day in Amsterdam started with a stroll through the Albert Cuyp Market which was conveniently located down the block from our hotel. I had a long overdue stroopwafel. A little sweet, but good. The market was a mix of sweets, vegetables, fruits, accessories, clothes, flowers and more.
From the market, Nik and I took the tram into the center of the city to do some shopping. Nik found a winter coat; we both got some chocolate from Tony's Chocolonely Store. The main plan for the day was a canal tour, but that wasn't for a little while so we went back to Proeflokaal Arendsnest for a snack and beers.
Those Damn Boat Guys Canal Tour
I knew we wanted to take a canal tour, and luckily my family was on board for the plan too. We were booked for a 3pm departure and it was perfect. There was still some sun shining and so it wasn't too cold. A friend had recommended Those Damn Boat Guys for the tour. It was a lot of fun and lasted about 90 minutes.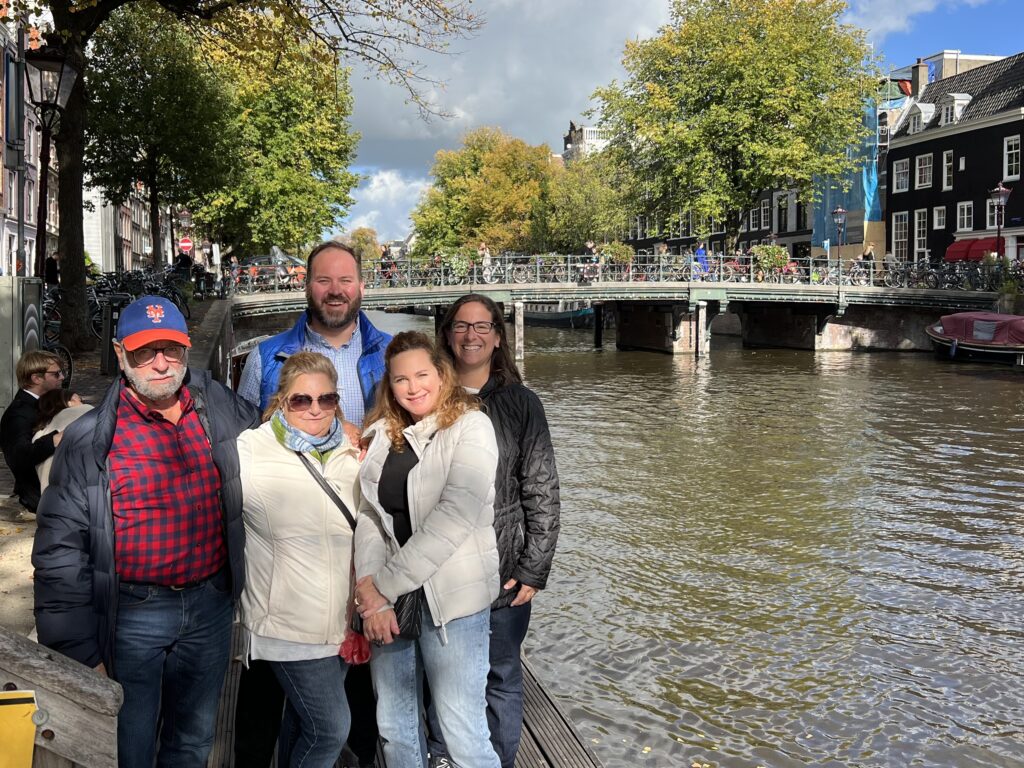 Leigh was our guide and made it a very comfortable and interactive experience. She pointed things out along the canals but was also very knowledgeable whenever anyone asked a question. It made for a lovely afternoon and got us to see some things we may not have seen otherwise.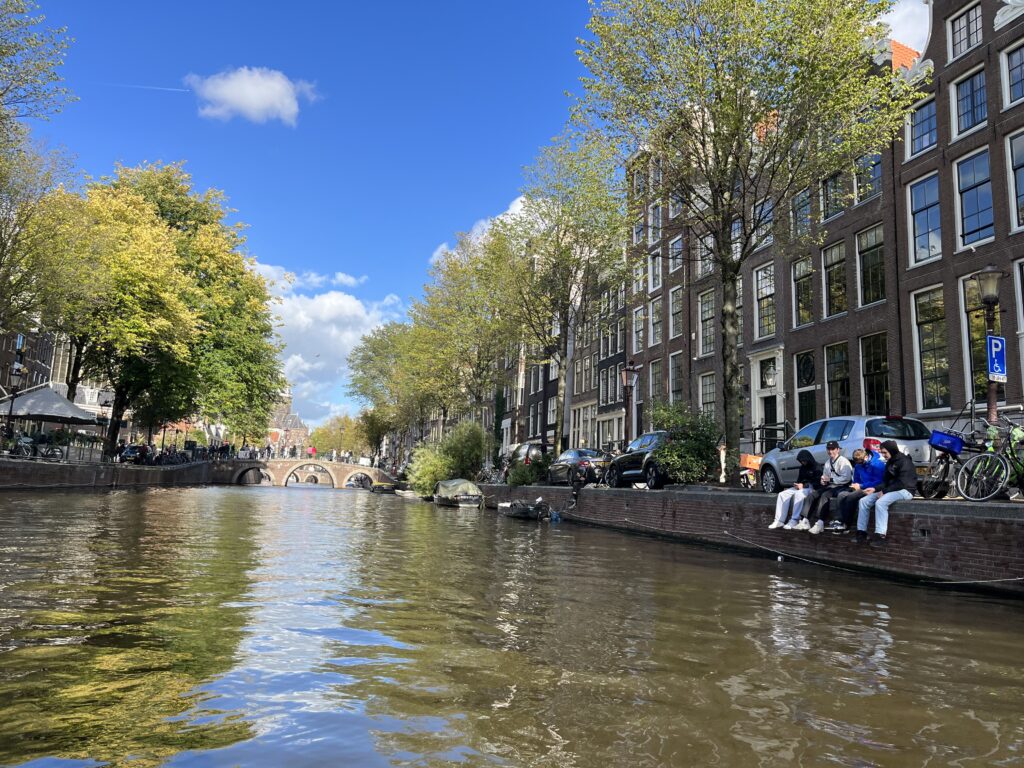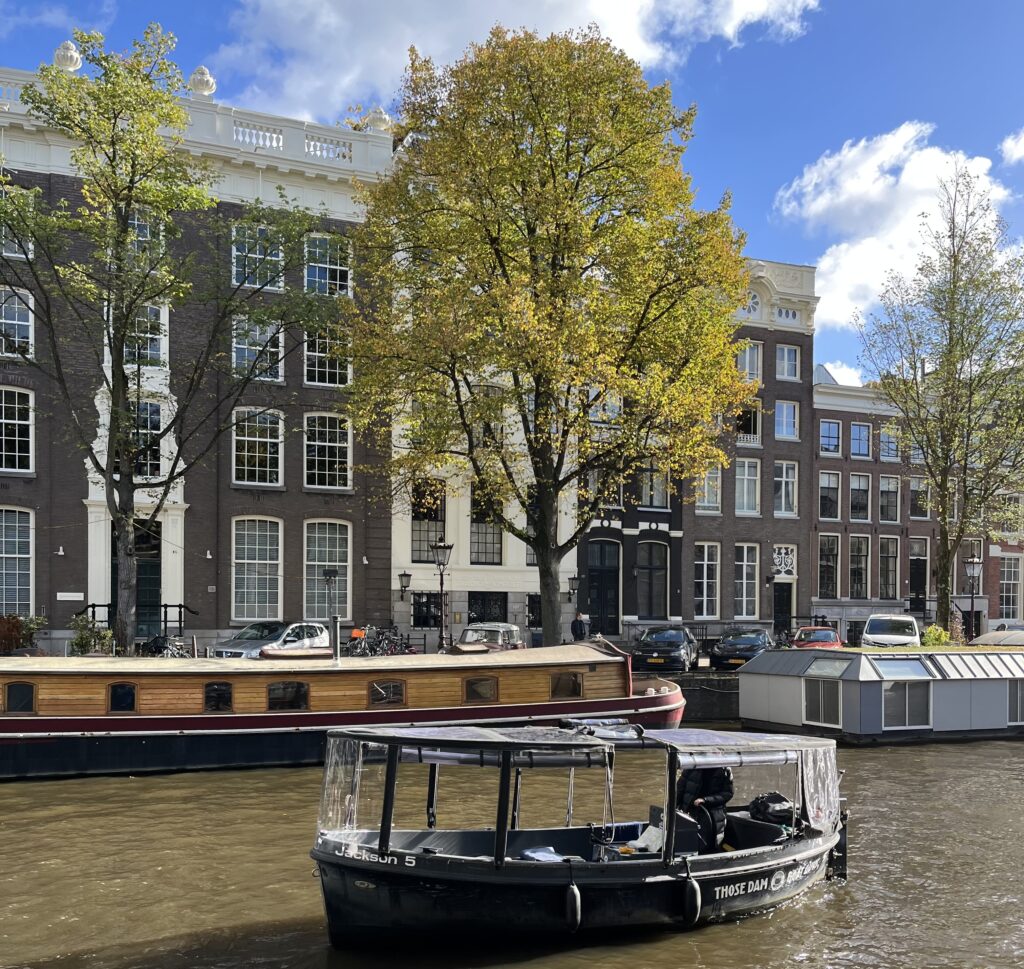 The $1.5 Million Houseboat
Along the tour we passed numerous houseboats, but one was specifically pointed out by Leigh.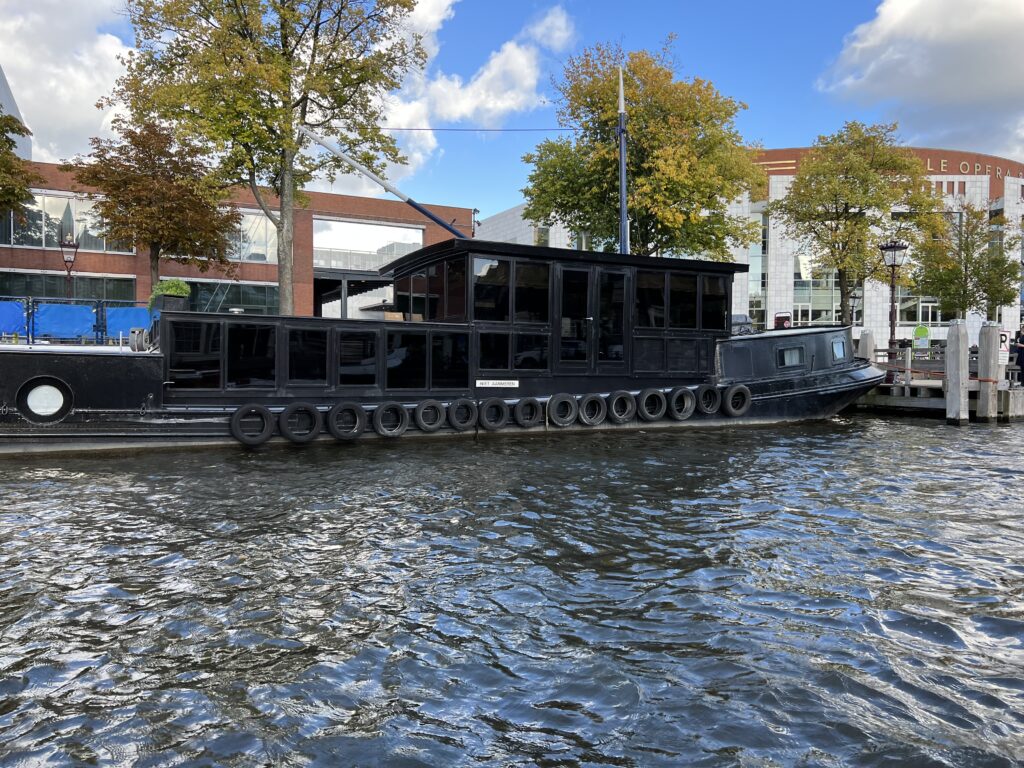 This houseboat looks eery from the outside with the all black paint and dark windows. But once you check out an old article about the boat, the interior looks pretty amazing. Three beds and two baths on that thing!
Related: Our night in Rotterdam
Dinner at Pesca
Looking for a unique and slightly different dinner experience? Pesca is the spot! It's seafood only and the fish available is based on that days catch, so there's no real menu to look at.
You arrive and talk with a staff member in front of the seafood display and pick what you want and how you want it prepared. They weigh it right then and as you move on to the bar area to pick your drinks, they take your choices straight to the kitchen.
We had two whole fish (sea bass and turbot) a generous portion of clams and a couple of sides. It was all delicious. Both Nik and I agree this place is better with more people so I'm glad we had five people. It allowed us to get a few more things to try.
To wrap up the night, myself, Nik and Leyden headed out for some nightcaps.
Third Day – A Day Trip To Haarlem
My dad has long been wanting to visit the town of Haarlem so we started our last full day in the Netherlands by taking a train to Haarlem for a day trip. We had a late breakfast at Restaurant Zuidam located at the foot of the Windmill De Adriaan, a windmill that burnt down in 1932 and was rebuilt in 2002. The sun was perfect and the area made for a great photo-op.
We walked around the town for a bit and checked out some shops before sitting down for an afternoon drink in Grote Markt, the central market square of Haarlem.
Dinner at Bierfabriek Amsterdam
Not sure how we found out about Bierfabriek but it's a brewery and restaurant. We wanted something casual for dinner and it's location to where we were going for post-dinner drinks was perfect. Joyce and I had their ribs, my dad and Nik had their the slowly cooked farm chicken that they are known for and Leyden had their fish and chips. We all had a few beers that were pretty good.
Cocktails at Flying Dutchman
To wrap the night, we took a short walk to Flying Dutchman for cocktails. It was a small and intimate space and the drinks were good.
Amsterdam Airport Schiphol
The next morning, Nik headed to the airport for a 1pm flight back to Barcelona, while my family and I were booked for a 5:30pm flight to Copenhagen where Leyden is currently living and working.
Since the summer, Schiphol has been a disaster with lost luggage, crazy long security lines and staff shortages. Luckily Nik made his flight in time (just barely though) and also gave us a heads up to arrive earlier than we were planning too. He wasn't kidding. It took him about 90 minutes to get through security. Same about of time for me and close to two hours for my family. The picture above is only a small portion of the zigzag line to security.
Overall, the trip was great. It was nice to finally visit Amsterdam and to see some of my family made it even nicer. I continued on with them to Copenhagen for three nights. More on that soon.