Prague, the Czech Republic capital, has been on our list of places to visit. When my friend Meredith said she was stopping there with her boyfriend Austin as part of a two week trip, Nik and I wanted to make it work for us to meet up with them. We're glad we did as we had a great few days eating and sightseeing in Prague.
Nik and I stayed at the Prague Marriott Hotel. Our request for a room upgrade got approved and we had a very nice room with a second bathroom and a balcony. The hotel was walking distance to many landmarks in the city which made sightseeing in Prague very easy. The public transit system is very good as well. From the airport, we easily took a bus to a tram that made its way to our hotel. We just loved the old trams cars that are still in use, mixed in among newer tram cars.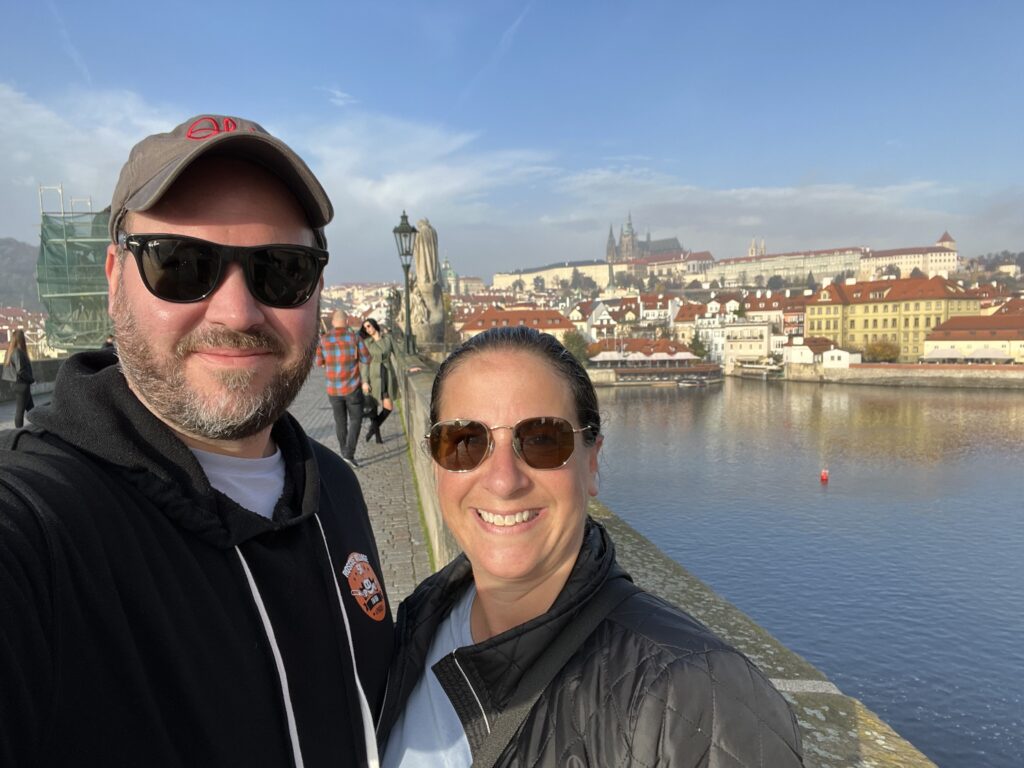 While Nik and I are itching for some cooler temps, we had unseasonably warm weather in Prague. It was cool by evening, but each day was mid-60s. If anything, the fall colors and sun made for nice backdrops for many of our pictures.
Architecture Treasures
No shortage of historical buildings, bridges and views in the city of Prague. We thoroughly enjoyed walking the city during our stay.
Powder Tower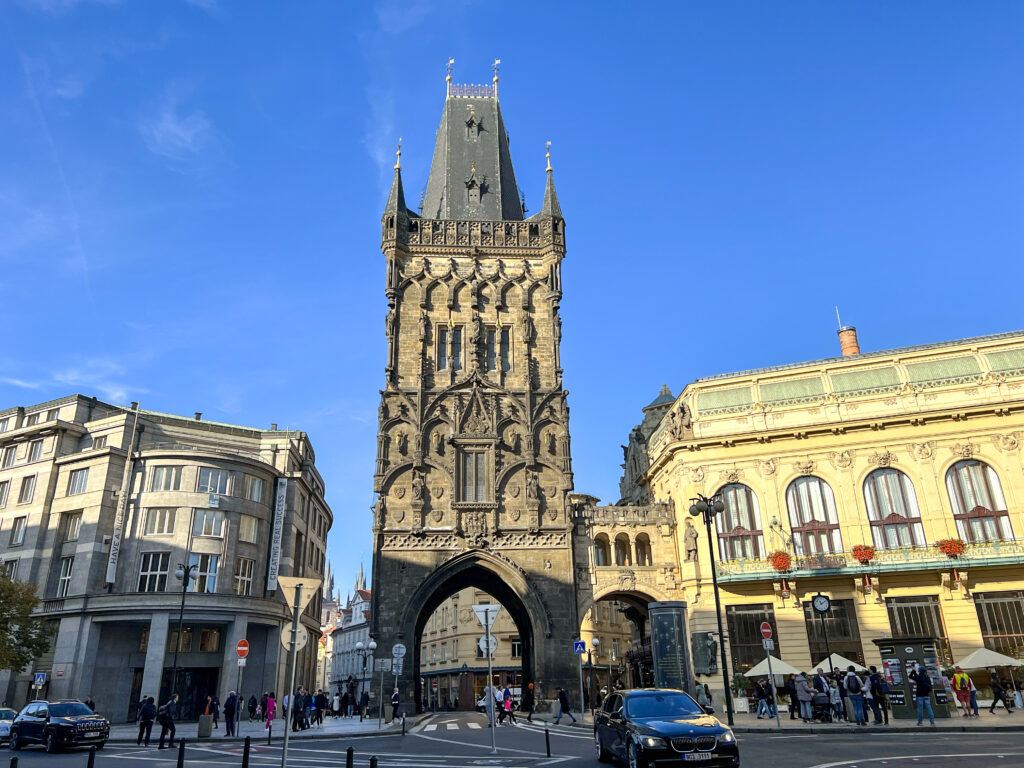 Upon landing, we dropped our bags at the hotel and walked to lunch. On the walk we passed The Powder Tower, one of the original 13 city gates in Old Town. Meant to be an attractive entrance to the city it was also used to store gunpowder in the 17th Century. It's a very cool structure and you can tell it's old. Definitely one of the most photographed sights in the city.
Na Příkopě
Just past the Powder Tower is a street named Na Příkopě that separates Old Town and New Town. Between two old buildings is this cool old bridge that spans across. It also appears in the movie Anthropoid as an intermediate scene.
Much more on the story of Operation Anthropoid, the World War II assassination of Reinhard Heydrich, a high-ranking German SS and police official during the Nazi era, in an upcoming post. Prague is rich in history on this subject.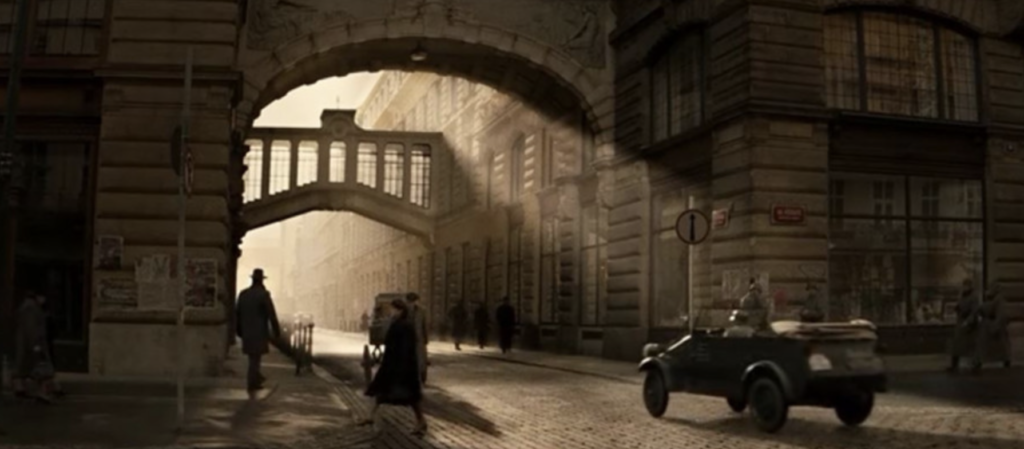 Prague Castle
One of the most visited landmarks is Prague Castle. You can see it from various points around the city and can reach it by funicular, which we tried but the line was a mile long, so we opted for the tram that took us close and then we proceeded walking up a pretty steep incline. The views from the top were worth it.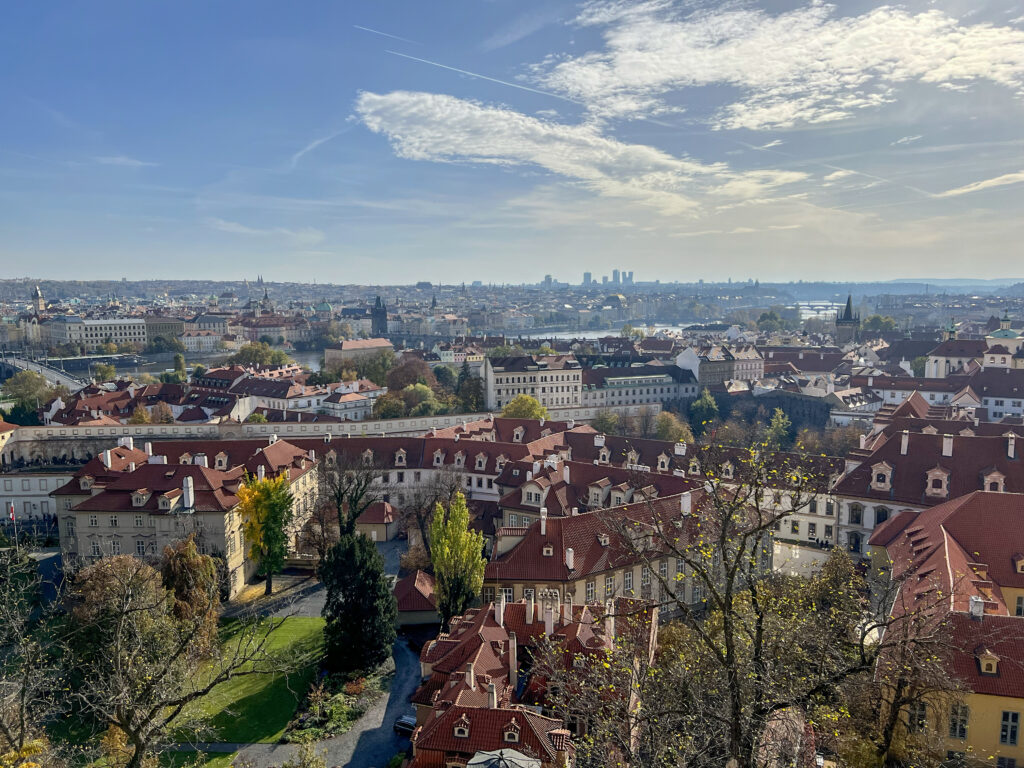 I would call Prague Castle a complex. Its premises include several cathedrals, courtyards and who knows how many buildings. Just beautiful.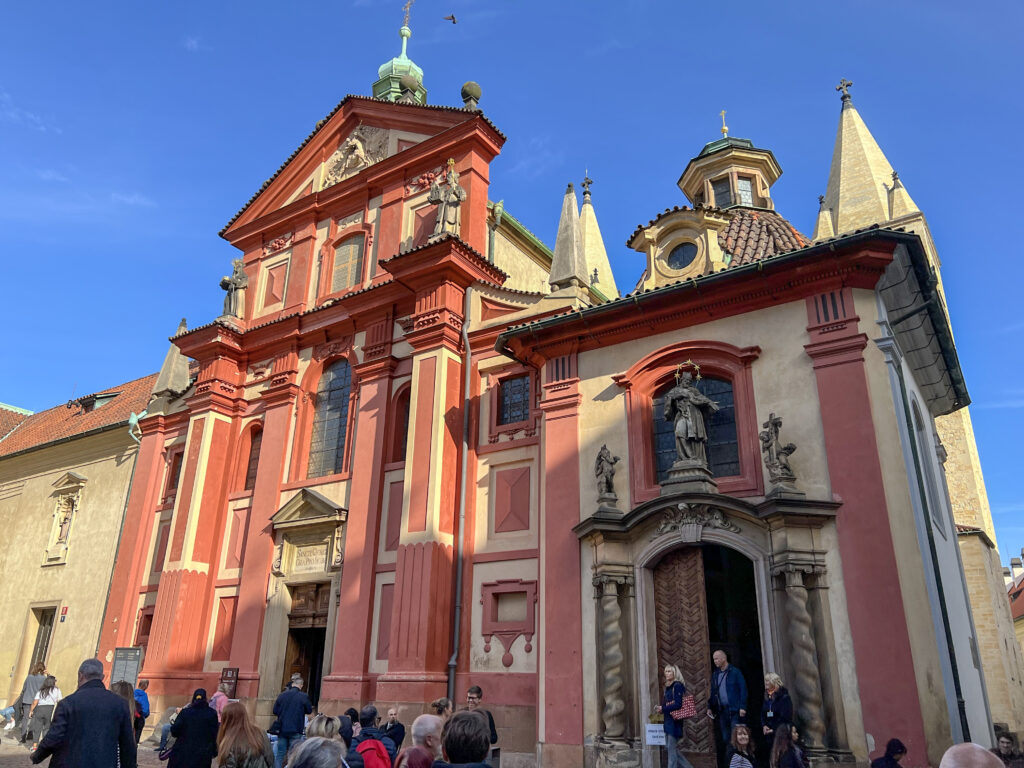 The Castle is still the official office of the President of the Czech Republic. Our trip coincided with Czech Independence Day celebrations so the area was more busy than we had expected and we couldn't tour many of the buildings other than the cathedrals.
Prague Castle, along with the rest of Czechoslovakia was occupied by the Nazi Germany preceding World War II when they forced the Czech President to surrender the country under threat of bombing Prague.  As Czechoslovakia ceased to exist it became the Protectorate of Bohemia and Moravia during this time, and was ruled from the castle by the Nazi's.
Charles Bridge
Tied with Prague Castle, the Charles Bridge is a top landmark in the city. Nik was smart and had us walk the bridge in the morning, around 9am, to avoid the mass tourists that visit it daily. Just in the 15 minutes or so that we walked across and back, you could see the increase in people walking along.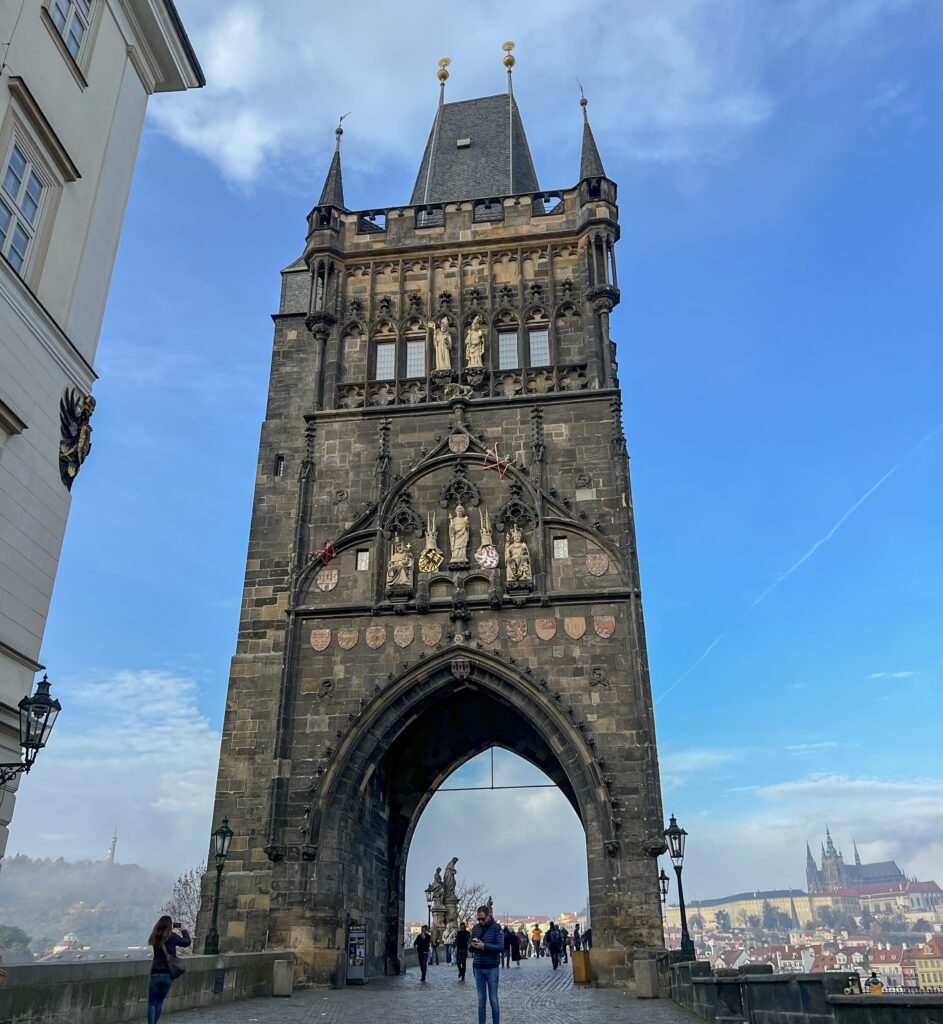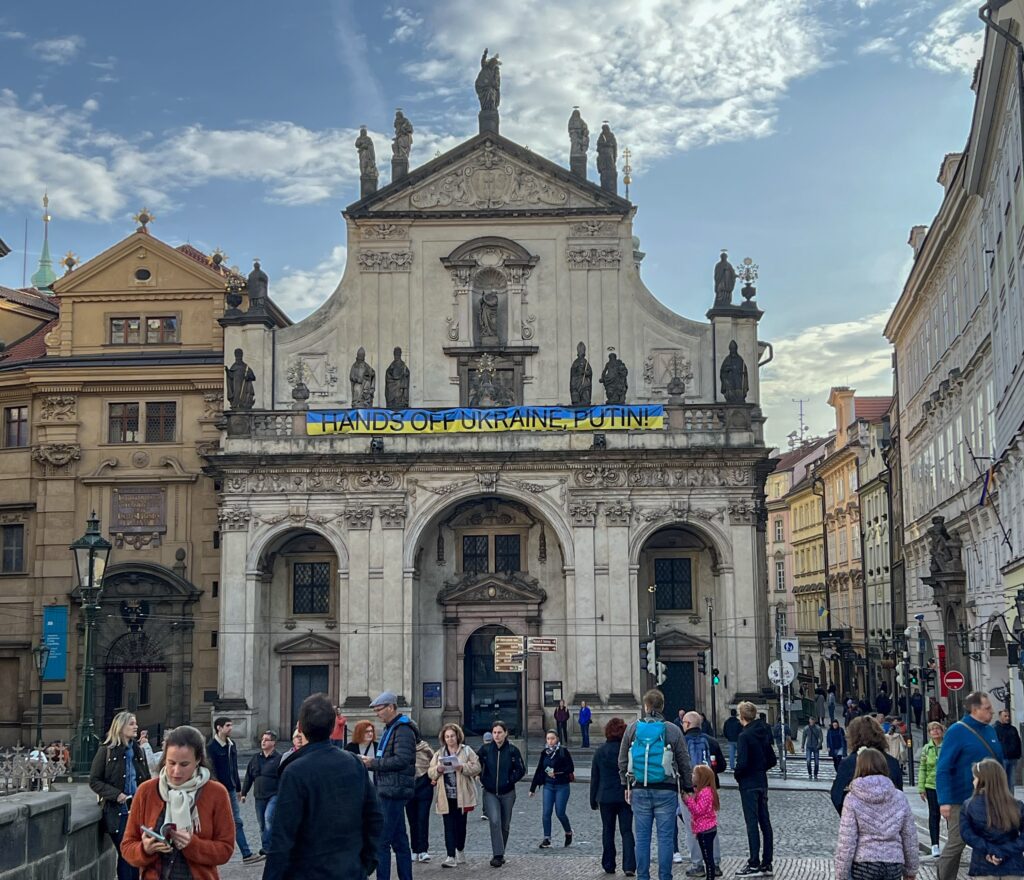 Jewish Quarter
Prague has a strong Jewish history, with several synagogues and cemeteries open for tours. We opted to just walk around the area as opposed to going inside.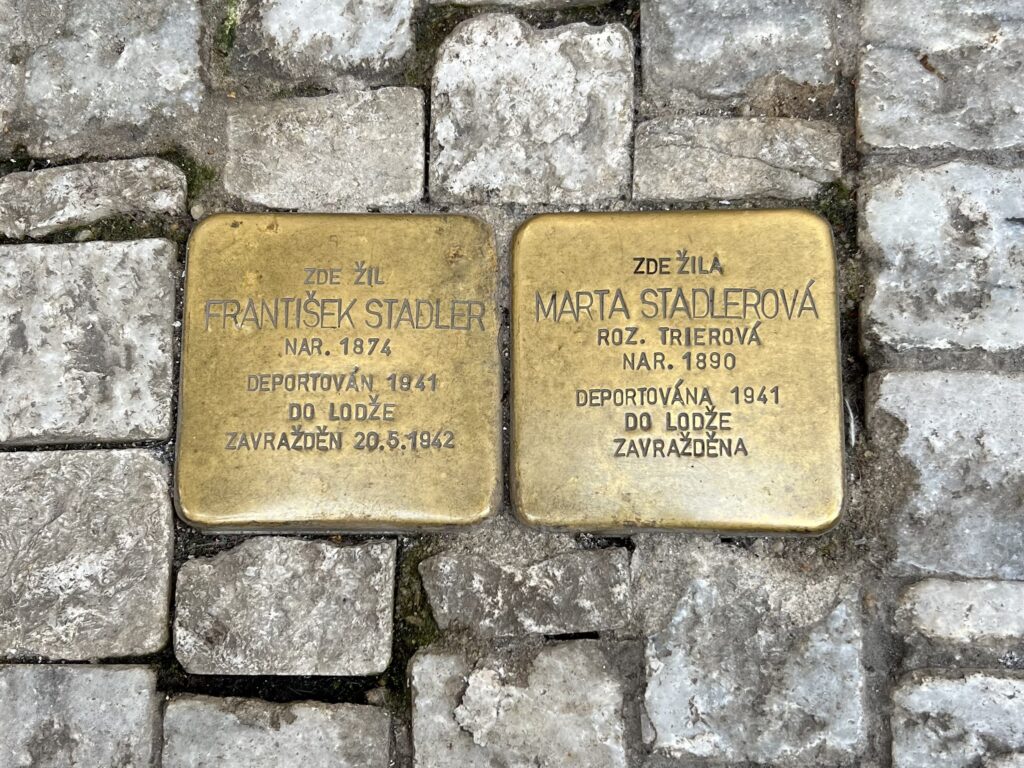 The Jerusalem Synagogue was near our hotel and has a unique exterior. Unfortunately during our visit, it was under scaffolding. I was able to snap a close up picture of the entry way, so you can get an idea of the color scheme.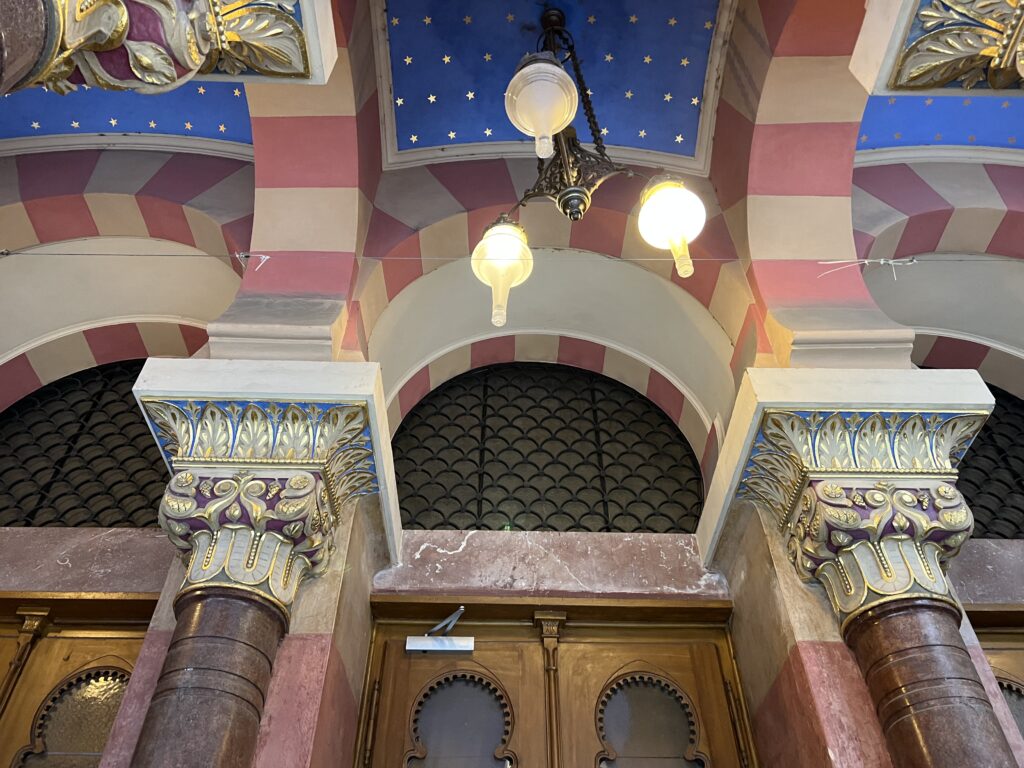 Much like many of our previous trips in Europe, we came upon various sets of Stumble Stones too.
Ss. Cyril and Methodius Cathedral
An upcoming post will have much more on this subject, but in summary: Czech resistance fighters, Jan Kubiš and Josef Gabčík, were tasked with assassinating Reinhard Heydrich. This plan was codenamed Operation Anthropoid. Nik and I thoroughly enjoyed this movie version.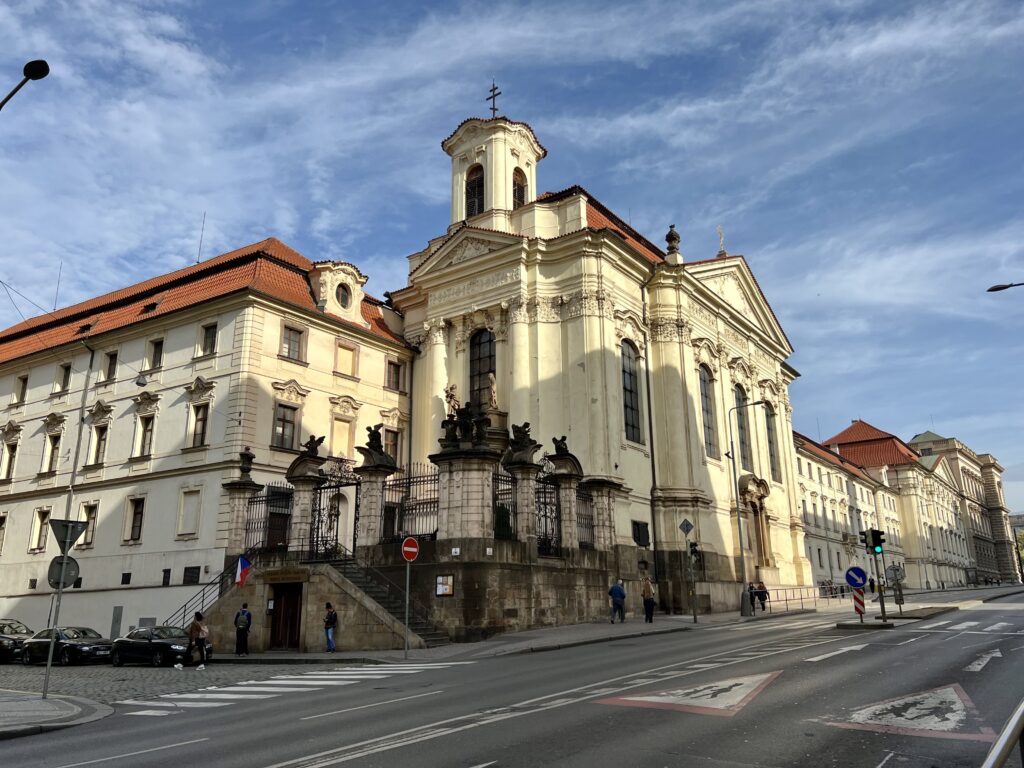 After their attempt, which did ultimately kill Heydrich, the paratroopers and other resistance fighters hid in the crypt of St Cyril and St Methodius Cathedral. They were betrayed by a comrade of theirs and the Nazi's located the men in hiding. A very impressive National Memorial to the Heroes of the Heydrich Terror was created beneath the cathedral that tells the story of these brave paratroopers and resistance fighters.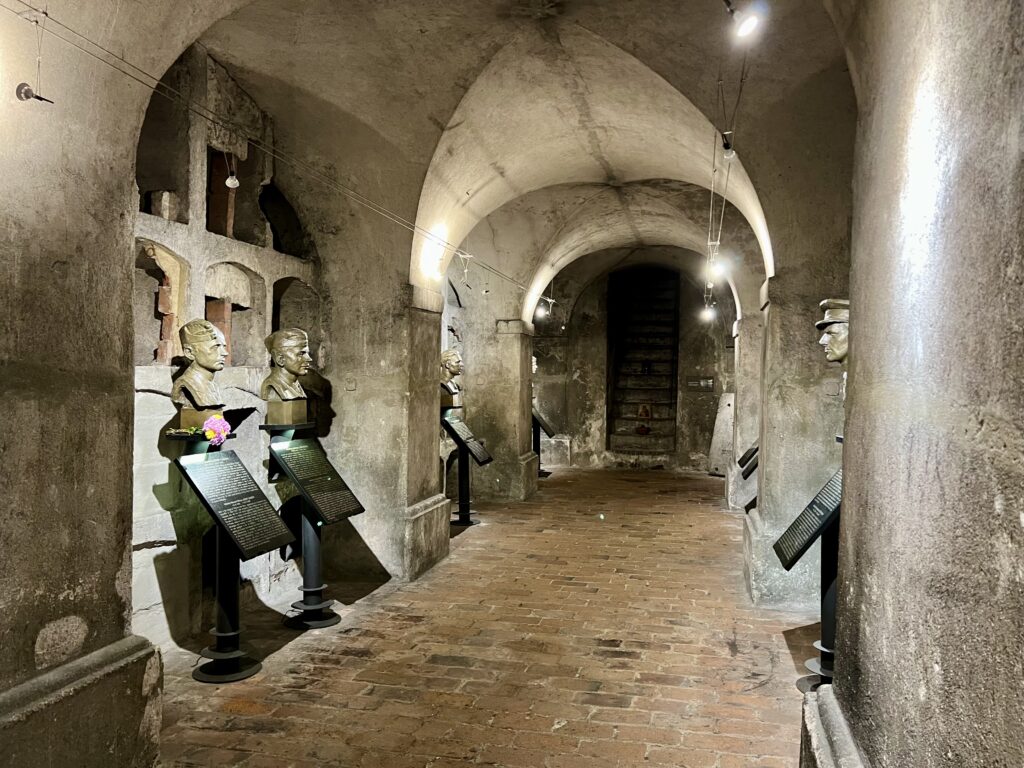 Three fighters were killed in a shootout with Nazi's while on lookout duty in the prayer loft. Other resistance fighters were down below in the crypt and the Nazi's tried to force their way in. Eventually more shootouts ensued, bullet holes still exist today, and the SS attempted to flood the crypt through a small side window. That proved successful for the Nazi's.
Dancing House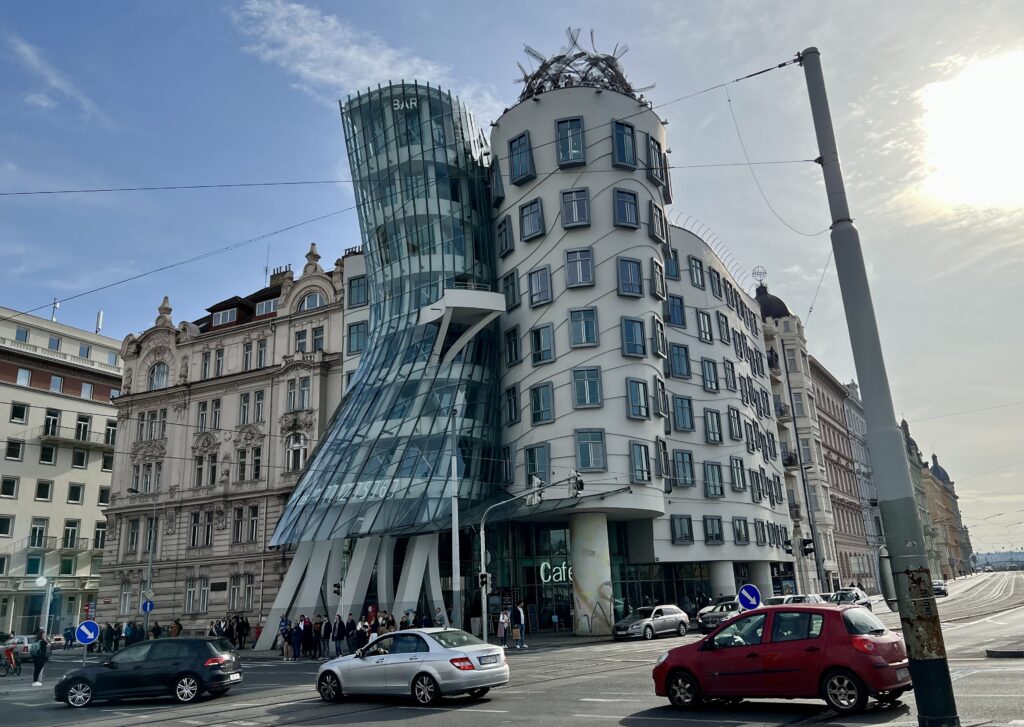 Not far from the cathedral is the Dancing House, a Frank Ghery designed building. The modern space has a rooftop bar that provides a nice view of the city. Nik and I went up for a drink. It's a tight terrace space but we managed to get some seats and enjoy a drink.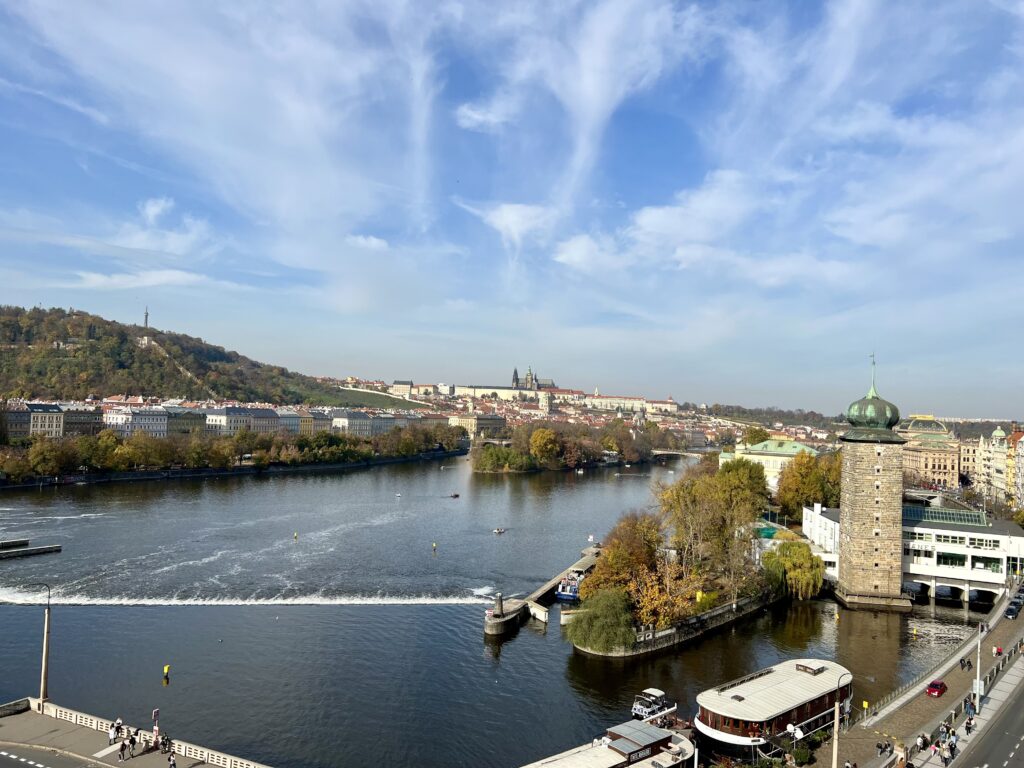 Prague Astronomical Clock
In the Old Town Square on the facade of the Prague Town Hall is the Prague Astronomical Clock. It dates back to 1410 and has undergone renovations in recent years. The clock mechanism has three main components, including the astronomical dial, that represents the position of the Sun and Moon in the sky and displaying various astronomical details.
HC Sparta Hockey Game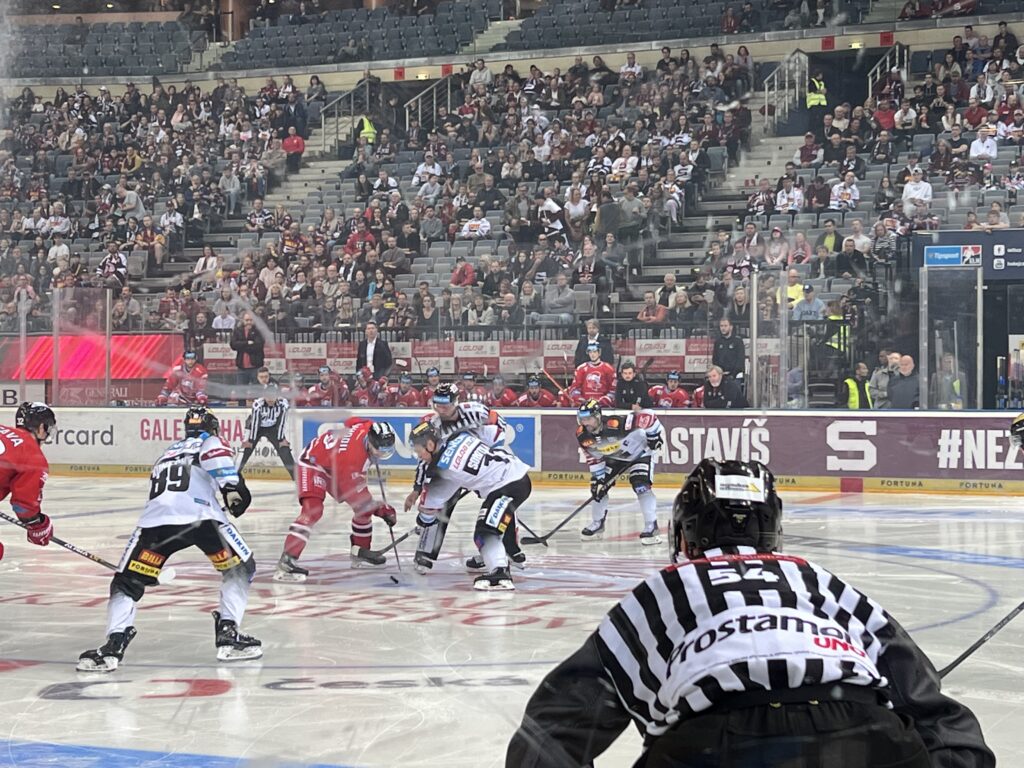 Nik and I love seeing sports in different cities if schedules allow. We were excited to see that Prague's main hockey team, HC Sparta, was playing while we'd be visiting. Meredith and Austin were interested in going too, so I bought tickets that were front row for 339 Czech crowns, equal to about $16. Not bad at all, Prague, not bad at all.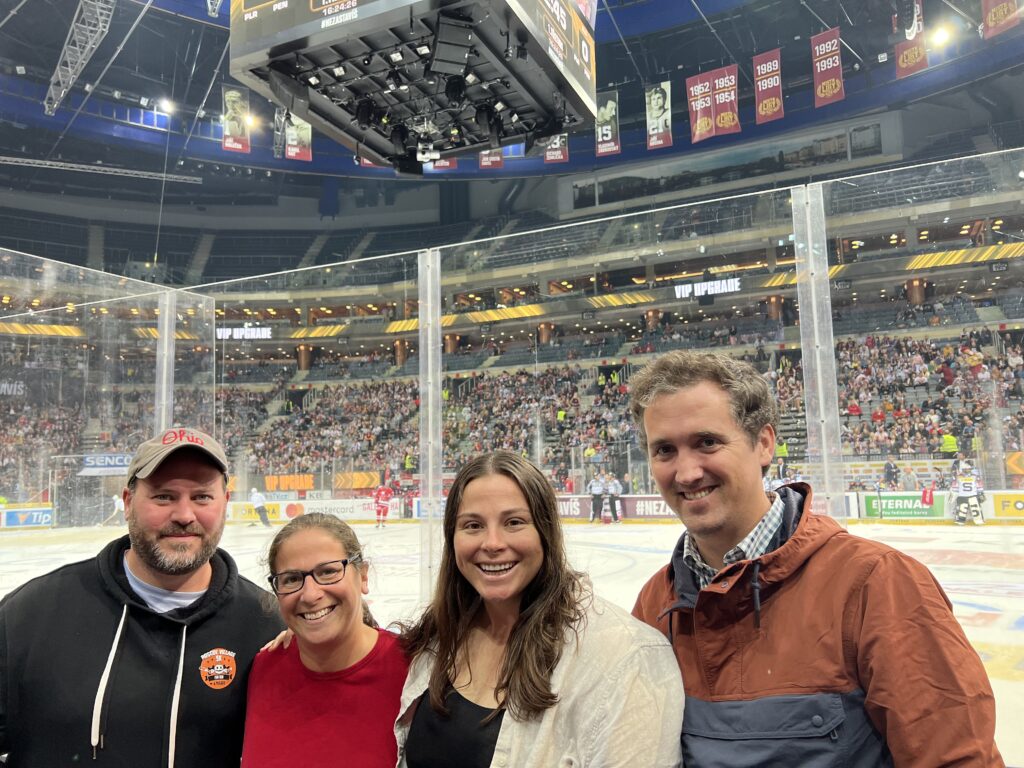 Sparta was taking on HC Olomouc. The vibe from the crowd reminded us of a European fútbol game because each team had large fan clubs occupying the sections behind each goal. Nonstop chants and cheering from each side the whole game.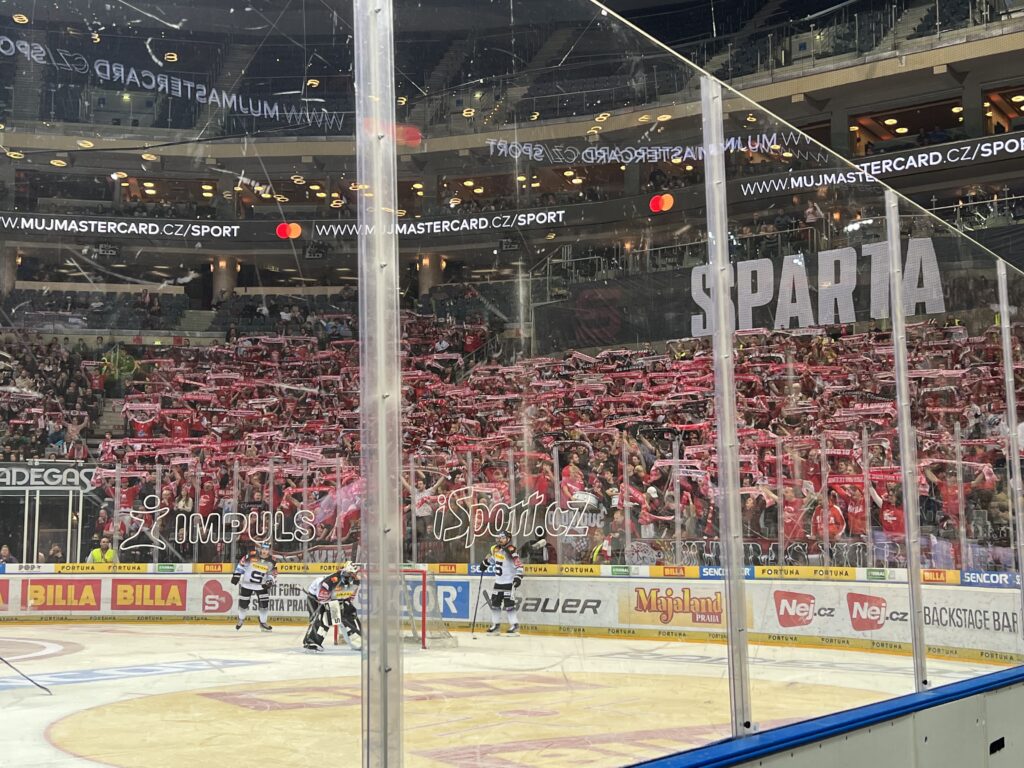 Olomouc came from behind to win 5-2 and after the game did some sort of acknowledgment to their fans. Sitting down on the ice in a row, tapping their sticks on the ice and chanting with their fans. It was very cool to see. I also did not know ahead of time that the visiting team would be in read, so my shirt was not in support of them. It was purely accidental.
Eating and Drinking in Prague
Roughly 100 Czech crowns equaled 4 US dollars. Knowing that, we could quickly figure out that food and drink in Prague was pretty cheap. Especially the beers. Maybe equal to 2 US dollars at most places.
In no particular order we ate or drank at the following places. While not always pictured, please know we had our share of schnitzel – both pork and chicken.
Červený Jelen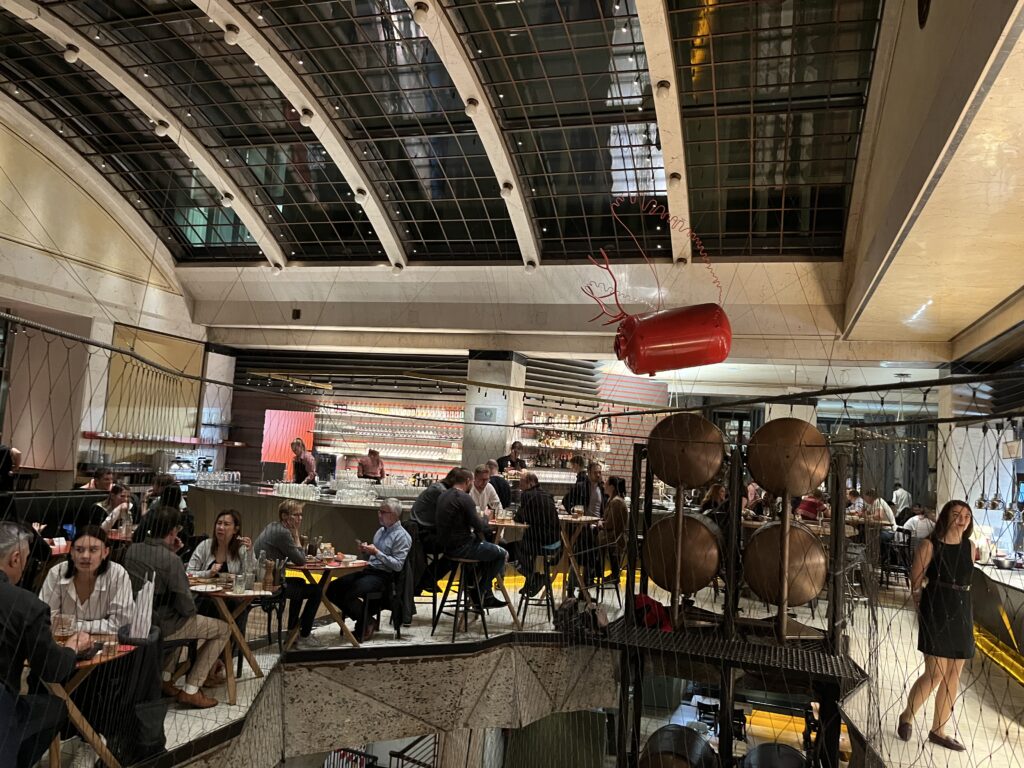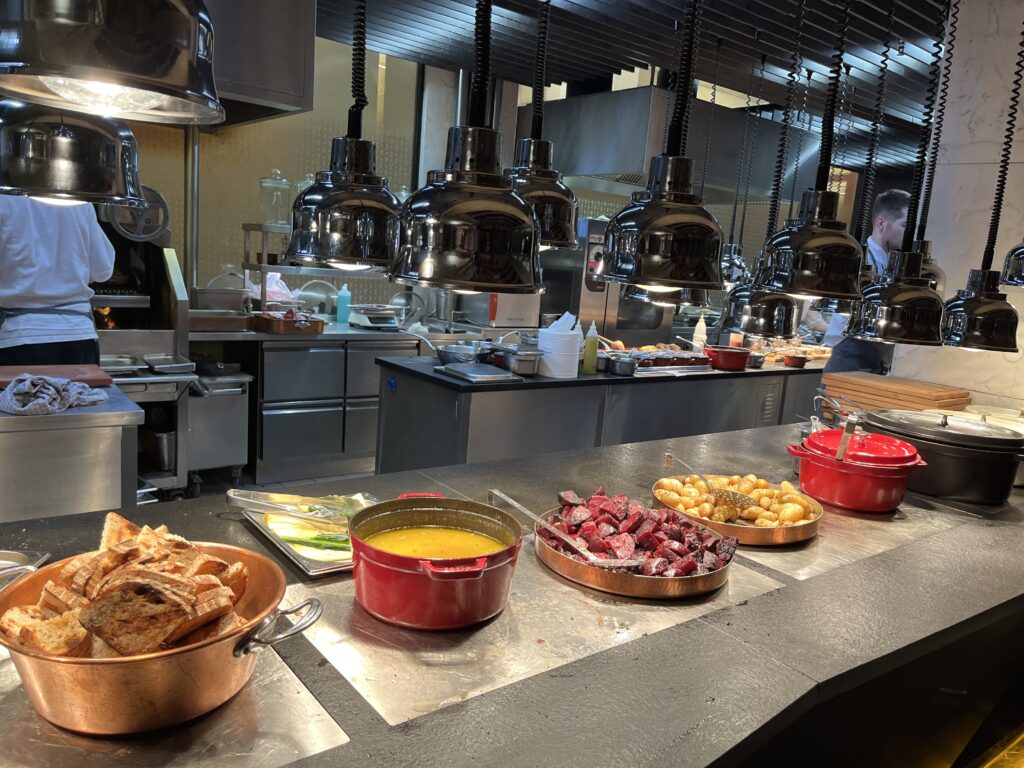 We learned about Červený Jelen from an Honest Guide YouTube video. It looked good and turned out to be right by our hotel. The four of us had dinner here one night and we all had a variety of meats as our entree. I had the lamb shank and it was amazing.
Pult
Next door to Červený Jelen is Pult, a beer bar whose slogan is "six perfectly poured Lager beers." And it's spot on. We went there on two different occasions for beers.
Cafe Savoy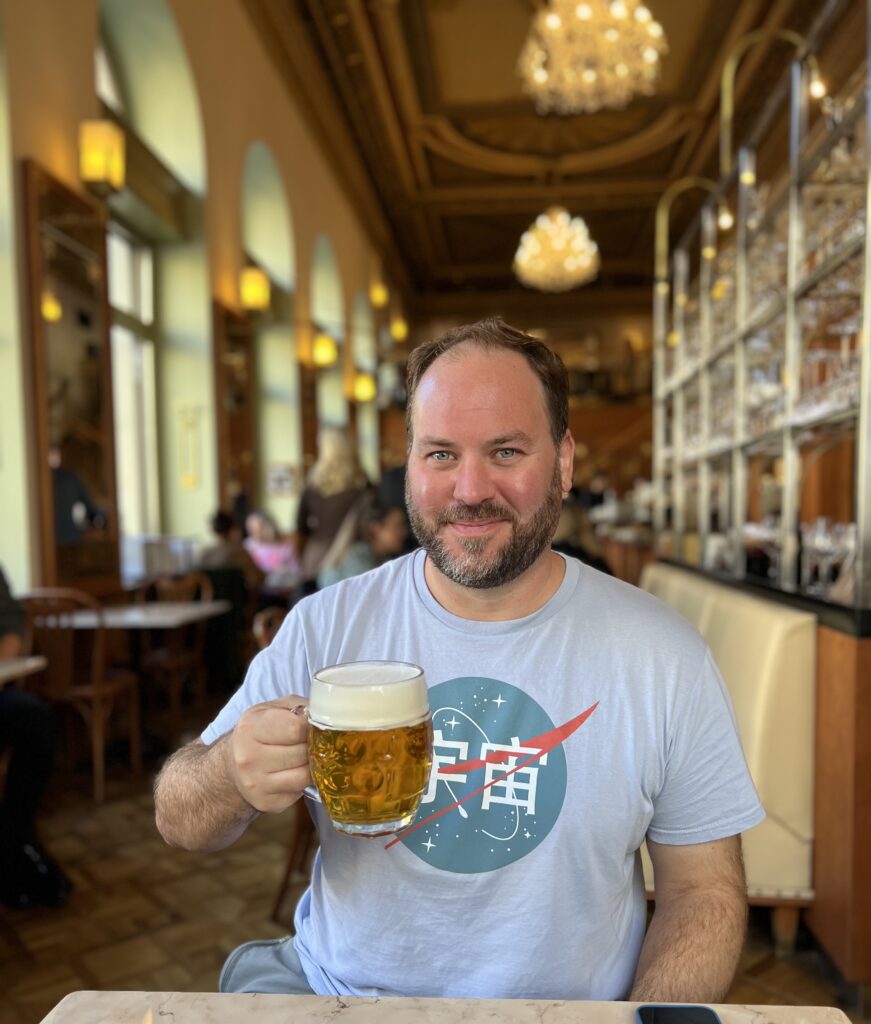 I stumbled upon Cafe Savoy when I was looking up places for a brunch. I was disappointed when we were just a little late on the breakfast menu and I missed out on the croissant with warm scrambled eggs and black truffles and had to settle for the croissant with cheese, sliced hard boiled eggs and truffle spread, which was served cold. The only picture from here is Nik with his mug of beer.
Strahov Monastery Brewery
Located a short walk from Prague Castle is Strahov Monastery Brewery. The brewery is on the Monastery grounds with tables both inside and out. We sat inside for lunch and a couple beers.
We left the brewery down a different route than we came, and came upon another lookout area that again offered a beautiful view of the city.
Lokál
Lokál has a few locations around the city and we went to two of them. Once for beers and once for dinner. We learned about their fried cheese specialty from a BuzzFeed Bring Me YouTube video. It did not disappoint.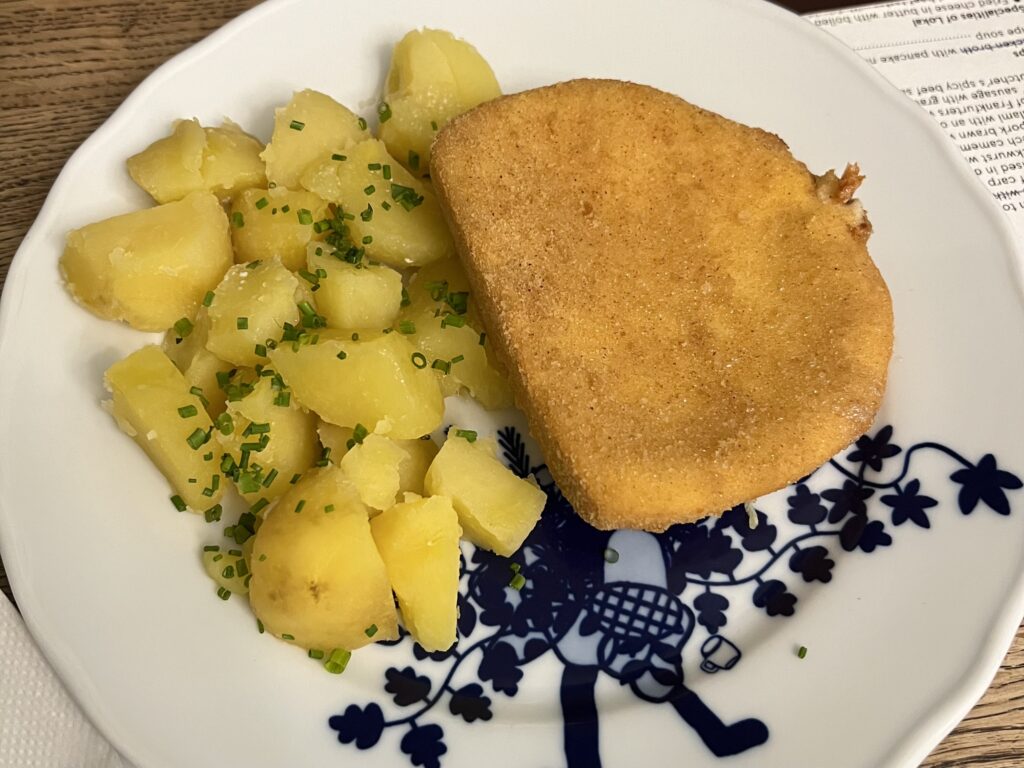 Manifesto Market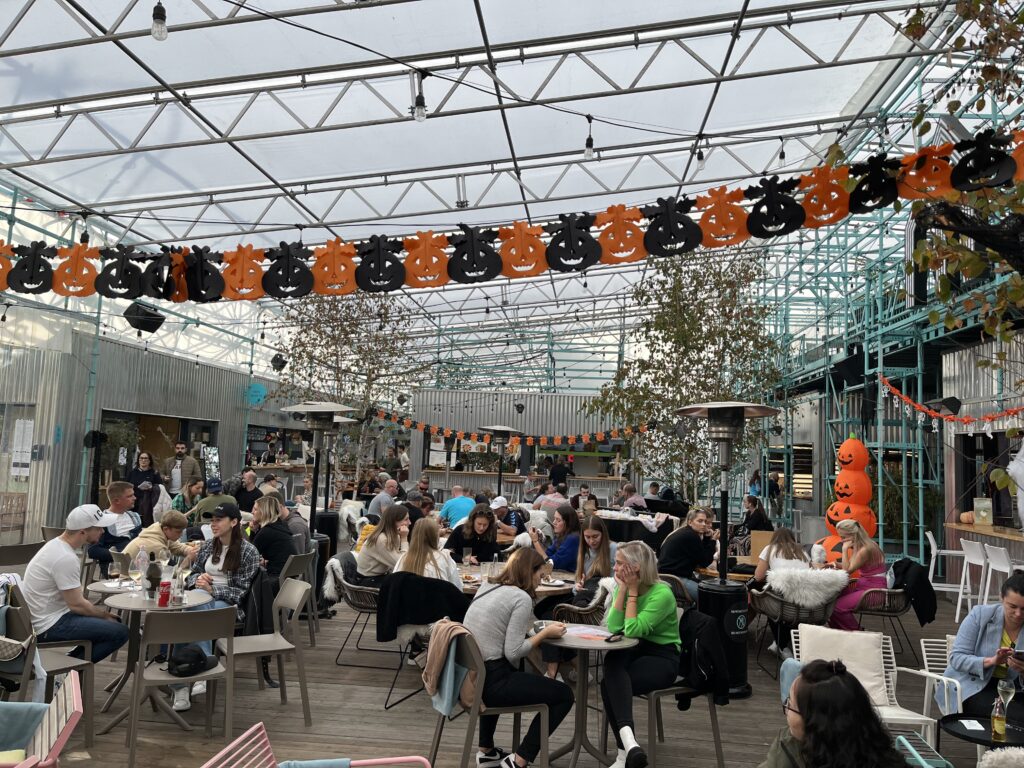 Quite possibly our favorite place that we ate on this trip was at the Manifesto Market, a food hall with about 15 different cuisine options.
Nik and I began with cocktails from Soot, a first course of tacos and margaritas from Alebrijes Cocina Mexicana, back to Soot for Halloween themed shots (complete with a gummy eyeball) and finished with a pork souvlaki from Yayas.
Big Smokers BBQ
Once I learned about Big Smokers BBQ and followed their Instagram, I was set on going there for a meal. It worked out as they were located on the way to the hockey game, easy to get to by tram. We went for Saturday brunch and it was so good.
Nik had a tray of meats (pulled pork, boneless beef ribs and beef cheek.) I had the eggs benny trio. Eggs on beef cheek, eggs on pulled pork and eggs on their hash.
Highly recommend and I would absolutely go back.
Brewery Dva Kohouti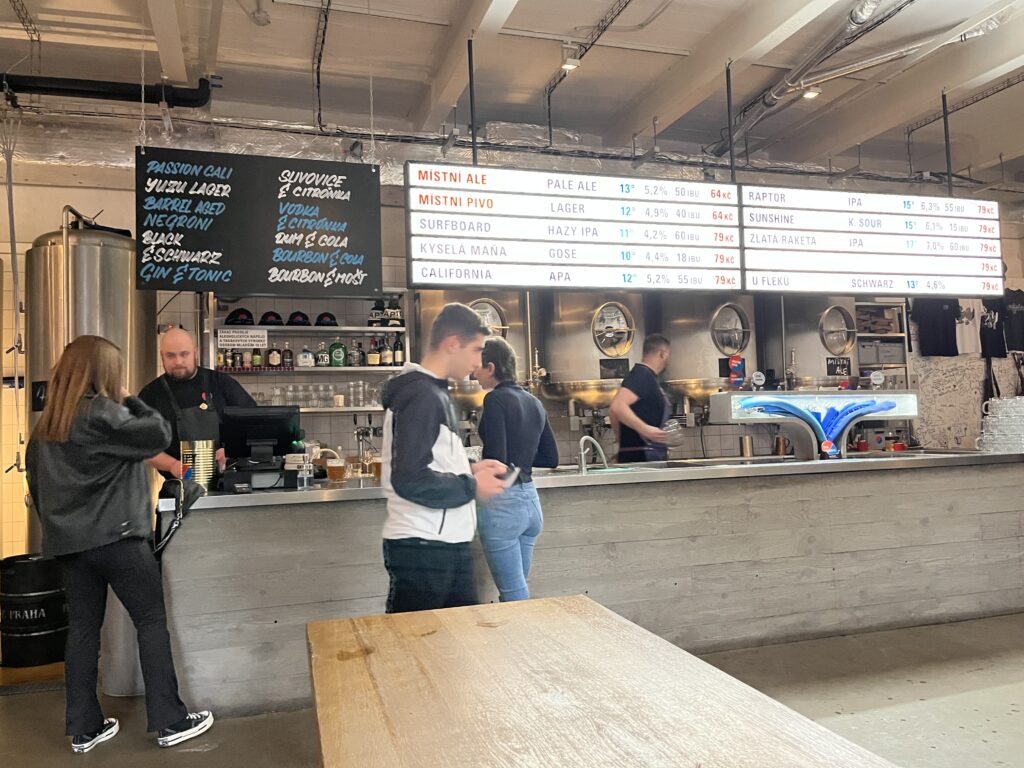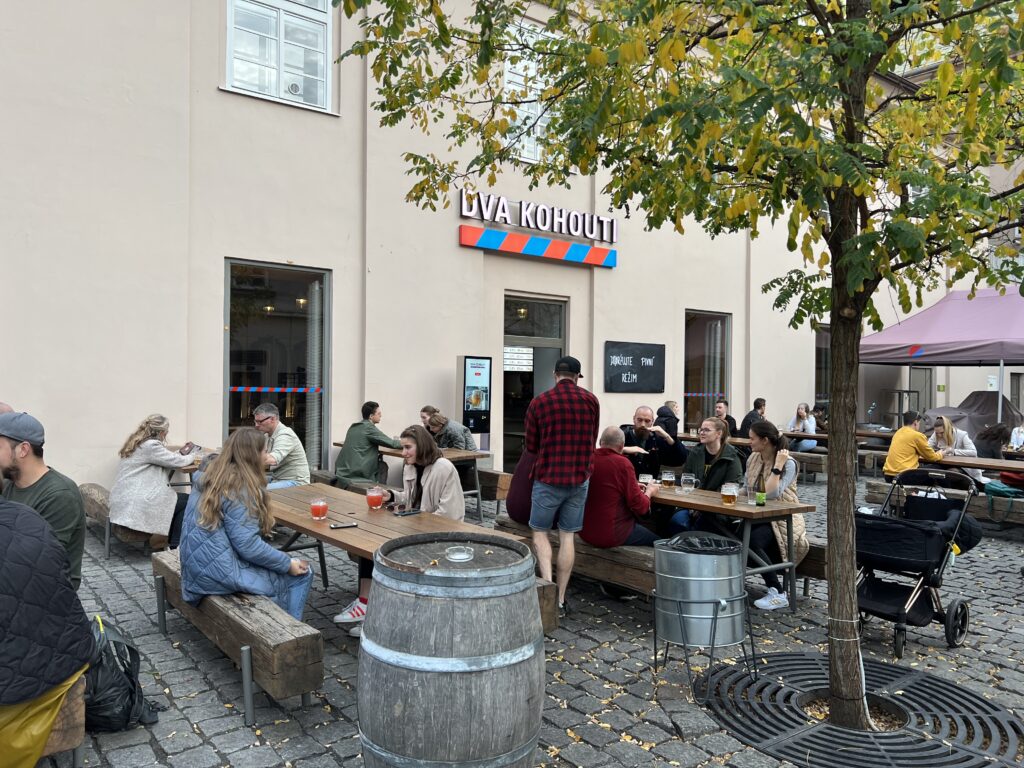 Kind of a last minute place for us to go, Dva Kohouti worked to kill some time. They had Wifi and Nik was able to watch most of the Ohio State vs. Penn State football game. It was s similar vibe to Pult, with a variety of beers served with some foam. It had indoor and outdoor seating and recommend it.
BeerGeek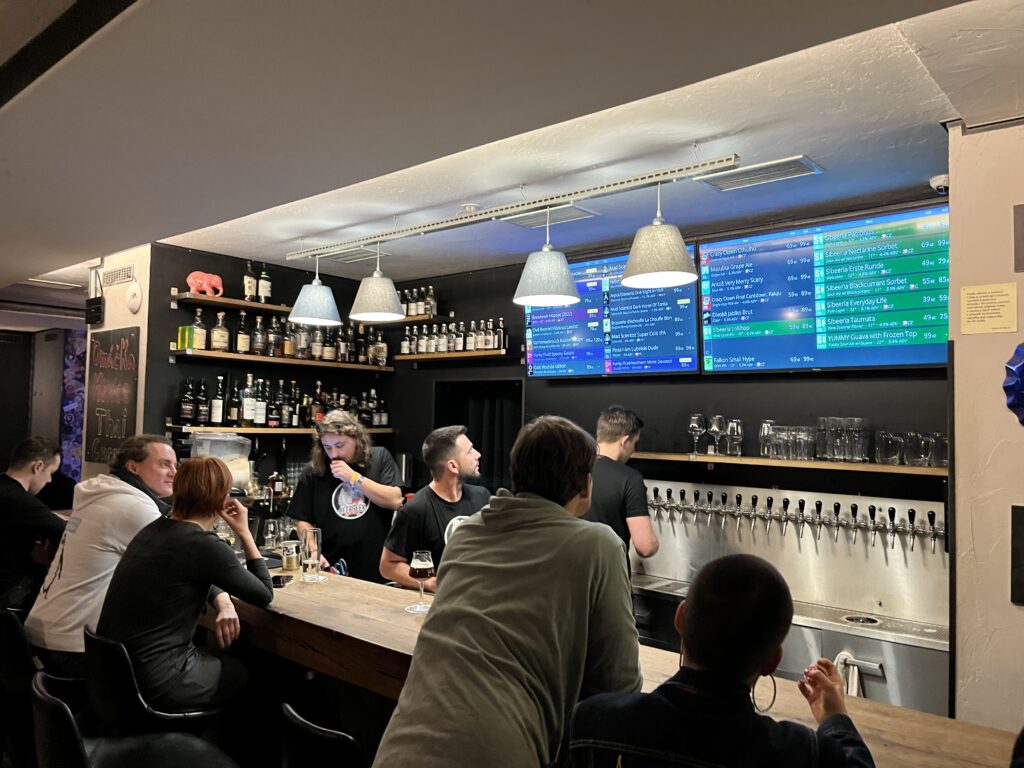 One of the last places we visited on the trip was BeerGeek. A look on Google makes it look like a shady, questionable space. But it was the opposite. Cozy. Decent bar food and about 30 beers on draft. I'm glad Nik forced our hand to go and check it out.
American Bar in the Municipal House
Located in the basement of the Municipal House, the American Bar claims to be the oldest bar in Prague and the second oldest bar in Europe. Seems a stretch, but who knows. The Municipal House is next to the Powder Tower and serves as a concert venue.
The space was cool, and after it being closed for private events our first two nights in town, I'm glad we got in for a couple drinks.
Lenta Beer Garden
No pictures of Lenta Beer Garden because we were there at night but would absolutely go again during the daytime. It sits on the river and I bet the daytime views are some of the best. And note, it's cash only.
That's a Wrap!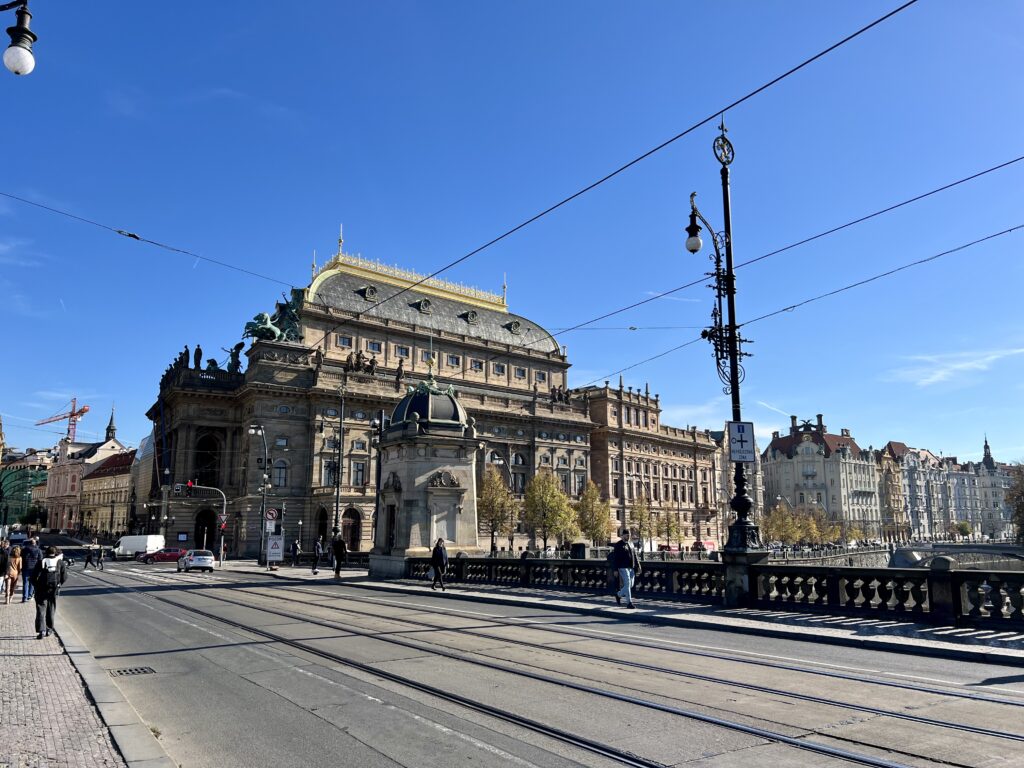 Ahead of this trip we read Prague Gets a Reset and the Emphasis Is Local from The NY Times. It was published in June so very timely for our purposes and it's where we learned about Manifesto Market. In the end, both Nik and I decided we liked Prague a lot. We wouldn't want to live there, but we would absolutely visit again should a reason arise.
If anyone reading this has been there or plans to visit, let us know your thoughts in the comments.