Following our trip to London, it only made sense to take a trip to Edinburgh, Scotland and finish off our trips to the UK for the time being. While it was a short and sweet trip, and the weather was mostly gray, we covered a lot in three days.
Staying in City Centre
Once we started to plan this trip by making our Google Map, we saw that the city would be very walkable. We were able to find a nice Marriott property that looked like it was walking distance to many places and convenient to public transit.
The Glasshouse, Autograph Collection
Nik found The Glasshouse to be exactly what we were looking for: updated and conveniently located. After taking a quick 30 minute tram ride from the airport, we walked five minutes and arrived to the hotel. You are greeted by its historic Gothic exterior with a modern space behind it.
The Gothic architecture set the tone for the trip and what we would see throughout the city. I've said it before, I just love that style of architecture.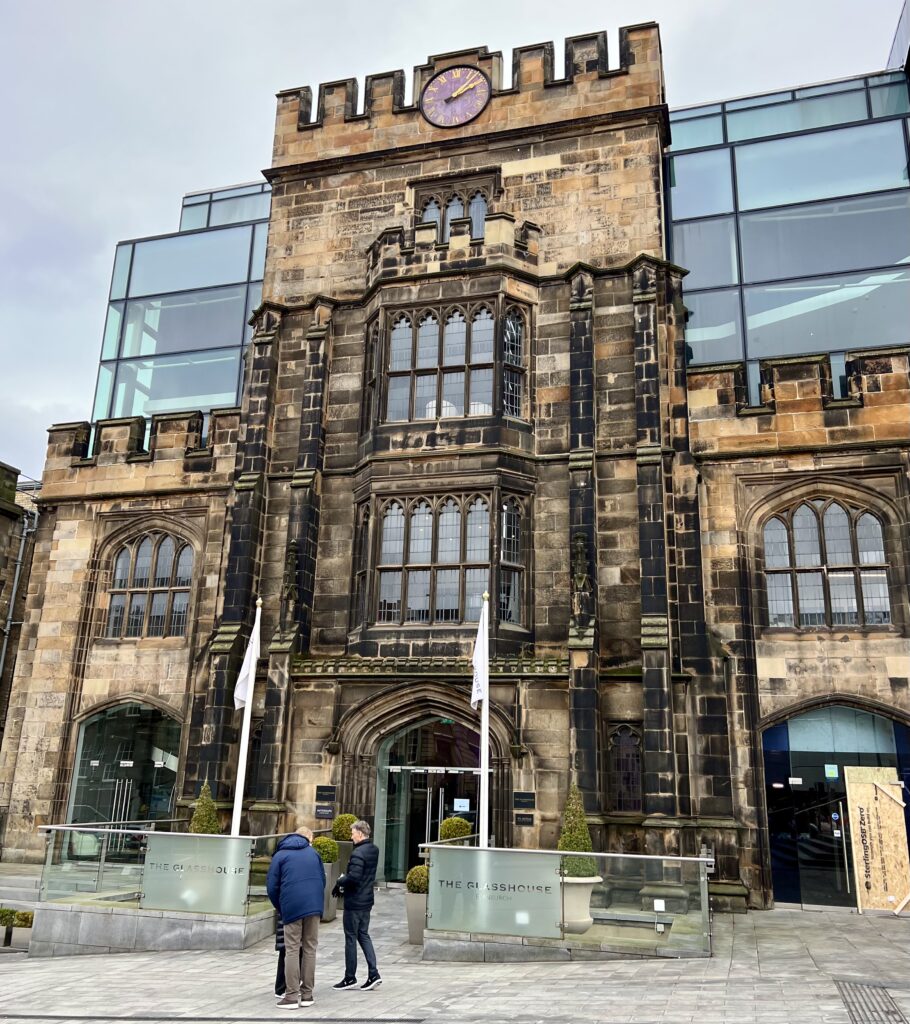 Probably due to Nik's Marriott status and traveling on off days, in this case a Sunday to Wednesday, we got a free upgrade to a suite. The room had a bit of a privacy wall to divide the living room area from the bedroom.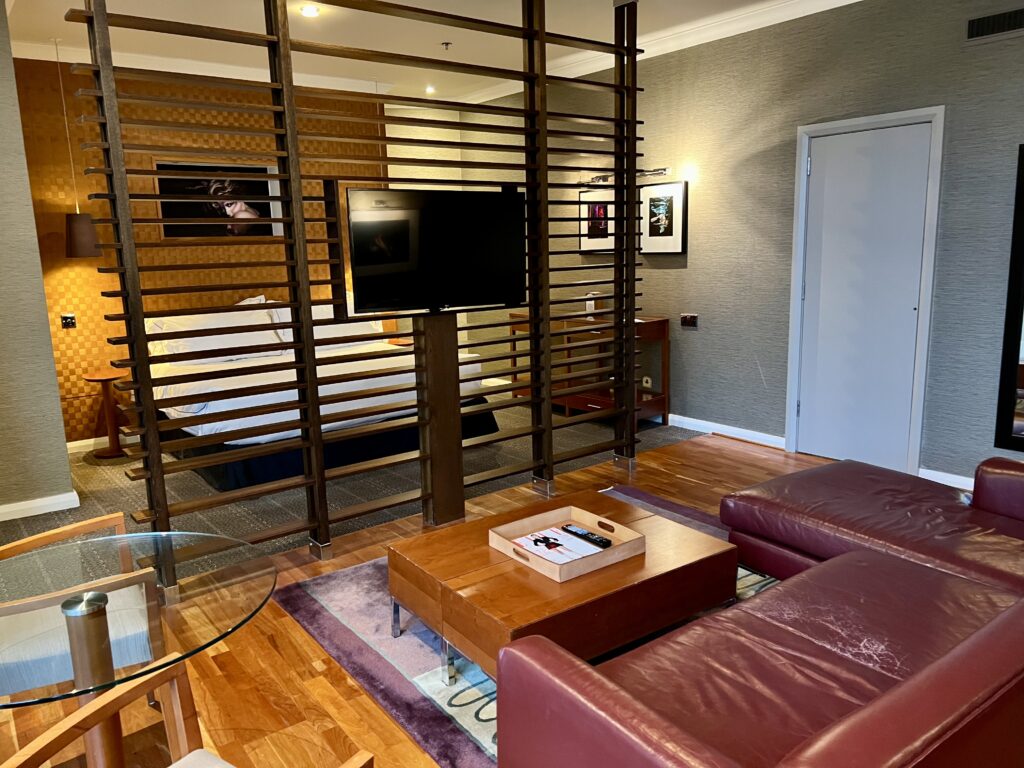 The real highlight was a door that led outside to a terrace and views to Calton Hill. We didn't utilize the outdoor seating because the weather was on the cooler side, but it was nice to crack the door for fresh air.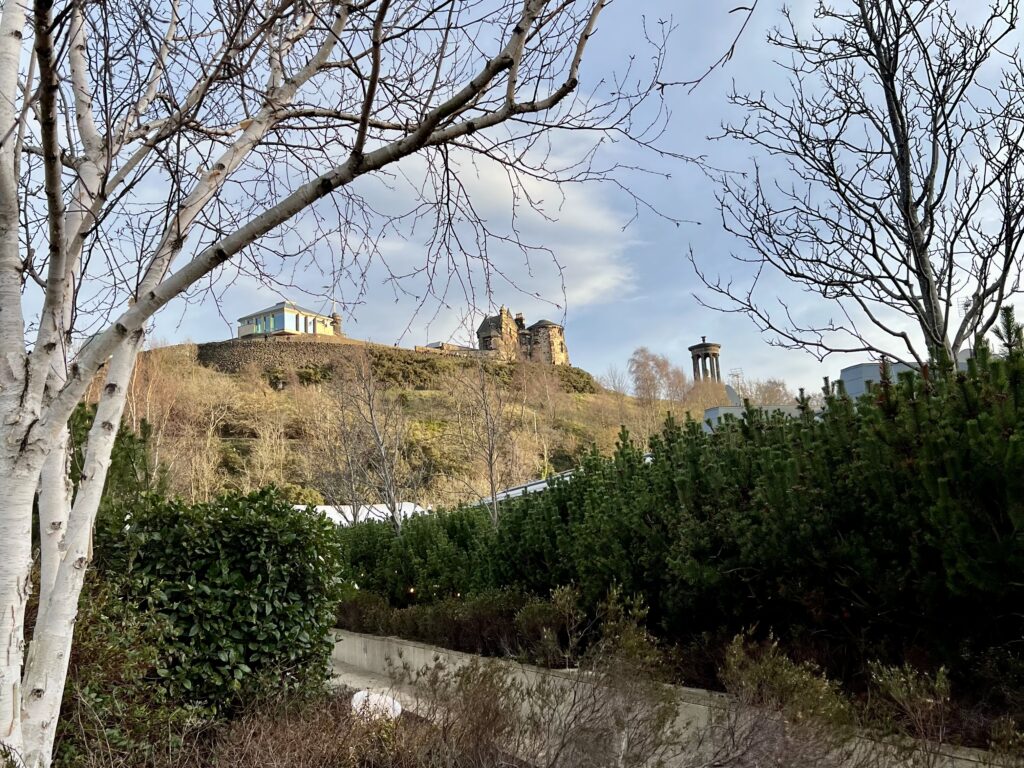 Edinburgh Sightseeing
We go into more depth on our visits to Edinburgh Castle and Holywood Palace in this separate post, but the castle is probably the biggest tourist attraction in the city.
Edinburgh Castle
No trip to Edinburgh would be complete without a visit to the historic Edinburgh Castle. It has a long history, dating back to the Iron Age. It's at one end of the Royal Mile and situated on top of Castle Rock, which is evident as you see the castle from various viewpoints around the city.
Tickets to tour the castle cost £18 and an audio guide can be added on. We walked around the castle grounds ourselves and explored the The Great Hall, the Scottish National War Memorial and the building that houses the Honours of Scotland. Pictures were not allowed in the latter two buildings.
To me, the most underrated thing on the castle ground is the cemetery for soldiers' dogs. There is no actual access to the area, it can only be viewed from above.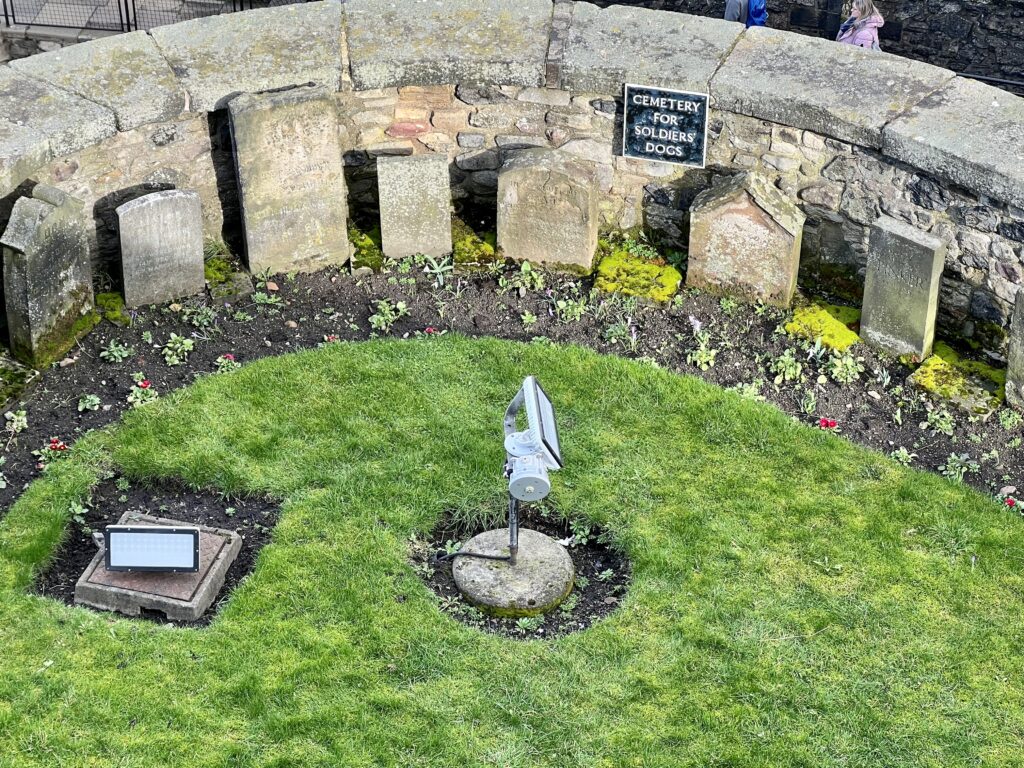 Palace of Holyroodhouse
At the other end of the Royal Mile is the Palace of Holyroodhouse and Abbey. Now known as "the King's official residence in Edinburgh and the home of Scottish royal history."
Advance tickets cost £18 and include an audio guide. Since the Palace is still home to the Royal Family and used for official engagements, the tour is short and limited, but highlights included the Throne Room, Mary, Queen of Scots' sleeping chambers and The Great Gallery. Learning about the palace history and Mary, Queen of Scotts during the tour was quite interesting.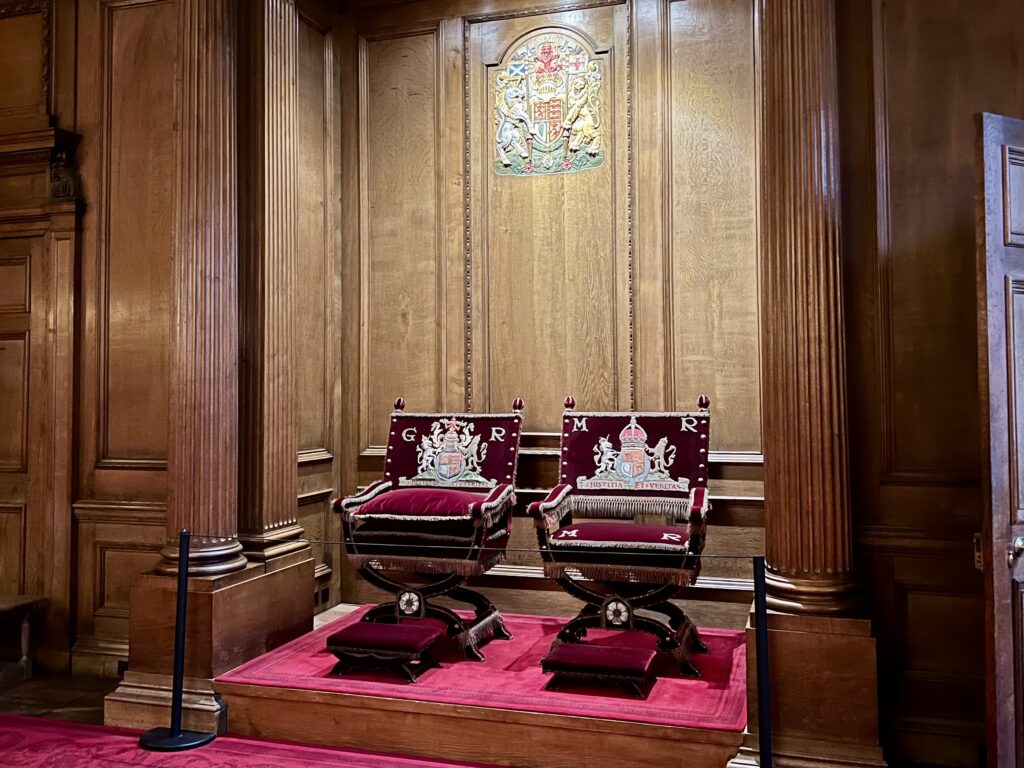 Next to the palace are the ruins of the Holyrood Abbey. Founded in 1128, it underwent numerous expansions and eventual structural damage to what remains today.
Related: Cultural tour in Edinburgh: Castles, Palaces
Arthur's Seat
Behind the palace grounds is Arthur's Seat, an ancient volcano and the top point of a group of hills. Today, it is an area that people hike up for the views overlooking Holywood Palace and beyond.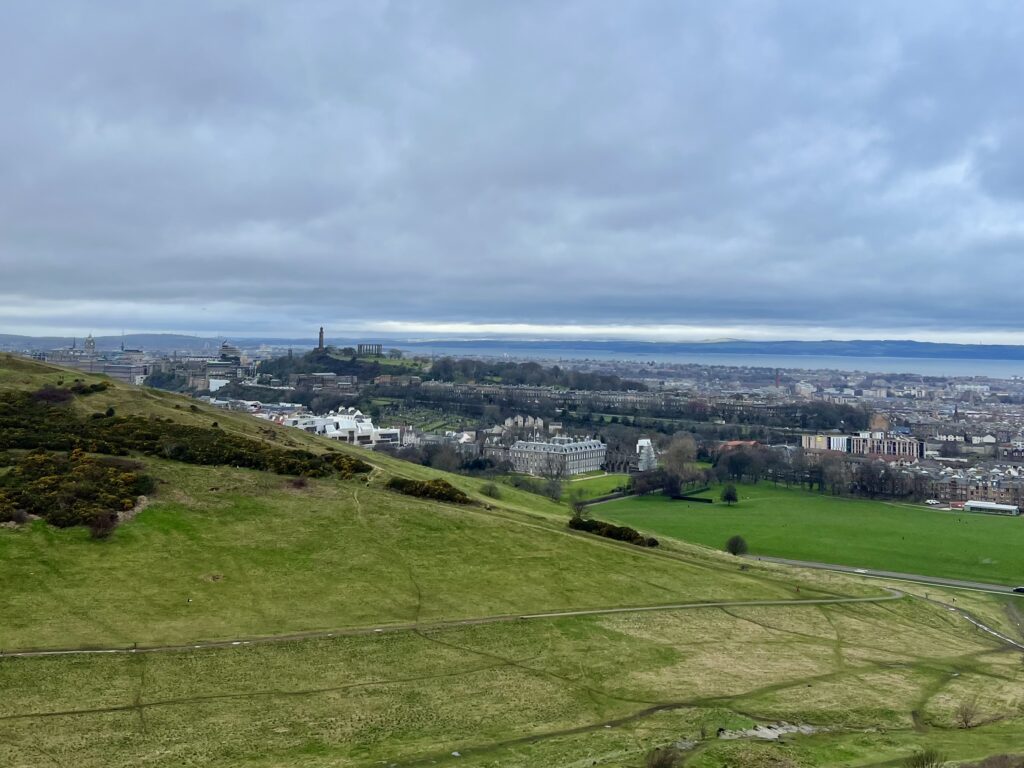 There are several routes you can take to get to the top and we followed a less rocky route that was suggested to us by a local we had passed.
Some parts felt a little steeper than others and definitely a good work out for the calves. The weather alternated between strong winds and no wind so we went between feeling hot and cold. Lucky for us, no rain either.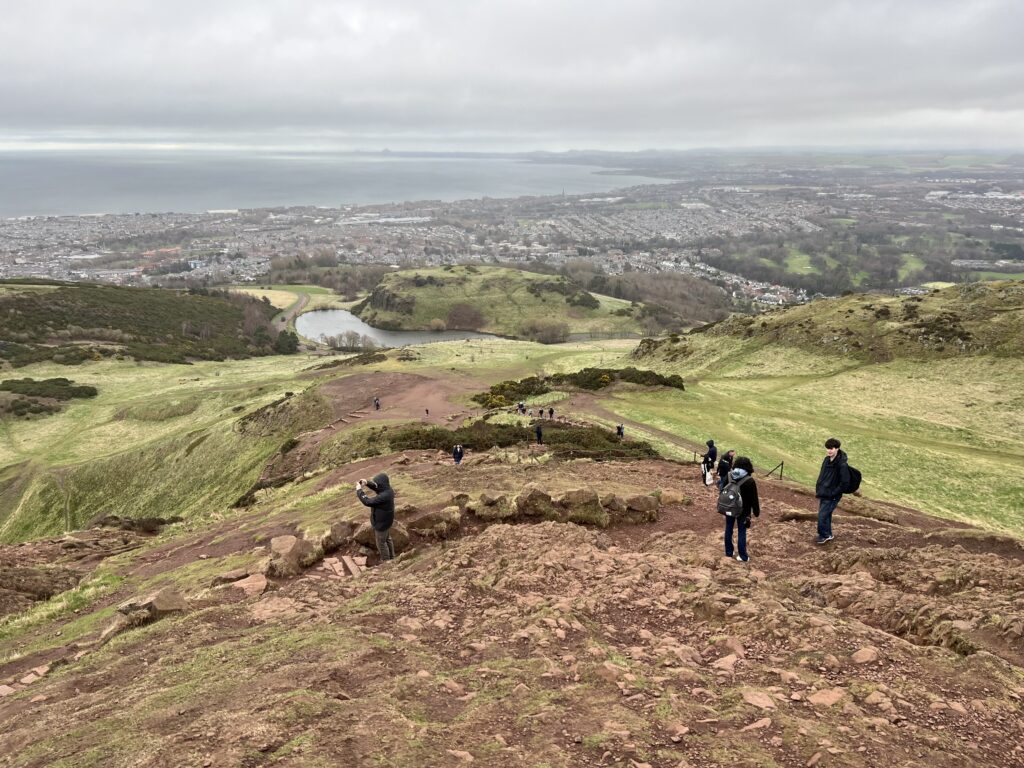 The climb up took about 48 minutes. The top point of Arthur's Seat was really quite rocky and one slip of the foot could certainly cause some injury. We took a few pictures and started our trip down which took about 20 minutes.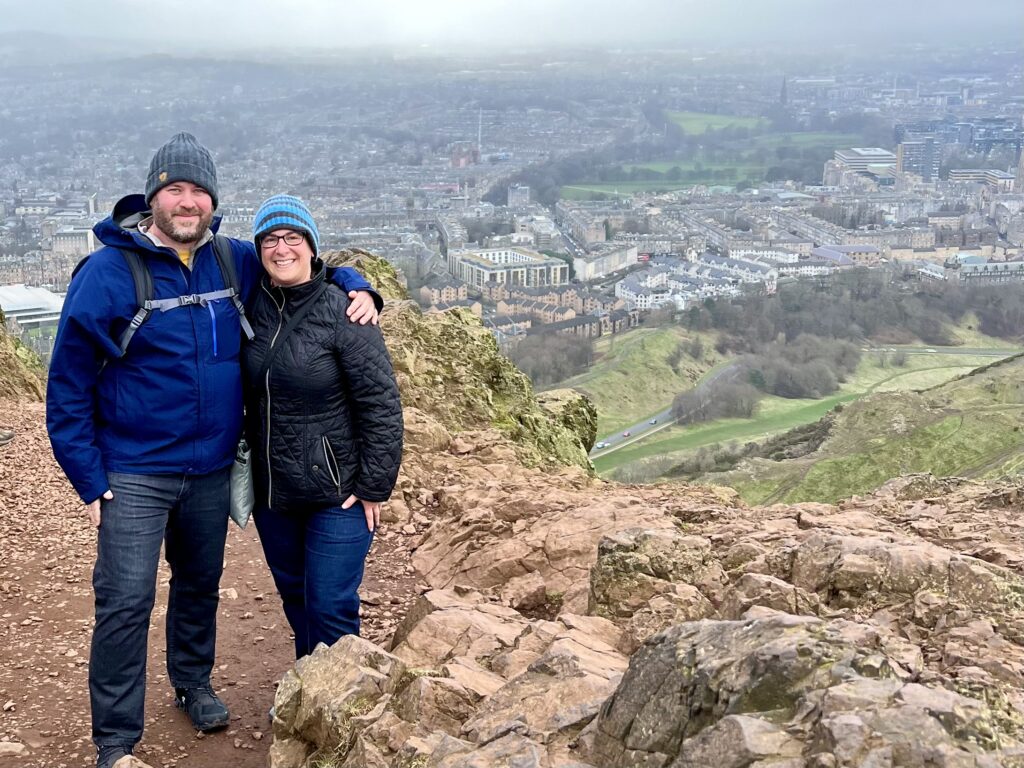 National Museum of Scotland
I think if we had more time in Edinburgh we would've explored the National Museum of Scotland more than the short amount of time we spent as we walked through to visit the rooftop for city views.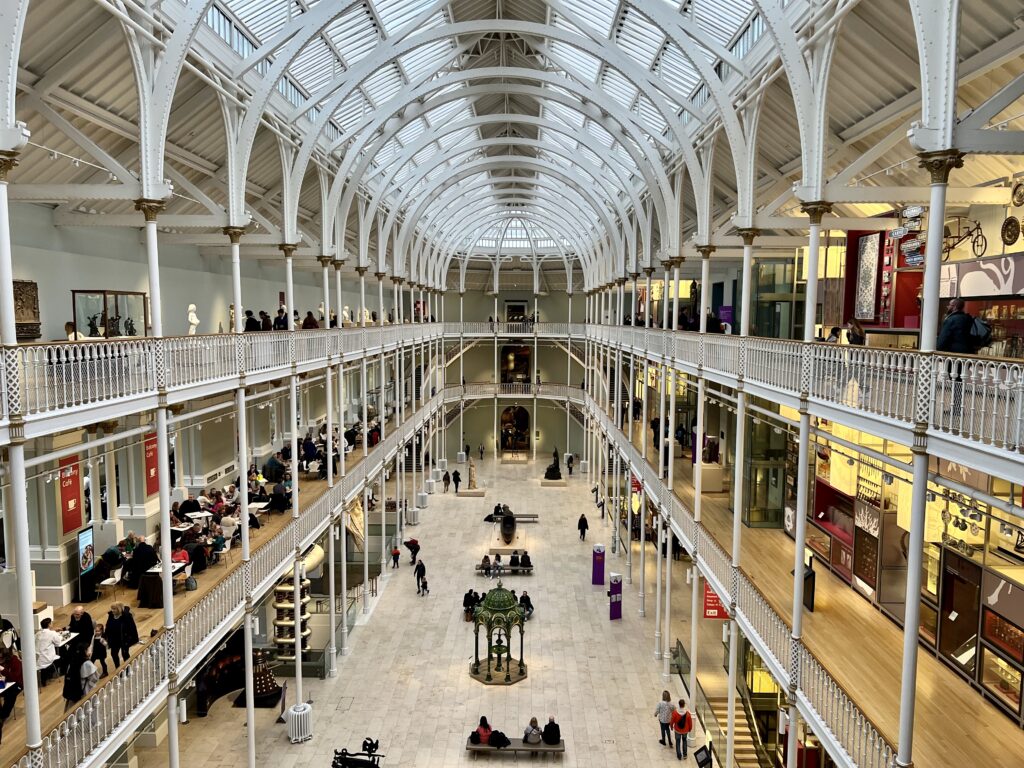 The museum is free to enter and would be perfect for a rainy day. There's a lot to see and it reminded me of the Science and Industry Museum in Chicago. On our way out we stumbled into the Dolly the Sheep display. If you recall, Dolly was a big deal when she was cloned.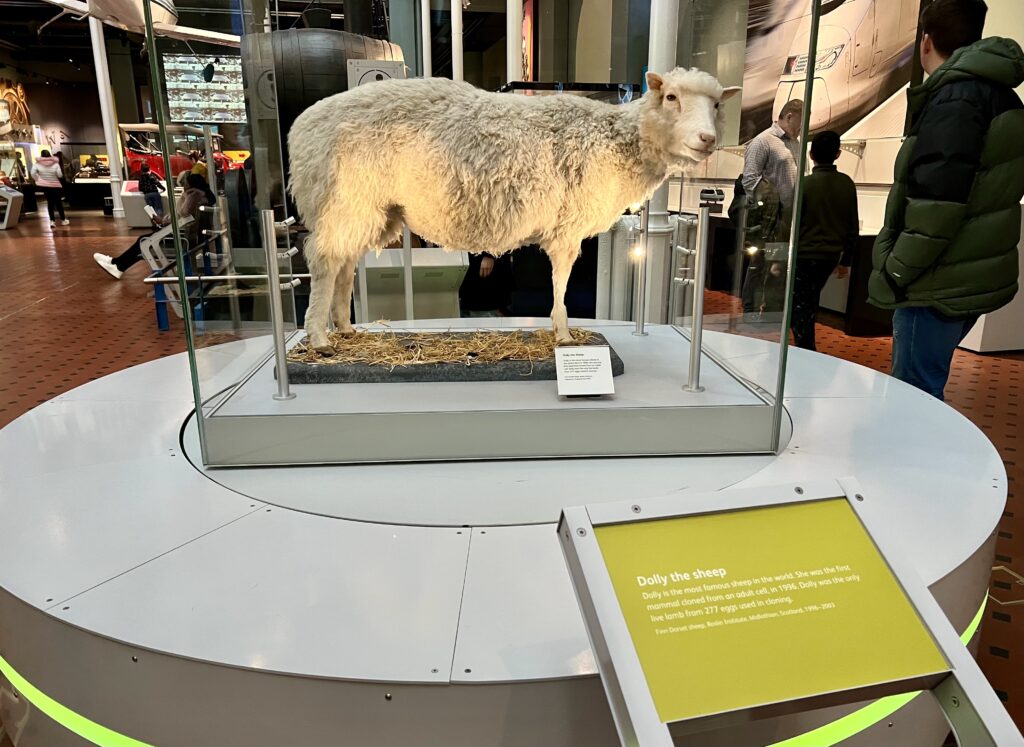 If you head up to the 7th floor, there's a rooftop where you can see the city in every direction. Much like our whole trip, it was gray out, so I can only imagine the views on a more sunny day.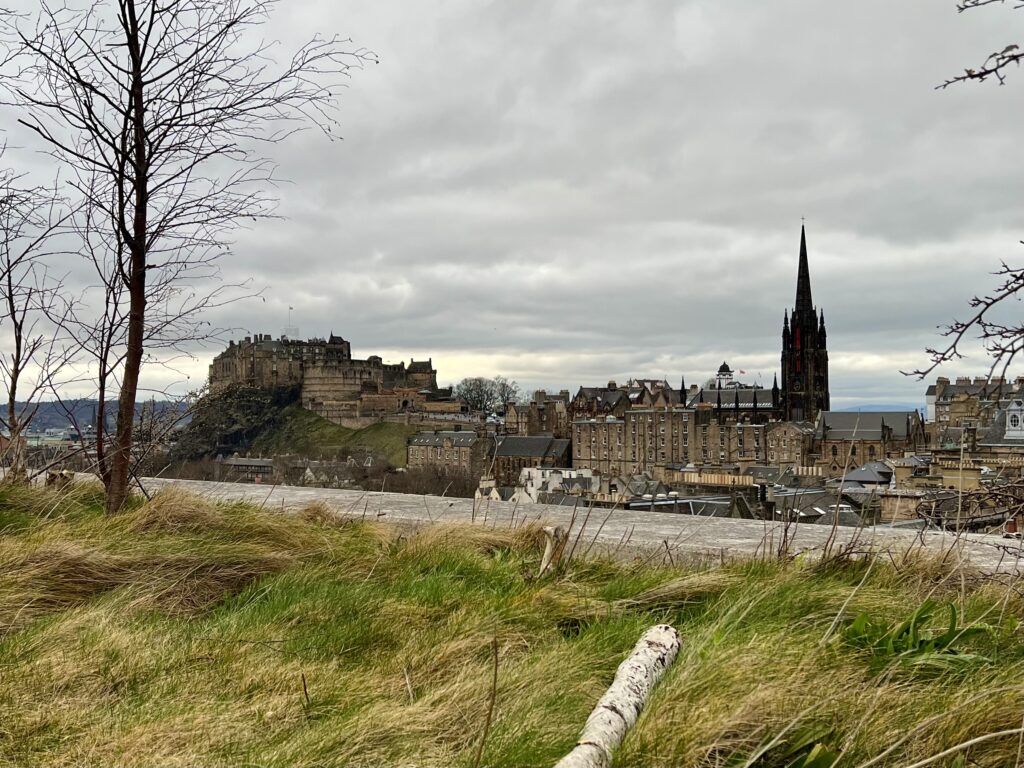 Eating & Drinking in Edinburgh
Following our trip to London, we were again looking forward to more pubs, fish-n-chips and checking out the Bonnie and Wild Food Hall.
Seafood so Good
Three of our best meals came in the Leith neighborhood, by the shore. First was an accidental dinner at The Shore Bar and Restaurant. We confused it with another restaurant of a similar name but our dinner ended up being delicious!
Nik had fish-n-chips, that he is still talking about today! I opted for their Sunday roast of lamb, which was very good. The lamb was kind of shredded and came with sides of carrots, beets, potatoes and kale.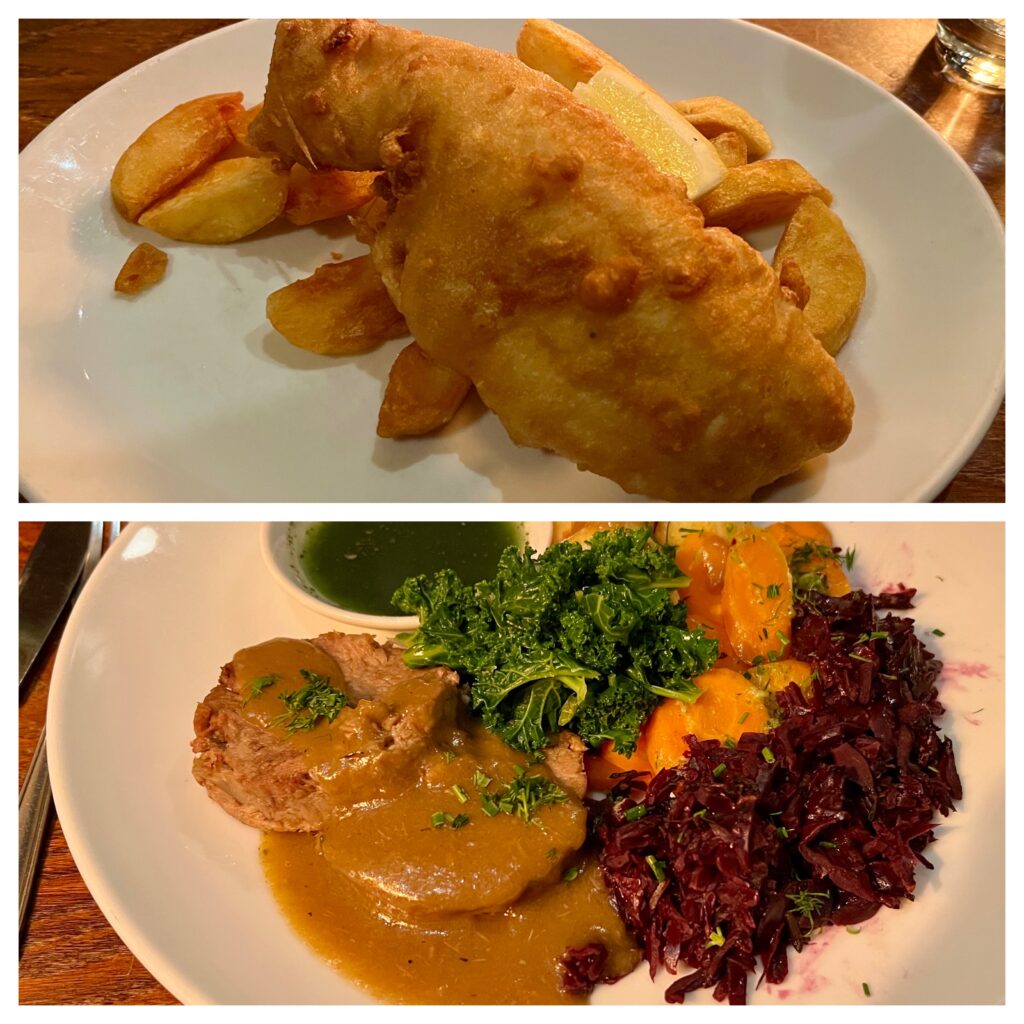 Our second meal of fish-n-chips on this trip to Edinburgh was lunch at The Fishmarket Newhaven. I opted for the grilled whole lobster. Nik read about this spot and the next place I'm going to highlight from an Eater article. Once again, both entrees were delicious.
If we were to assign a meal as a splurge, it would be our dinner at Ship on the Shore for our last night in Edinburgh. A table next to us ordered the hot shellfish platter and it looked amazing. The menu said it's for two people and it easily could've been for four people, there was so much food. Nik and I were back and forth on what we wanted to eat so we went all-in an ordered the same platter.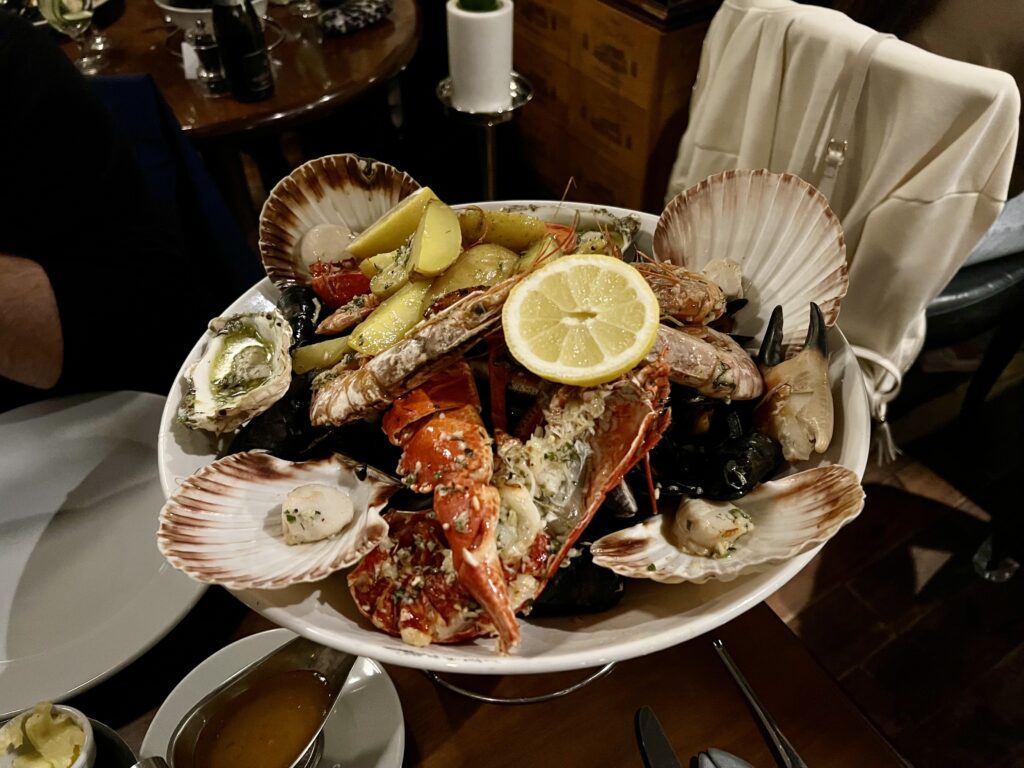 A steaming hot platter of crab claws, a whole lobster, clams, king scallops, langoustines & baked oysters, served on a bed of clams, mussels & potatoes with garlic butter. All of it was delicious. We barely made a dent in the bed of clams and mussels. It was totally worth it and I'd order it again.
Edinburgh Pubs
We made a handful of visits to pubs across the city. The few that stood out to us are Greyfriars Bobby's Bar, The Queens Arms and Tolbooth Tavern.
Greyfriars Bobby's Bar and Statue
Located in front of Greyfriars Bobby's Bar is possibly the second most popular tourist site in Edinburgh, the Greyfriars Bobby Statue. It's a granite fountain of a dog (a Skye Terrier) who became known in 19th-century Edinburgh for supposedly spending 14 years guarding the grave of his owner John Gray until the dog itself died in 1872.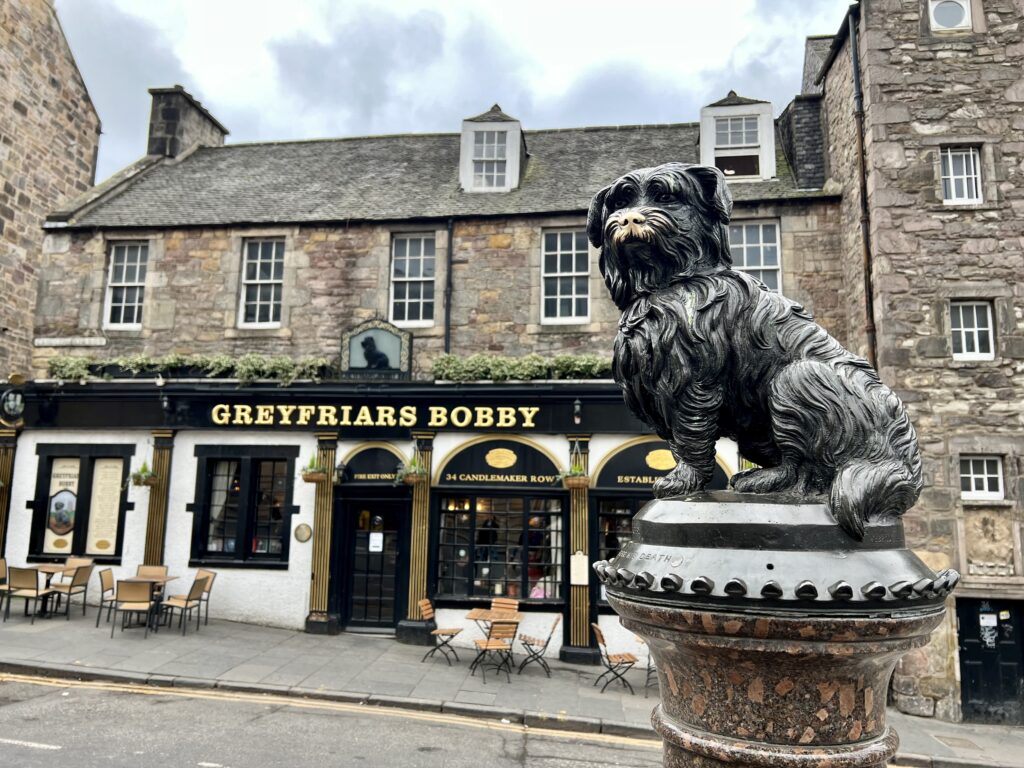 The nose appears faded because it's believed that it brings "luck" if rubbed and tourists have made this a habit. Knowing the locals are trying to discourage it, we did not rub the nose.
Meanwhile, inside the bar, Nik and I shared the most delicious meat pie.
Other places we stopped at included Bennet's Bar – one of Edinbugh's oldest pubs, Cafe Royal, Innis and Gunn – which we were a little disappointed with. It worked fine for a quick snack, but it was very underwhelming.
Panda and Sons
I don't remember how we found out about Panda & Sons for cocktails, but it's a speakeasy-inspired spot. The front exterior is deceiving, with a throwback to Prohibition.
Once you enter, you're led down a set of stairs and to a door that's patterned like a bookcase and then you enter the drinking space. We got seated in their back room which filled in quickly.
I think the menu rotates throughout the year and is designed with chapters. Each chapter features drinks made by a different technique, such as Switching and Sous Pression and others. (Click the links for interactive explanations from their website.)
Two other cocktail bars we stopped at were Bramble Bar – meh. We had one drink each. Was a lower level space, dark and just not very exciting. Newsroom was the other, close to our hotel. Definitely a lively spot and their drink menu comes as a newspaper.
Moonwake Brewery
Back in the Leith neighborhood was Moonwake Brewery. We stopped in for a few beers before dinner at The Shore. The brewery takes up the lower level and a small taproom is upstairs overlooking the brewing area. The beers were good, easy drinking and we recommend a stop there if you find yourself in Edinburgh.
Bonnie & Wild Food Hall
Neither of us remember how we found out about Bonnie & Wild, but we're into exploring food halls because of the variety of food options usually available. We loved the one we went to during our trip to Prague.
Our first lunch included fish tacos from Creel Caught, and a fried chicken wing, tender and fry basket from Chooks and gelato from Joelato. The tacos were delicious; the fried food checked a box for us and Joelato featured some really cool and different flavors.
Our second visit was for the burger from El Perro Negro, which is said to be "officially the best burger in the UK," and some general tao's chicken from Salt & Chilli Oriental. The burger was good, but I've had better.
Bonnie & Wild was just ok. We did go twice, but we both left feeling a little unimpressed. The food hall is part of a mall and very much felt like a slightly upscale mall food court, or trying to be upscale. You get seated at a table where you can order drinks via a QR code to be brought to you. For food, you order direct from the various food stands.
Overall, we had a great trip to Edinburgh. We got lucky and rain was never an issue during the trip. Much like most of our trips so far, the public transit was incredibly easy and I absolutely love the double-decker buses. Such great views from the upper level. I think we'd make a return trip to Scotland so we can visit another city or two.