As Nik and I were looking into a trip to Copenhagen (my second visit and Nik's first) we wanted to add another city to the itinerary. Based on flight options, pricing and things to do, we settled on three nights in Stockholm, Sweden.
Location
We booked a Marriott property, the Miss Clara, located in the heart of Stockholm. It was a quick train ride from the Stockholm Arlanda Airport and a short walk from the train station to the hotel. Flight options from Barcelona were slim and we were supposed to land at 6pm, but due to flight delays we landed at almost 8pm so our first night was rather chill.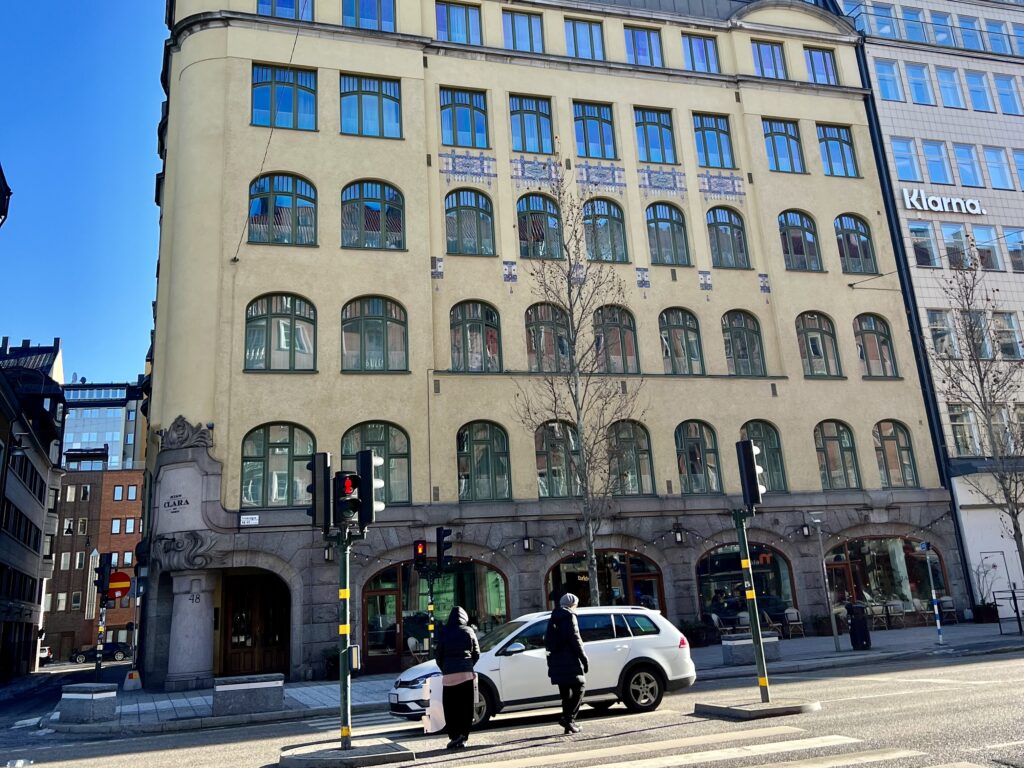 The hotel was nice but our room was a little tight. They said we got upgraded to a room with a tub. It made the bathroom feel and look smaller than it should've been. The bathroom was square and with the tub and shower, we basically only had a quarter of the room to stand at the sink. It was nice that the toilet was in a separate room within the room itself.
Sightseeing in Stockholm
The area we stayed in was conveniently located near numerous train and bus lines and walking distance to some shops we wanted to check out.
Sickla Sauna
One of the first things Nik looked into doing on this trip was finding an outdoor sauna experience. There are numerous options for them in places like Finland, but we weren't going there. Luckily he found Sickla Sauna! An easy 30 minute public transit ride outside of city center. Not exactly sightseeing, but it was a wonderful experience.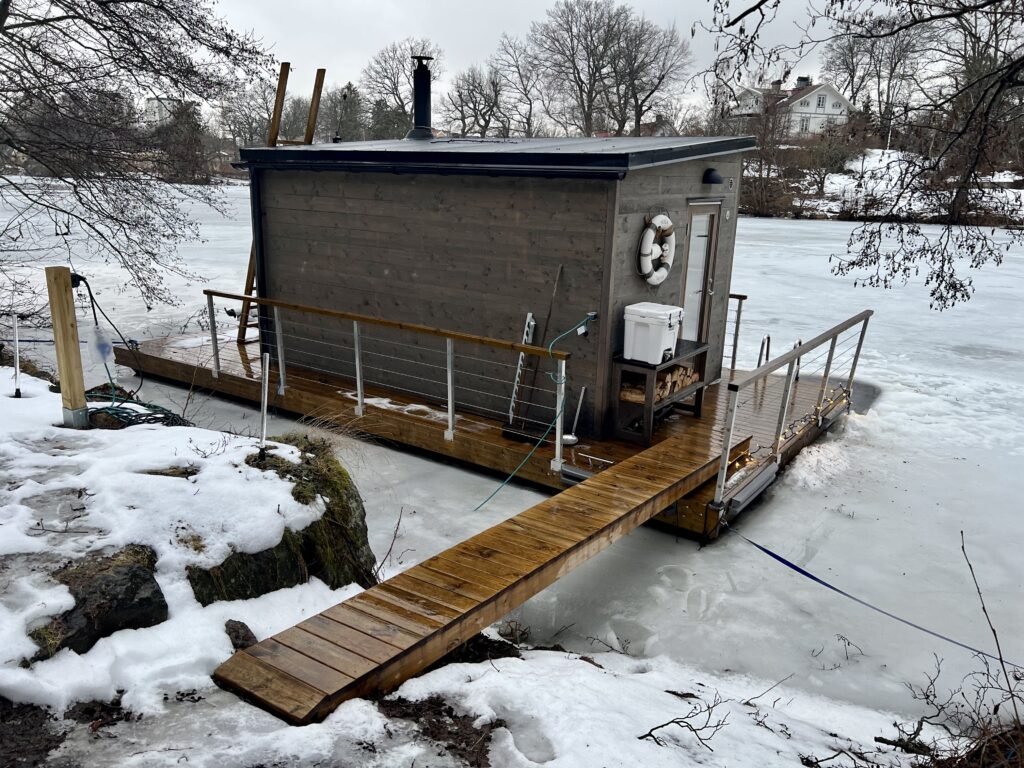 The sauna is basically a floating boat on the private property of owners Diana and Thomas. It's nestled on a lake next to a forest. Upon arriving and following directions to the sauna, you take a short path in the forest that hugs the property.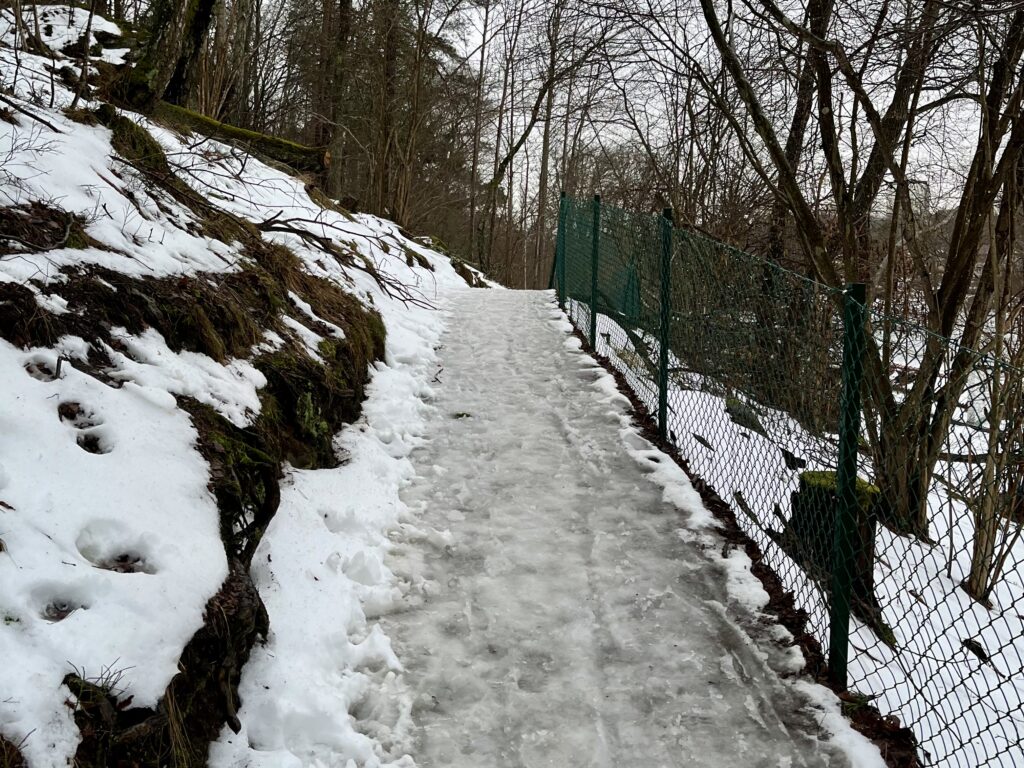 We definitely questioned if we were in the right place. A few minutes later we arrived and Thomas met us to give a brief rundown of things and let us be for the two hours we had reserved.
The lake was completely frozen over except for a large hole cleared away for us to get in the water by taking a ladder down.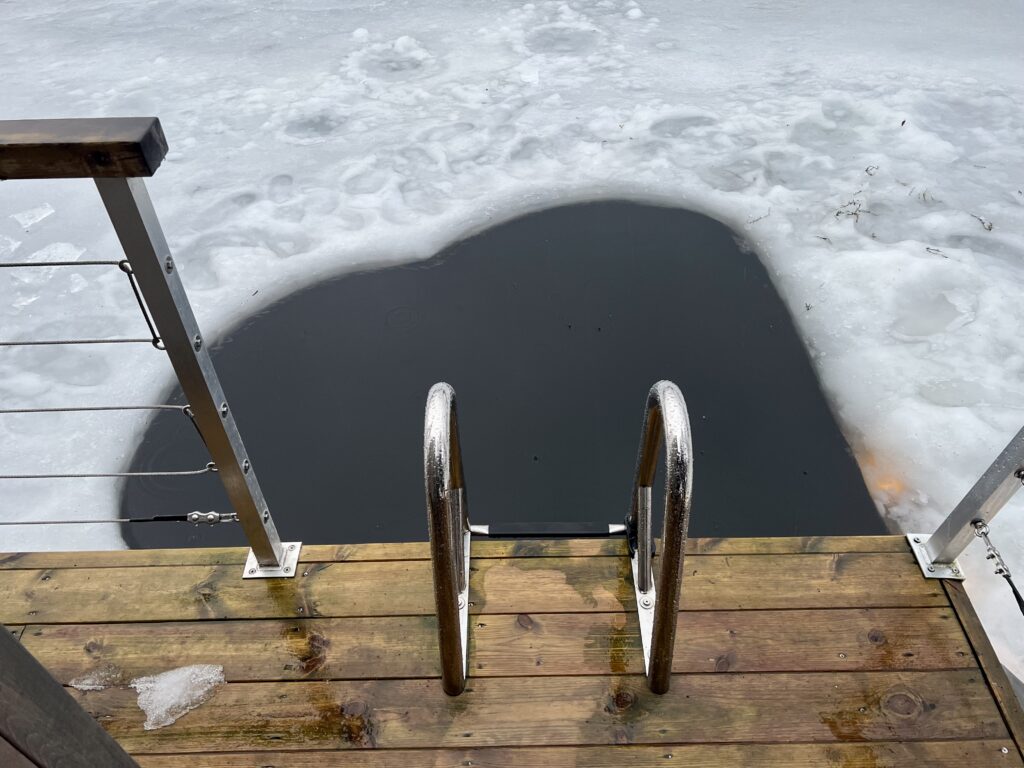 Both Nik and I went in a few times, but never past our waists because it was so cold. Refreshing, but cold. We both agree that if we were able to walk or run into the lake rather than step down a ladder, we would've gone in deeper.
The sauna itself was very nice. There are two rooms, an entry room with two smaller changing areas and benches to sit your things on. There were also shelves with slippers for use so we didn't make a mess with our shoes. Click the video for a short walk around tour.
Towels, sauna pillows and a couple water bottles were also supplied. The room also came equipped with a music system that we could connect to via bluetooth and play our own music.
The wood burning stove is what heats the sauna and it was already going when we arrived. We kept the fire going by adding wood and then pouring some water on top to get it really steamy and hot. It made going in the water quite refreshing. And then the freezing water made you want to get back to the hot sauna.
We basically repeated this process for the duration of our two hour reservation. Overall, Sickla Sauna was a great experience. Spotless. Comfortable and it had everything needed to be comfortable.
Vasa Museum
Possibly the biggest tourist attraction is Stockholm is the Vasa Museum.  The museum houses the Vasa, a Swedish warship built between 1626 and 1628. The ship sank after sailing roughly 1,500 yards during her maiden voyage on 10 August 1628.  The ship's design was flawed leaving it top heavy which lead it to sink in the Stockholm harbor.  Due to the cold water in Stockholm the ship was preserved in nearly perfect condition.  The Vasa was located in the 1950's, raised from the harbor and preserved over several decades.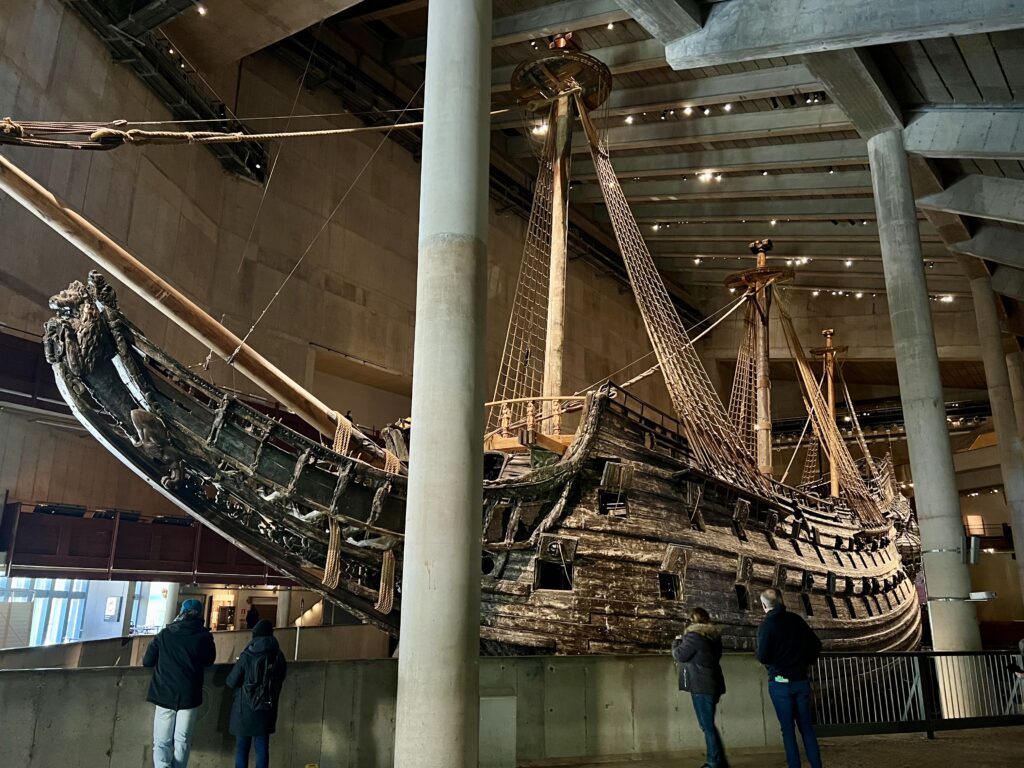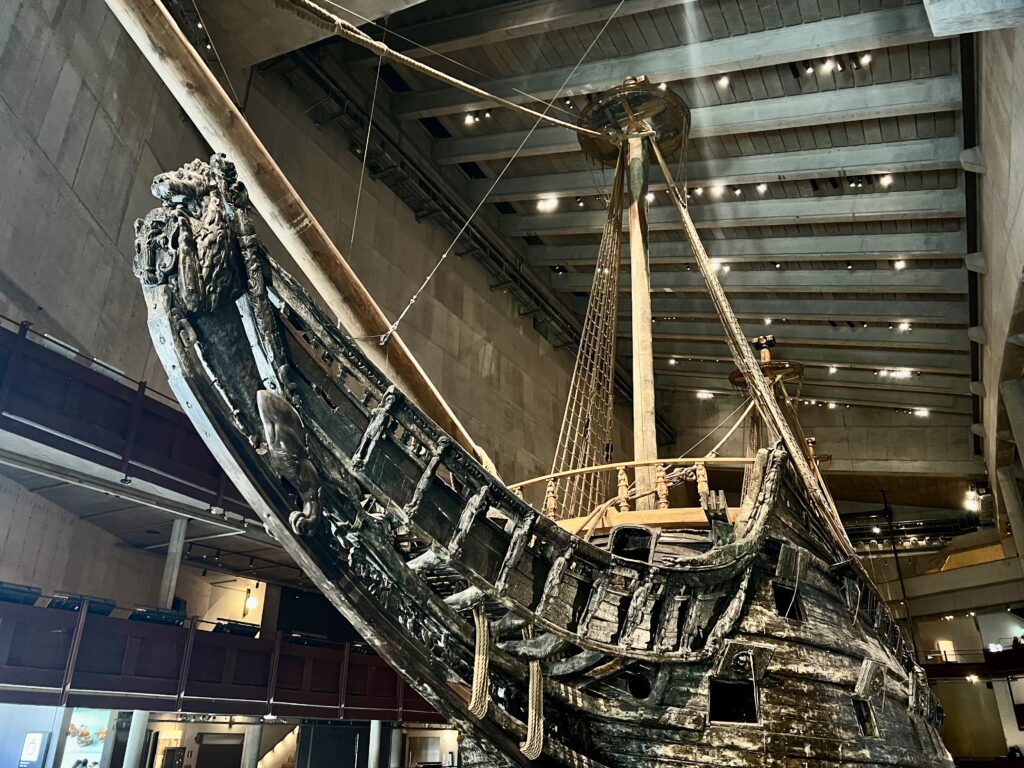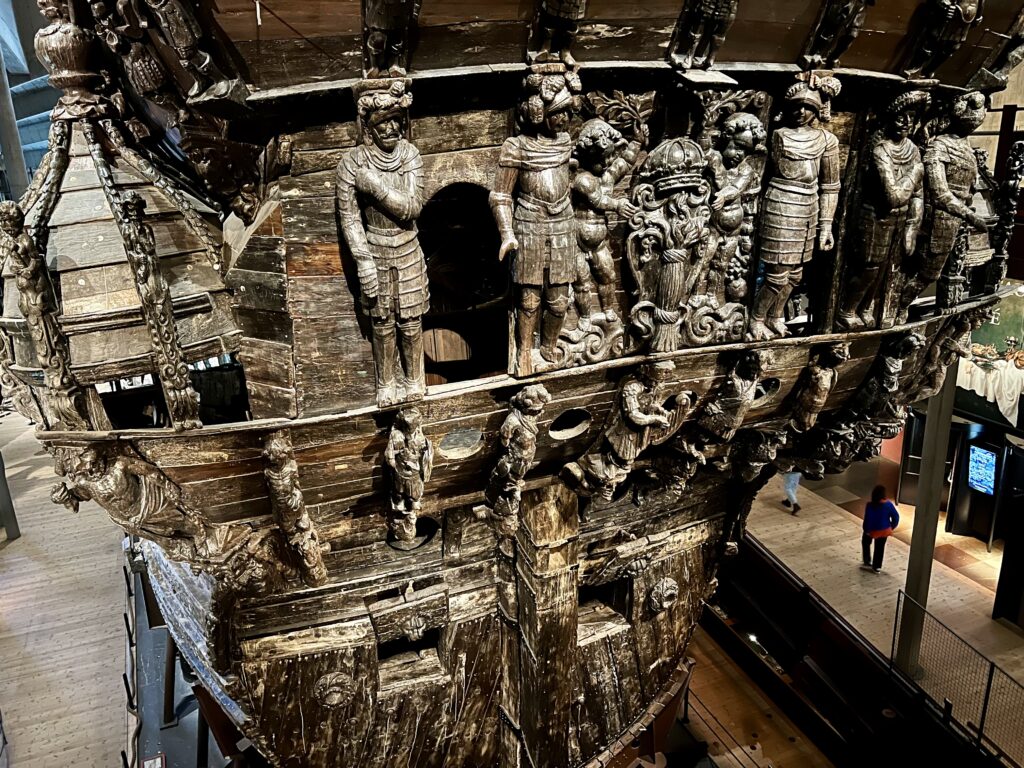 The ship is covered in ornate carving from end to end, which makes you wonder if they spent more time on stability and less on crafty details it might have stayed afloat.
Gamla Stan and Old Town
During our first full day in Stockholm, Nik and I spent the morning exploring Gamla Stan and the surrounding area of Old Town. Walking the narrow cobblestone streets in one direction leads you to a row of beautiful colored buildings and the Nobel Prize Museum.
The Royal Palace
From there we walked to and around the Stockholm Royal Palace. It's spread across a sprawling area of land. We saw it from a few different sides. As it is still an active palace, guards were situated at the various entrances.
Craft Beer in Stockholm
We were pleasantly surprised to find a good handful of craft beer spots in Stockholm. Credit to Nik who found them all and while limited on time, we managed to visit a few spots.
Located in the Södermalm neighborhood, not far from the Slussen metro stop, is a cluster of craft beer bars. They open at different times throughout the day but we found a few that opened at 11 or 12, perfect for us to visit before our other afternoon plans.
Oliver Twist
We started at Oliver Twist where they had a large selection of draft beers and an equally large selection of cans and bottles. We were there at lunchtime, and while we didn't eat there, everything we saw smelled and looked very good.
Omnipollos hatt
A short walk from Oliver Twist is Omnipollos hatt. With 10 beers on draft and wood-fired pizza, this place was a great stop. Nik and I shared the chorizo pizza that was very good. They had an interesting beer that I ordered. It was an orange and pineapple sour beer topped with a creme brûlée frozen foam. Interesting and delicious!
Brisket & Friends
Our stop at Brisket & Friends was quick and short because of our timing. Since we were only having beers, we sat at the bar. It was meh. The staff wasn't very chatty and the place wasn't very busy. Maybe it's a better environment at night and if we were eating some of the bbq.
We had a few more beer bars on our map but just didn't have the time to fit them in.
Cocktail Bars in Stockholm
Nik and I have had a pretty good run of going to cocktail bars listed in the 2022 The World's 50 Best Bars. Stockholm has one bar that just cracked the list!
Lucy's Flower Shop
Listed at number 49 on the The World's 50 Best Bars list is Lucy's Flower Shop. It's a hidden spot in the basement of a downtown building that took us a few minutes standing on the sidewalk to figure out where the entrance was.
A stairwell down leads you to the bar. To the left is a larger room and to the right is the main bar. We were there just after they opened and got seated at the far end of the bar giving us a view of the whole space.
There were two people working, the bartender behind the bar and the person who was seating guests and taking orders. The latter person turned out to be one of the co-owners and chatting with both guys made our experience at Lucy's very enjoyable. The delicious drinks didn't hurt either.
I had the Beetroot & Horseradish, Marzipan & Cream and the Sea Buckthorn & Cacao cocktails. Nik had the Birch & Raspberry, Rye & Apple and a Bourbon based cocktail called Man O War.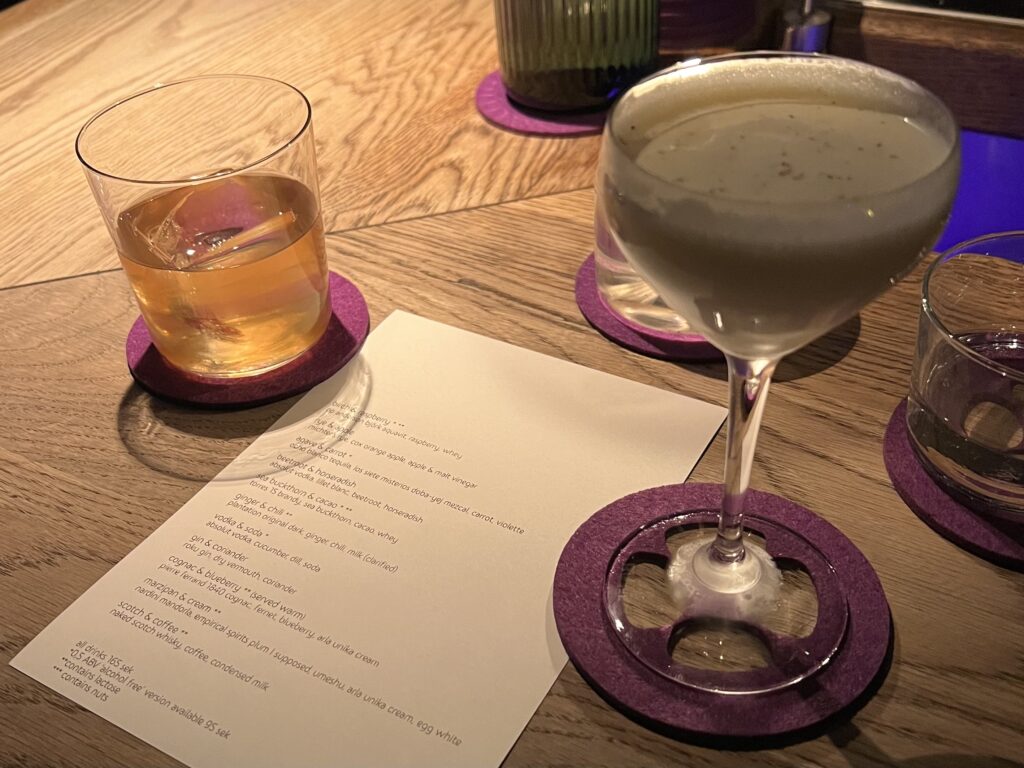 Apropos
Another cocktail bar we stopped at was Apropos, located a little outside of city center.
It was suggested to us by the guys at Lucy's Flower Shop and was conveniently located next-door to a restaurant we were going for dinner. It's a small space on the ground level and luckily there was an upstairs where we were able to snag seats. The decor was a mix of old antique looking tables, chairs and wallpaper. We liked it.
Eating out in Stockholm
Nik found a few restaurants that looked really good and we narrowed it down to two places we wanted to go for dinner.
Portal
A few doors down from Apropos was Portal, a casual restaurant with hints of nordic cuisine on the menu. We started with a seared langoustine appetizer (top left) before moving onto our entrees.
Nik had the rooster (top right) described as: rooster thigh from Skåne with celeriac in three ways, buttered gravy and ramson. I had the crispy schnitzel of pork (bottom) served with a spring salad. Both were delicious and we're glad we were able to eat there. It was supposed to be dinner on our first night, but the delay caused us to miss it.
Tjoget
Another restaurant Nik found was Tjoget. A place that describes itself as offering three places in one location: a dining room, a cocktail bar, a wine bodega and the beer cafe.
We sat at the bar and enjoyed two cocktails and a couple shared small plates. The feta cheese fritters (top left) sounded good but were pretty underwhelming to eat. Not a lot of cheese on the inside and almost too much oregano sprinkled on top.
The fritters were followed by lamb tonnato with dill and capers (bottom) and short rib with creamed corn and cabbage (top right.) The lamb tonnato was pretty good, if almost a tad too salty because of the capers. The short rib and creamed corn was probably our favorite thing.
We ended our time at Tjoget having a couple cold pilsners at their beer cafe.
Phil's Burgers
In addition to hitting cocktail bars, we're all about finding new burger places to try on our trips. Phil's Burgers in Stockholm did not disappoint. They have a few locations around the city, so they're somewhat of a chain. The side of Halloumi fries were also tasty and need to be a more common thing on menus.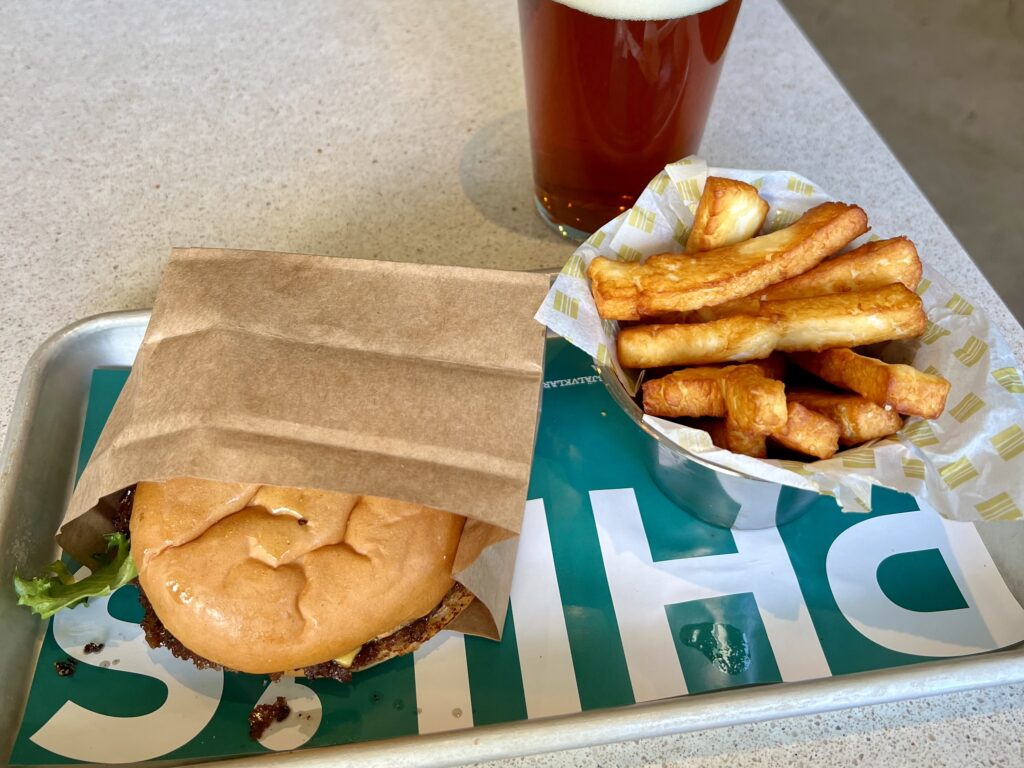 Fika
Not to be forgotten, we made time for "Fika" one morning. Fika is basically a Swedish concept to sit at a cafe and have coffee and a pastry. We settled on going to Café Pascal for a kanelbullar (Swedish cinnamon bun) and a chocolate croissant.
I read about Café Pascal in this article and chose it because it had a good review and was relatively close to our hotel.
We'll be back!
Though the weather was cool and often overcast, we really enjoyed our visit to Stockholm. We covered a lot of ground and both Nik and I agree that we'd love to visit again in the spring or summer.