When friends of ours said they'd be in Paris for a few days, we knew we wanted to make a trip to meet up with them. And we are glad we did. The weather was refreshingly cooler than what we'd been experiencing in Barcelona so it was a nice change for spending a few days in Paris.
Travel and First Day in Paris
Part of our plan of being in Europe for the next year (or so) is to easily take trips on our own and trips to see friends who are traveling to Europe. This trip to Paris was our first one to see friends that were in from the States and it was great.
We're getting to use to taking flights from Josep Tarradellas Barcelona–El Prat Airport, always preferring a morning flight so we can have almost a full day at our destination. Pretty good flight on Vueling to Paris, unlike our return flight home. More on that later. After taking public transit into the city, we arrived at our hotel. Our second, and hopefully last, stay at a Moxy. The location was decent – between the 3rd and 11th arrondissements.
Rôtisserie Stévenot Rotisserie Chicken
We were close to Caractère de Cochon, a sandwich shop Nik learned about and wanted to try. Its name loosely translates to "pig character" probably for their selection of hams. We walked over and they were closed. Fail by us. No problem, we passed a delicious looking rotisserie chicken place, Rôtisserie Stévenot, that is takeout only, so we circled back, we each got an order to go and ate it in the nearby Square du Temple – Elie Wiesel Park. You get two pieces of chicken and a side. So fresh and so tasty.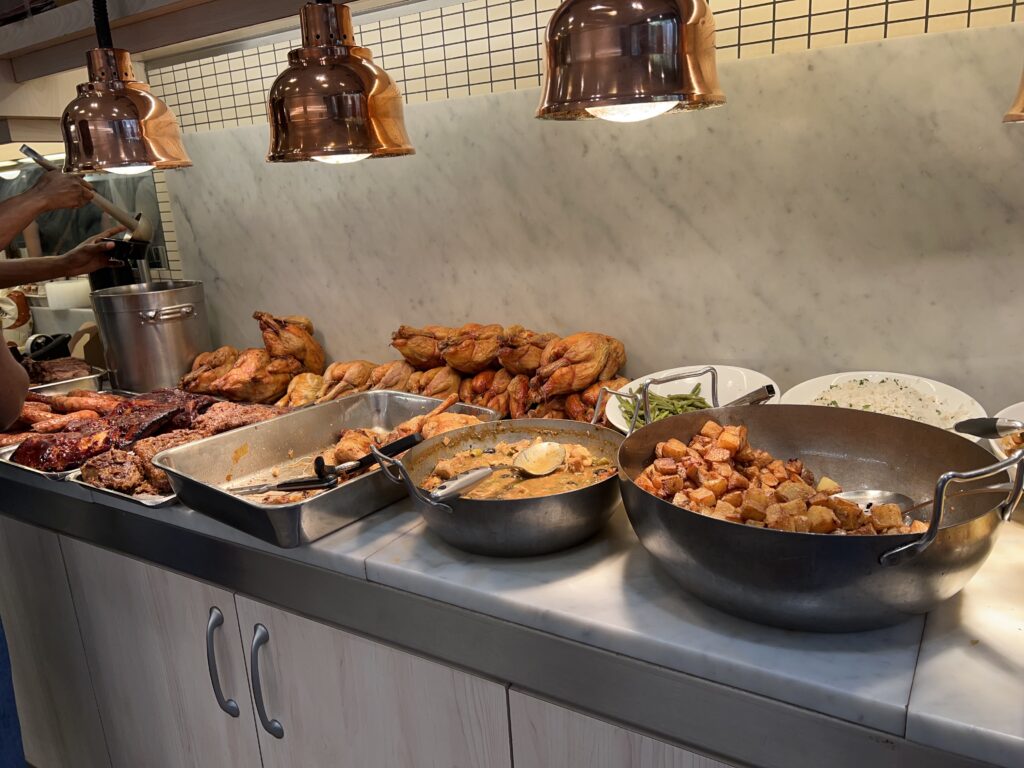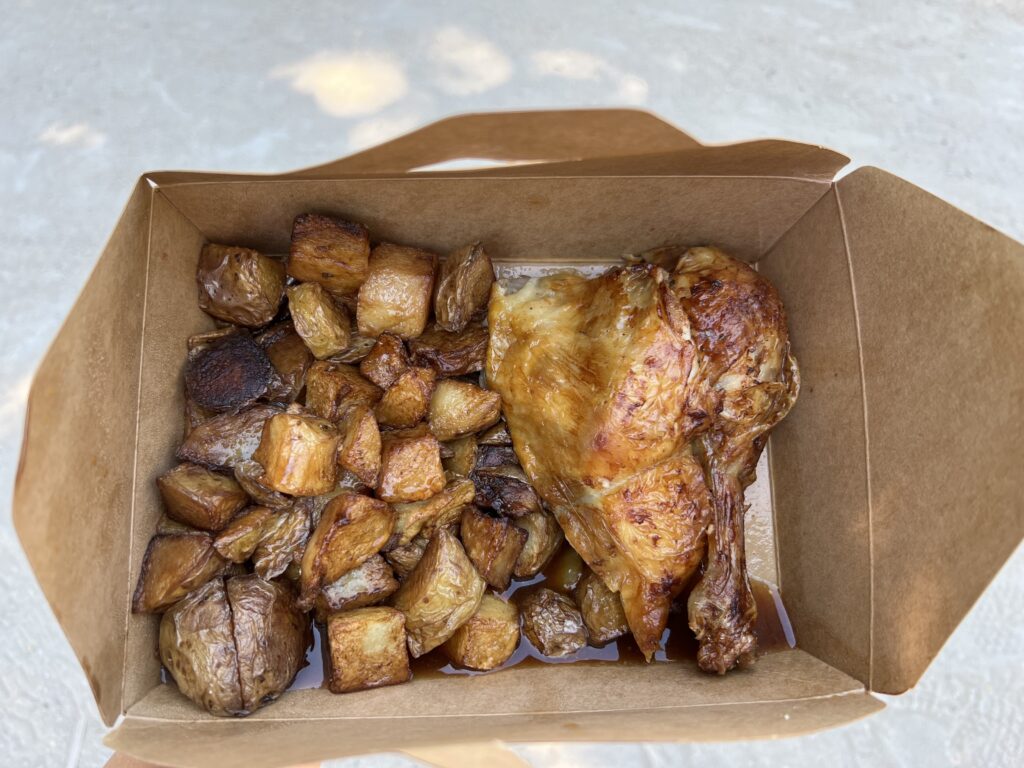 Following lunch and a short walk we grabbed drinks at Caffe Soprano, before heading back to the hotel to freshen up and plan the evening to meet up with our friends.
Afternoon Drinks and Dinner at La Fontaine de Mars
We had a list of miscellaneous bars and somehow these next two places ended up on it and they were a block apart, perfect. We took a train to Plan B and had a quick beer before going to Rhinoceros Bar.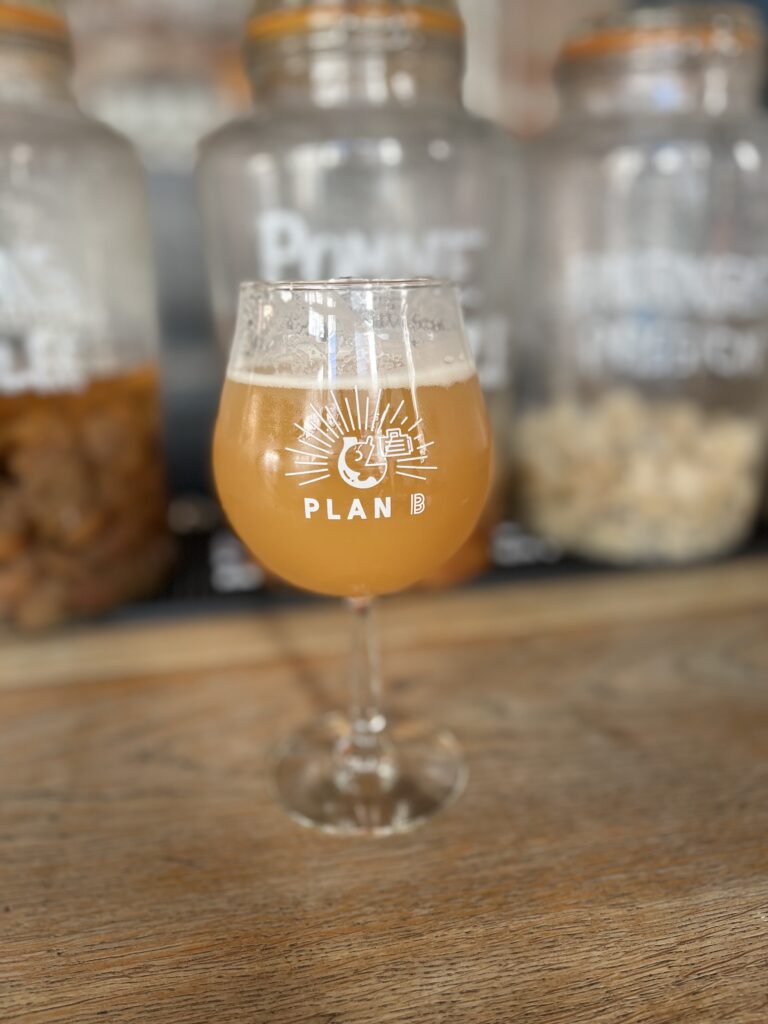 Following a few drinks we headed to meet our friends James and Hasia for dinner. They had La Fontaine de Mars on a list and it looked good to us. We missed out on making a reservation but were able to wait outside at a little table and enjoyed some wine and charcuterie until we could get seated. To say we had a nice dinner would be an understatement. Good food, a few cocktails, a lot of wine and some dessert were enjoyed over the course of at least two hours.
Second Day in Paris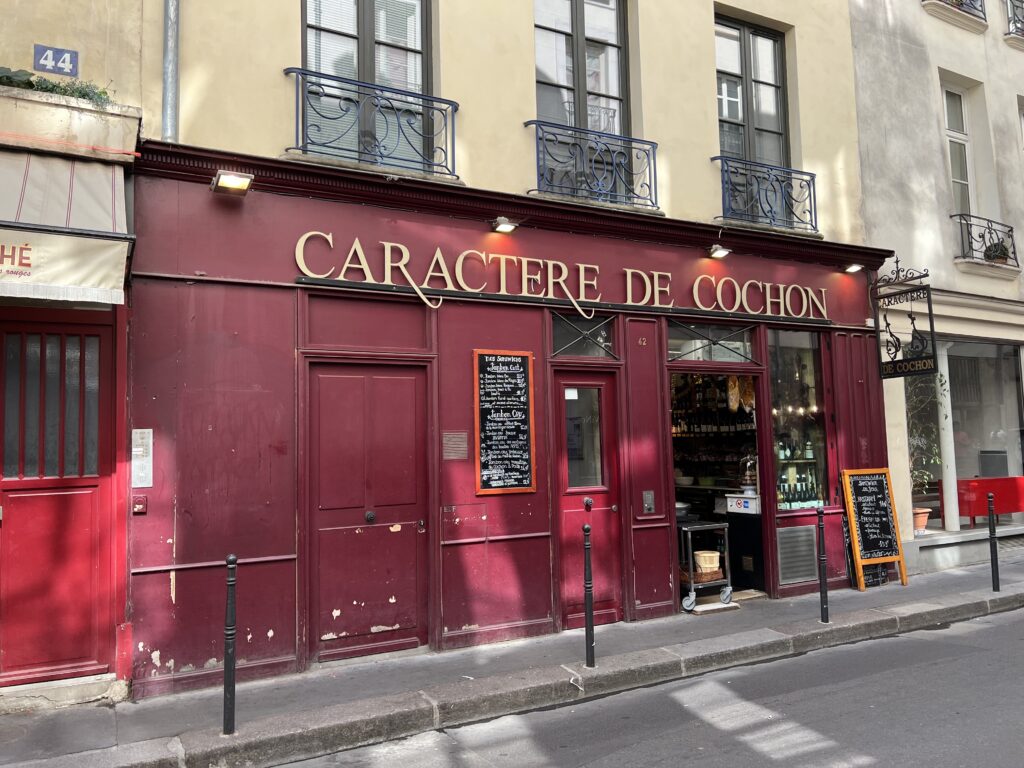 Caractère de Cochon
Day two in Paris started off with some so-so croissants and stopping at the aforementioned Caractère de Cochon to grab a sandwich to take with us and eat in the Esplanade des Invalides, a large green space outside Les Invalides where we were headed for a visit.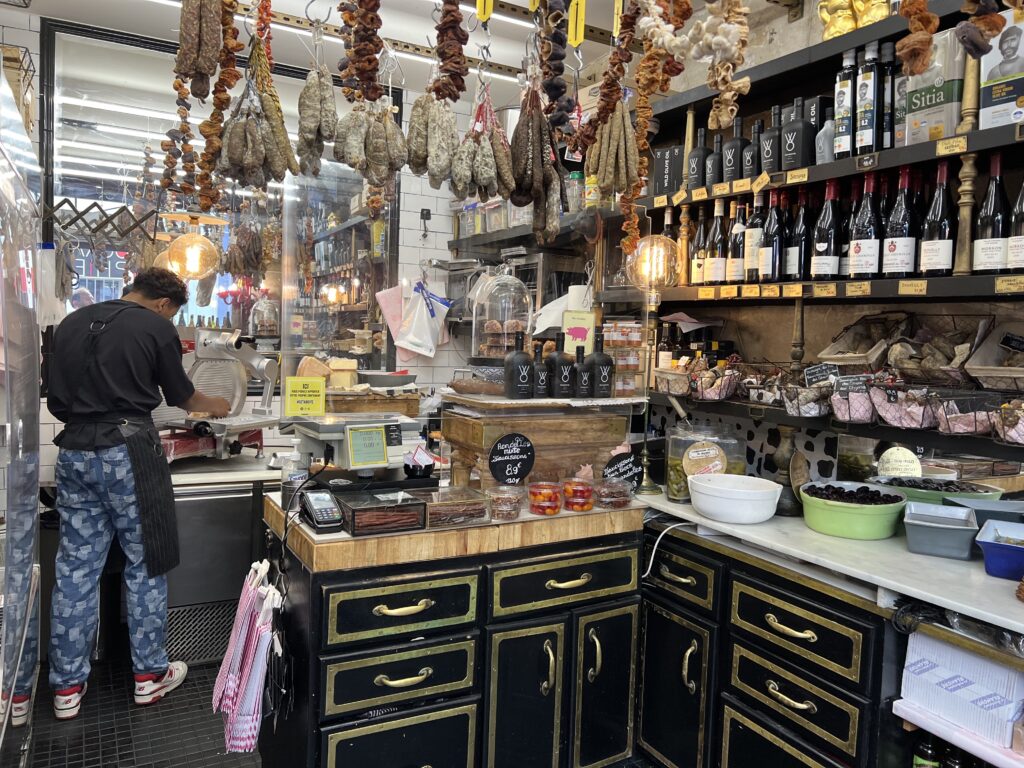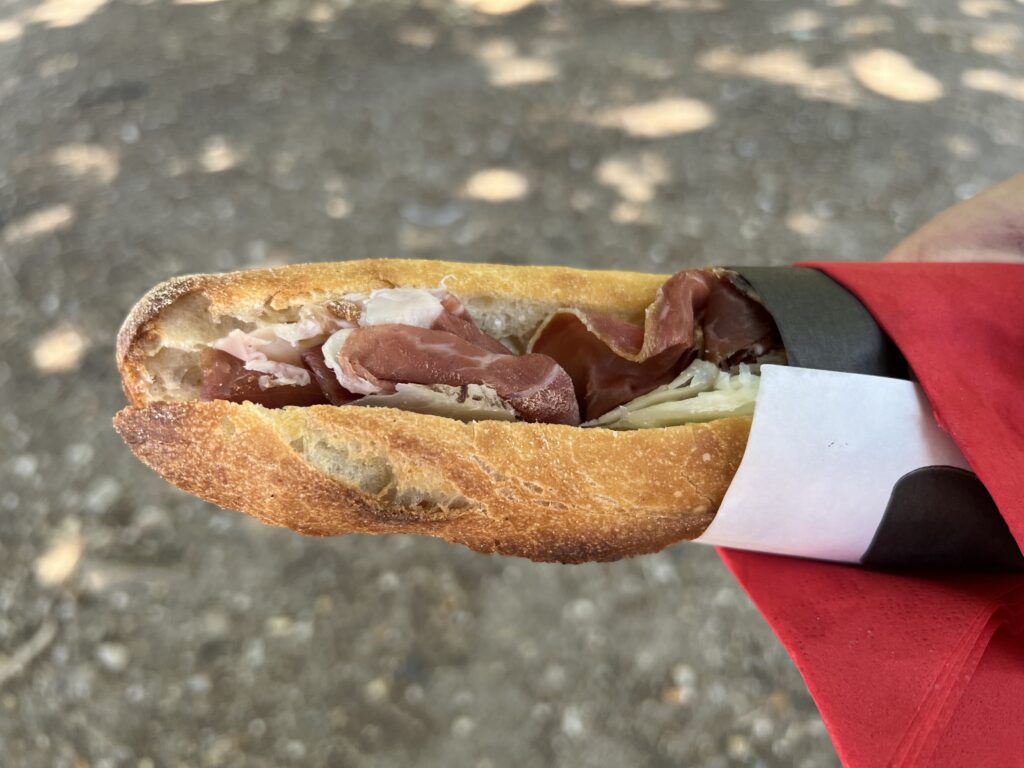 Les Invalides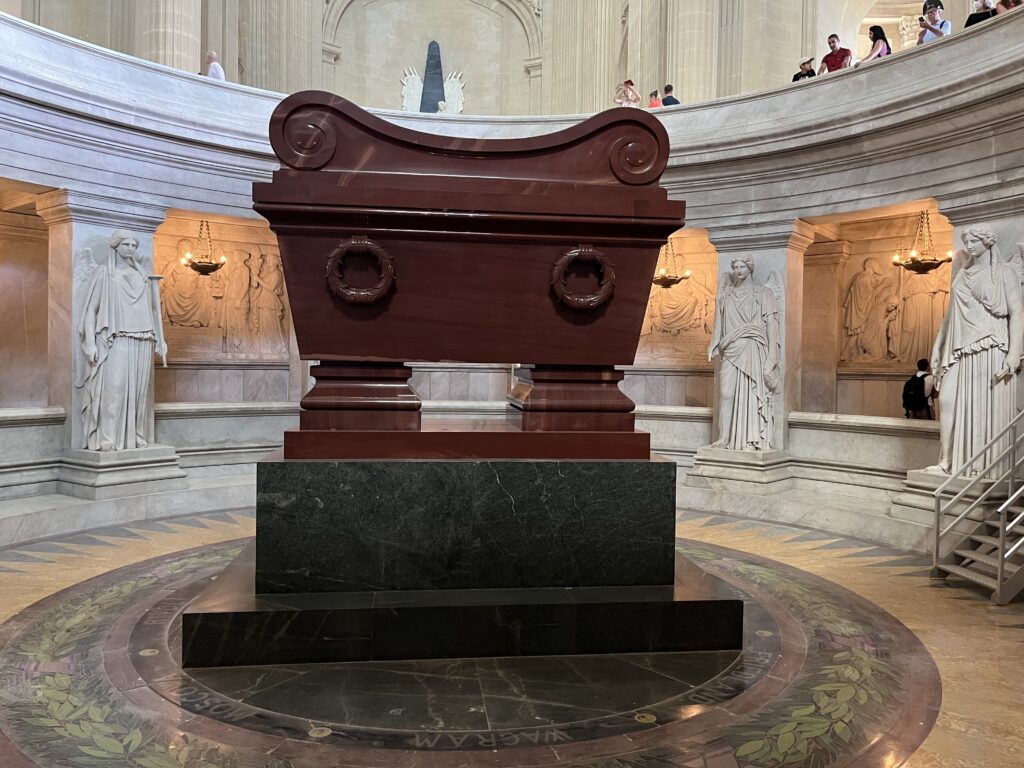 Les Invalides is a complex of buildings that house the Musée de l'Armée, the museum of the Army of France and The Dôme des Invalides, which houses some notable tombs of France's leading military figures, most notably the tomb of Napoleon Bonaparte.1We actually took a French Revolution Walking Tour last time we were in Paris that began at the Les Invalides.. The museum is separated into three main collections: Armour and Weapons, 13th–17th centuries, Louis XIV to Napoleon III and the World Wars.  The Armour and Weapons collection was very impressive simply for the quantity pieces in the collection.
Dôme des Invalides
The Dôme des Invalides is a chapel which contains the hero's of French military history, Napoleon lays at the base of the dome.  Additional French military leaders are interned here as well included Ferdinad Foch who lead French to victory in the First World War against Germany.  The scale of these monuments is very impressive.
A Walk to the Eiffel Tower and More Cocktails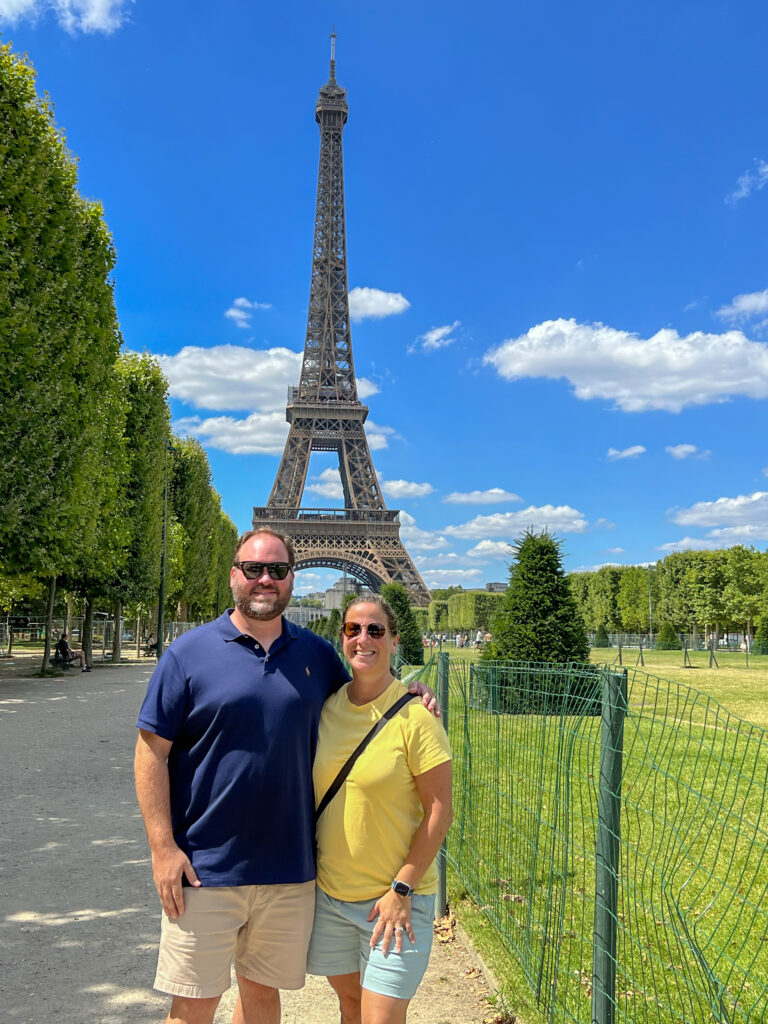 Following our time exploring Les Invalides and The Dome, we got a quick drink across the way at Le Vauban before walking to the Eiffel Tower.
It was a perfectly sunny day and the walk was nice. We approached the Eiffel Tower from the side furthest from where the tour lines start, so we avoided most of the crowds and got a couple nice pictures. It was quite warm in the sun so we didn't stand around long and kept moving.
And moved along we did, making our way to pair of cocktail bars: Harry's Bar followed by Danico.
Harry's Bar New York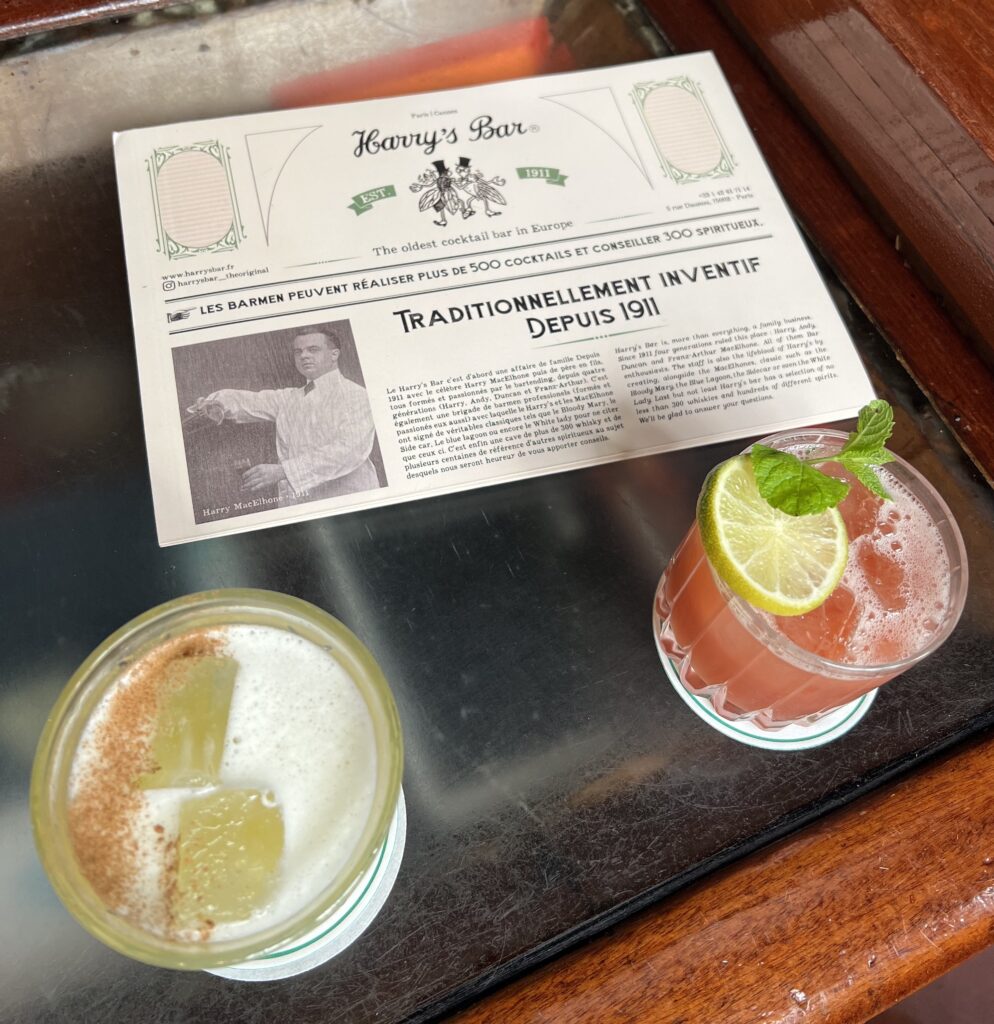 Harry's Bar New York is kind of the original expat bar.  The actual physical bar was shipped from Manhattan in 1911 and has hosted everyone from Knute Rockne, Sinclair Lewis, Ernest Hemingway, Jack Dempsey, Rita Hayworth, Humphrey Bogart to the Duke of Windsor.   In the 1960 Ian Fleming short story "From a View to a Kill", James Bond recalls visiting Harry's Bar during his first visit to Paris at age 16. Harry's is said to be the birthplace of classic cocktails such as the Bloody Mary, French 75, Sidecar and Monkey Gland.
Danico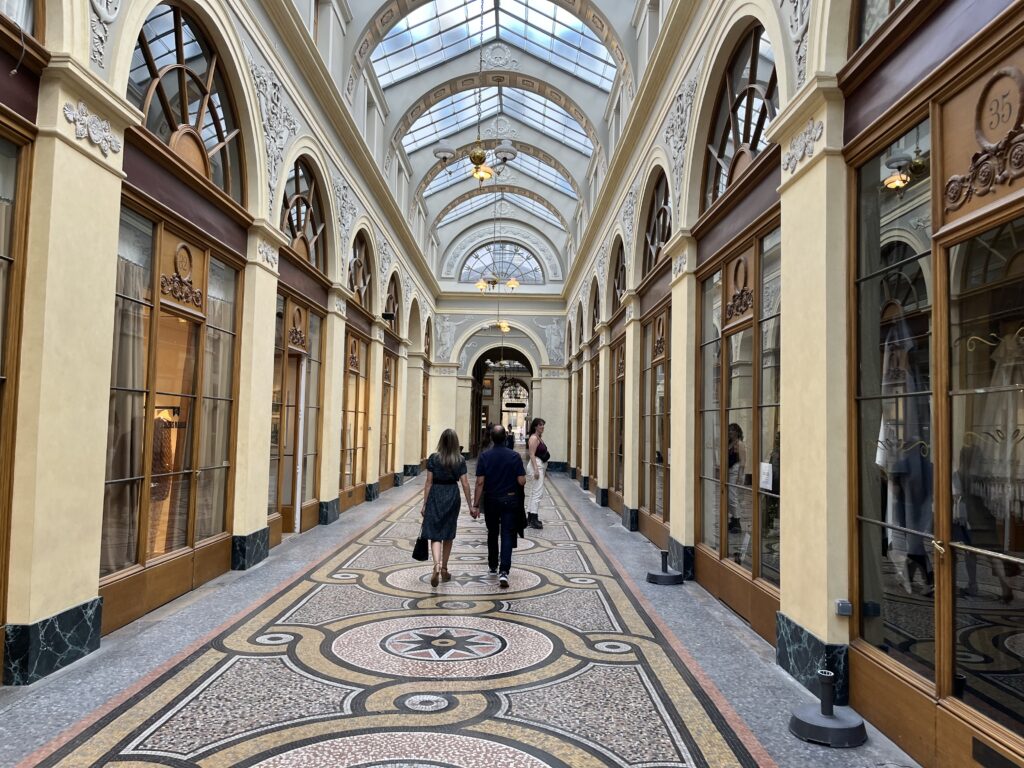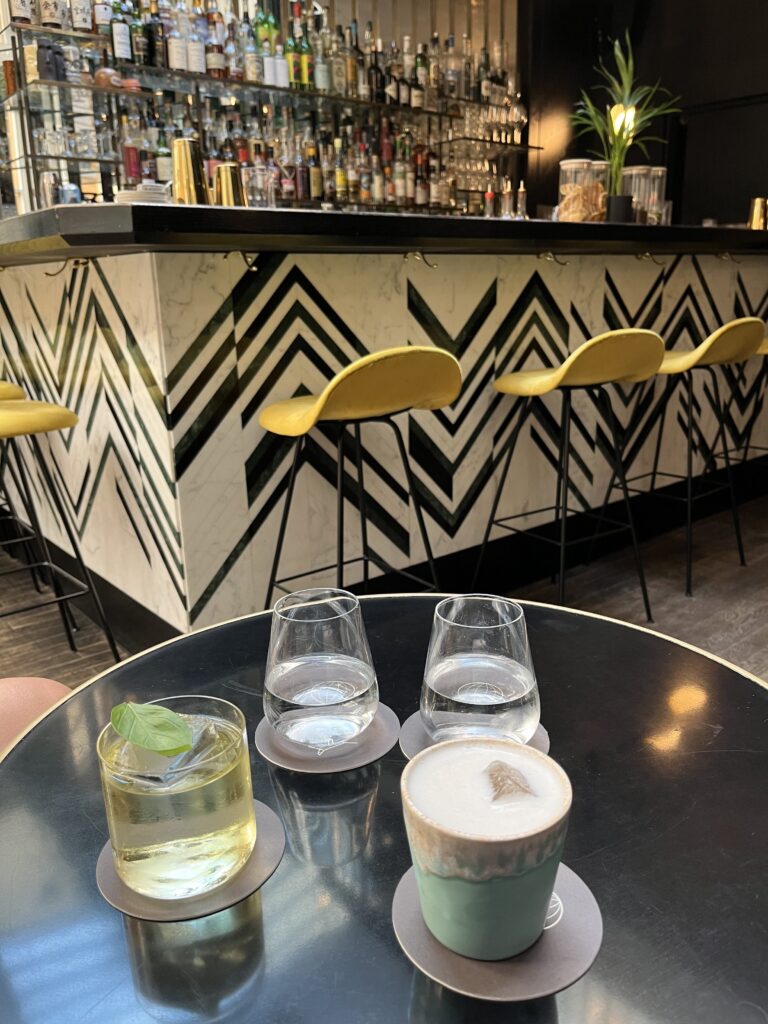 After Harry's we headed over to the Galerie Vivienne which is an arcade of shops dating back to 1823 for drinks at Danico.  Danico had a unique selection of house cocktails as well as a wide selection of Japanese Whisky.
Frog Legs and Dinner at L'Escargot
Somehow we stumbled on the Les Frenchies YouTube Channel. A lovely couple that lives in Paris creating a variety of videos that are food or culture related. One video had them eating frog legs and L'Escargot. They didn't look bad and I wanted to try them. Luckily Nik and our friends were game to head there for dinner. Nik tried a bite and our friends opted to pass. For the record, they tasted pretty good and I ate several. That said, not sure I need to eat them again. We wrapped up the night with drinks at Reset Bar, and despite their best efforts, the boys did not play any video games.
Third Day in Paris
Our third day in Paris started with a delicious brunch at Season, a short walk from our hotel.
Miscellaneous Sightseeing
Following brunch we walked through The Marais towards the Shoah Museum and Deportation Memorial. We did not go inside but rather walked the exterior and then continued towards the Deportation Martyrs Memorial, a memorial to the 200,000 people who were deported from Vichy France to the Nazi concentration camps during World War II. It's located near Notre Dame Cathedral, so we also had a view of the reconstruction taking place since the Cathedral caught fire in 2019.
Paname Brewing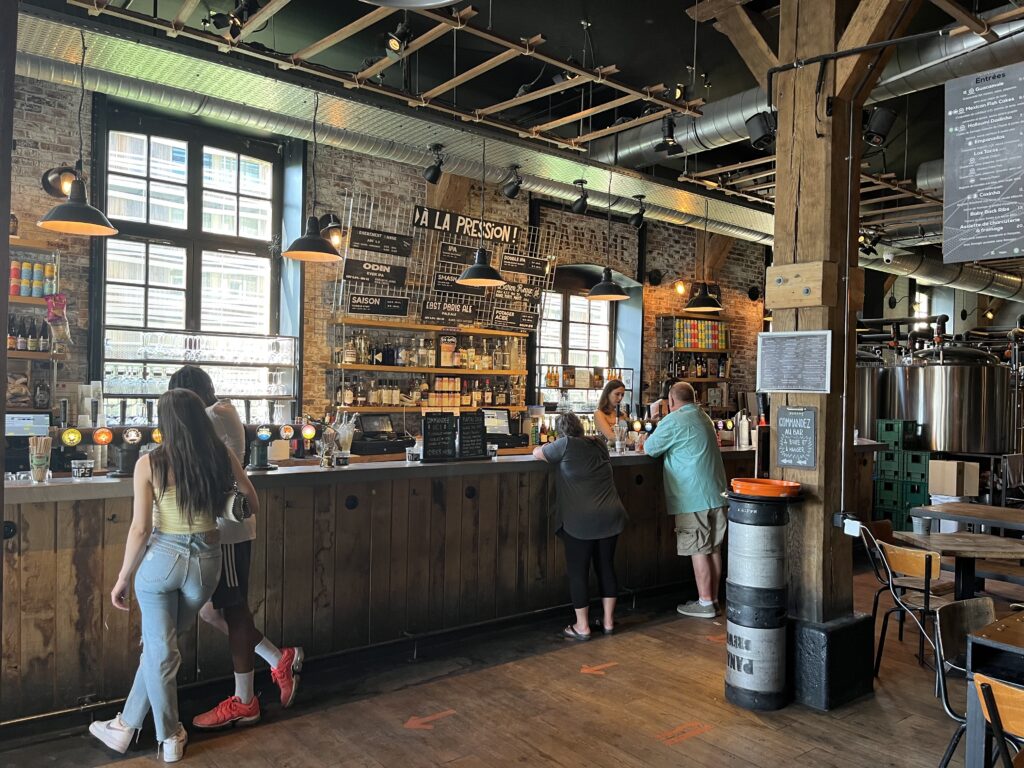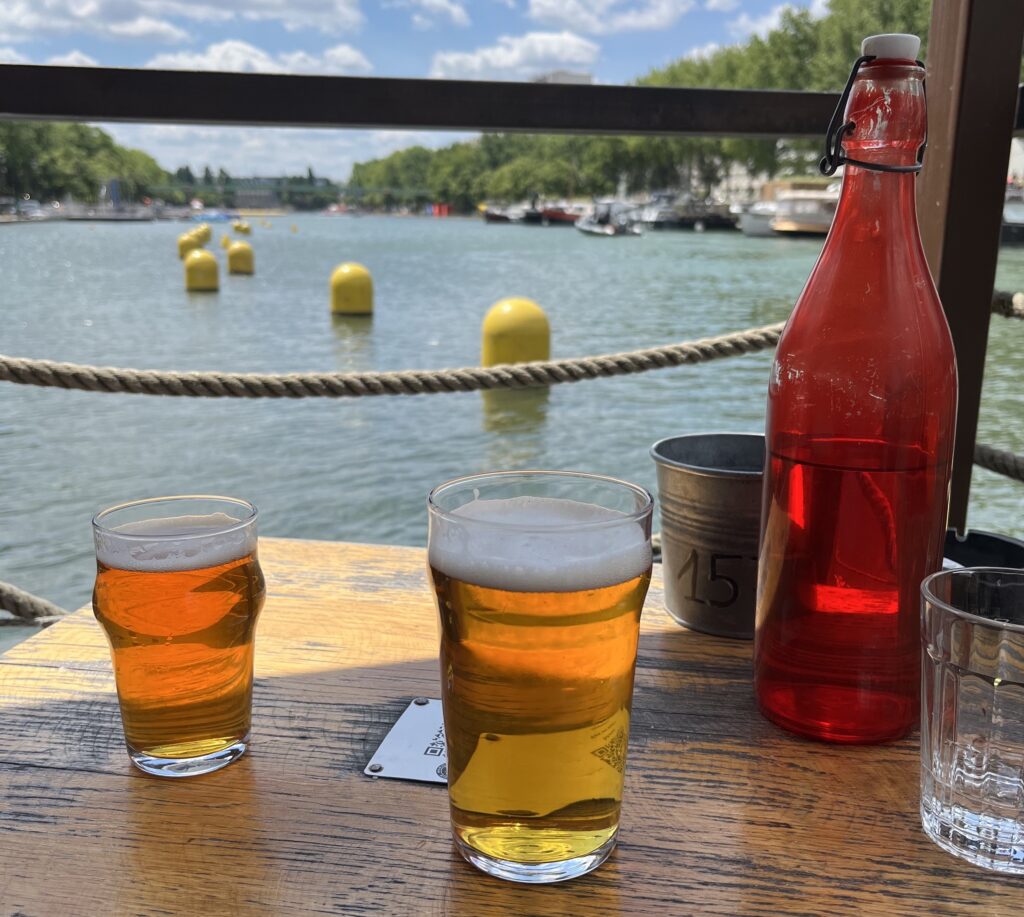 Since we'd been to Paris before and had covered most everything we wanted, we decided to head a little further out to the 19th Arrondissement and Paname Brewing, where we had been once before. We hung out there for a few hours and enjoyed some beers and food on a canal before heading to meet up with James and Hasia.
Cocktails, Dinner and More Cocktails
Following the brewery, Nik and I made our way to Le Mary Celeste, a cozy little spot a busy corner of the Marais, for pre-dinner cocktails. We each went our own way for dinner. James and Hasia headed to get some falafel while Nik and I ate at Little Apple, just a few short blocks away.
Little Apple's gallery of food pictures looked great and we wanted something casual. It ended up being perfect. We shared an appetizer of beignets de courgettes aka zucchini fritters that were good, but heavy. Nik ordered a burger and I got the chicken caesar salad and we shared with each other. Both were good and exactly what we wanted.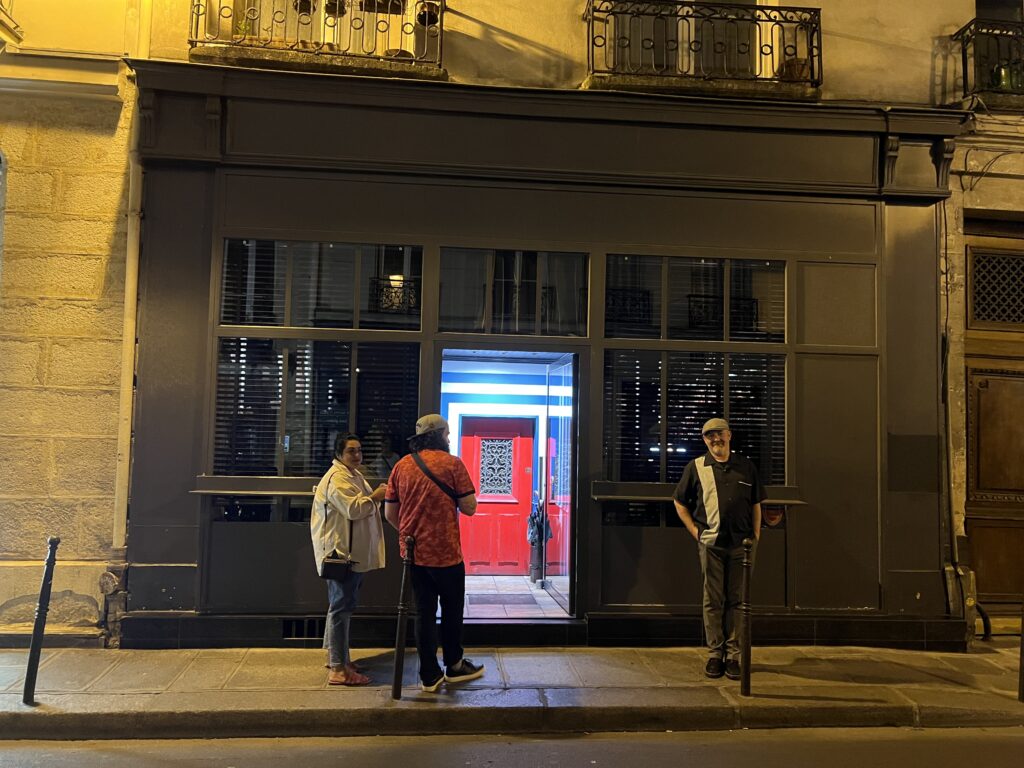 To wrap the night we met back up with James and Hasia at another cocktail bar called Little Red Door, also in this same vicinity. The drinks are interesting. They work with farmers and their drinks are a "farm-to-glass approach" with such drinks called "Olive" and "Carrot." Unique and tasty.
Last Day in Paris
Thursday was our last day in Paris and we had an afternoon* flight so it allowed us the morning to walk around.
Place des Vosges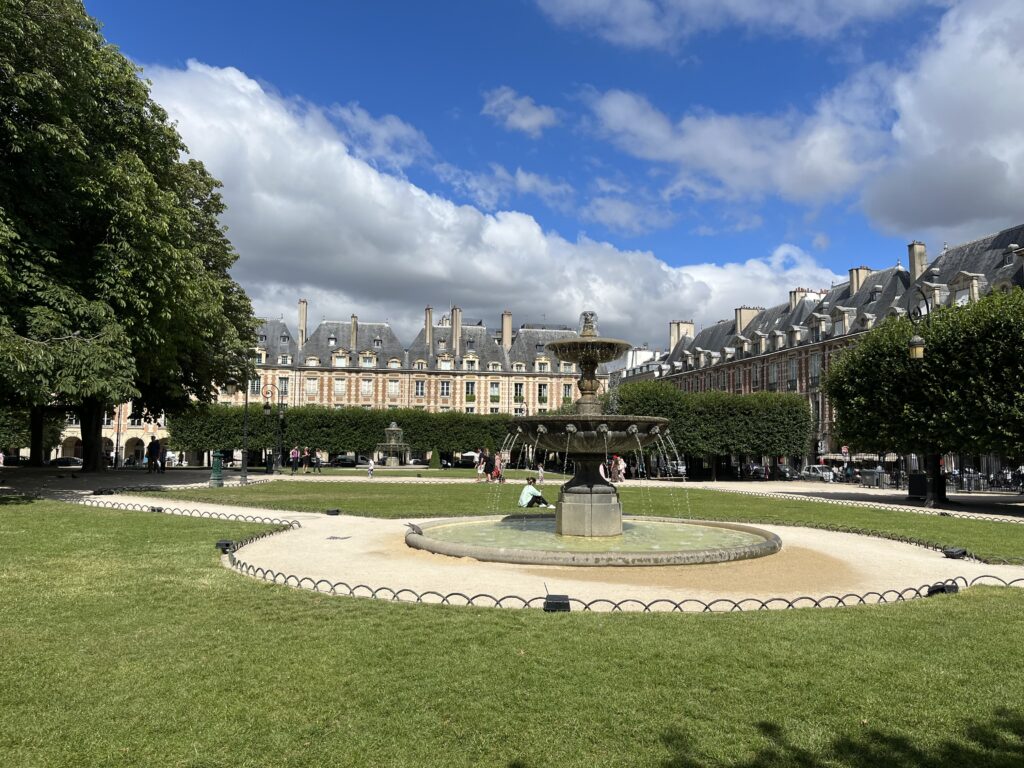 Breakfast consisted of some much better tasting croissants that we ate while strolling through Place des Vosges, the oldest square in Paris. it was a lovely morning, sunny but comfortable. We stopped for a quick drink at a random cafe and then picked up another order of chicken from Rotisserie Stevenot for lunch. We debated getting another ham sandwich, which we later regretted not doing.
The Flight Back to Barcelona
Our Vueling flight back to Barcelona was supposed to leave at 15:25. The gate agents had everyone line up for boarding, scanned our boarding passes and then we just stood in the jet bridge as they tried to fix something on the plane. Terribly uncomfortable just waiting around. Departure time came and went. We finally boarded, pushed back and then had to return to the gate. Information was minimal – just that we were all scheduled for a 22:00 departure, meaning we had roughly six hours to pass. Back at the terminal, in some lower level gate area, Nik noticed a lounge. We paid the entry fee and hung out there until boarding. The food was meh, but the beers were plentiful! This is where we wish we picked up that ham sandwich. It would've been so delicious. Anyway, we finally landed back in Barcelona around midnight. Thankful for a reliable dogsitter who was able to give Koval dinner and do a last walk with him.
All in all, it was a great trip. It was wonderful to see our friends and the cooler temps really were refreshing.