A few weeks ago, the three of us left the city for a long weekend at the beach, mostly to avoid the fireworks and bonfires celebrating the Feast of Sant Joan. We settled on a weekend in Platja d'Aro, a cute beach town about 90 minutes north of Barcelona along the Costa Brava.
Feast of Sant Joan
The Feast of Sant Joan celebrates the longest day of the year and Barcelona makes it a party with fireworks displays and bonfires in the middle of the streets. Koval is not a fan of fireworks so we figured hitting a beach town for a change of scenery would be a good idea. Platja d'Aro still had some fireworks along the beach that lasted late into the middle of the night, but we think we avoided the worst of it. Koval was a trooper that night. Quiet as can be in this crate, his safe space.
Airbnb in Platja d'Aro
Nik found a cute Airbnb right along the beach that we booked for our stay. From the moment we arrived, I knew I was in heaven. We were on the 17th floor which provided the most amazing views out to the beach. There was a patio space with a couch, table and chairs, just perfect.
Marcela, our host, met us upon arrival and explained things about the apartment. It was a studio, so a small space to explore, but she was so nice and welcoming. Marcela even provided a bottle of cava and snacks for our arrival. Every detail, from the sealed bags of kitchen cleaning supplies, to fresh towels and slippers, was branded with her Airbnb name.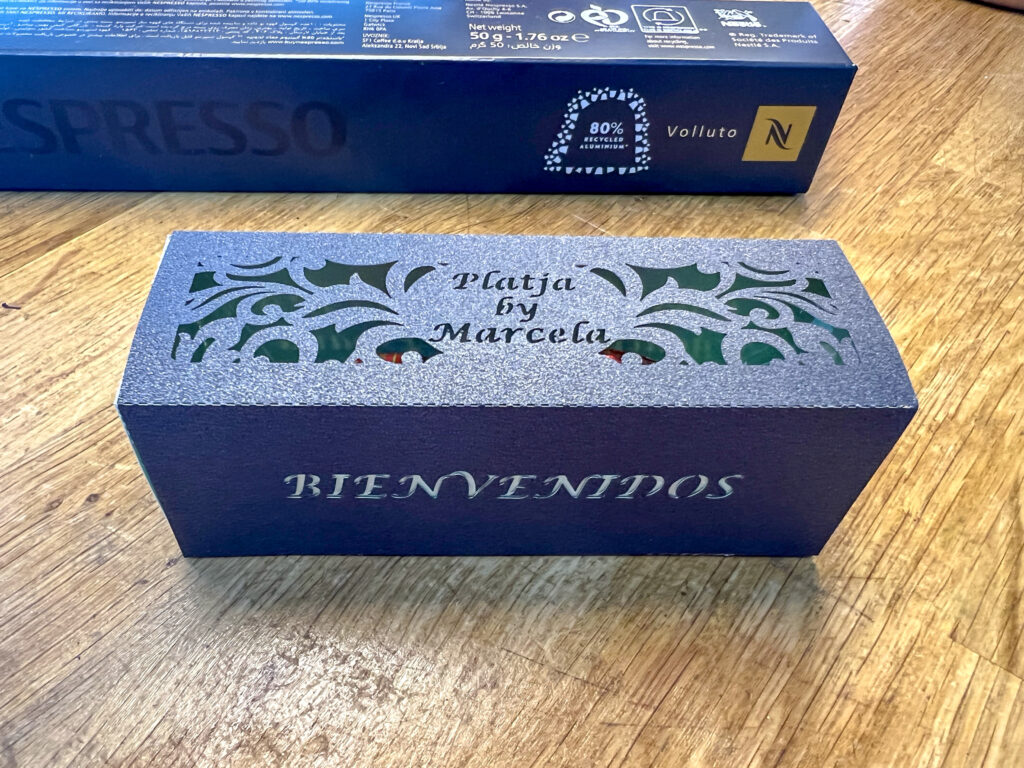 First Day in Platja d'Aro
Our Airbnb was perfectly located along the beach which had a great beachwalk with tons of bars and restaurants. After arriving, we changed and walked to pick a place for lunch. We settled on La Calma. Seated at a front table overlooking the beach, we enjoyed a goat cheese salad, steamed clams, fried calamari and a few cocktails. We noticed some other people eating a delicious looking lobster paella, and decided we would go back again for another lunch.
Following lunch we hit the beach. We chose to get the rental chairs for a few hours and they were very comfortable. The sun was shining but the water temp didn't reflect that. We dipped our toes in the water, but it was pretty cool so we didn't stay in long.
For dinner, we had gotten a recommendation from Marcela for Restaurant Feliu. On our way there we stopped for some so-so cocktails at Manhattan. Once we got to Feliu, we ordered wine, a jamón and melon appetizer, a fish entree for me and roasted chicken for Nik. It was all delicious. We then walked the Main Street (Avinguda de s'Agaró) in town and grabbed a drink at Baobab Lounge Club before heading to the beach to end the night with beers while watching fireworks.
Day Two in Platja d'Aro
After some underwhelming bakery items for breakfast from the nearby grocery store, we hit the beach, again renting the chairs and umbrella. It was another beautiful sunny day. We hung out for a bit and then walked to get lunch at La Calma. The lobster paella was absolutely delicious and quite filling. To wrap up the afternoon, we headed back at the beach. Heading out for dinner, we walked along Avinguda de s'Agaró again and it was booming! We settled on eating at Enjoy It and were total tourists getting mozzarella sticks and a pizza. They were sufficient enough to fill us. We topped dinner off with some gelato just up the block.
Day Three in Platja d'Aro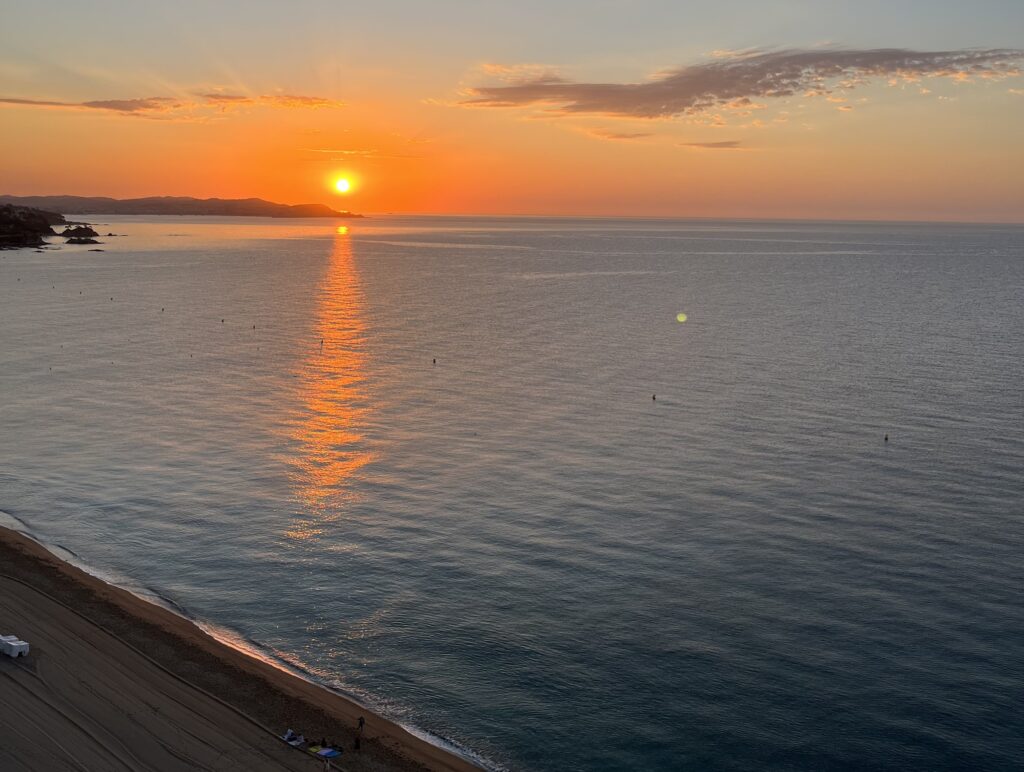 Since we had such an amazing view from our Airbnb, Nik wanted to get up early to catch the sunrise. It was beautiful.
We got back into bed for another hour or so and then took Koval out for a morning walk and photo-op along the beach. I'm biased of course, but he's just so cute.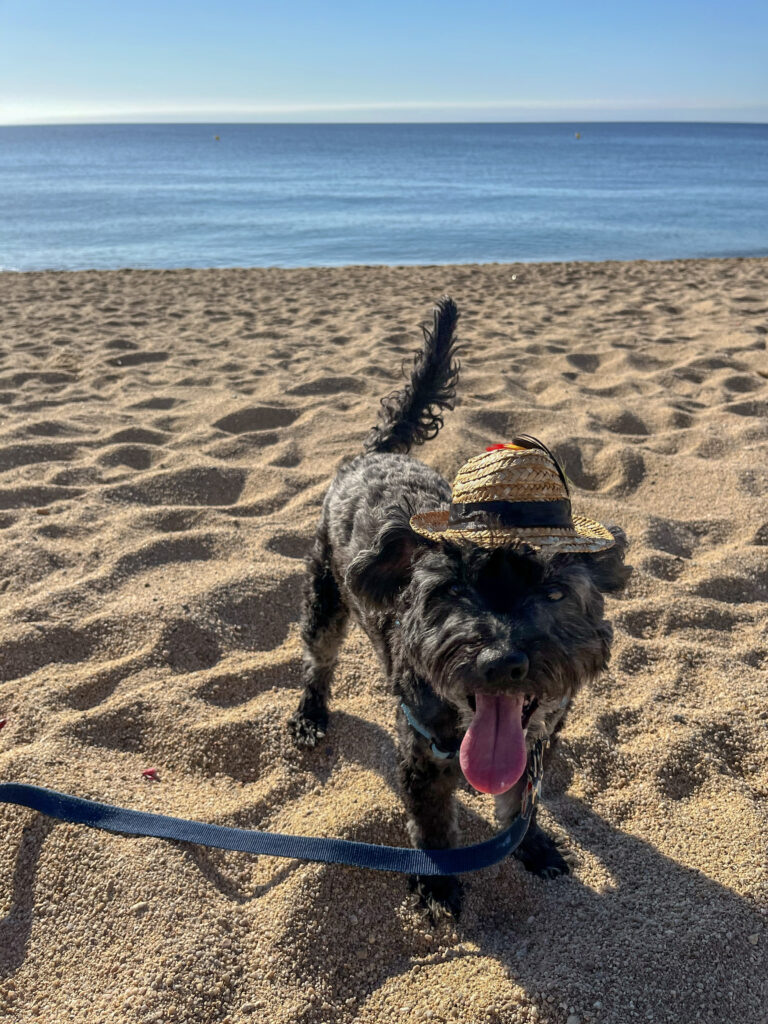 I was determined to get a real breakfast and a place called Friends next to La Calma looked good. So we packed our beach bag, went for breakfast and then hit the beach one last time. The water was still pretty cool, but we got in this time and played a little catch with the nerf football we brought. Following a late lunch and naps, we walked to the Avinguda de s'Agaró again and got a few beers at an Irish bar called The Shamrock Club. Nik was in heaven having a few pints of Guiness. We followed that up with a quick cocktail at Argus Mixology and then made our way to dinner at La Tagliatella. We ended the day back along the beach having drinks at Bobar Beach Bar.
Fairwell Platja d'Aro
We took our morning walk to an actual bakery and got a few breakfast items before loading the car to head back to Barcelona. I was a little sad to leave the beach town. It was such a nice change from the hustle and bustle of the city. A weekend in Platja d'Aro was just what I needed. Props to Nik for lugging Koval's crate to and from the car and doing the drive to and from the city.