It probably surprises many people that Nik and I hadn't been to London before. Once we got our various Spainish residency papers squared away, we were ready to leave the Schengen Zone with a trip to London. We had three and a half days to explore and eat our way around the city. Let's dive into the main recap below and check out our pub specific post here.
Exploring London
Having so much to see and do, we liked that our hotel was close to Tower Bridge with many public transit options nearby. We took an easy train ride from London Gatwick Airport to the hotel, though the train station at the airport was a shit show under construction.
The Dixon Hotel
Booked through Marriott, we stayed at The Dixon, Tower Bridge, Autograph Collection. The building dates from 1906, when it served as the Tower Bridge Magistrates Court. A beautiful entryway and grand staircase greet you upon arrival. We never had a meal at the hotel, but we did have a few drinks at the hotel bar and it was quite lovely.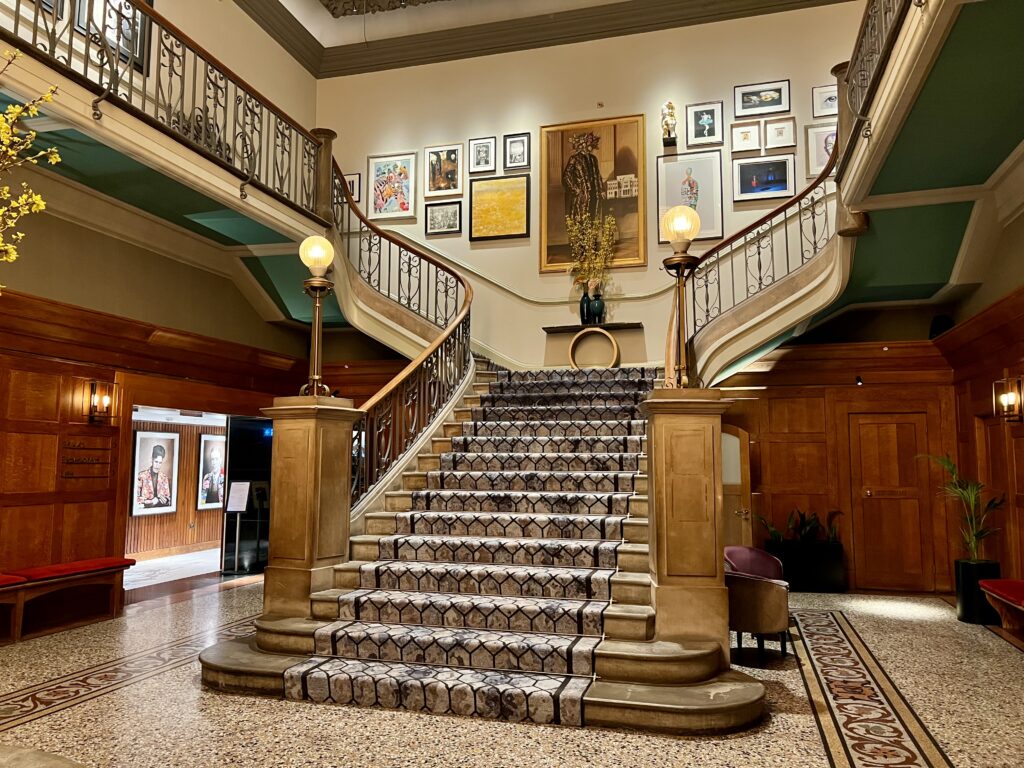 Mounted along the wall on the way to the elevators are etchings carved by prisoners into the cell benches. They've been saved and repurposed as pieces of art. Some of the former benches were turned into table tops that were located on each floor. A cool way to preserve its history.
Sky Garden
A friend told us about Sky Garden, a skyscraper with a leafy indoor garden and panoramic views. It's on the 35th floor and offers views in every direction of London because of its glass walls and windows.
Entry is free and it's highly recommended to reserve your ticket ahead of time. There is a sit-down restaurant and a bar to enjoy as well. While the sun didn't exactly help for some of our pictures because of the lighting and glares, the views were still incredible.
We there around 1:30pm and spent maybe an hour taking in the views and having a drink. So much to see and marvel at, including St. Paul's Cathedral, the Tower of London, Tower Bridge and The Shard, the tallest building in the United Kingdom.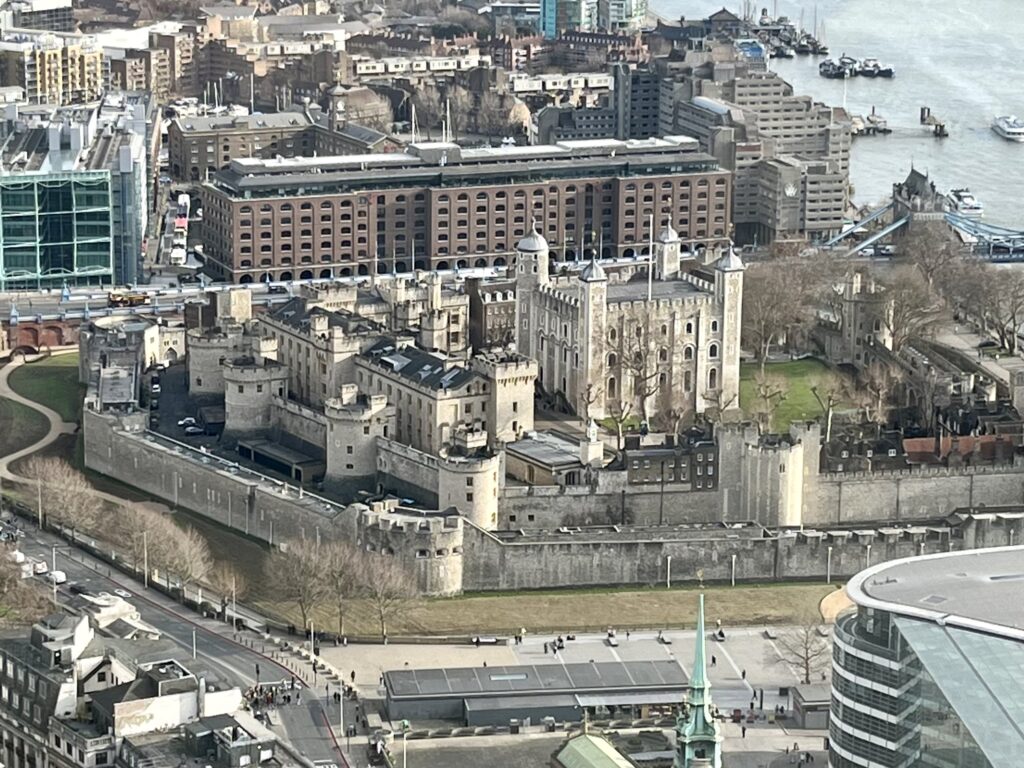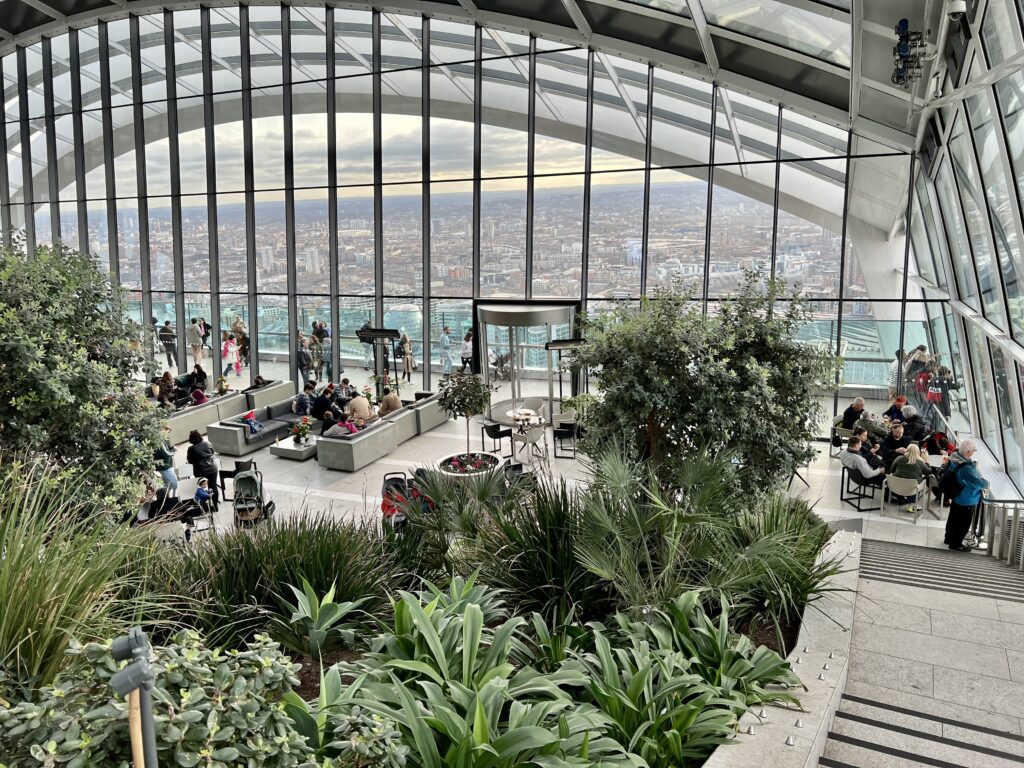 Big Ben and Surrounding Area
Would a visit to London be complete without a selfie with Big Ben in the background? I think not. I absolutely love the architecture of Big Ben and the Palace of Westminster.
Also in the area is Parliament Square with monuments for many historic figures from British history including Winston Churchill.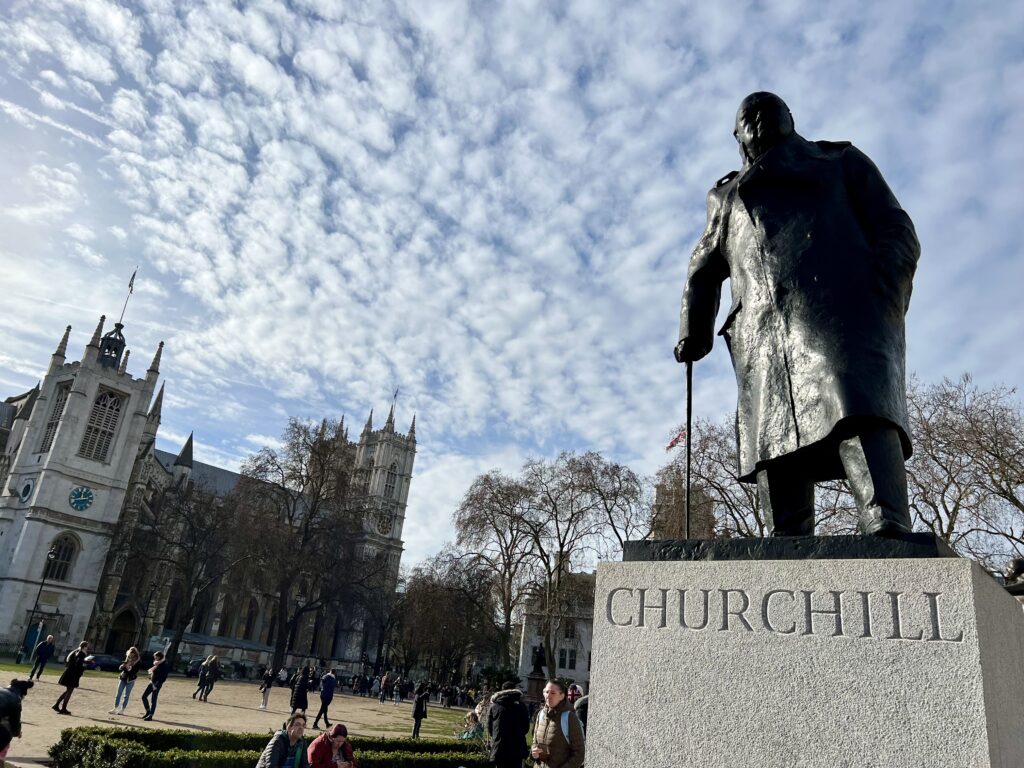 The British Museum
With limited time for our trip to London, we opted to visit The British Museum instead of some of the other great museums around London. We would come to regret this decision. (As an aside, free entrance is standard in all UK National Museums, although some exhibits do require an admission fee to view.)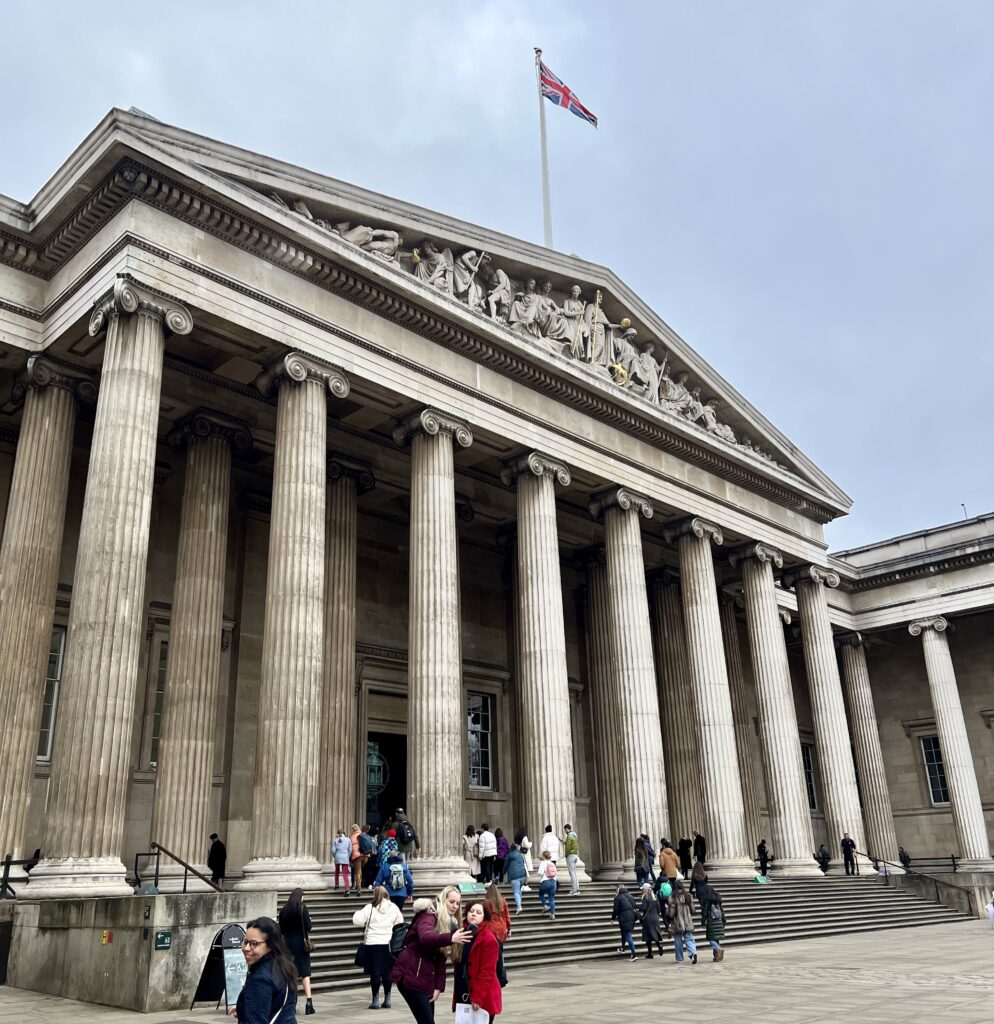 We used a Rick Steves audio tour to guide us around the museum in under 90 minutes.
While it was interesting to see many Ancient Greek and Egyptian items, we were very disappointed with the museum otherwise. The Rosetta Stone, which hasn't been moved in 18 years, was moved to a special exhibit requiring an entrance fee. We didn't know this ahead of time, nor did we pay to go see it. Instead, the museum had a replica on display, hence our disappointment.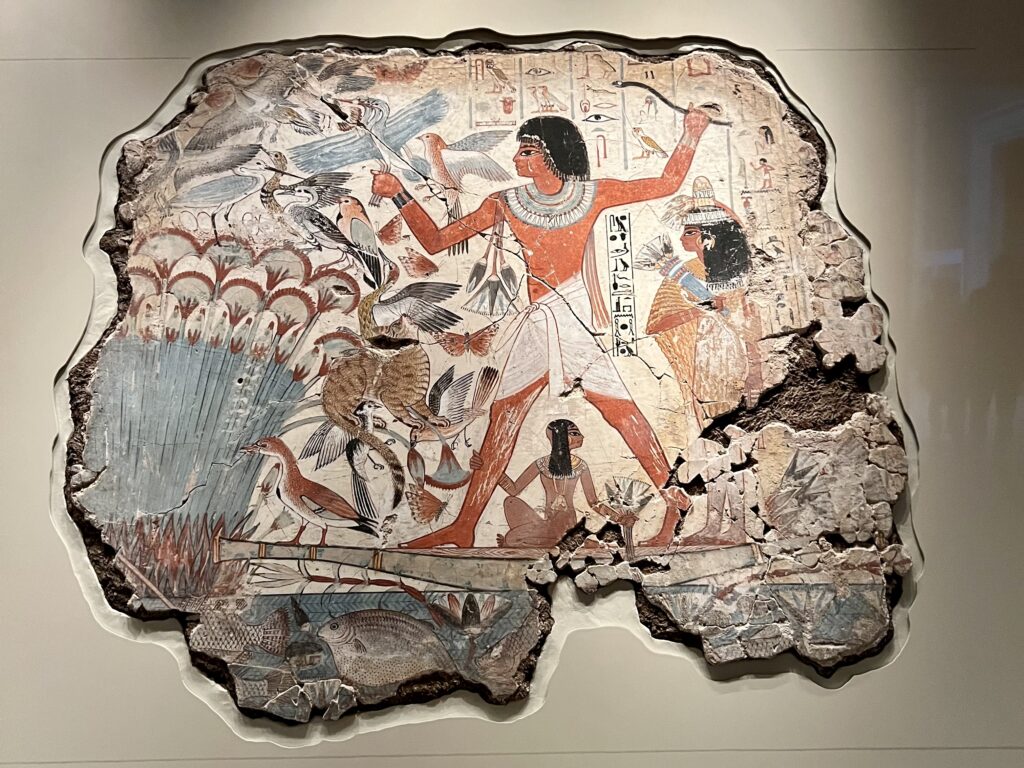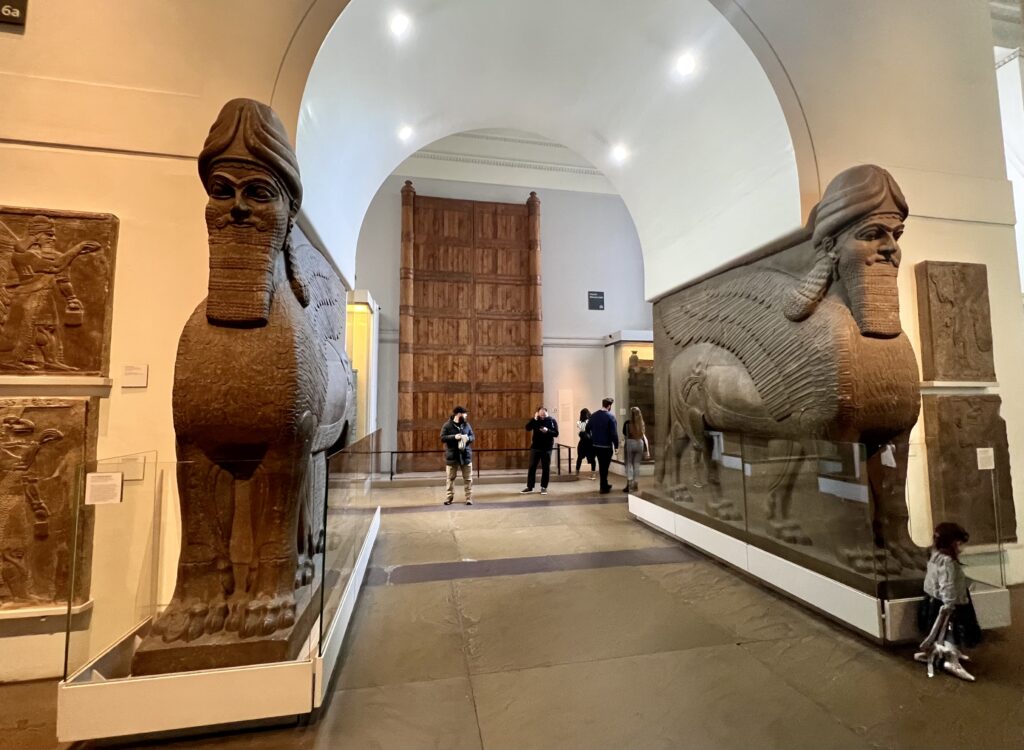 The Lehman Trilogy
Continuing with the tour of culture we went to the Gillian Lynne Theater to see The Lehman Trilogy. The play is based on three generations of Lehman family and the history of Lehman Brothers firm from its founding in 1850 until its collapse during the finical crisis in 2008.
Trafalgar Square
On our last full day in London we did a lot of walking, which is always a great way to see a city. As such, we walked through Trafalgar Square.
The square is named after the Battle of Trafalgar, a British naval victory in the Napoleonic Wars against France and Spain that took place in 1805 off the coast of Spain. At the center of the square is a statue of Admiral Nelson who led the British to victory but was mortally wounded. Nelson's body was put into a barrel of brandy to persevere it during the transport back to London.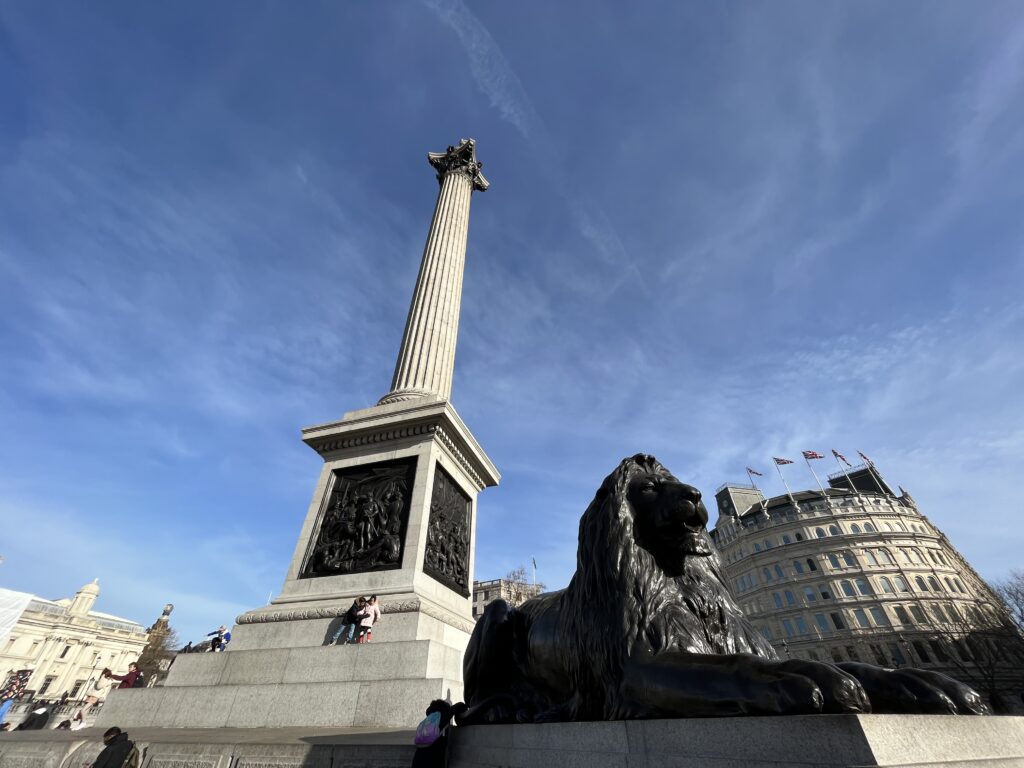 Fun fact:  There are four bronze lion statues in in Trafalgar Square which were made from melted down cannons from the French Fleet. This isn't the first time we've seen captured French cannons used in a victory monument.
Kindertransport Memorial
I feel like a lot of this year abroad for me has been learning more about my family history, mostly on my maternal side, and seeing some of the places from which my Grandma Trude and her siblings fled Vienna.
My Aunt Hedy, grandma's youngest sibling, was fortunate enough to leave Vienna as a refugee on the Kindertransport to London. After arriving, she connected with her older brother Sandy and eventually made her way to the United States to be reunited with her other brother Otto, my grandmother and their mother, Charlotte.
At Liverpool Street Station in Central London is one of five sculptures, the others being located in different cities, built to remember the rescue efforts.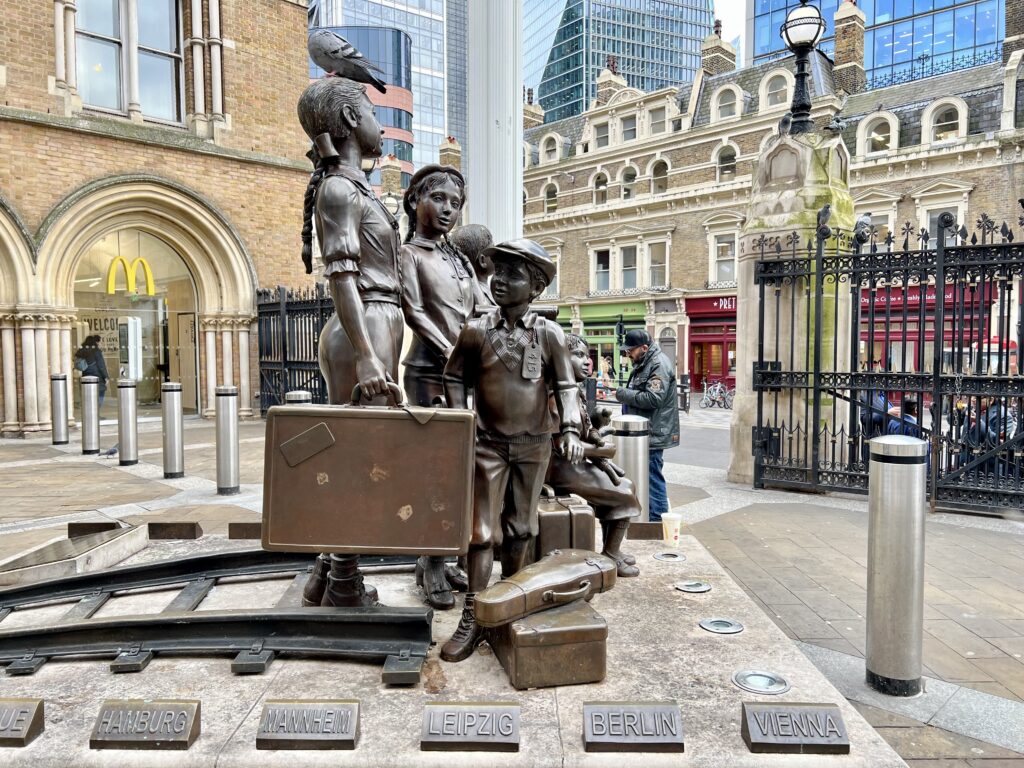 If you're not already familiar with what the Kindertransport was, please read about it. It was a rescue effort that saved thousands of children from the Holocaust. Linked above and here again.
Buckingham Palace
Not sure if it was because of the cool and damp feel of London, but I wasn't overly impressed with the exterior of Buckingham Palace. I've been more impressed with Versailles in France and Schönbrunn Palace in Vienna, Austria.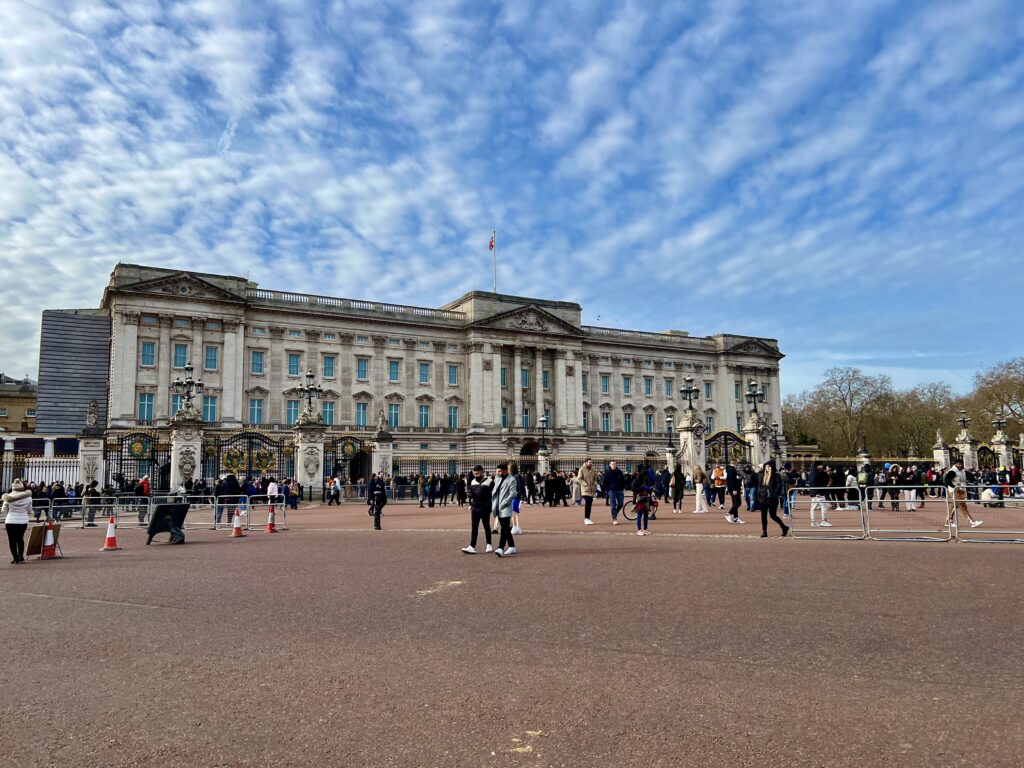 We also didn't look ahead of time to see when Changing of the Guard would be taking place, so maybe that would've changed my opinion. It turns out we just missed it by 45 minutes or so.
A nice touch in the area was seeing one of the Diana Princess of Wales Memorial Walk plaques.
Chelsea vs. Fulham Football Game
During the height of Covid when sports returned to action, it was many of the international soccer leagues that started to resume play first. As avid sports fans, we started to watch and Nik picked up on the Premier League, the highest level of men's English football. When we started to plan this trip to London, we checked the various team schedules to see who might be playing thinking it'd be a little of a bucket list item if we could catch a game.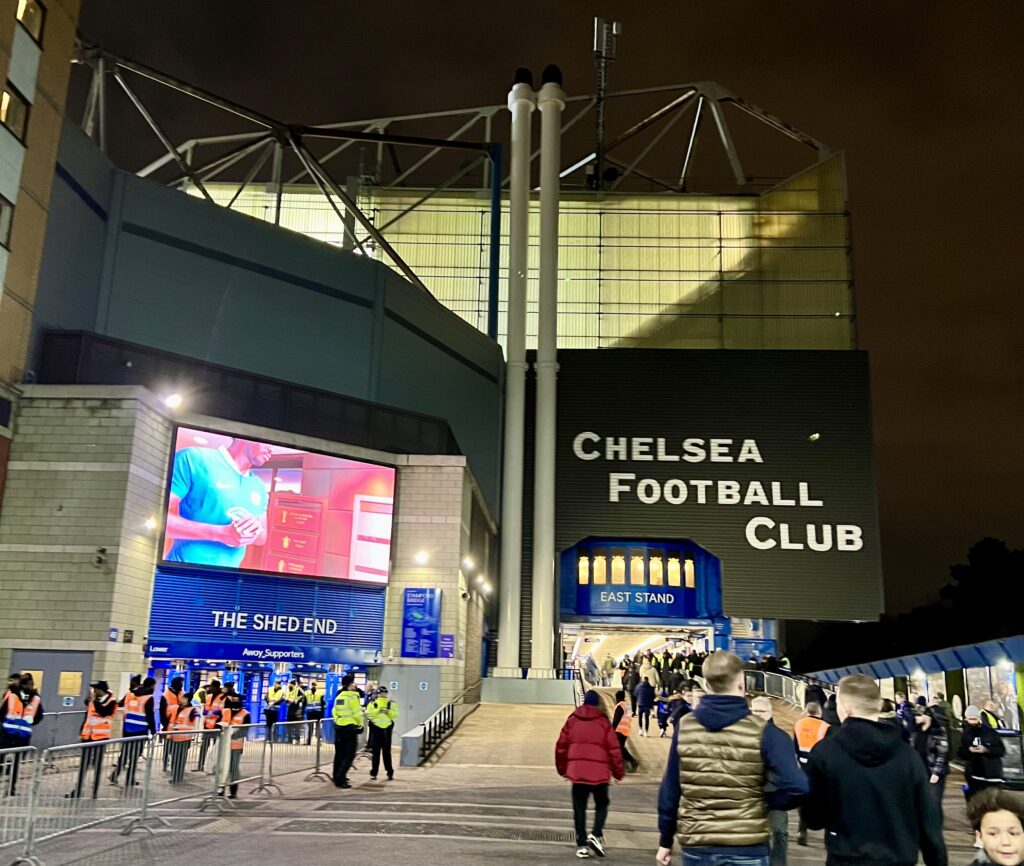 We settled on the Chelsea vs. Fulham game at Chelsea's stadium, Stamford Bridge. This matchup is also called the West London derby, a name given to a game played between any two of Brentford, Chelsea, Fulham and Queens Park Rangers, all of whom are situated within West London.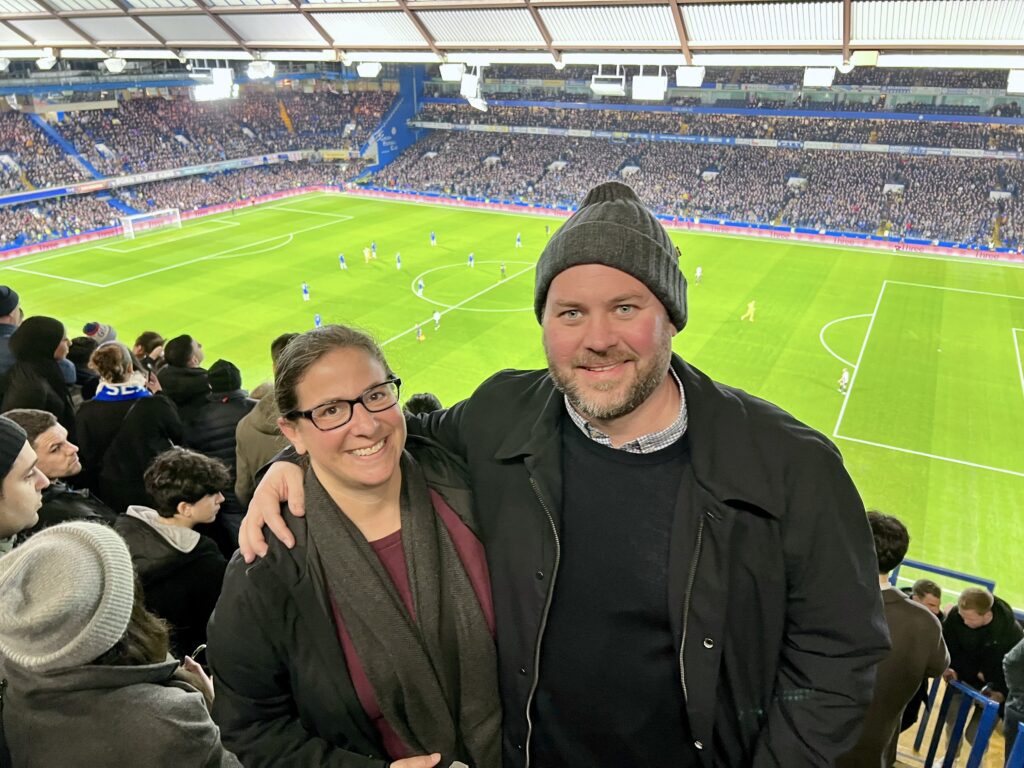 Navigating the websites of these teams and their ticket sales can be confusing, so we asked a friend who knows some people in the soccer world if he might be able to help us get tickets and he came through. We cannot thank him enough.
Getting to the game was really quite easy by taking the London Underground and then having a short walk. Crowds of people took over the sidewalks and streets and while they had tons of "security staff", the bag checks were all kind of a joke. No metal detectors or security scanning wands, quite the opposite of seeing any sporting event in the States.
Our seats were up high, but under an overhang with the sides enclosed so we weren't too cold. The game ended 0-0, but there were a few good scoring chances for both teams. We're glad to have gone to the game and experienced some "proper football" as my friend calls it.
Eating and Drinking in London
As I was adding places to our Google Map (yes, we make one for every trip we take) I noticed that London has Chipotle! Not really picture worthy for the website, but it was our first meal after arriving into the city and it was pretty good, considering it's been 10 months without it. In addition to burgers at Shake Shack…again, it's been 10 months…we hit some pubs, craft beer spots and the famed Borough Market.
The Bermondsey Beer Mile
I stumbled upon an article that referenced The Bermondsey Beer Mile, something neither of us had heard of before. It's a stretch of craft breweries and taprooms spanning almost a-mile-and-a-half of streets and railway arches, perfectly tailored to bar hop.
A quick walk from our hotel, we started along the Bermondsey Beer Mile at The Barrel Project/London Beer Factory. Nestled inside an enclosed archway, it was a cool spot. We had agreed to limit drinks to one at each place so we could fit more stops in. While The Barrel Project had upwards of 20 drafts, we truly only had one drink each.
Next stop was Anspach & Hobday, also a cool space with a nice variety of stouts and porters, perfect for the cool London weather. We failed and forgot to get a picture.
It's here I should mention that not all of the places on this stretch were open when we were there and many didn't have their front doors closed so we picked and chose where we went.
Our third stop led us to a place with a normal door, Gosnells Meadery Taproom. Neither of us are big mead drinkers, but theirs were very good. It was possibly our favorite stop because the bartender and owner were really quite friendly and chatty. Up to this point, the places we had been had staff with zero personality.
Following our stop for mead, we went to Cloudwater next door. It was ok. Not a lot of seating and staff once again with no personality.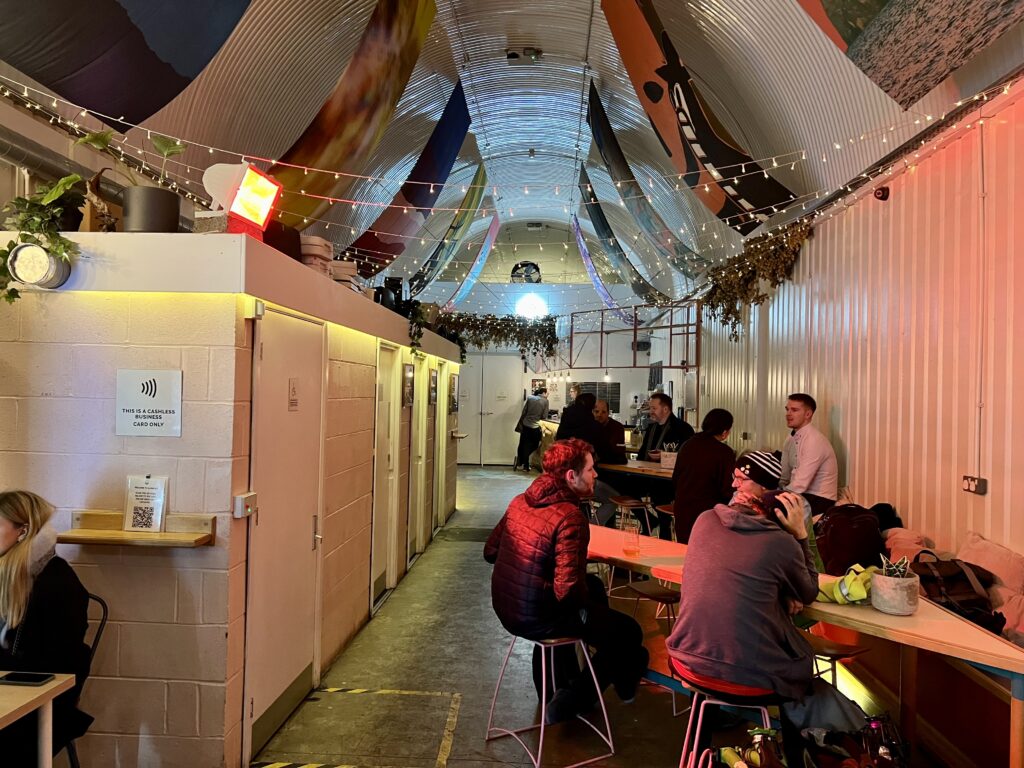 Our last stop before going to get dinner was at The Kernel. A spot not to be missed according to the guys as Gosnells, as it was one of the first to open in that area. The Kernel had a good variety of beers and their space was nicely built out. The pictures above and below are good examples of how all these places built out their space in the arches.
Related: Our post on the London Pubs we visited
Borough Market
Borough Market is a historic wholesale and retail market food hall. It's one of the largest and oldest in London, dating back to at least the 12th century. An easy walk from our hotel, we made two visits to the market and wish we could've eaten more each time.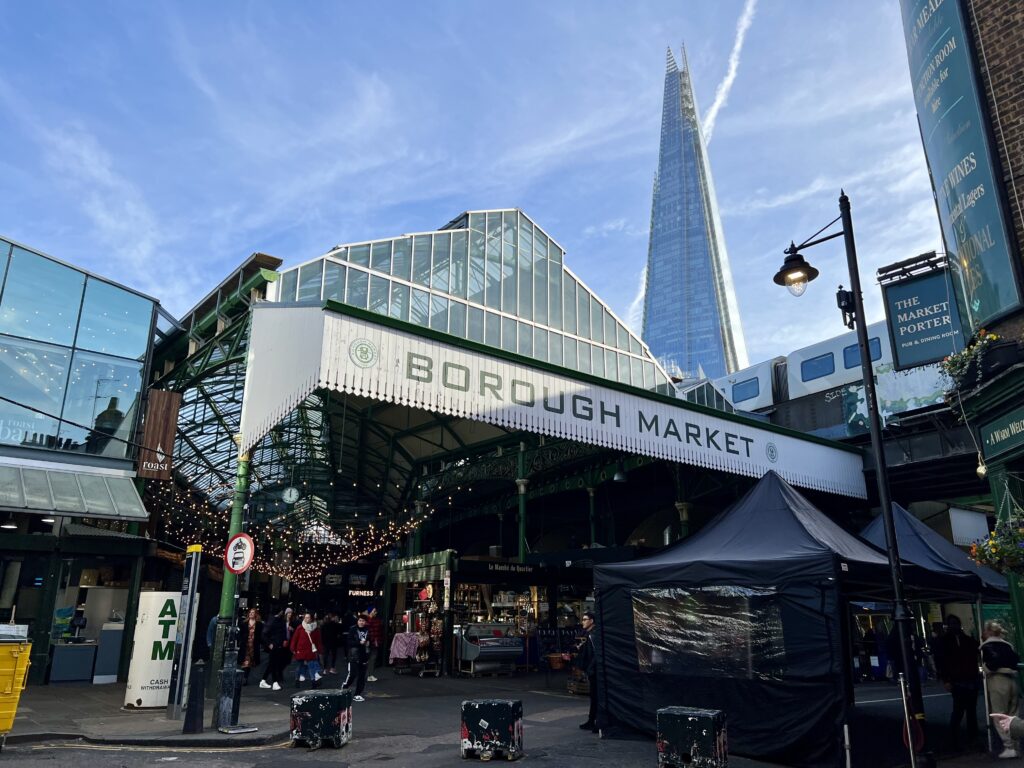 Having done research ahead of time, we knew we wanted the sausage roll from The Ginger Pig and it did not disappoint. Piping hot, so delicious and a good portion for the 5.50€ it cost.
The second food stand we heard about was The Black Pig, known for their toasted ciabatta sandwiches with slow roasted pork. Borough Market is huge and The Black Pig was kind off to a side area with other food vendors. We missed the area on our first trip to the market and I was determined to find it on our second visit.
Thank goodness we didn't give up looking for its location. Using at least three Big Green Egg's for the pork, the smells were divine. They offer a few different options for the pork sandwiches and we went with the smoked scamorza sandwich and it was so good. Nik and I shared the sandwich but I think we both would've enjoyed having our own.
Cocktails at Tayēr + Elementary
London has a handful of cocktail bars that landed in "The World's 50 Best Bars" list, inluding the No. 2 (Tayēr + Elementary) and No. 8 (Connaught) bars. Having been to the No. 1 spot (Paradiso in Barcelona) and the No. 3 spot (Sips, also in Barcelona) we thought it'd be cool to hit the second top spot.
Tayēr + Elementary was a little away from most of the others things we were seeing and doing, but they opened at 3pm which was convenient. Their website didn't have a lot of information so we didn't know what the experience would be like.
The workers were all very friendly and social. But the drink presentation was different than most other cocktail bars we've been to. They have a list of 15-20 drinks and they're mostly all premixed and poured from a draft or from a bottle over a large ice cube. They all tasted good, and the price point was comparable to most other places, but I wasn't that impressed with how they were served. I want a little creativity in the serving vessel.  That being said, the vibe was more of a cool bar than a trendy cocktail joint which was fine by us.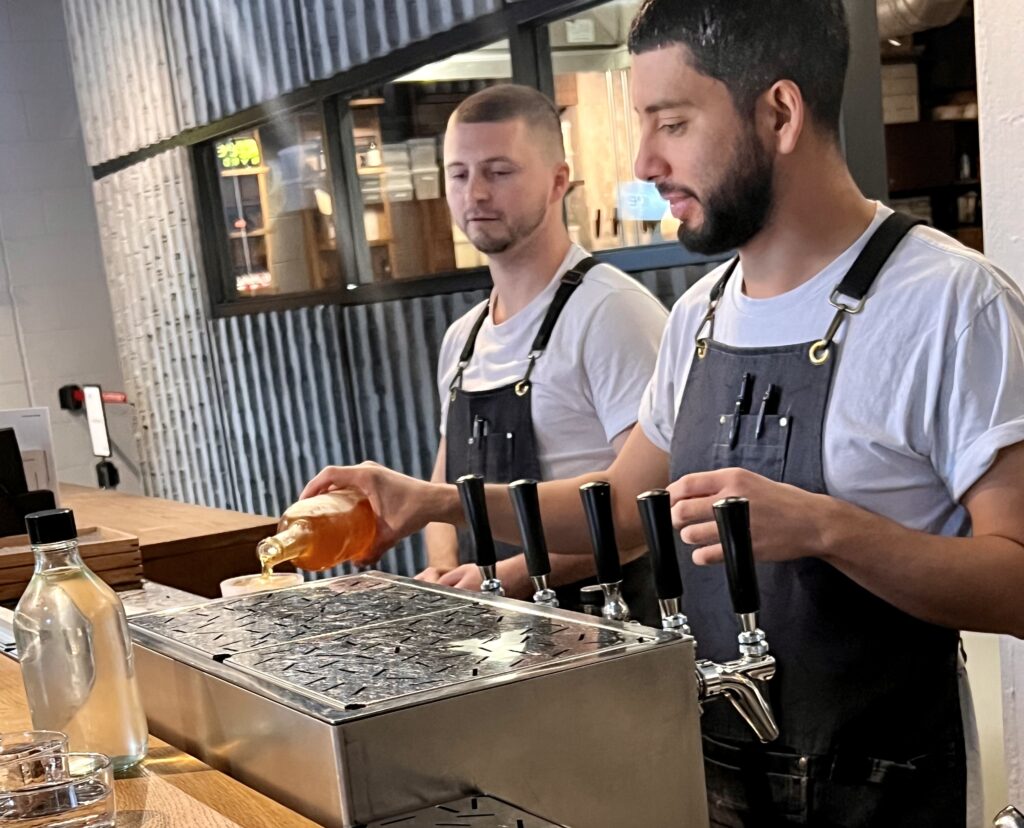 London Pubs and Pub Food
No shortage of pubs in London would be an understatement. We covered a few different types, all old, but some with modern updates inside and felt this section needed its own post. But let me at least highlight a place we visited twice and could've spent more time at.
Ye Olde Cheshire Cheese
Ye Olde Cheshire Cheese is a true historic gem and one of the most famous in the world. Read more about its history and the famous writers who dined and drank there. Located down a narrow alley, it's easy to overlook the entrance.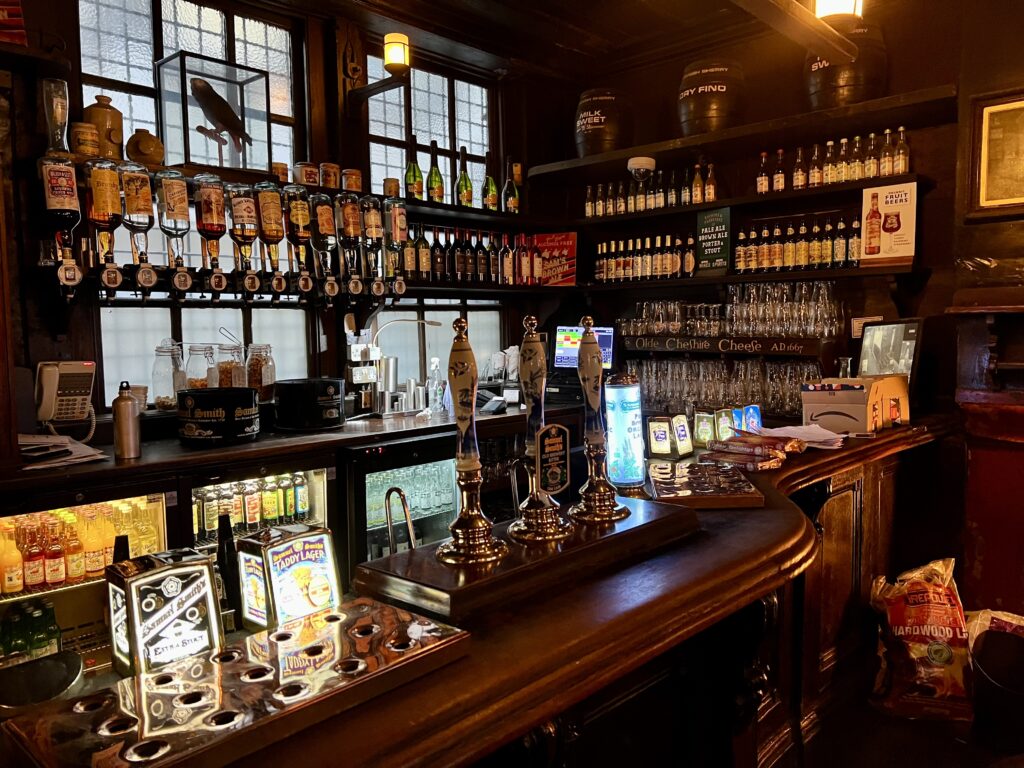 It reminded us of McSorley's in New York City because of the sawdust sprinkled on the floor and of Fraunces Tavern, also in New York City, because of all the wood paneling and old paintings.
The pub is currently owned and operated by Samuel Smith Brewery, so the beer selection is limited to their offerings. The stout and lager were perfect for the setting.
Outside of main entrance is a list of all the monarchs who have reigned in England during the pub's existence…you'll notice it needs some updating:
Overall we had a great trip to London. Our days were jam packed and we covered a little of everything. Weather was on our side too, it once sprinkled rain for maybe five minutes during our first afternoon there.