Our trip to London was highlighted by the numerous pubs around the city. Some we knew were old and worthy of a visit and some we randomly walked into. All of them were pretty good and different, so we felt the London Pubs we visited needed its own post.
Lamb and Flag
Lamb and Flag still had the old charm throughout. Nestled in the Covent Garden neighborhood, it has a tight space on the main floor by the bar and an old wooden upstairs room for dining. It was in the upstairs space that we enjoyed fish n chips and a garlic and cheese crusted chicken schnitzel. The staff upstairs were incredibly friendly and seemed genuinely happy to be there.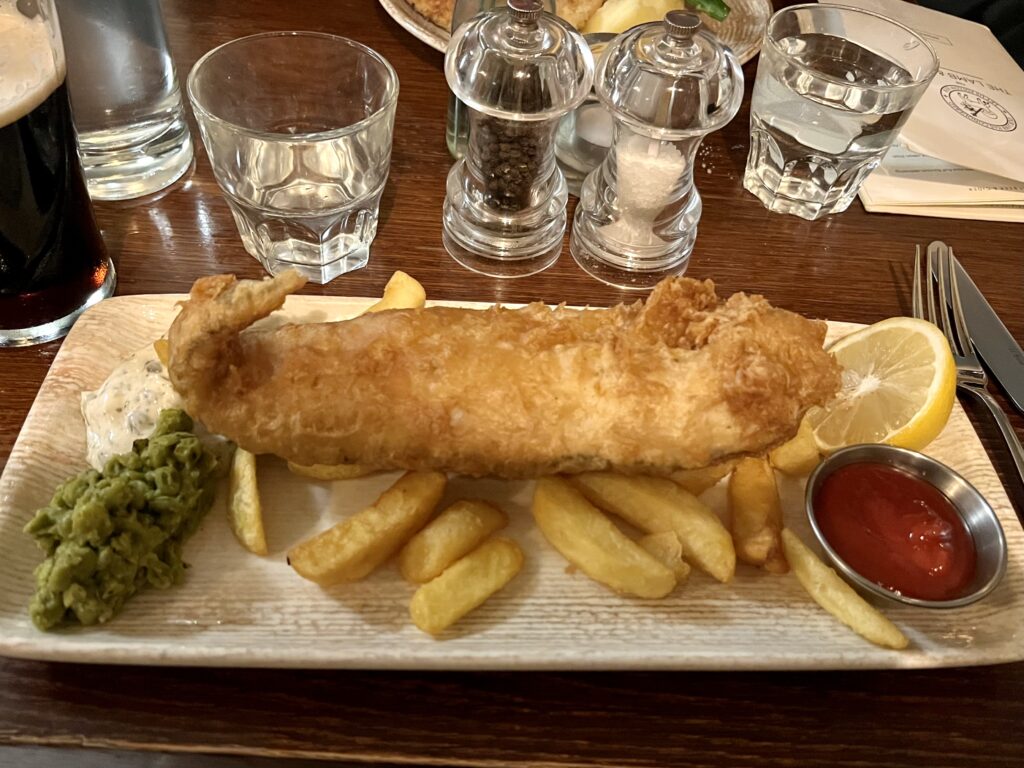 According to its website, the pub had a reputation in the early nineteenth century for staging bare-knuckle prize fights. Quite possibly they were held in the upstairs space.
Ye Olde Cheshire Cheese
A pub we visited twice and easily could've spent more time at was Ye Olde Cheshire Cheese. It's a true historic gem and one of the most famous in the world. Read more about its history and the famous writers who dined and drank there.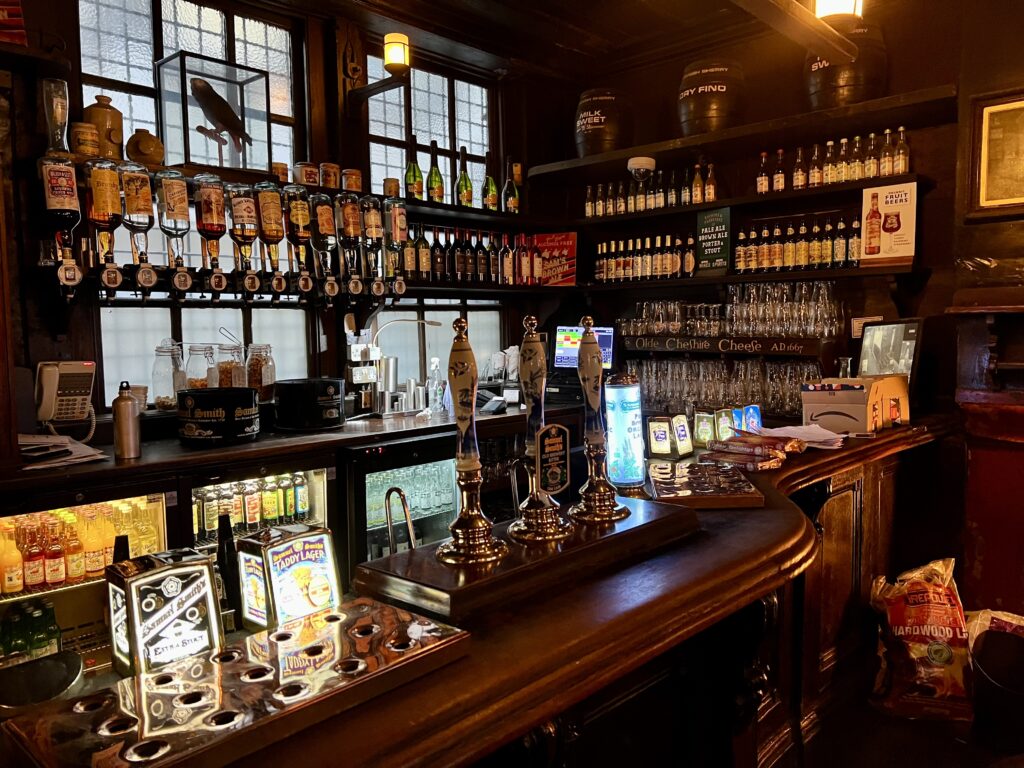 It reminded us of McSorley's in New York City because of the sawdust sprinkled on the floor and of Fraunces Tavern, also in New York City, because of all the wood paneling and old paintings.
Outside of main entrance is a list of all the monarchs who have reigned in England during the pub's existence. While it needs some updating, it's a cool old touch.
Sunday Roast
We had several places on our map for Sunday Roast but ended up at Punch Tavern, just down the street from Ye Olde Cheshire Cheese. From the outside, it didn't seem very inviting, but once inside, it was very nice.
The Punch Tavern started as a gin palace back in the 19th century. It had a mix of old and new interior and delicious food, which is what mattered most.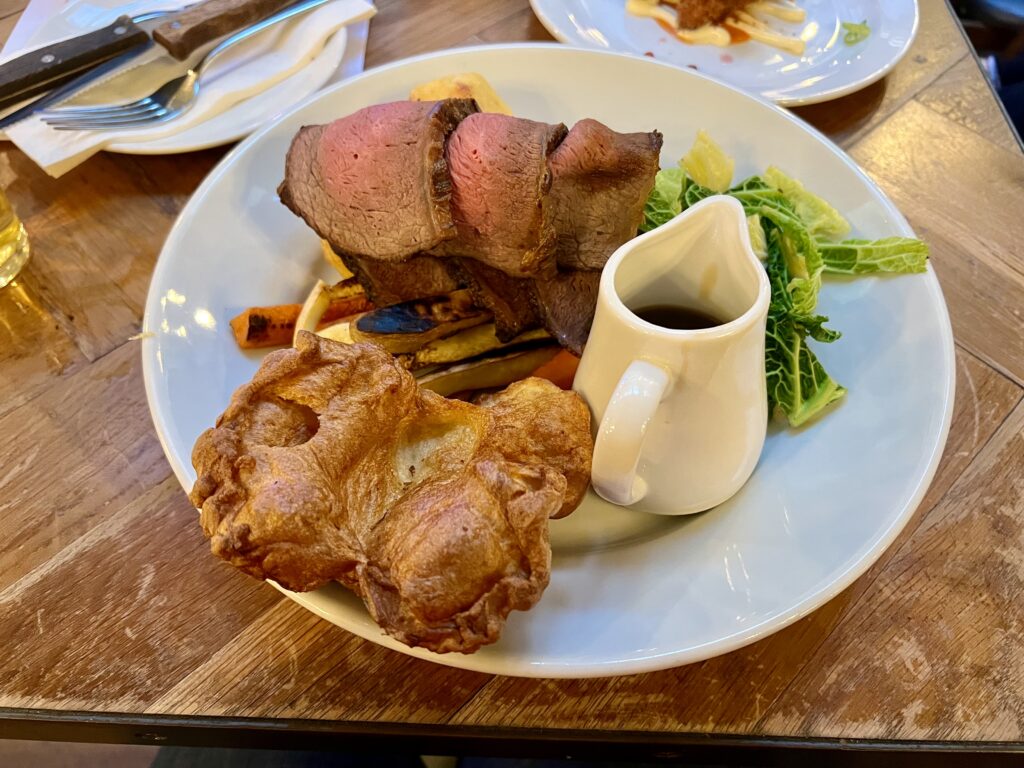 Nik and I shared their beef rump Sunday roast complete with roast potatoes, buttered carrots, parsnips, Yorkshire pudding and gravy. The side of breaded halloumi sticks were also very tasty.
Old Bank of England
The Old Bank of England has a beautiful exterior and it seems like it takes up a quarter of the block its on.
Located down the road from the Royal Courts of Justice, the pub resides in the old Law Court's branch of the previous Bank of England which operated from 1888 to 1975. The inside has definitely been renovated and updated but is still an eye catching place for a drink.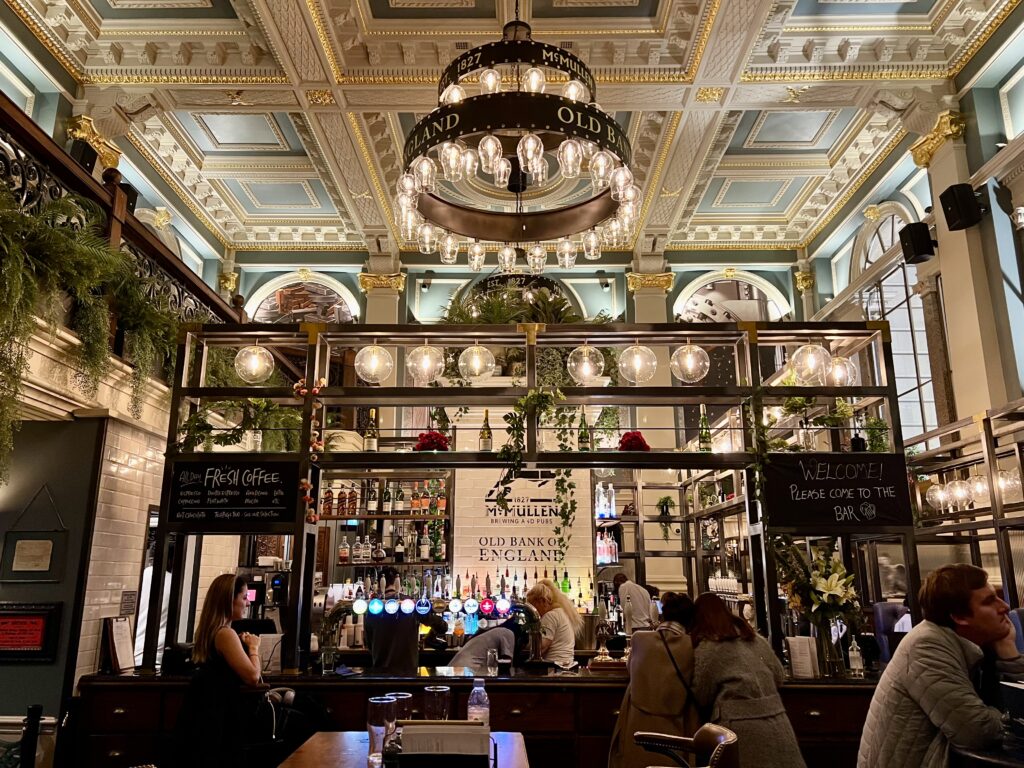 Ye Old Cock Tavern
Across the street from the Old Bank of England is Ye Old Cock Tavern. Also a former gin palace, the pub has 16th century roots. We weren't there long and so we didn't take in all of the history that the location has to offer.
The Blackfriar
Located in its namesake neighborhood of Blackfriars, The Blackfriar pub was so cool inside and out. Reminiscent of the Flatiron Building New York City for its shape, the building sits next to a railway line. Because it was dark, you can't see it too well, but there is a Black Friar perched on the front.
The pictures we took of the inside don't do it justice. Marble everywhere. The bar, the tables, around the fireplace. Various monk depictions hung above the bar and on side walls. The dining alcove is also a sight to be seen in person. We were there just before closing time so we weren't able to stay long.
The Cockpit
This is one pub we purely stumbled upon because of its location. Cockpit didn't really leave much to be desired, but it was a Sunday and there weren't many options. Named – wait for it – for cockfighting that once took place there! The building from the outside was very cool. Inside though, we had our one drink and moved on. There was a funky old smell right as you walked in with carpet throughout.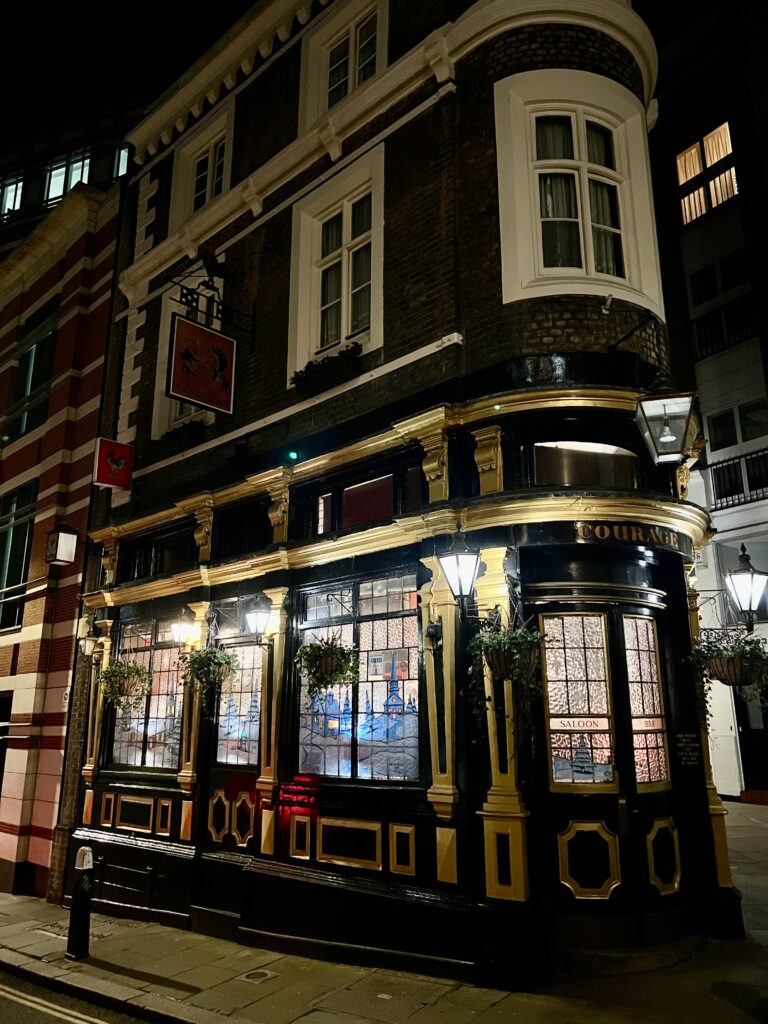 The George Pub & Restaurant
Another random spot we had a drink was at The George Pub & Restaurant when we were walking along The Strand. It's what you would picture as an English pub with wooden paneling. Though we didn't eat there, the food we saw being served looked good.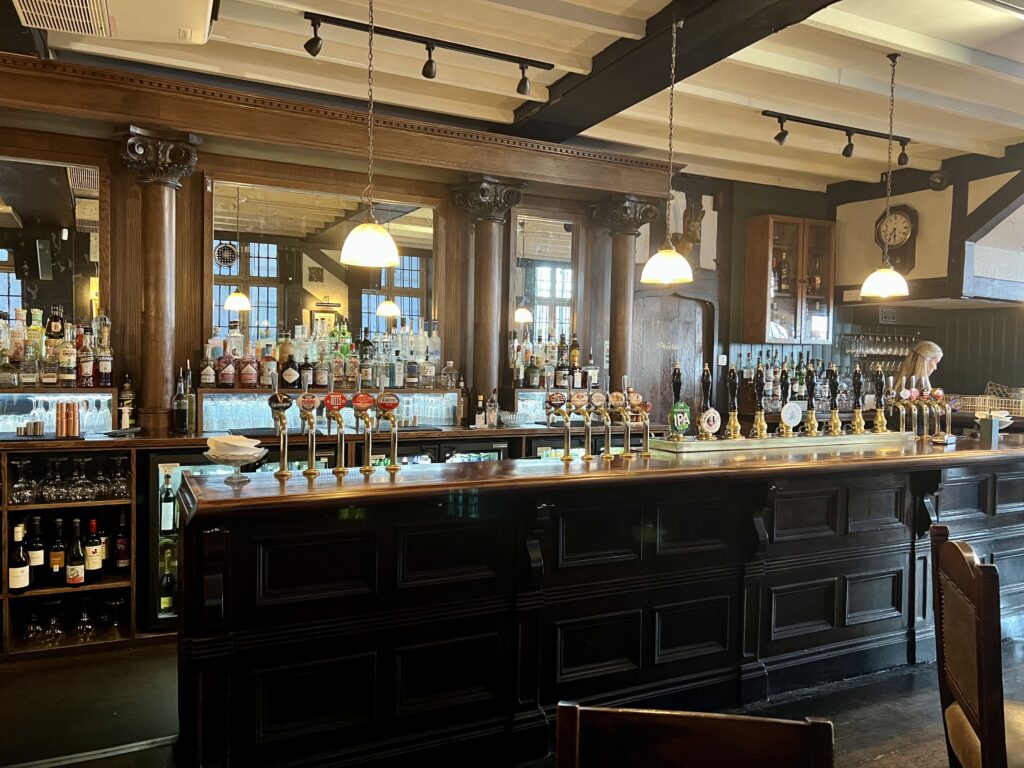 One spot we tried to grab a drink at was The Old Bell Tavern but it was closed each time we walked by, even though Google said it'd be open. Highly acclaimed English architect Christopher Wren opened The Old Bell Tavern for his masons working on a nearby projects.
Safe to say we covered a lot of ground. If you've been to London, what have some of your favorite pubs been? If you haven't visited before, know that you order at the bar and pay each time. Very rare to have table service or to start a tab.