Once we decided that Lufthansa was the airline we wanted to fly to Barcelona, mostly because of their good reviews of flying animals, we decided to treat ourselves to business class seats. For the most part, their flights went through either Frankfurt or Munich, but only Frankfurt flights allow for animals. As we started looking at flight options, most of the flights from ORD to FRA were on a 747-8 (aka the Queen of the Skies) which has an upper deck. That about sealed the deal for us because we wanted the experience of  sitting in the upper deck while flying Lufthansa business class.
Boeing 747-8 Queen of the Skies
We had read that the Lufthansa 747 planes are nice, but also unique. The upper deck lie flat seats are in a 2-2 cabin configuration. The main deck (lower level) seats are a 2-2-2 configuration. The unique aspect is that there is no divider between the two seats and if you have the window seat, there is no direct aisle access. So if you don't know your seat neighbor, it could make for some awkwardness when the seats are in the lie flat position and you need to ask your neighbor to move or hop over them. (This is the opposite of how American Airline business class seating is. They're a 1-2-1 configuration, but the two in the middle have a clear divider and each seat has direct aisle access.) Another pro of the upper deck is that each window seat has a large storage compartment next to it. Perfect for keeping your smaller bags nearby without having to reach overhead if you wanted something.
I was so preoccupied with filming the walk up the stairs to our seats and then making sure Koval was on the plane, that neither Nik or I took any pictures of the seating layout. We did get a welcome drink while the plane finished boarding and that was nice. Just as boarding was wrapping up, it started to rain in Chicago but thankfully it didn't lead to any delays and from what I can remember, takeoff was pretty easy. I could tell we were on a bigger plane and that takeoff seemed a lot quieter.
Each passenger got an amenity kit, always a nice touch. Included were socks, ear plugs, dental kit, lip balm and lotion. Most amenity kits are in some sort of zippable pouch but ours was in a rolled-up re-usable bag (in the Rome design) that has since come in handy while shopping in Barcelona.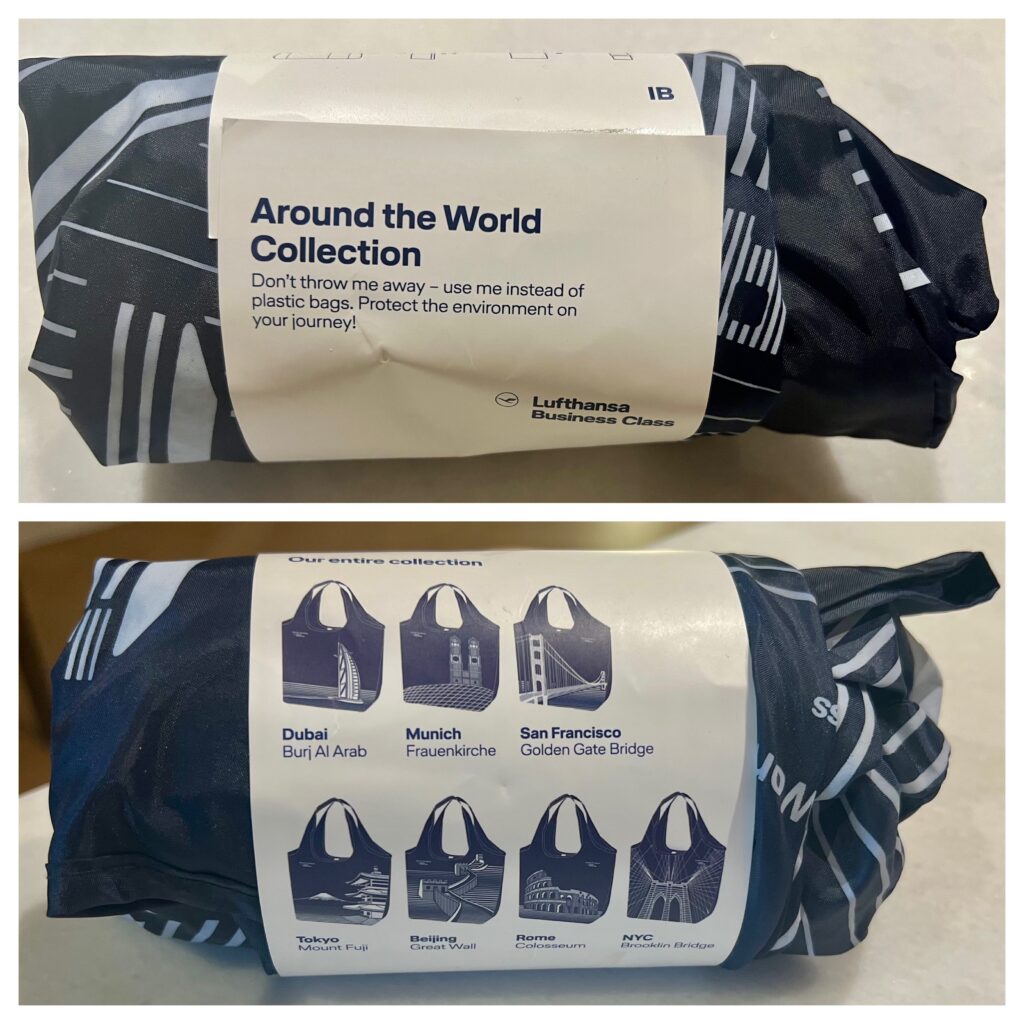 I wrote more about our food and meal service in the "made it to Barcelona post," but below are a couple of pictures.
Food
The food was good, but I was disappointed with the lack of snack options after dinner service and during the course of the flight. I had to go ask for some nuts and a soda. To compare, when Nik and I have flown AA business class, they always had little snack bags of chips and mini sodas available for grabbing on your own.
In terms of inflight-entertainment, the remote was in the middle console and didn't always extend out well. I scrolled through the offerings, but I had already seen some of the movies that were of my interest. So when I wasn't trying to sleep, I spent my time reading and listening to music.
Layover in Frankfurt
The roughly 8 hour flight seemed to go quickly. We had just over 3 hours of a layover in Frankfurt which dragged. The Frankfurt airport was pretty busy and really not that exciting. But we did get a glimpse of Koval's crate being moved from the plane to the pet hotel. Our flight to Barcelona was roughly two hours on an Airbus A321…nothing too exciting. Since business class seating carried over, it basically left a middle seat open between Nik and I.
After an easy flight, we landed in Barcelona. Overall, Flying Lufthansa Business Class with a dog was a very comfortable experience. We would fly them again if we're flying with Koval. But if we weren't tied to a an airline that allows pets, we would probably explore other options.