To conclude our trip to Switzerland was a two night stay in Lucerne. Though we flew in/out of Zurich, we opted to stay in Lucerne and take the train back to the Zurich Airport in time for our flight. It all worked out perfectly. Our first day in the city was pretty clear and cool, the second day was our day trip to Mount Pilatus. For our last morning in Lucerne, we woke up to beautiful Swiss snow.
Lucerne Landmarks and Sightseeing
The Lion Monument
One of the major landmarks to visit in Lucerne is The Lion Monument sculpture which is carved into the side of a cliff.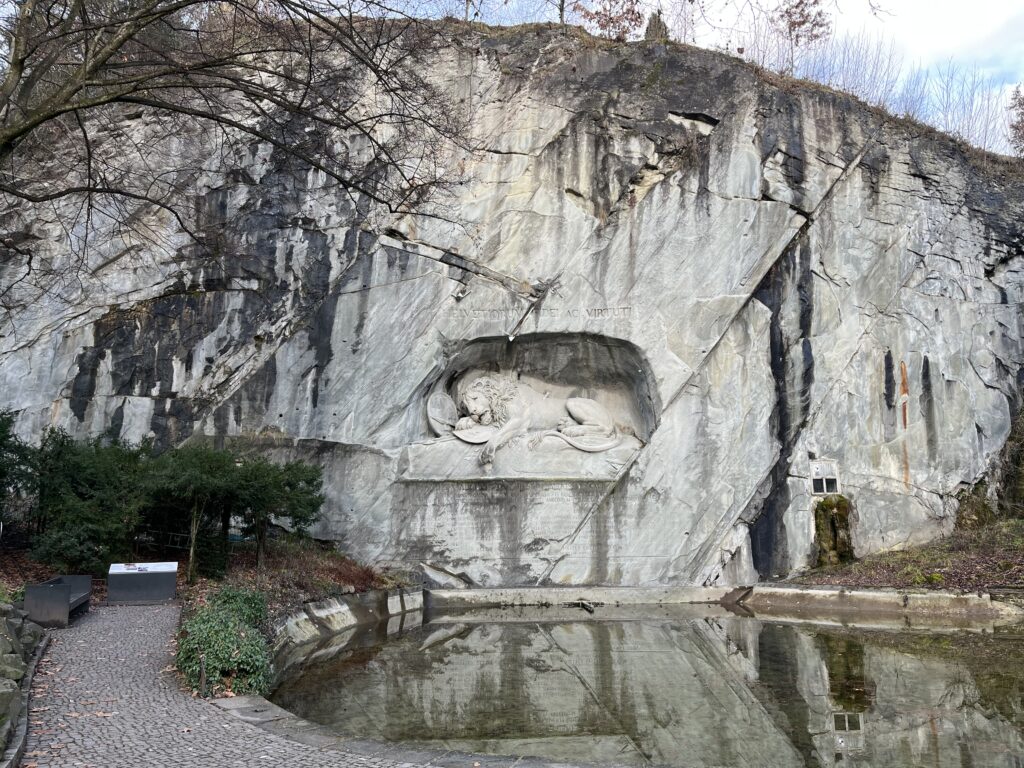 The monument commemorates the Swiss Guards who were massacred in 1792 defending King Louis XVI during the French Revolution, when revolutionaries stormed the Tuileries Palace in Paris. The Swiss Guards have been hired out by various royal houses throughout Europe as mercenaries and to this day perform protection service for Pope.
The concept of the monument came from a Swiss Guards member who was on leave in Lucerne at the time of the massacre and wrote a book about the Guards during the French Revolution. The popularity of the book eventually resulted in the monument to commemorate the loyalty and sacrifice of the Swiss Guards. Bertel Thorvaldsen designed and Lukas Ahorn carved the monument in 1820–21.
Mark Twain praised the sculpture of a mortally wounded lion as "the most mournful and moving piece of stone in the world."
Related: Staying in the Swiss Resort Town of Adelboden
The Chapel Bridge and Watertower
Another of Lucerne's main tourist attractions is The Chapel Bridge, a long wooden bridge built in 1333.
Together with the Water Tower, it's really quite eye catching no matter where you are viewing it from. The bridge caught fire in 1993 and much of the bridge had to be replaced and rebuilt. It currently stands as the oldest wooden covered bridge in Europe.
According to Wikipedia, the Water Tower was built before the bridge and has been used as a prison, torture chamber, and later a municipal archive as well as a local treasury. At present, the tower is closed to the public.
Lilu Light Festival Lucerne
Taking place during our visit was the Lilu Light Festival Lucerne. For about two weeks each January, Lucerne has numerous light and art installations that illuminate alleys, buildings and squares around the city.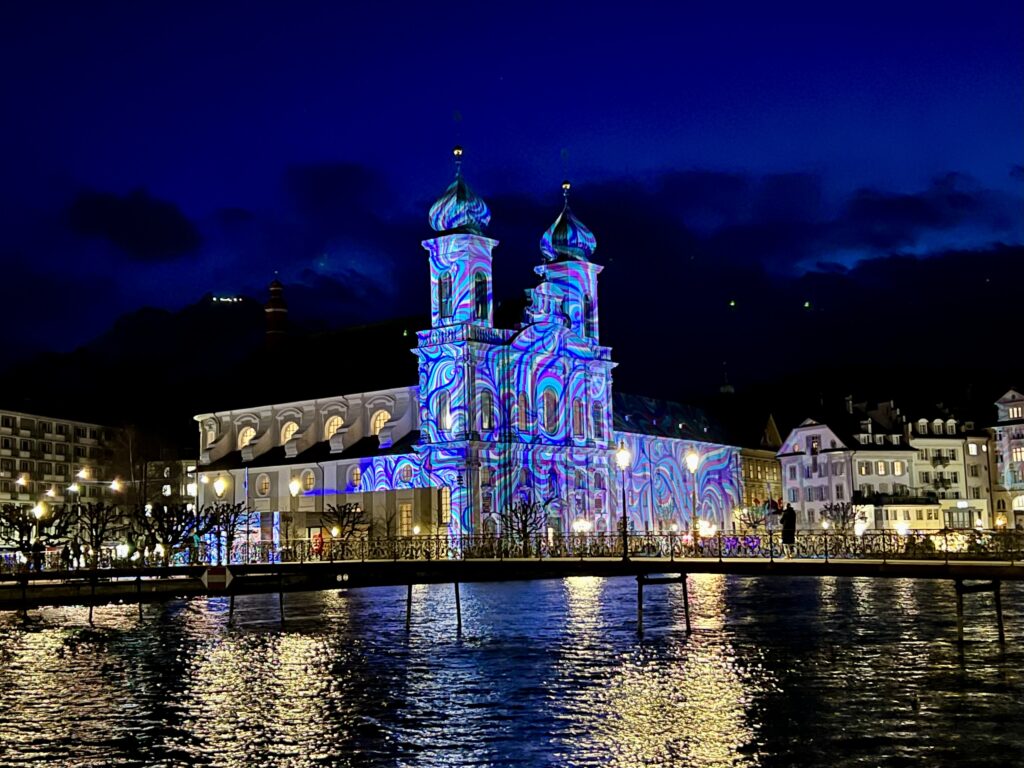 I only found this out after seeing the Jesuit Church lit up in the evening and doing a Google search. That led to keeping an eye out for other illuminated buildings, which we did happen to pass a few. Most were churches with timed light shows being played on the exteriors.
Related: Day Trip from Lucerne to Mount Pilatus
Eating and Drinking in Lucerne
While Switzerland as a whole is an expensive country, we really found the prices to be higher in Lucerne compared to Adelboden. That said, we did eat very well so I can't complain too much.
Bierliebe & Friends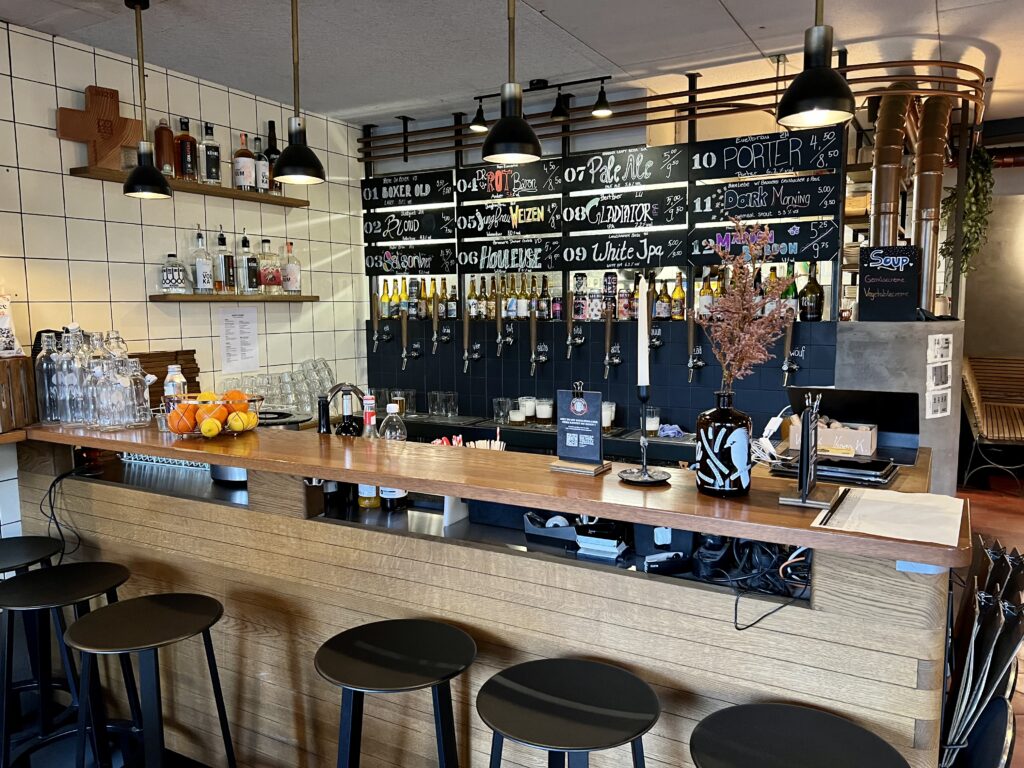 One of our first stops was to Bierliebe & Friends, a nice little craft beer bar. The server was very friendly and eager to give us samples before picking what we wanted to drink.
Rathaus Brauerei
Our first night of dinner was at Rathaus Brauerei, an old stone-walled space for Swiss food and local beers that they make. We got lucky being able to get in when we did as they were busy and shortly after us, they stopped seating people.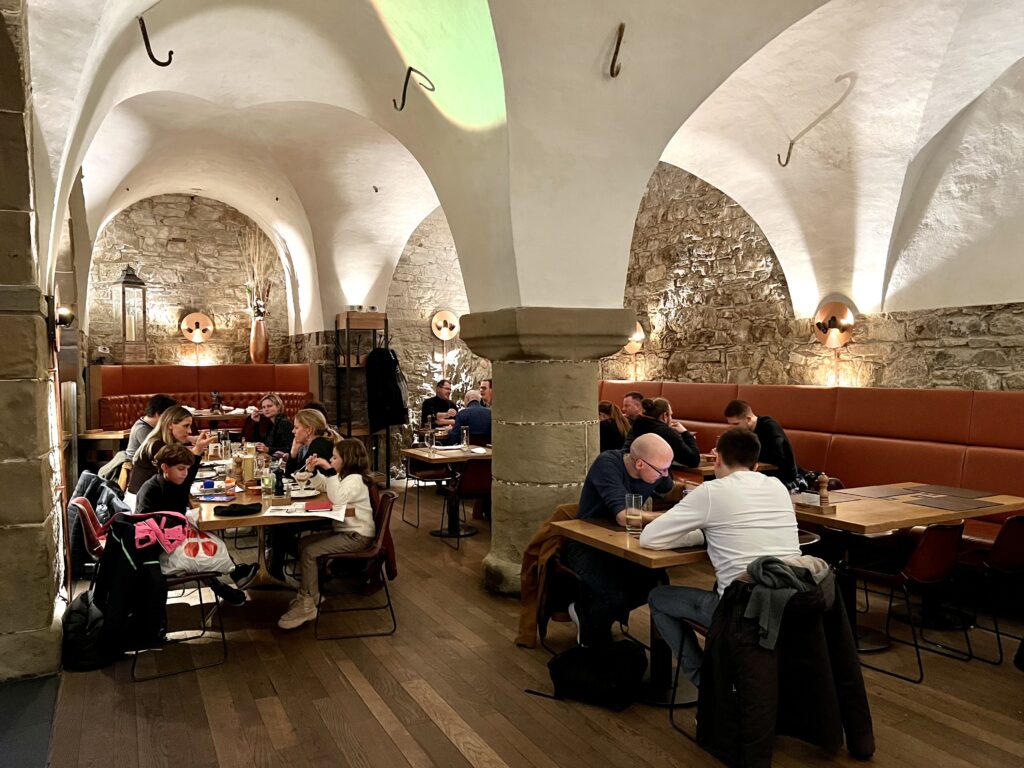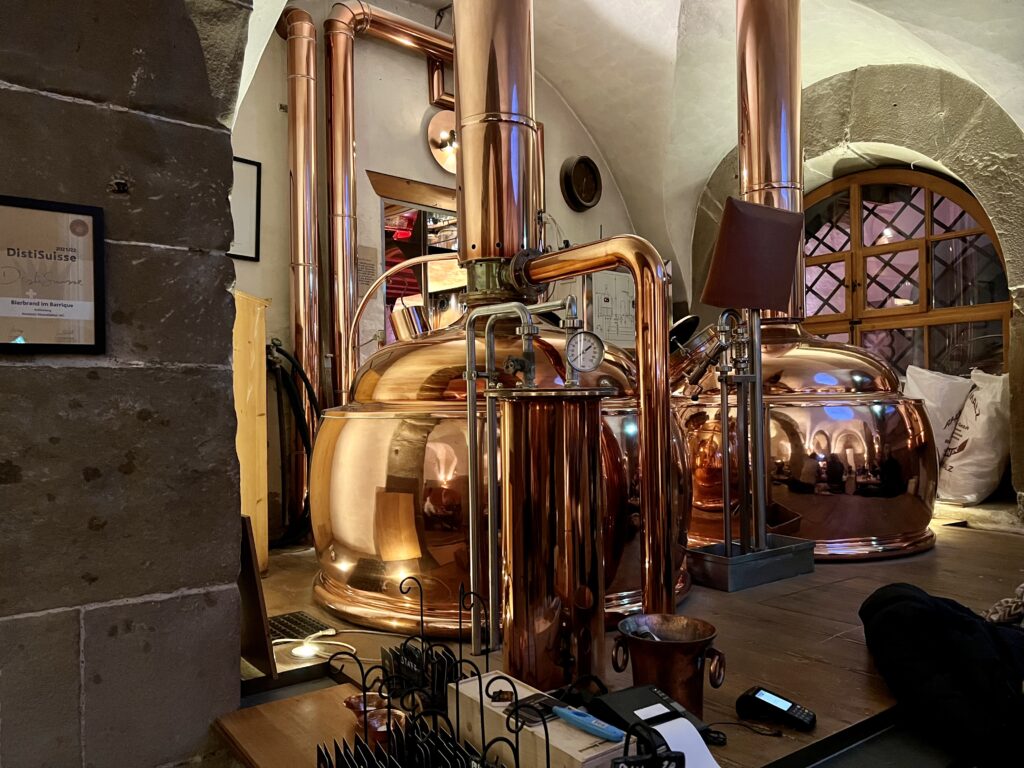 Nik ordered their 1/2 rotisserie chicken and I ordered the barbecue marinated pork chop. While mine looks giant in the picture, it was worth it. Both dishes were delicious.
Old Swiss House
The most expensive meal we had in a very long time was at the Old Swiss House and was worth every Swiss Frank we spent!
The Old Swiss House is known for their wienerschnitzel that is cooked table side. We both started the meal with a bowl of lobster soup, homemade with cognac. It was so creamy and had some good chunks of lobster in it. Since Nik had wienerschnitzel a few nights prior, I ordered it as my entree while he ordered the South African rock lobster with tagliolini and light lobster sauce.
We will not discuss the health benefits, but here is the wienerschnitzel recipe as taken from their website:
150 grams of best-quality veal, pounded till very tender
Five lightly beaten eggs, 50 grams grated Parmesan cheese, salt and pepper
Homemade breadcrumbs
A generous quantity of butter, 80 grams per person
Half a lemon
Served with: fine egg noodles garnished with roasted breadcrumbs
They also have an interesting history tied to the Anheuser-Busch family. August Busch, President and CEO of Anheuser-Busch Inc., met Trudy Buholzer, daughter of the restaurant's proprietor. They would eventually marry and have seven kids, some of whom went on to different roles with Anheuser-Busch and Budweiser.
Karel Korner
One thing we've done a good job of finding are good cocktail bars in most of the cities we have visited. Karel Korner was near our hotel, perfectly located.
It was a Tuesday night and pretty slow. The lone bartender was very friendly and probably thrilled we had come in. Nik and I had two drinks each and are really glad we stopped in.
Also of note was the heater just under the coat rack. Our coats were so warm when we put them on to leave. We weren't expecting that.
La Bonne Cave
No pictures but we spent a couple hours at La Bonne Cave, a very cute wine bar with hundreds of wines to choose from. After our several drinks we got the bill and were reminded that we were not in Barcelona.
Swiss Chocolate
We flew Air Swiss for this trip, our first time flying them. It was a very comfortable trip. Empty seats on the way there and two-seaters for the way home. But the best part was the free mini bottle of water and the most delicious mini chocolate bar! This was our first flight since April where we got anything complimentary.
In Lucerne, we stumbled upon Max Chocolatier for hot chocolate on our first afternoon in the city. We made a return visit the morning of our departure for more and to pick up some chocolate to bring back to Barcelona. We bought a mix of mini caramels and wish we had bought several more. They are that good.
Until next time Switzerland…
This trip was definitely a highlight of the travel we have done over the last eight months. A return visit probably isn't in the cards, but both Nik and I would love to visit in the spring or summer for a different experience.
One last note on Switzerland is how the country speaks two main languages. It's a mix of German and French depending on the city you're in. Lucerne was very heavy with the German. Luckily we never had any issue conversing as most everyone spoke some English.
Have you ever been to Switzerland? If so, what did you think? If not, where would you like to visit?