After our wonderful stay in Adelboden, Switzerland at The Cambrian Hotel, Nik and I made our way to Lucerne. Once again it was one bus ride and three short train rides. Incredibly easy and comfortable. I'll get to our stay in Lucerne in my next post, but I want to dive into the day trip we took to Mount Pilatus to recreate a picture I have of my maternal grandparents that was taken there in 1968.
Mount Pilatus
Where is Mount Pilatus
Mount Pilatus is a mountain 2,128 meters above sea level that overlooks Lucerne in Central Switzerland. There are two hotels atop, the round Hotel Bellevue and Hotel Pilatus-Klum. Completed in the early 2000s is the panorama terrace and gallery.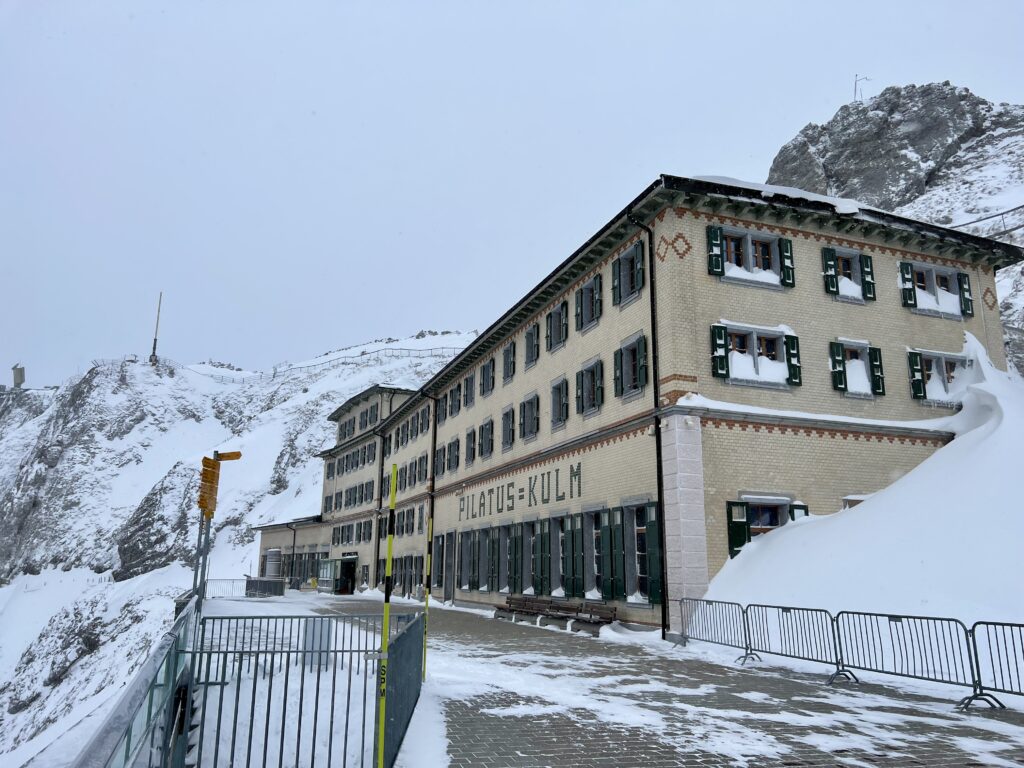 There are also several exterior walking paths that I can only imagine provide amazing views. Since we were visiting in the winter and during the snow, we did not have access.
Getting to Mount Pilatus
Getting to Mount Pilatus is only accessible via a panoramic gondola and cogwheel train.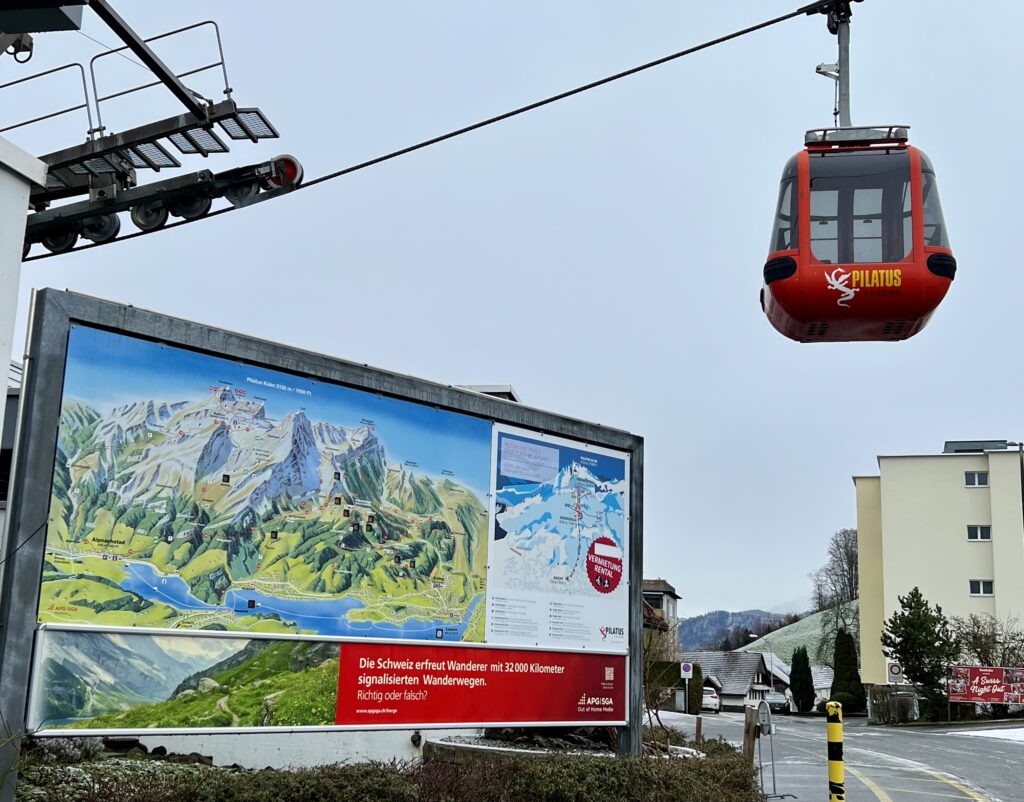 However, the latter does not operate in the winter. A popular route in the summer includes taking a boat across Lake Lucerne and going up the cogwheel train. As long as the weather cooperates, the cable cars run year-round.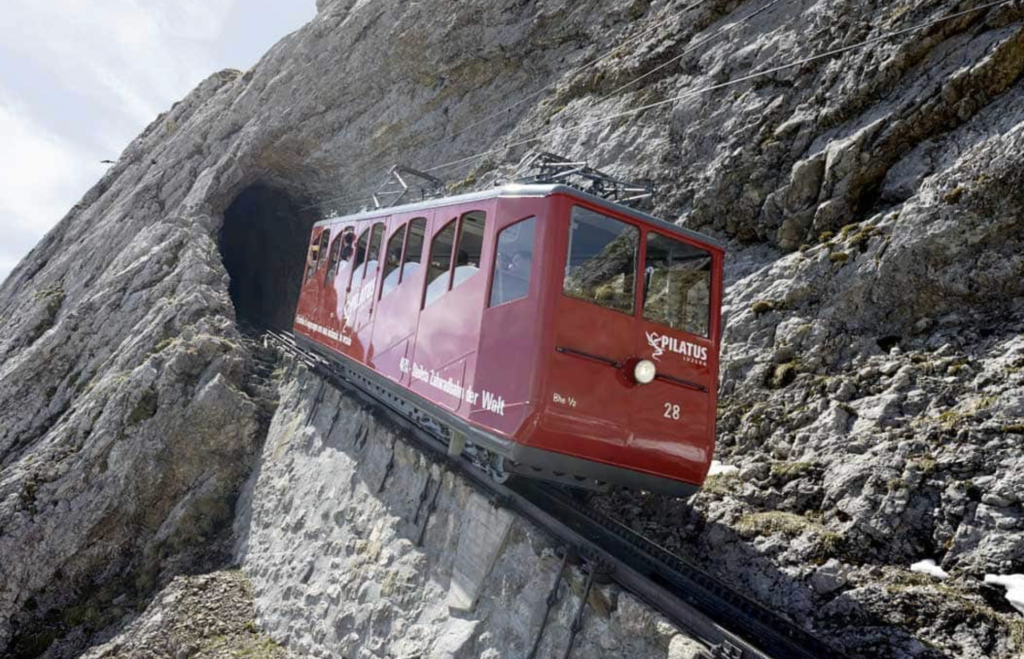 The gondola ascent starts in Kriens, roughly a 10 minute bus ride from the center of Lucerne. It was a little misty which eventually turned into snow and some fog along the way.
We passed through another cable car station in Krienseregg. You can get off there if you want, but we stayed on and proceeded to Fräkmüntegg. That whole first portion took about 30 minutes.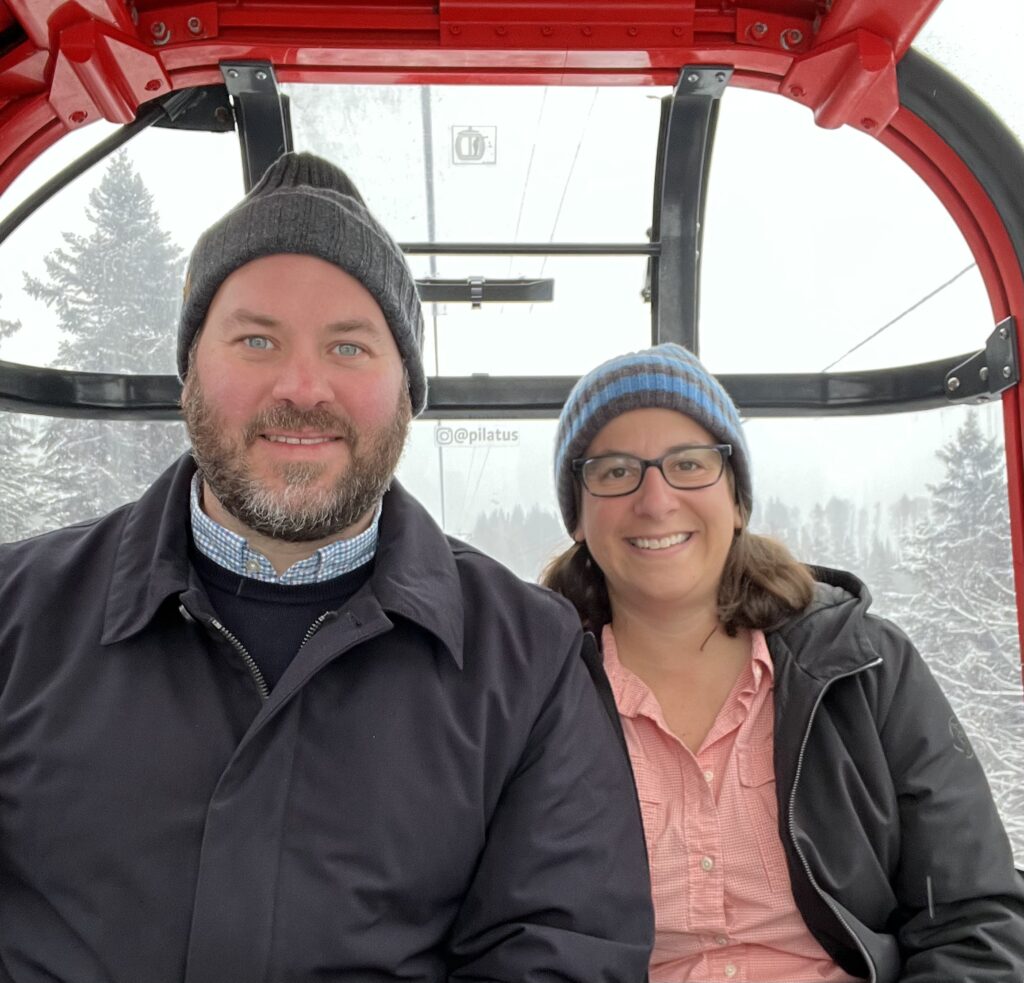 In Fräkmüntegg we transferred to the aerial cablecar, called the Dragon Ride.
This last stretch took less than five minutes but was both amazing and terrifying. On the way up, we came over one edge of a mountain where the drop looking down was steep. My heart definitely skipped a beat. Despite the snow, all of the views along the way were amazing.
The gondola opened in 1954 and reopened in 1996 following renovation. The Dragon Ride initially opened in 1956 and has undergone renovations twice, in 1983 and in 2015. The cogwheel was built in 1889 and is the steepest cogwheel railway in the world.
I wonder which route my grandparents took in 1968.
On Top of Mount Pilatus
Once we got to the top we walked around the indoor panoramic terrace for a few minutes to figure out where we should go to get my picture. While it was mostly foggy, we did have a brief moment of clear skies where you could see the city of Lucerne in the distance.
We went outside, and the panoramic building basically blocks the old view from 1968. Also, the elements were windy, snowy and cold! We went back inside and talked to some nice folks at the Hotel Bellevue. Not only did they love the old picture, but they gave us some reading material on the history of Mount Pilatus and its two hotels.
Back outside, after a taking a couple pictures using the selfie stick, I finally asked a passerby if he'd take the picture for us. Success and much better than any of the selfie attempts. I was happy.
The return trip down the mountain seemed to take longer and definitely felt colder. Again, no matter the snow, the views were still enjoyable. I'm really glad we did this day trip and thankful to Nik for always being game for an adventure.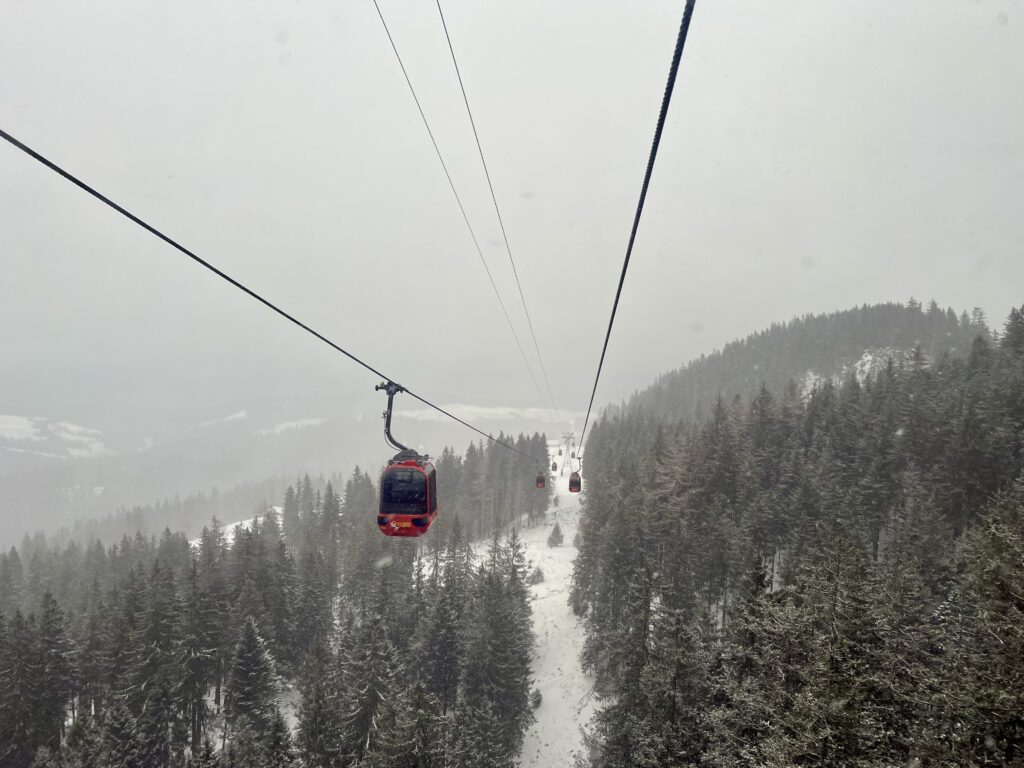 While planning for this trip, I came across an incredibly helpful blog at Full Suitcase that goes into much more detail on the ways to get to Mount Pilatus.