It all started with an old picture of my grandparents. Some five-plus years ago I came across a box of family pictures from my mom's side of the family. One picture really stood out to me. It was from 1968 and my grandparents were someplace called Mount Pilatus in Switzerland. I told Nik I wanted to go there and recreate the picture. And so began planning a trip to Switzerland. (More in this in a forthcoming post.) Nik wanted to find a resort town to stay a couple nights and that's how we ended up staying two nights at The Cambrian Hotel Adelboden, Switzerland before making our way to Lucerne and Mount Pilatus.
Getting to Adelboden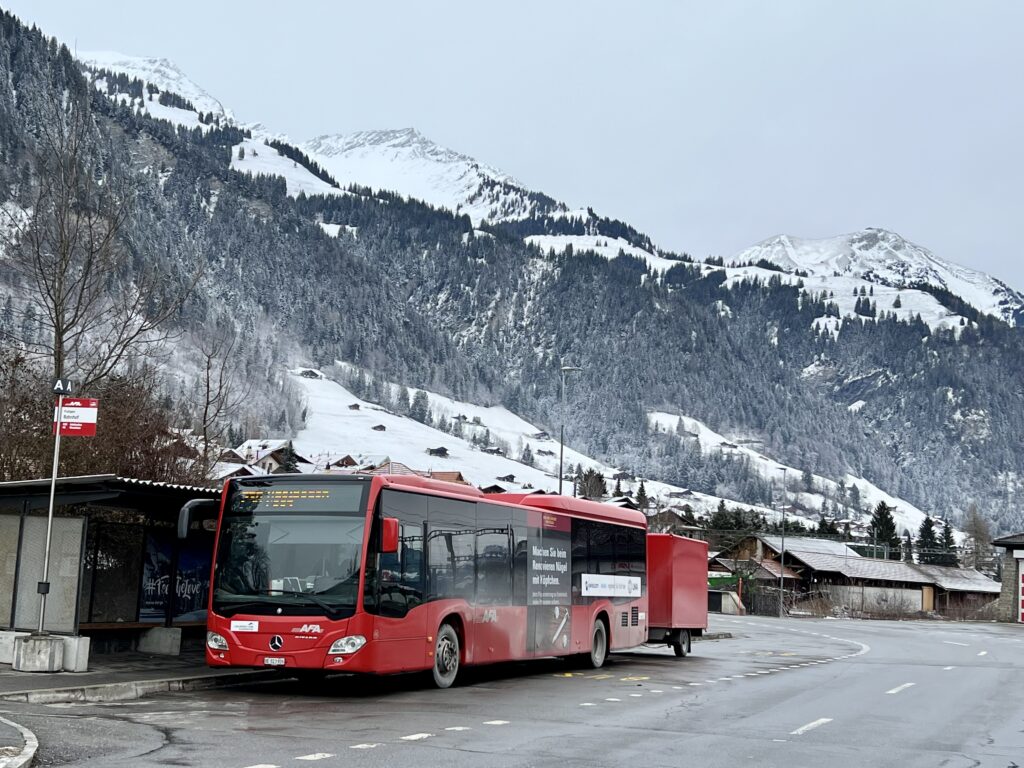 In terms of flying to Switzerland we chose to fly into Zurich and take the train to Adelboden. At first glance of the map route, it looks like three hours of train transfers and a bus and comes across as daunting. What if we miss a connection? Turns out, that worry was for nothing. Switzerland has one of the best transportation systems and the routes are timed in a way to get you from Point A to Point B without missing a connection.
Swiss Federal Rail
There were basically three options for us from the Swiss Federal Railway: Swiss Travel Pass/Half Pass, Point to Point ticket or Super Saver tickets.  The Swiss Pass  covers nearly all travel across Switzerland as well as many of the lifts, inclines and mountains. Much like the Swiss Travel Pass, the Half Pass gets you a 50% discount on all travel throughout Switzerland. The Swiss Travel Pass and Half Pass come in 3, 4, 8 or 15 day passes which just didn't make sense for us. The Point to Point tickets are basically good for any destination from Point A to Point B throughout the day.  In other words, not a specific train departure, just the route.
So for us coming from a flight it made sense to have that flexibility. The Super Saver tickets are 50% off from the Point to Point but are only good for a particular departure. So you need to be accurate on your timing. We basically used the Point to Point for our train from the Zurich airport to Adelboden and then Super Savers for the other transport as we knew we could hit those departure times. The Swiss Travel Pass didn't make sense because we really needed a 5 day pass and the 8 day pass was overkill.  We were able to purchase tickets directly from SSB.
For the trip to The Cambrian in Adelboden, we took two trains and a bus: Airport to Spiez via train, Spiez to Frutigen via train, Frutigen to Adelboden via bus. The trains were clean and comfortable and provided great views. The bus was more of a local transport that snaked its way through some mountainside roads. The bus hugged the road in some parts and it was hard to not think about it sliding down in bad weather.
Nonetheless, we arrived safely and the bus depot in Adelboden was practically across from The Cambrian Hotel.
Staying at The Cambrian Hotel
There is one main street that goes through the cute little village. It is lined with charming hotels, most of them with shops or a restaurant on the ground level. From the front, The Cambrian Hotel looks different than some of its neighbors with a more updated exterior.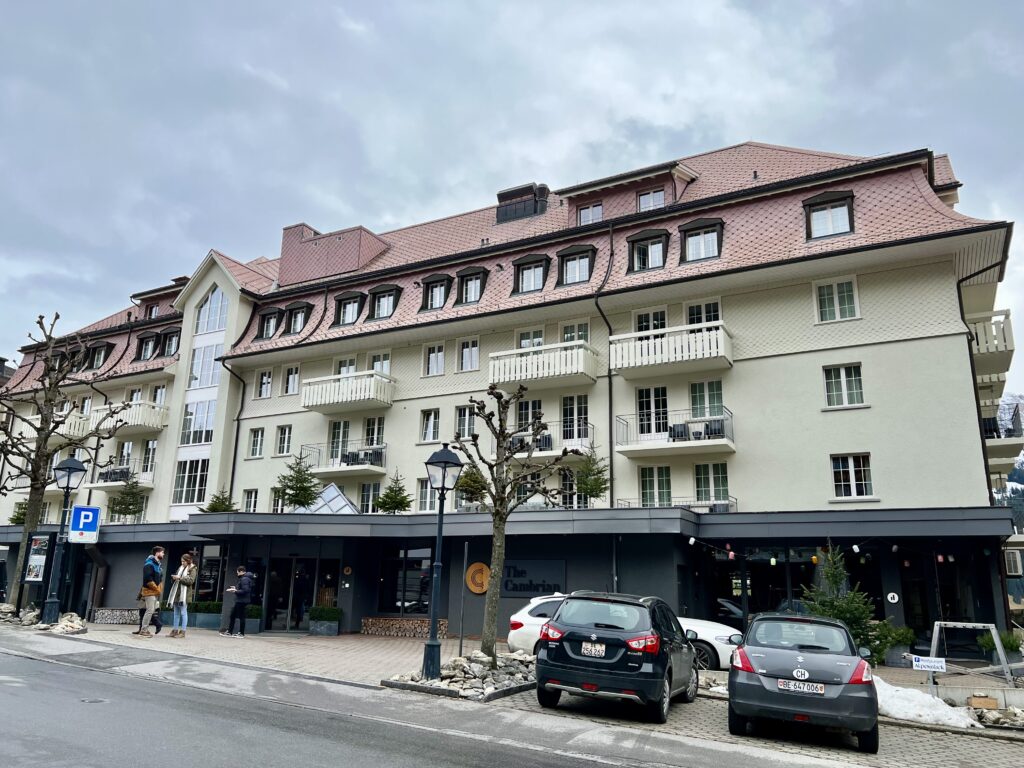 The Cambrian is most known for its heated outdoor infinity pool, which we took advantage of the next morning for a couple hours. It was so peaceful and relaxing. The hotel also has an indoor pool, spa and fitness center with a variety of weights and cardio machines.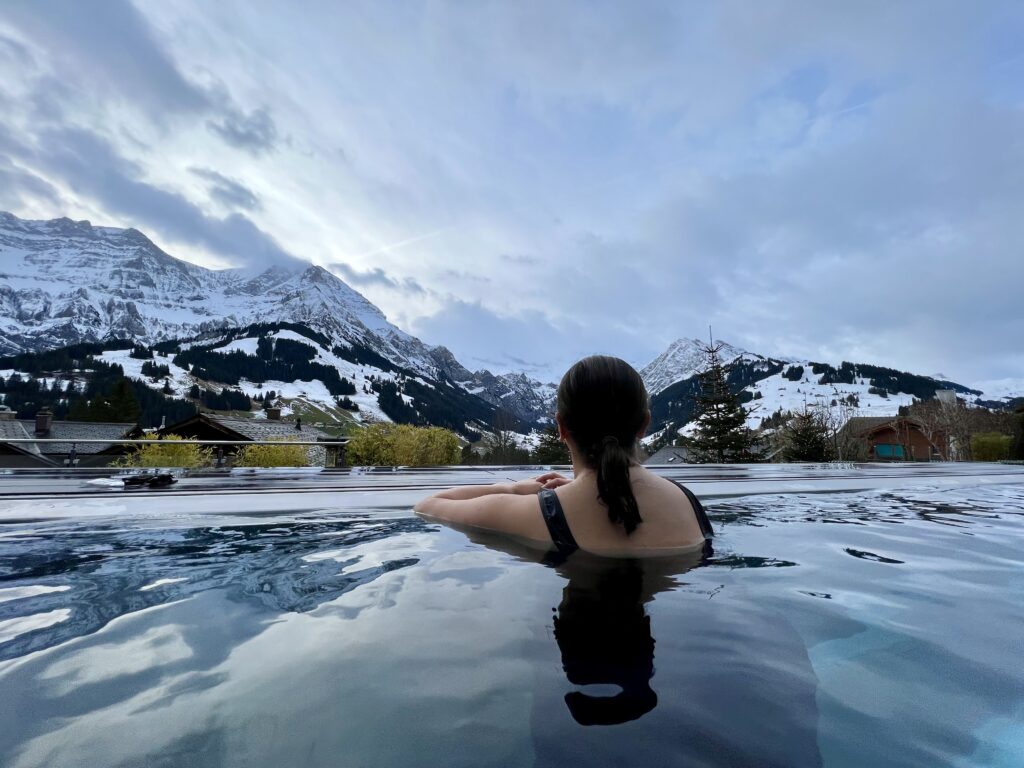 A couple things we noticed right away upon our arrival was the smell of the wood-burning fireplace and just beyond it, the big windows that look out to the alps. Absolutely beautiful.
The Cambrian also has a cool room on the main level, next to the bar, with a pool table. We spent a little time in there, where Nik ran the table against me…a few times.
We booked this hotel fully on Marriott points so we were surprised to learn that we were upgraded. We ended up in a room with a king bed, a nook off to the side with a couch and a balcony that opened up to the alps.
On our last morning at The Cambrian, we were treated to this beautiful sunrise: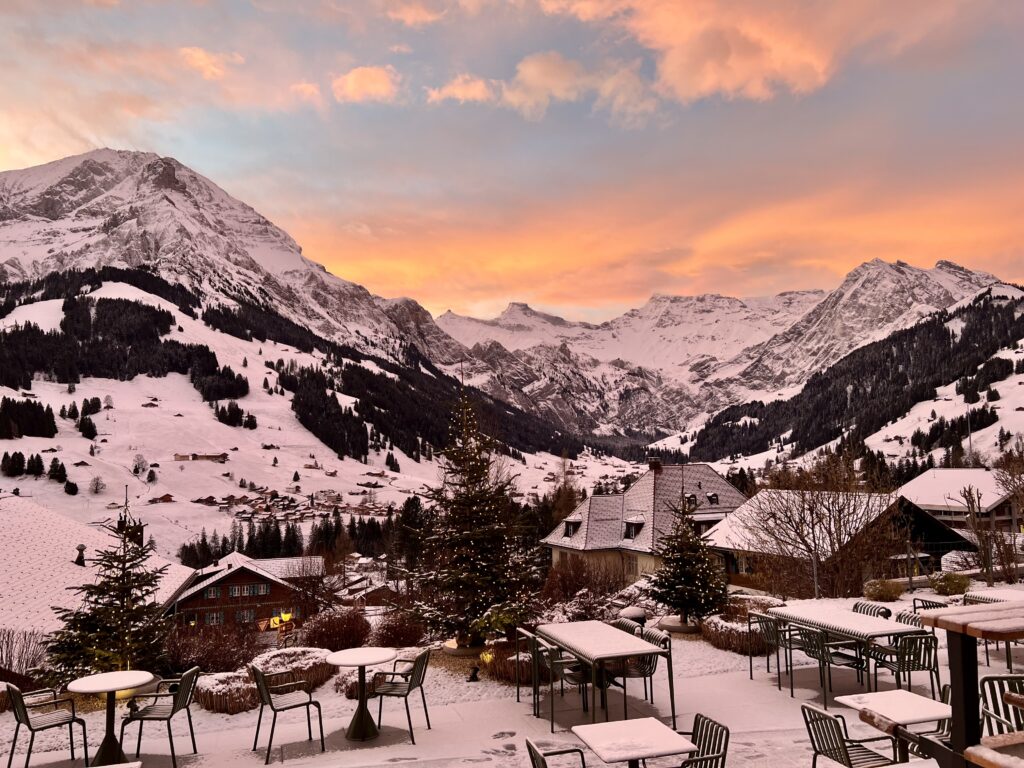 Exploring Adelboden
Nik and I don't ski, so it's rather funny we chose a ski town to stay a couple of nights.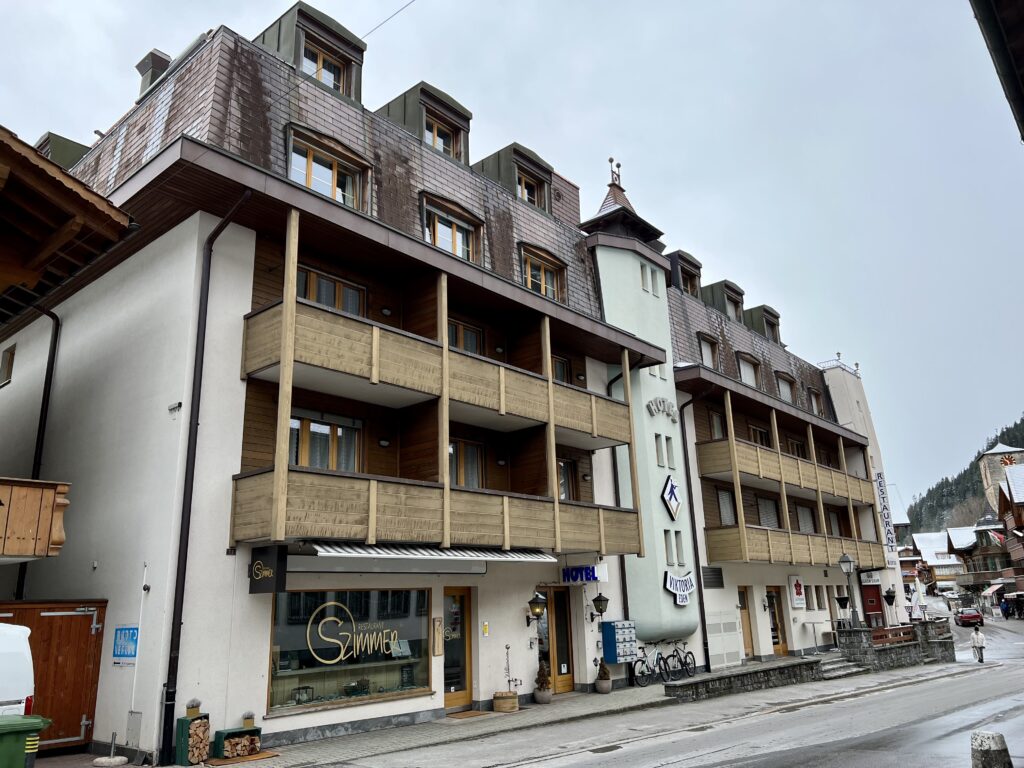 Luckily Adelboden has a couple other attractions, most notably a giant swing at the top of Tschentenalp, one of the many mountains surrounding Adelboden. After some morning pool time, we headed up via cable car. As we set out on this adventure, the weather was a little chilly, but clear, and not too breezy.
As we arrived to the top, snow had begun and gusts of wind kicked in. We walked towards the giant swing and decided no way are we going to try and get on it for a swing. (If you watch the video, have your sound up for the full effect.)
I had a feeling that if we took one wrong step walking to it, down the mountain we'd slide. That's how forceful the wind and snow were. We retreated back to the restaurant and settled in for a bowl of delicious goulash and drinks.
Before heading back down, we went back outside to take a few more pictures. Even with the sideways wind and snow, it was still beautiful.
Eating in Adelboden
Revier Bar & Grill
Just about every building along the main road through town had a restaurant on its ground level. Though The Cambrian Hotel has a highly regarded restaurant, we knew we would be having breakfast there so we wanted to have dinners elsewhere.
Looking at the map of the surrounding area we headed to Revier Bar & Grill for our first dinner in town. Their menu and website looked like they'd be a European version of Applebees, or something similar, but we were willing to chance it. How wrong we were in that thinking. Our server had a great personality and the food and drinks were quite good.
Nik and I opted to share everything. We started with a combo platter of meatballs, padron peppers and chicken drumsticks. All three were delicious. Then we shared their spare ribs, which were also excellent. To cap off the meal, we shared the chocolate coulant, a molten chocolate cake with liquid chocolate in its core. So good.
Adler Adelboden
Night number two led us to the restaurant at Adler Adelboden, a place we read about here. While Nik ordered the Schnitzel, I ordered the chicken with spicy tomato risotto. We shared a little of each and were very pleased with both entrees.
Weltcup Bar & Lounge
While we don't have any pictures documenting our stop at Weltcup, it was a cool spot. By far a place for either regulars or those who just finished a day of skiing. The space felt like it was in a cave and was boomin' with people.
Time Out Pub
Time Out Pub was a place we looked up ahead of time. Similar to the Weltcup, it seemed like a lot of people knew each other. Once again we failed at taking any pictures.
Until Next Time
Whether you're looking to ski or just relax, we really enjoyed our stay at The Cambrian and our two nights in Adelboden. I'm glad Nik did the research to find this place and that we got to experience a mix of overcast weather, some snow and a little sun. Take me back to that heated outdoor infinity pool!