To conclude our most recent trip to France, Nik and I didn't want to stay in Paris again so we decided to spend one night in Versailles which is just outside city limits.
The Palace of Versailles is the former royal residence built by King Louis XIV in the 17th Century and it's all anyone knows about in Versailles. Nik and I toured the Palace in 2018 so we opted to skip going inside this time around.
Staying at Le Louis Versailles Château Hotel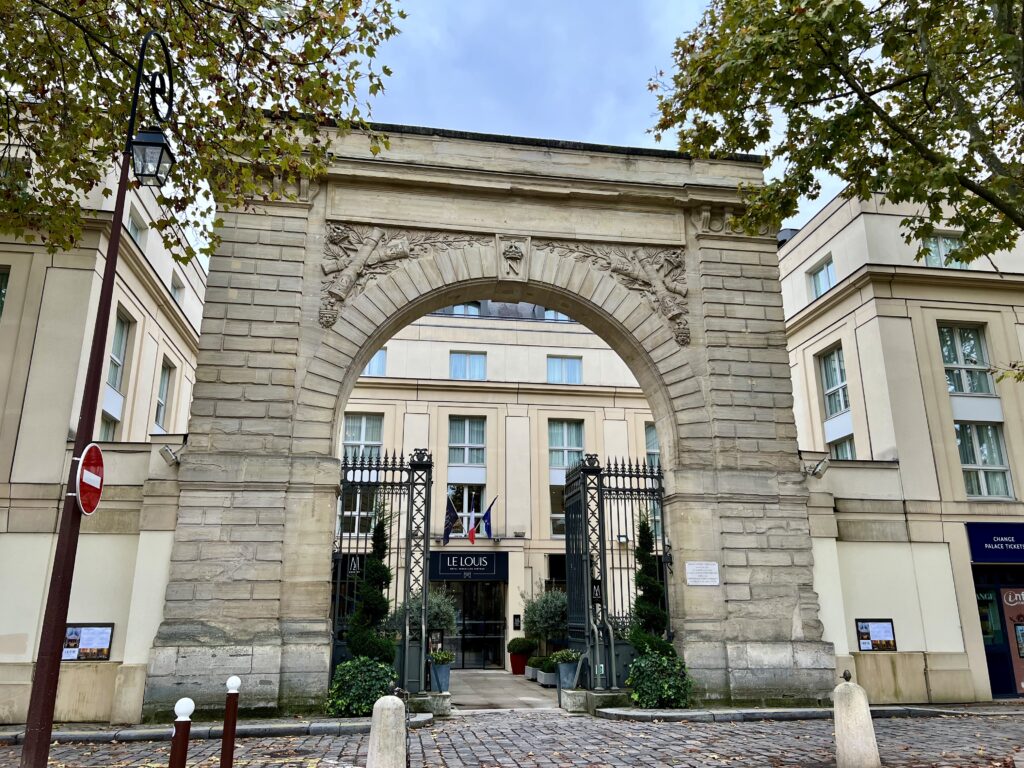 We were able to find a nice hotel nearby, Le Louis Versailles Château Hotel, that didn't cost a fortune and decided to book it for a night before returning to Barcelona.
It was down the block from the Palace and walkable to many places around the city. Our room was on the fourth floor and we were excited that the room had a balcony. Until we opened it and had a view of the
former stables of the King
under scaffolding. Oh well. The history of the hotel is otherwise pretty interesting.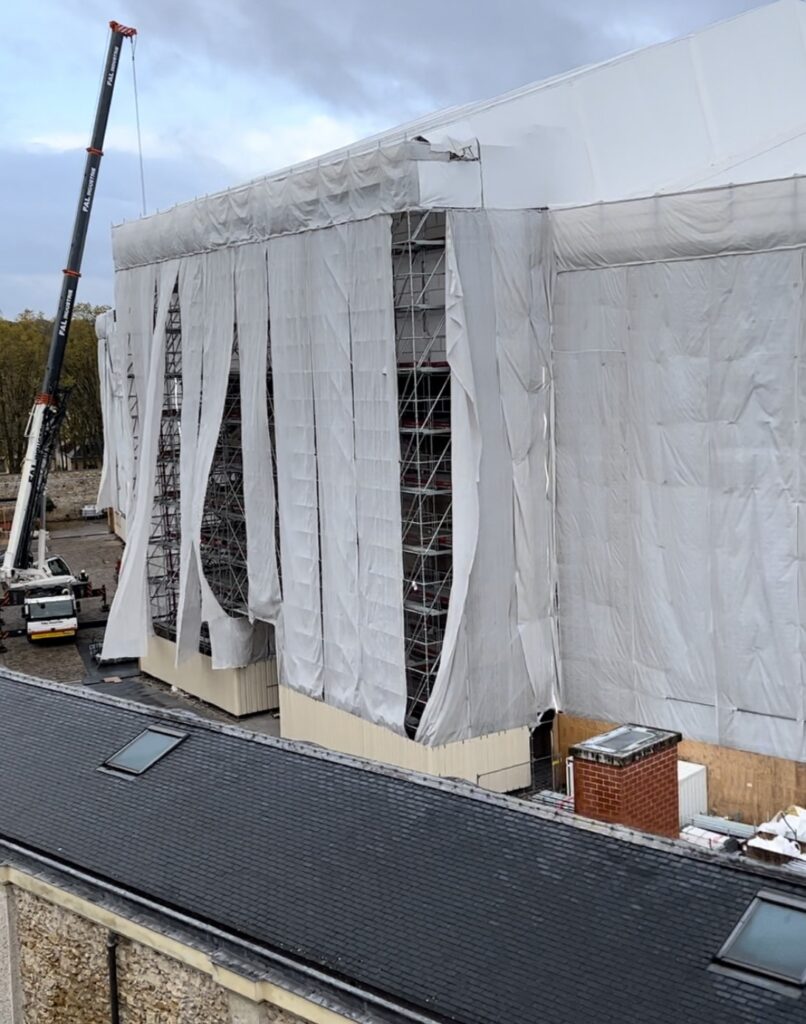 The land that the hotel occupies belonged to the Palace estate but the complex was left abandoned after the execution of Louis XVI at the height of the French Revolution. The grand arches that serve as the entrances to the current hotel were built when the Palace found new life under Napoleon III. Eventually artillery barracks were built on some of the estate grounds. Fast forward to the 1970s when the city purchased the barracks facility and demolished it all except for the arches which are now a historical monument.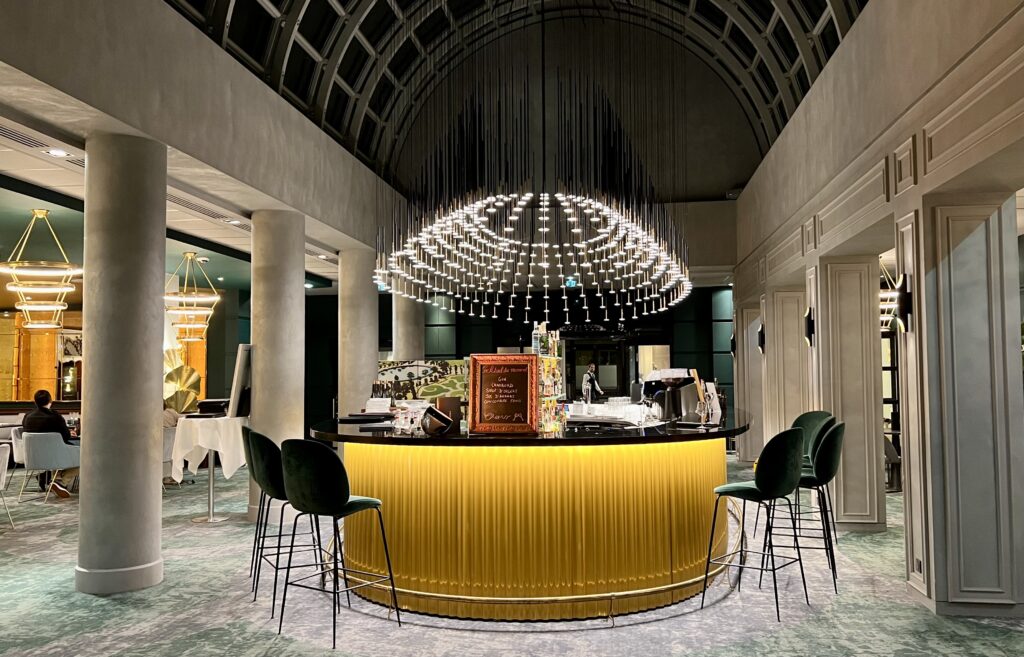 The lobby bar was a pretty splashy space where we had a few cocktails during our stay.
Related: A Visit to the Palace of Versailles in 2018
Palace of Versailles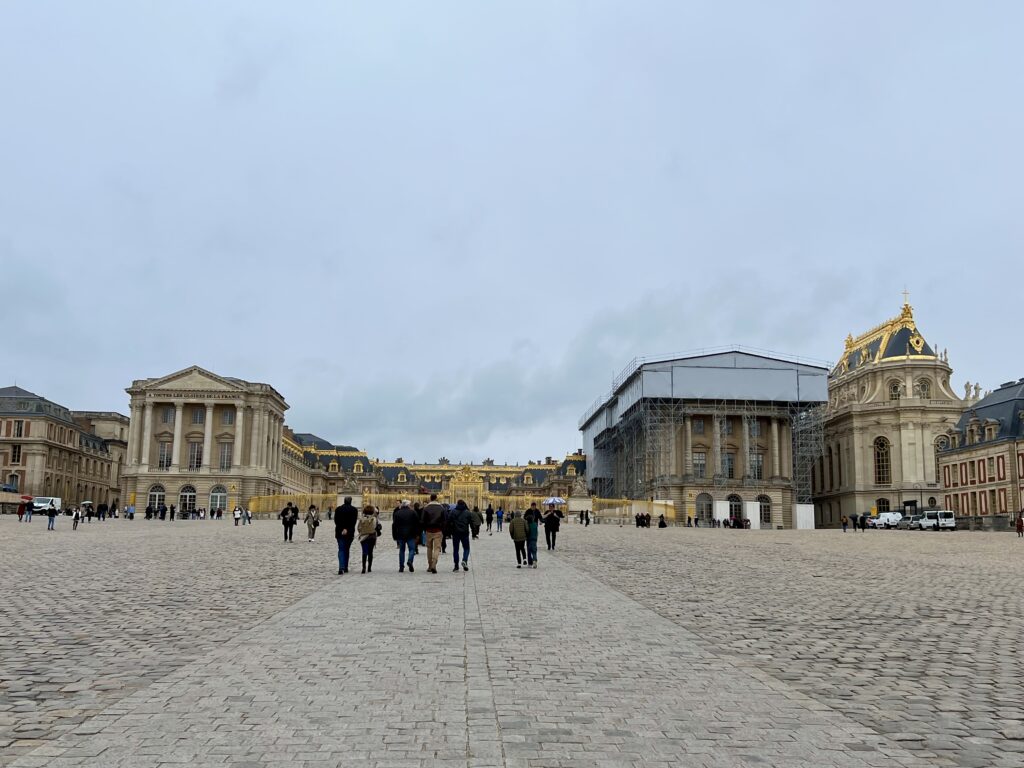 This time around the Royal Chapel renovations were complete and we were able to see the the exterior, unlike our visit in 2018. Because we had toured the Palace before, we just strolled nearby for a few pictures.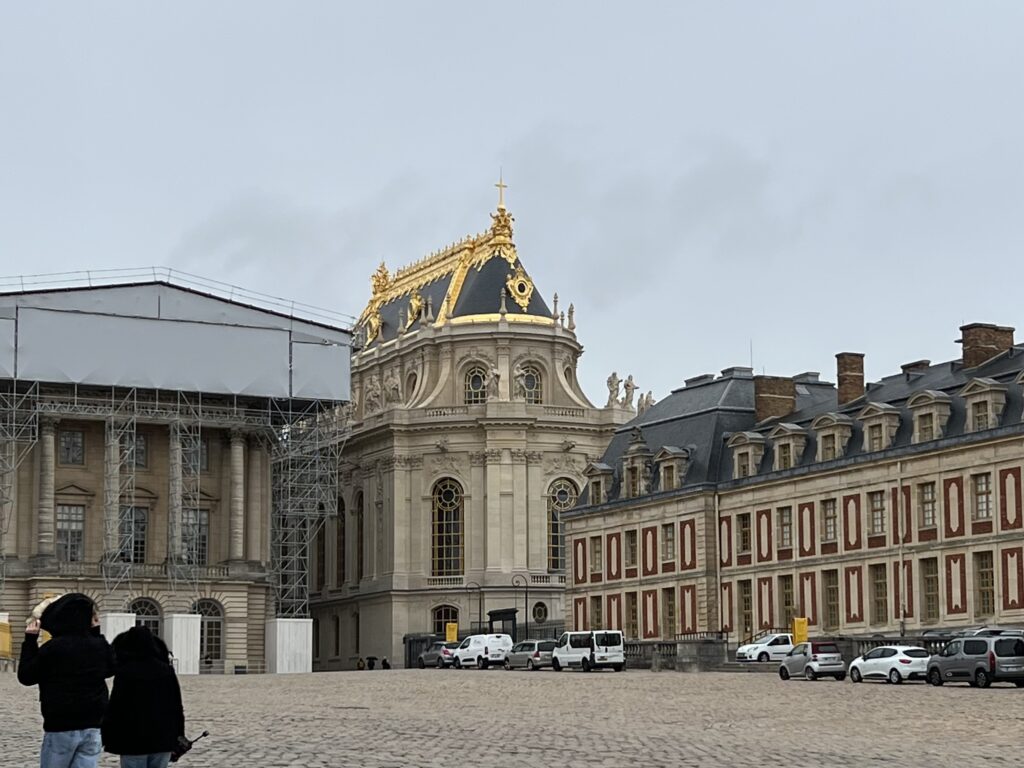 Eating and Drinking Around Versailles
Since we were only staying one night in Versailles, Nik and I decided to make our own pub crawl around town. It was a pretty windy and rainy night so I'm glad we planned to spend the afternoon and evening bar hopping.
Crêperie Satory
To start our afternoon we had a crepe lunch at Crêperie Satory. We got there shortly before they were closing for the afternoon and so the service wasn't the best. I had a "bacon"and egg crepe, where the bacon was actually ham. They had on the menu a ham and egg crepe, so I was really expecting something more like crispy bacon. Nik had the "Normande",  a crepe with stewed apples and flambé calva which is an apple brandy. His was quite tasty.
La Brasserie du Roi
Following lunch, we headed to La Brasserie du Roi which Nik found through Google thinking it would be a small craft beer space. Well, it was a small space, but they're pretty much a homebrewing store. We bought a couple of their beers and asked the worker for some other beer bar recommendations, which he did give us: Chez Bichette and Craft Beer Lab.
Le Montbauron
Le Montbauron was up the block from La Brasserie du Roi. It has a dive vibe and pool tables. It was the perfect spot to kill some time until Chez Bichette opened.
Chez Bichette
Chez Bichette was one of the recommendations we received. Had we known how weird the other recommendation would have been, we would have stayed at Chez Bichette longer. It was a really nice space and a tapas menu that reminded us of Spain more than a menu of French nibbles. Nik and I shared the chicken tenders which were delicious. The beer selection was pretty good too. As I said, we wished we stayed there longer.
Pub O'Paris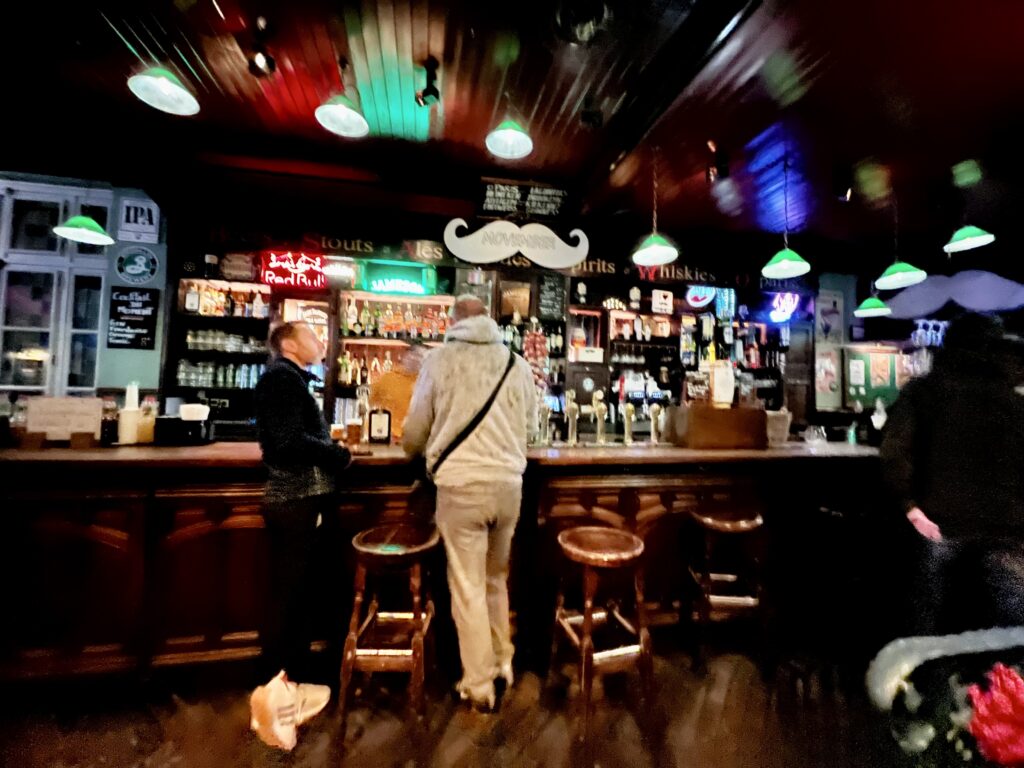 Pub O'Paris was a bar we found on Google Maps and liked the idea of going to an Irish Pub in Versailles. It also had a dive vibe and TVs showing old classic fútbol games. It was a good spot and we stayed for a few beers.
Helio's Pub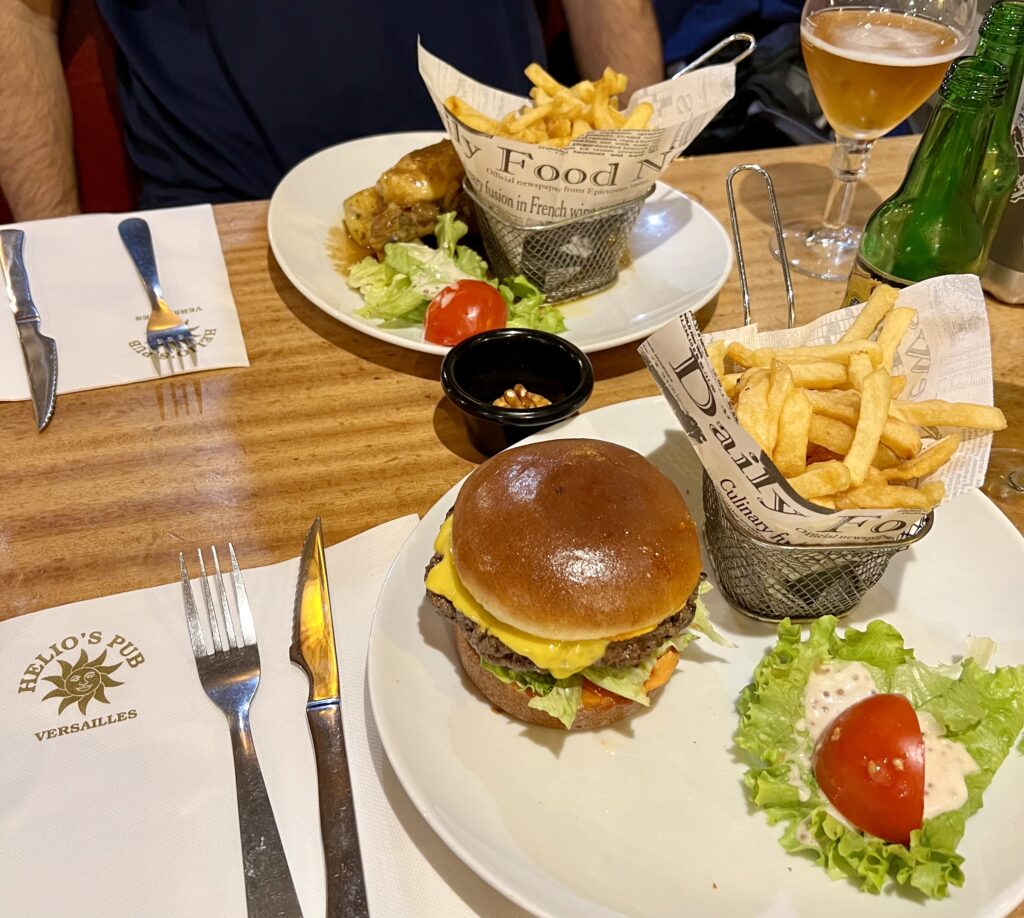 A stone's throw from Pub O'Paris is Helio's Pub where we went for dinner. It was a place that we walked by that looked decent. Not too fancy but not total bar food either. I had a pretty good cheeseburger and Nik had a half roasted chicken. I could see this place being really cute and more fun in warmer weather while sitting outside.
Craft Beer Lab
Our last stop on our unofficial bar hop around Versailles was the other recommendation we got: Craft Beer Lab. It was on a side street near the Palace and felt very underground when we walked in. Sure enough, it had an underground space that Nik checked out…
There were maybe 9-10 beers on tap, but a few of the beers were out. It was a tight space and we managed to snag two stools at a table. We did a lot of people watching and it seemed like everyone there all knew each other. We started talking with a local woman casually about where we're from. She instantly started shitting on France.  To sum it up, she is pro-Marine Le Pen, and thinks Trump was great for America.
Then we started looking around and noticed the above sticker all over the place. The blue section loosely translates to "You are not miscellaneous." The red section translates to "You are a victim of #Francocide."
And then there was a steady flow of people going downstairs. Nik went to check it out, and he described it as a fascist clubhouse meeting.
We never felt unsafe or anything of the sort, but we also didn't want to stay. Weird vibes aside, it just wasn't that great of a bar. Had we known that ahead of time, we would've stayed at Chez Bichette longer.  More beer, less fascists.
One Night in Versailles
That about wraps up our one night in Versailles. We headed back to the hotel for a couple drinks at the lobby bar. Though the weather was windy, rainy and a bit cool, we enjoyed our visit in the city. It's a cute little city that is easily walkable and is rich in history. If you head there to tour the Palace, try to take some time to explore the neighboring side streets.