Nik and I have been trying to take one trip out of Spain a month. Our August trip isn't until the 25th so we planned a few days away in Sitges and then a night at the Cava & Hotel Mastinell, just about 40 minutes south of Barcelona.
Two Nights in Sitges
Using some of our Chase Reward points, we booked two nights at the Dolce Hotel by Wyndham. It's a bigger hotel that's roughly 10 minutes outside of downtown Sitges. At first glance on the map, we were a little annoyed to be a cab ride away from the main area of Sitges, but in the end, we liked being outside of things. Our hotel had a great pool setup and offered a limited shuttle to and from town. So it all worked out well.
Afternoon at the Beach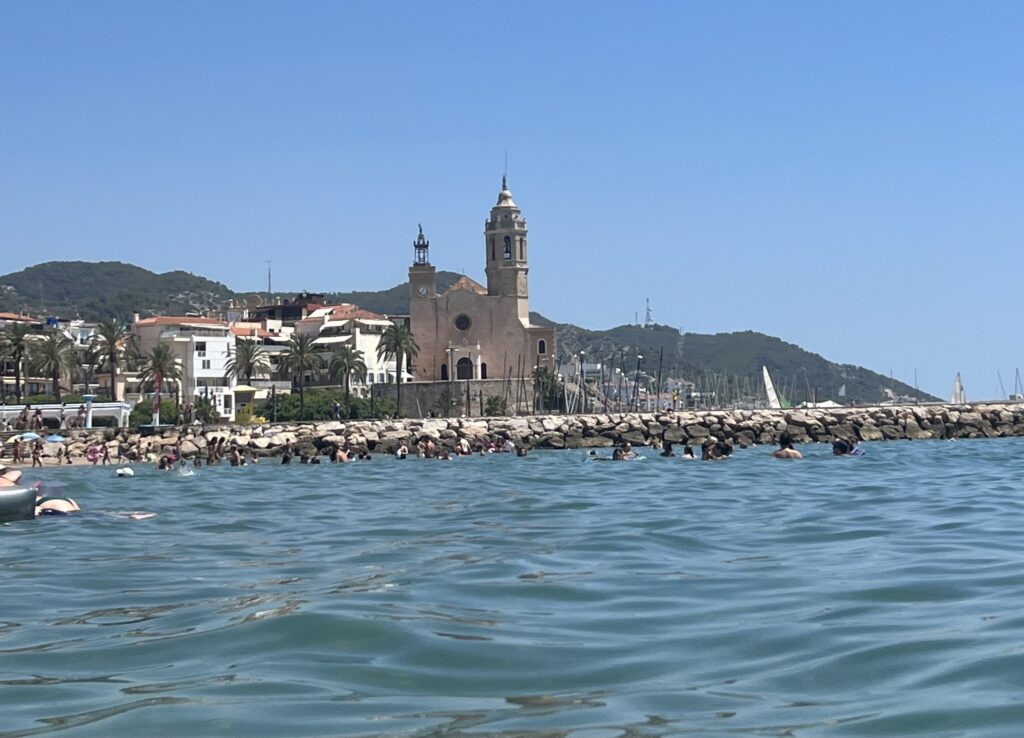 After checking into the hotel, we grabbed the shuttle to town and had an underwhelming bite to eat at Pic Nic. Following lunch, we walked along the beaches and picked a spot to drop our bag and bee-lined into the water. Par for the course of the last month, it's been hot. Close to 90 degrees, so the water felt refreshing. We toweled off and found a spot just off the beach for some cold beers before heading back to the hotel to freshen up for dinner.
Pintxo's and Dinner
During research for the trip, we came across El Donostiarra, a place that primarily serves Basque style pinxto's. Nik and I previously had a great experience in Basque Country so we stopped at El Donostiarra for a light bite before our dinner reservation elsewhere. It's as if Covid didn't exist. The countertop was lined with display cases that you can help yourself to various pintxo's. We had two because we knew a more compete dinner was ahead of us. This place was busy!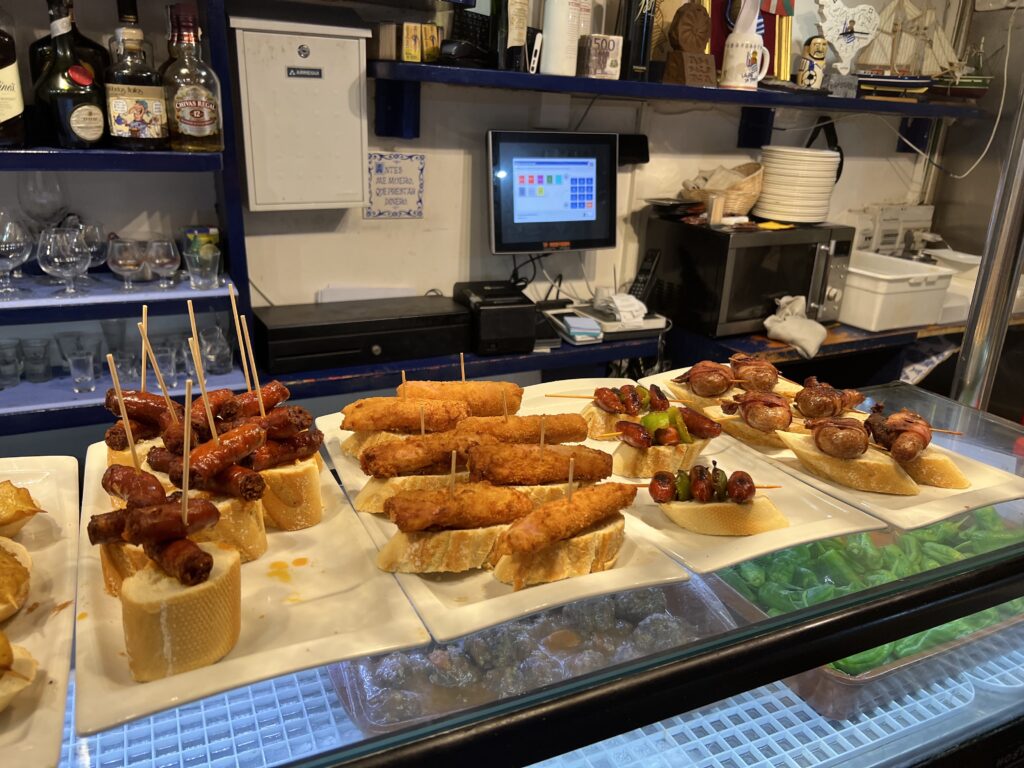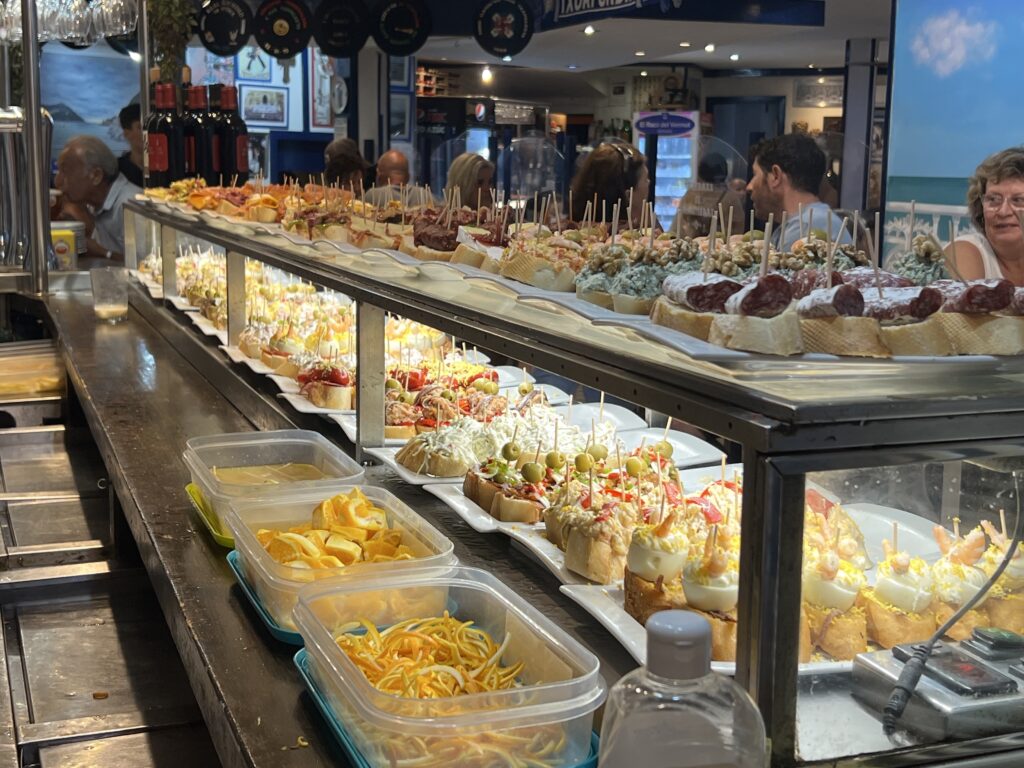 Dinner lead us to Fragata, a restaurant located right by the most picturesque spot in Sitges, The Sant Bartomeu i Santa Tecla church.
Fragata is a little more of an upscale place with both indoor and outdoor seating. After sitting outside for two minutes, we opted for a table indoors with air conditioning. We started with a goat cheese salad and for entrees, Nik had a suckling pig dish and I had sea bass. Both were delicious.
A Full Day at the Pool
After having a delicious breakfast at the hotel, we put on our swimsuits and hit the pool…for pretty much the whole day. The pool area had four pools to choose from. Three were pretty shallow and geared towards young kids. We hung out in the biggest pool that had a waterfall and a wonderful view of the golf course and some nearby mountainside villas.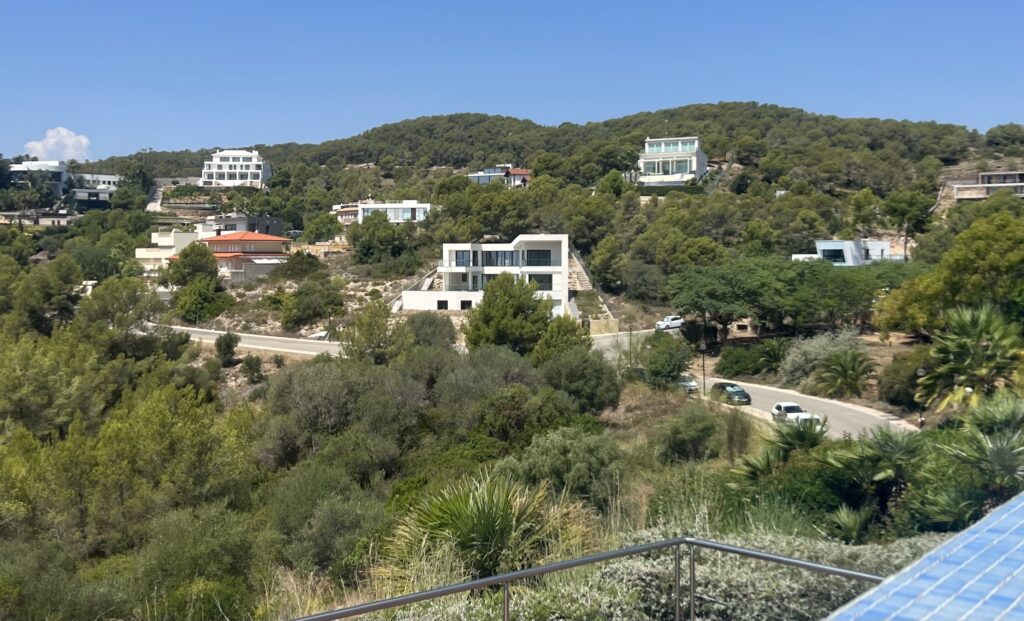 Villas? Mansions? View From the Pool
We cleaned up and headed back into town for the night. The hotel shuttle dropped us off at the Hotel MIM Sitges, which has a nice rooftop space with views of the town. After a couple drinks up there, we walked through some of the small side streets and stopped at two other pinxto spots that were ok. Though we had a dinner reservation for more of sit-down meal, we opted to skip it and stop at El Donostiarra again. The place was booming and it was hot. After a few more pinxto's we called a cab and went back to the hotel to end the night with cocktails from the hotel bar.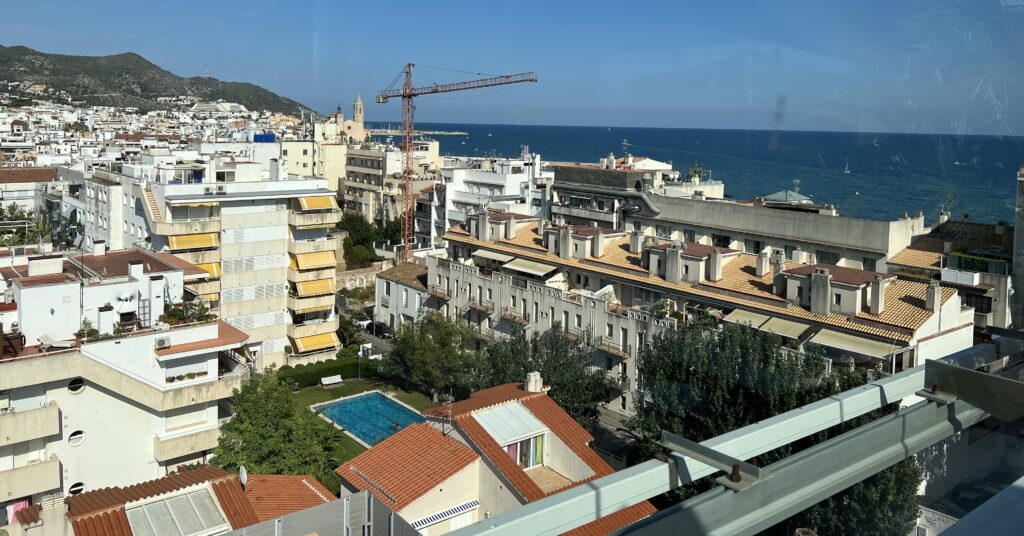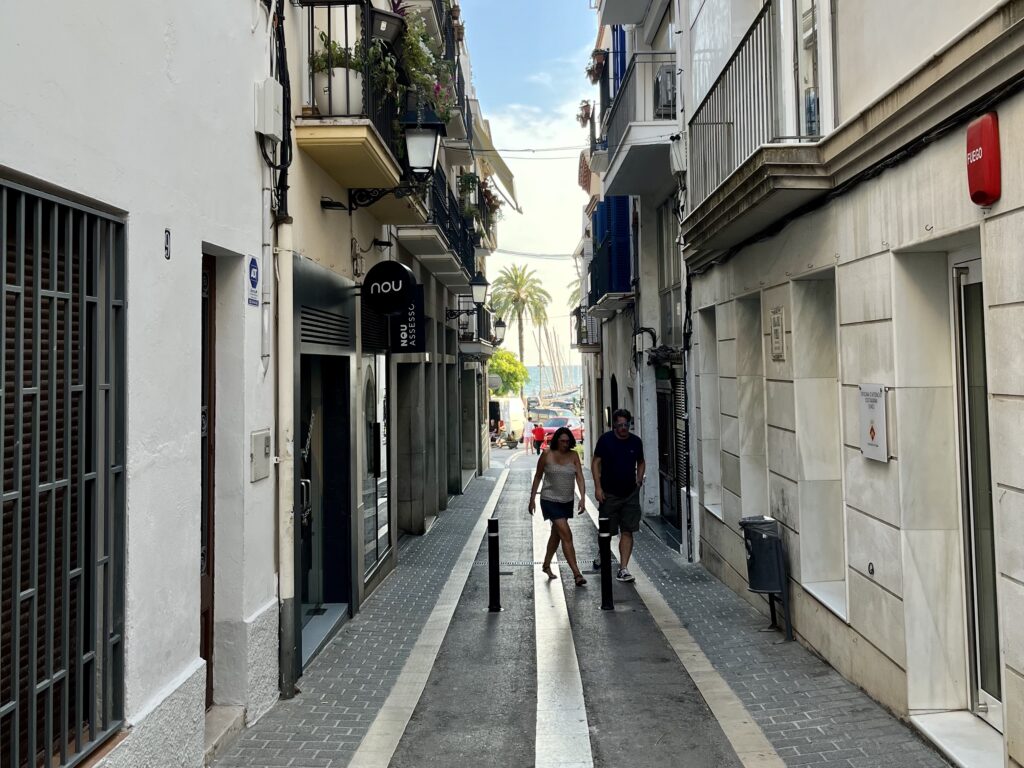 Cava & Hotel Mastinell
Not sure how Nik found Cava & Hotel Mastinell, but we decided to check it out for a night. It's a hotel and winery, located in the Penedès region just outside of Barcelona. Penedès is considered one of the best wine producing regions, particularly for Cava.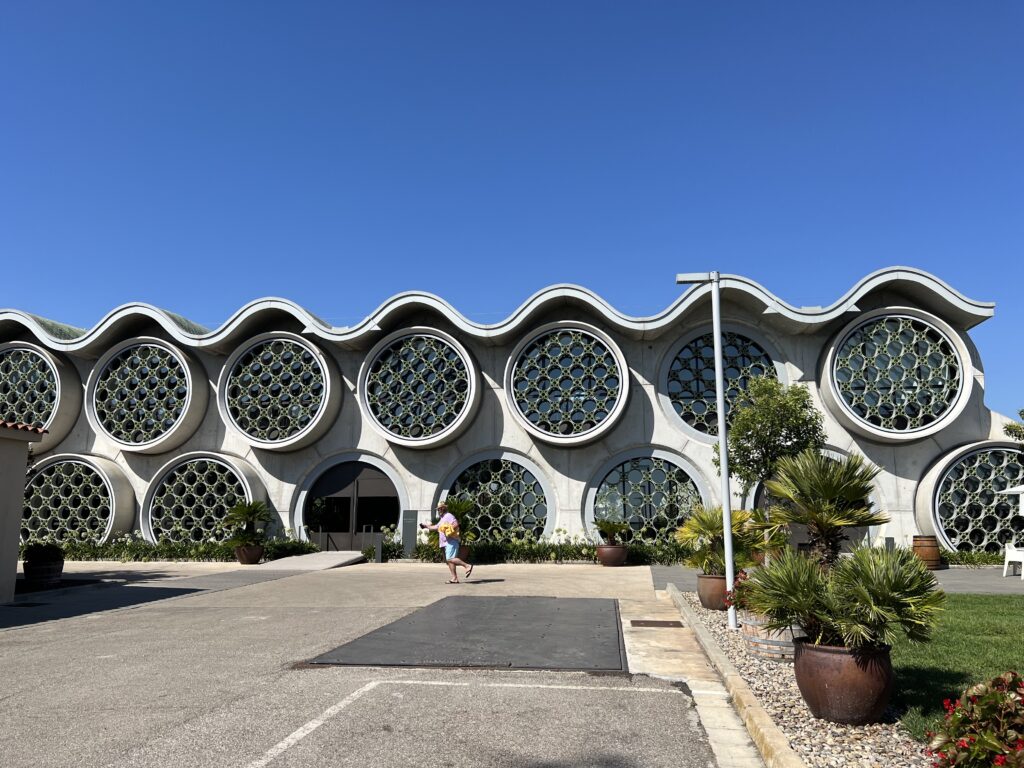 After arriving by cab, we were greeted with glasses of cava as we checked in. The woman from reception took us up to our room – there are only roughly 16 of them! Instead of room numbers, they are all named after types of grapes, which we thought was neat and different. We were in the Paradella room, a Mediterranean grape variety.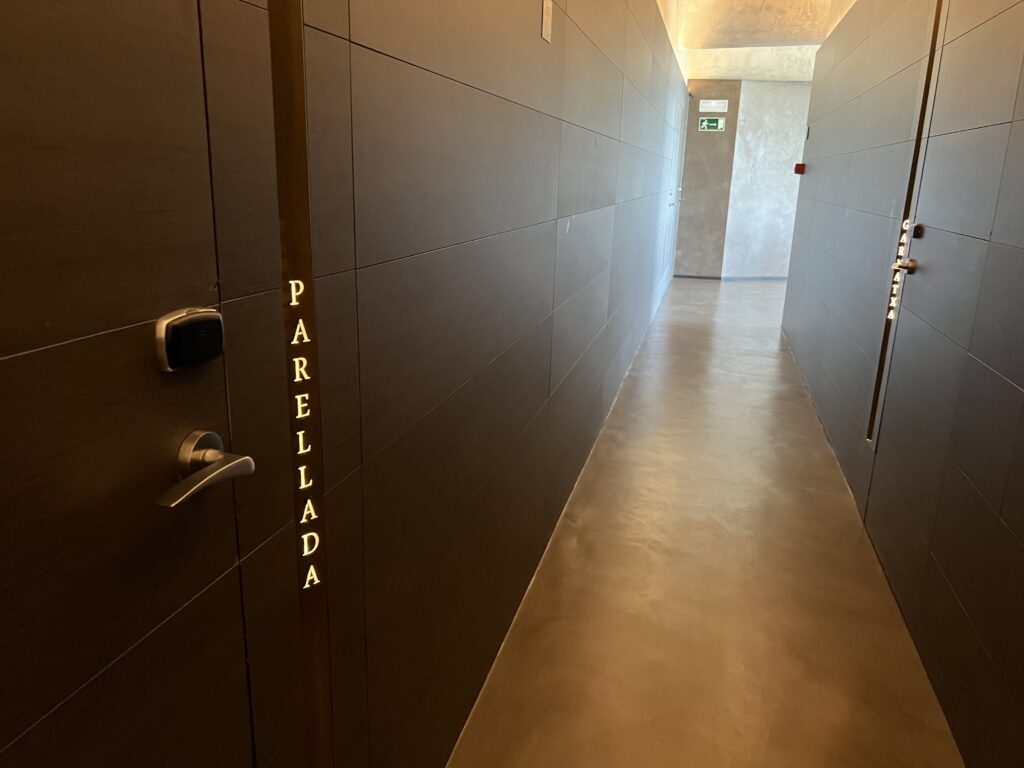 Hotel Mastinell Design
The hotel is a very unique building, having won and been honored with a number of awards since its unveiling in 2013. Its distinct structure resembles a collection of stacked wine bottles with a Gaudí-esque, mosaic-tiled roof.
The rooms reflect the inside of a wine bottle, featuring a circular window with a mesh, bubble-like facade looking onto the vineyards.
The window in our room could be opened and also had a blackout blind that came down from the ceiling for overnight or to keep the heat out.
Off to the back side of the hotel is a very nice and quiet pool, perfect for the afternoon. Nik and I spent several hours staying cool, while enjoying some tapas and a couple bottles of their rosé cava.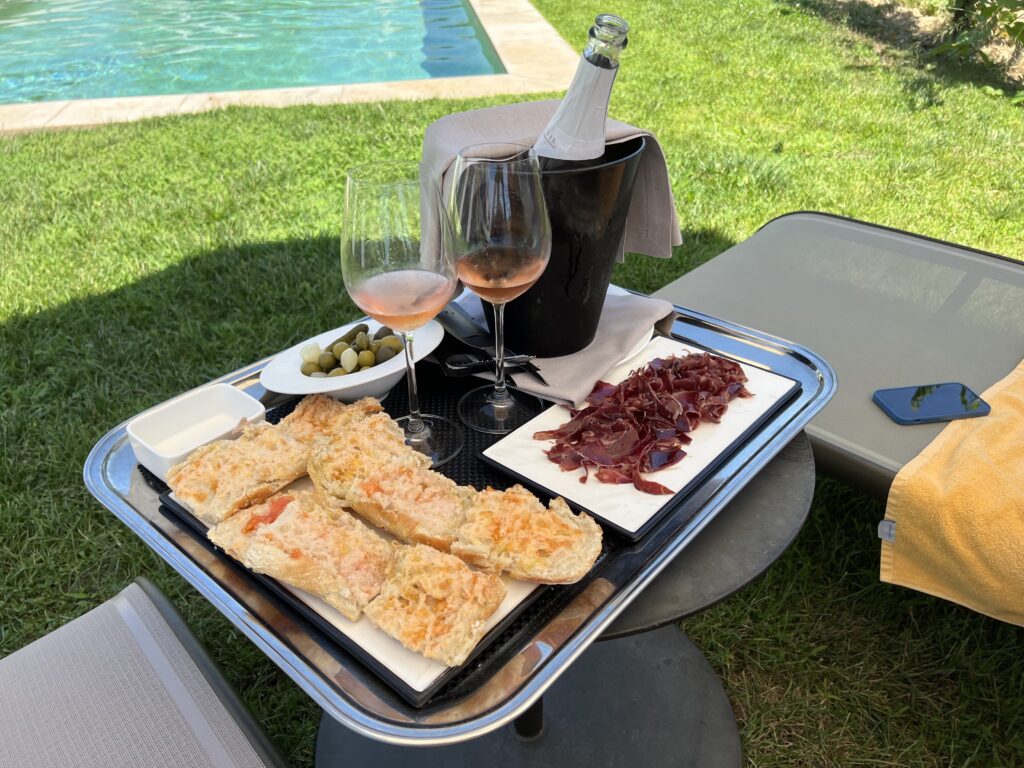 Dining at the Hotel
Since we were only straying one night and wanted to take it easy, we ate dinner at the hotel restaurant, En Rima. It's advertised as a gastronomic experience, offering a tasting menu. However, we opted to order ala carte. We had a gazpacho starter, that may have had small raw shrimp in it. Unknowingly, we ate it and it the dish was quite good. Nik had chicken and sticky rice for his entree and I had cod confit. Dinner was topped off with two desserts: ice cream with fresh drizzled chocolate sauce and a brioche cake, similar to a bread pudding.
Breakfast the next morning brought us back to the hotel restaurant. We were served fresh fruit, fresh baked pastry items that included a couple different croissants; a charcuterie plate of jamón , sausage and cheese; fresh warm bread to make our own pan con tomate; and I had some freshly scrambled eggs. Unfortunately, no pictures were taken at either meal. You'll have to trust us that it was a very nice dining experience.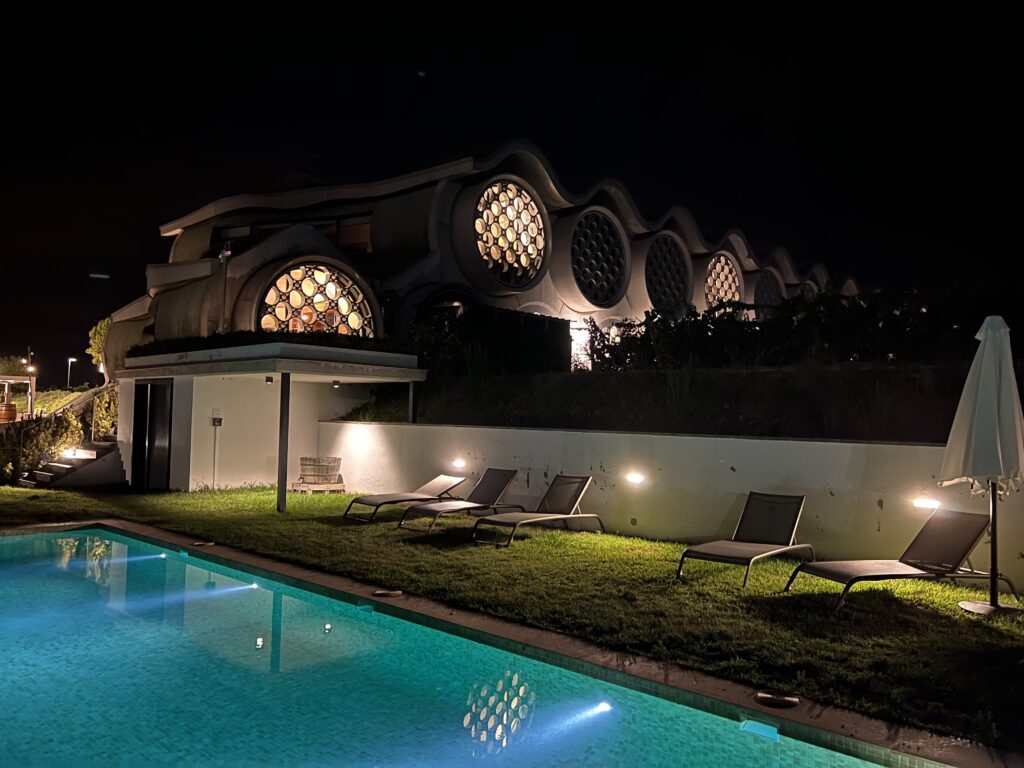 It was the perfect way to start the morning before hopping the train back to Barcelona and wrapping up our stay in Sitges.