When Nik and I decided to move to Barcelona, we planned to start with a temporary rental so we could get familiar with neighborhoods and then decide on where we wanted to rent for the long term. An acquaintance I met on Facebook told me about Ukio, a newer company that specializes in furnished apartment rentals for a month or longer. All of the apartments are renovated, updated, tastefully furnished and given a unique name. One look at their apartments and we knew we would be renting an apartment through Ukio to get us started.
Renting Through Ukio
Once we started looking through the Ukio listings, we learned that you cannot pick a place with a date that leaves a gap. For example, we started looking in January or February and we wanted something for mid-April. If an apartment was listed as available from February 15, we could not book it for April 15. Ukio doesn't want to leave calendar gaps like you might see on Airbnb.
I'm a planner and especially with the move we were planning, a lot of dates had to align. Vet appointments and paperwork for Koval being able to fly was primary. Secondary, and we got lucky with this, but Nik's surgery fortunately didn't cause us to postpone anything. We eliminated a few areas of the city that were tourist heavy. That also cut down our availability options and narrowed pricing too.
Renting Our Ukio Apartment
Of the apartments that were available with our mid-April goal, and in our desired area of Eixample, was a one bedroom, one bathroom place with a beautiful outdoor terrace, as opposed to the typical Spanish balcony that overlooks a street. (In honor of one of the greatest TV shows ever, The Golden Girls, the terrace got nicknamed The Lanai.)
The apartment was named "Zuma" and the price was a little more than we wanted to spend. (And is even higher now than the rate we had) but we knew we'd spending more overall to get settled those first few months anyway. We booked it for three months thinking that's the amount of time we'd need to get settled while deciding where to live for the long term.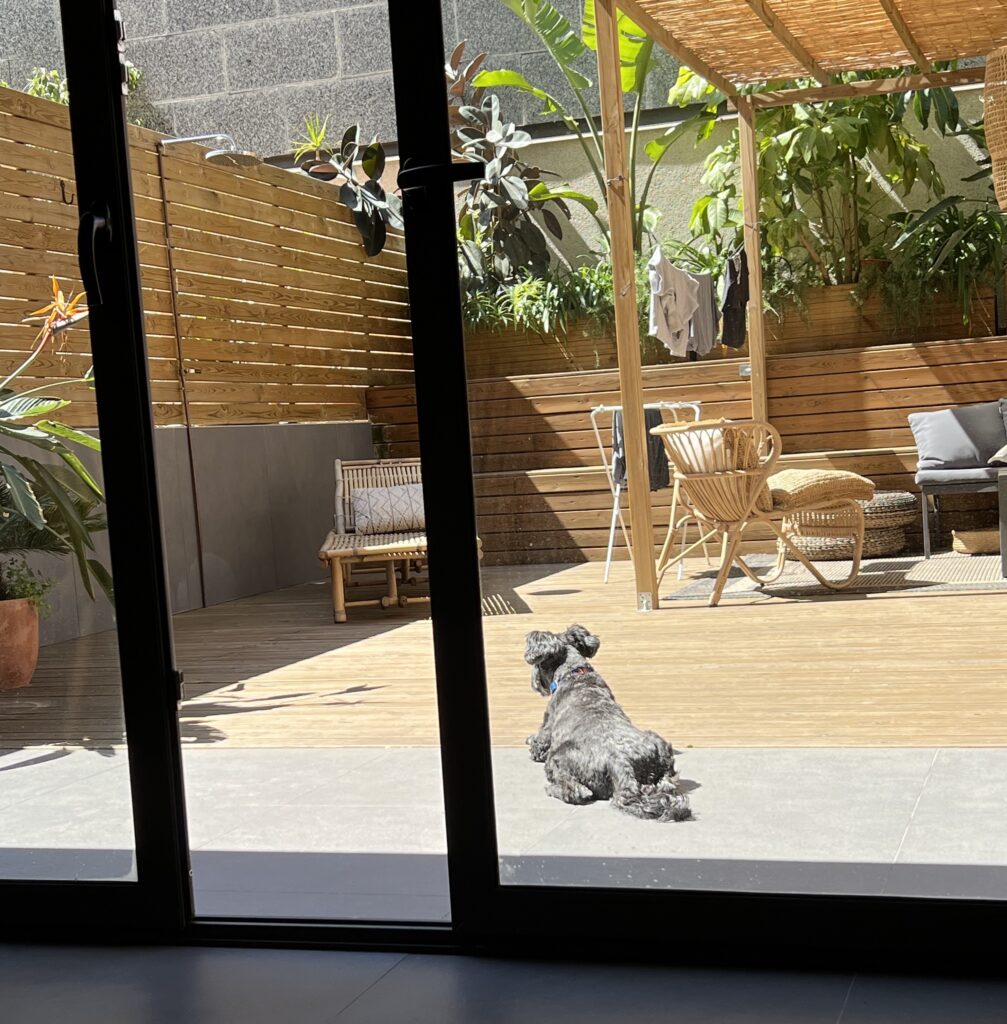 The process to reserve the apartment was pretty easy and included submitting passport pictures and declaring our income. They never actually asked for a bank statement or pay stub.
Arriving at the Ukio Apartment
A lot of people and places in Europe use WhatsApp for communication and that's essentially how we coordinated our arrival to the apartment. Once we landed in Barcelona we reached out and when we arrived at the apartment, we were met by an Ukio staff member who gave us a quick tour and explained some of their concierge and customer support services.
Some of the fantastic services include twice monthly cleanings and fresh linens. (Of course we'd clean in between etc., but this is a nice perk.) Every apartment comes with a record player, some vinyls to play, fully equipped kitchens, Wifi, television and more. We did buy a few kitchen and bath items that we wanted, but the fact that most things were already there made it easy to settle in.
Differences Compared to Apartments in the States
Right off the bat, the biggest difference is not having a dryer for laundry. Second to that is figuring out a European oven and having to use an electric convection stovetop. Four months later, I'm still trying to make the prefect over-easy egg. As for the oven, Nik has a better grasp on that, but the ovens here can bake, toast and microwave all in one.
The washers here are also a lot smaller than in the States. It seemed like I was doing laundry every other day because you can't do large loads. We also had a smaller wardrobe here than back in Chicago so laundry was (and still is) being done more frequently.
Aside from the terrace providing a nice outdoor space, it was the perfect spot to line dry our clothes. It'd get sun for hours and things would dry pretty quickly. It's how everyone does it here so you get over that awkwardness of your neighbors seeing your undergarments pretty quickly.
Central air and heat are uncommon in this city but we had two wall mounted units that provided both, one in the living room and one in the bedroom. We never needed the heat, and using the AC was a little challenging at night when Koval would be in his crate in the living room and Nik and I in the bedroom. The living room would get warm, and we didn't want to kill the utility bill by having both AC units going. So we eventually let Koval sleep in bed with us. His sleeping is more like him being a bed hog and Nik and I having only a sliver of the bed.
Most apartment buildings have "interior" units that face a courtyard or "exterior" units that face the street. We had an interior unit which had pros and cons. Pros: not a ton of sun would get in, but we did have good blinds to help keep the apartment cool when the sun was bright. Cons: not a whole lot to look at. Koval would be out there and sometimes catch pigeons flying by on occasion giving him something to bark at. I think he missed having the stimulation of looking out at a street.
Overall, we were very pleased with our Ukio experience and would recommend them. The apartment we had was beautiful and all their others look just as great. A nice alternative to Airbnb.