Nik and I recently returned from three nights in the Amalfi Coast and this might be my favorite trip yet. We stayed in the town of Praiano, located between hotspots Positano and Amalfi. Praiano was the perfect location – laid back, but with a nice selection of places to eat and drink.
When our friend Courtney said she and a friend were taking a trip to Italy with stops in Rome, Florence and Amalfi Coast, Nik and I looked to see if any dates worked for us to meet her. Sure enough the dates worked and we chose to meet Courtney and her friend Adam in the Amalfi Coast town of Praiano.
Flying to the Amalfi Coast
We flew from Barcelona to Naples, the closest airport in that region, and met up with Courtney and Adam to share a car service that would drive us to Praiano. Buckle up! The drivers in this area are crazy, as if normal driving rules don't apply. The roads are narrow, hug the coastal mountain edges and have some of the sharpest turns I have ever experienced. After about 90 minutes of this, we arrived at our destination.
Once we got settled at our hotel, we learned quickly that sidewalks don't exist in this area. You just keep your head up and hope the cars are respectful of you walking along the side of the road. Luckily we didn't have any issues during any of our walks.
Staying at Hotel Tramonto D'Oro
Courtney and Adam had booked an Airbnb and Nik and I are all about redeeming points when we can. We found a nice looking hotel, Hotel Tramonto D'Oro, through the Chase Rewards portal that fit our needs for three nights. The hotel was a 20 minute walk from their place, and as we'd learn, walking in Praiano was convenient but hilly and hot. Convenient because the bus system along the main road can be confusing and cabs aren't really an option because of their high cost to go a very short distance. Hilly, for obvious reasons – lots of uphill roads or stairs to climb.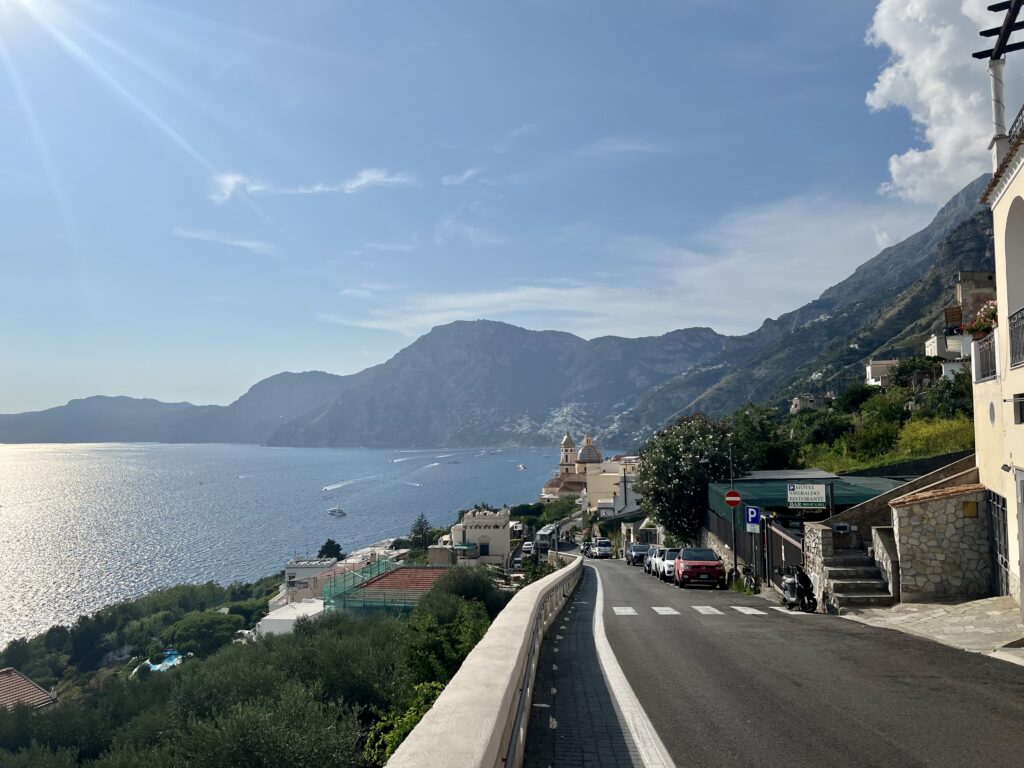 The family owned hotel was very nice and centrally located to a few restaurants we had scoped out ahead of time. There was a lovely rooftop pool that we only used once.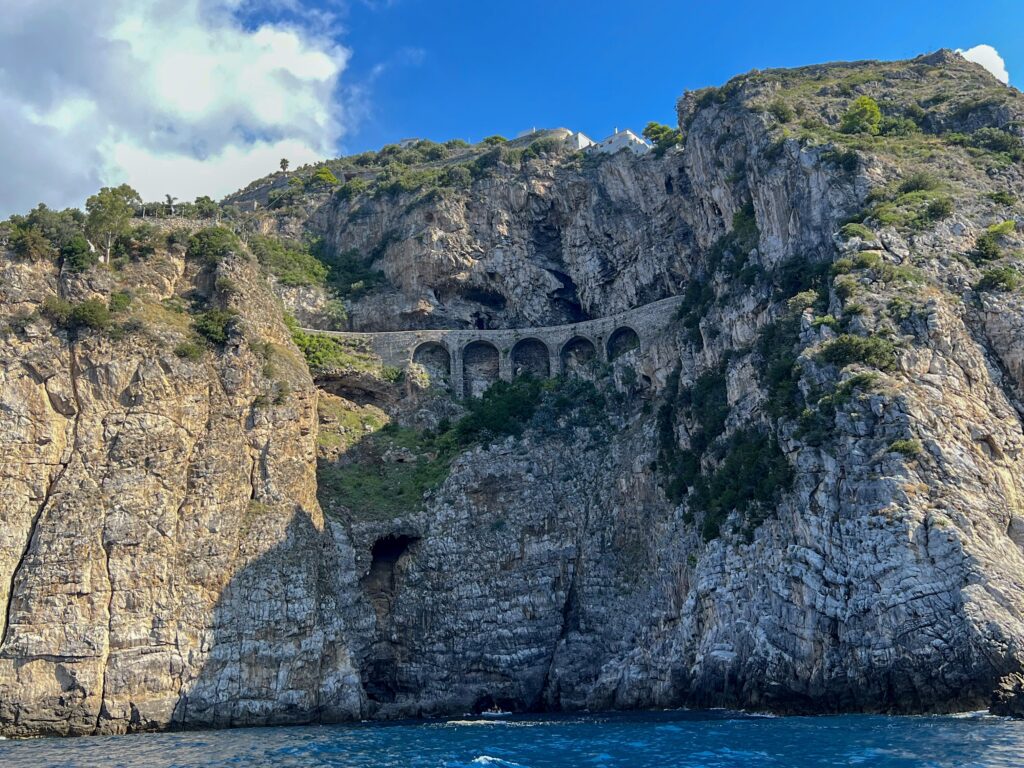 If not for a day at the beach club or the boat tour, we would've been by the pool a lot more. We had breakfast every morning from a very nice buffet that offered a variety of sweet, savory and fruit items. The fresh squeezed orange juice could not be beat. The dining room looks out over the coast and is just beautiful. If we return to the area, we would stay here again.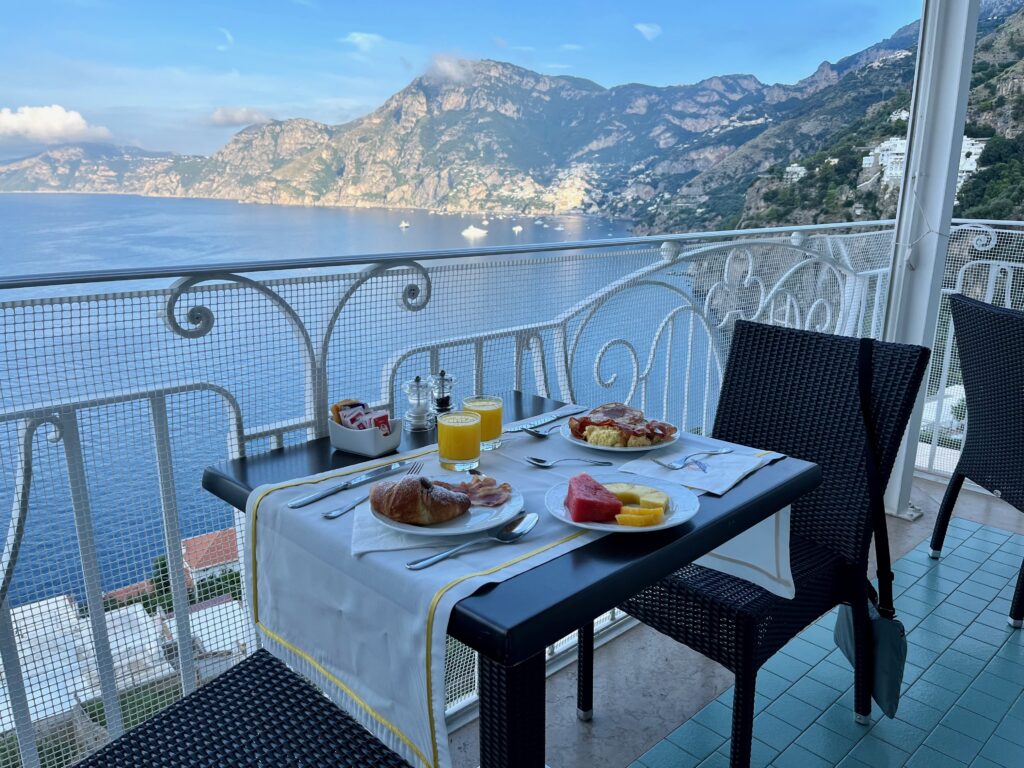 Dining out in Praiano
Bar del Sole
With a terrace that overlooks the Church of San Gennaro, Bar del Sole is a prime spot in town for snacks, drinks, gelato and great views. The terrace is right off the street making it a great location to witness the crazy driving and traffic jams.
Due to its close proximity to our hotel, we had pre-dinner drinks there each night and made it our stop at the end of the night to pick up a few beers to drink back to our room. They're also very generous with the snacks, whether chips, bugles or peanuts. Each time we ordered another round of drinks, one or two small snack bowls were brought out with the drinks.
Dinner at Cialì Bistrot
For our first dinner we ate at Cialì Bistrot, a cute looking space that prides itself on freshly made meals. I learned of them via Instagram and dinner did not disappoint. After a stop at Bar del Sole, we made the short walk to dinner.
We started with cocktails and the eggplant parmigiana croquette. Neither of us eat eggplant often, but this was delicious. Tasted just like any parmigiana dish you've probably had. Lightly breaded with tomato, mozzarella and eggplant inside and sitting atop a marinara/béchamel sauce. As for cocktails, I had an Aperol Spritz which is a popular cocktail in the region, but I wasn't a fan. A little too bitter for my liking.
Both Nik and I thoroughly enjoyed our entrees. Nik had the handmade pappardelle pasta with sausage genovese sauce and I had the pacchero pasta with crustaceans bisque, lobster and red shrimps. Both dishes were absolutely delicious. They were so good that we contemplated going back once more for dinner before leaving, but we didn't end up doing so.
Che Bonta Restaurant
Dinner number two brought us to Che Bonta. Their menu has a little bit of everything and that's what we had too. Continuing our fried eggplant tasting, we started with the eggplant meatball. It was good, but not nearly as good as the eggplant croquette we had the night before at Ciali Bistrot.
For entrees, I ordered the Sorrentine gnocchi: potato gnocchi with fior di latte tomato sauce and basil covered with parmesan and baked in the oven. Nik ordered a Margherita pizza. We shared the entrees and they were both so good.
We ended up getting pizza for take away from Che Bontà for our last night in Praiano. Totally worth it.
Beach and Boating Along the Amalfi Coast
Il Pirata Beach Club
While researching this trip, we learned there aren't a whole lot of public beach options along the Amalfi Coast. Most beach access is through hotels or private beach clubs that hug the rocky coast. You get in the water by jumping in or taking a ladder down. No slow wading into shallow water, which is my preferred method of going in the water at a beach.
Of our options in Praiano, we decided to rent a few beach chairs (25 Euro a chair) for the day at Il Pirata Ristorante, Lounge Bar and Beach Club. Google maps said it'd be about a 30 minute walk from the hotel. No biggie, we're used to walking, and assumed we could walk the main road there. Nope. We started on the main road, then it took us up a steep hill with no shade, down and around a hill then back to the main road.
The others all took turns jumping into the water, while I took my time climbing down the ladder holding on for dear life. I am not a fan of deep water, so I was definitely stressing myself out about going in. Nik is a trooper and let me hold onto him while he did all the hard work keeping us afloat.
Several hours and drinks later, we called it a day at the beach club. The walk back to our respective lodgings began by going uphill to the main road. Nik and I tried to take the main road the whole way back but hit a tunnel that wasn't wise for us to walk through. Now we know why the route to the beach club had us go up and around. Oh well. The routes that took us off the main road were a nice way to see other parts of Praiano and explore the narrow side streets and staircases.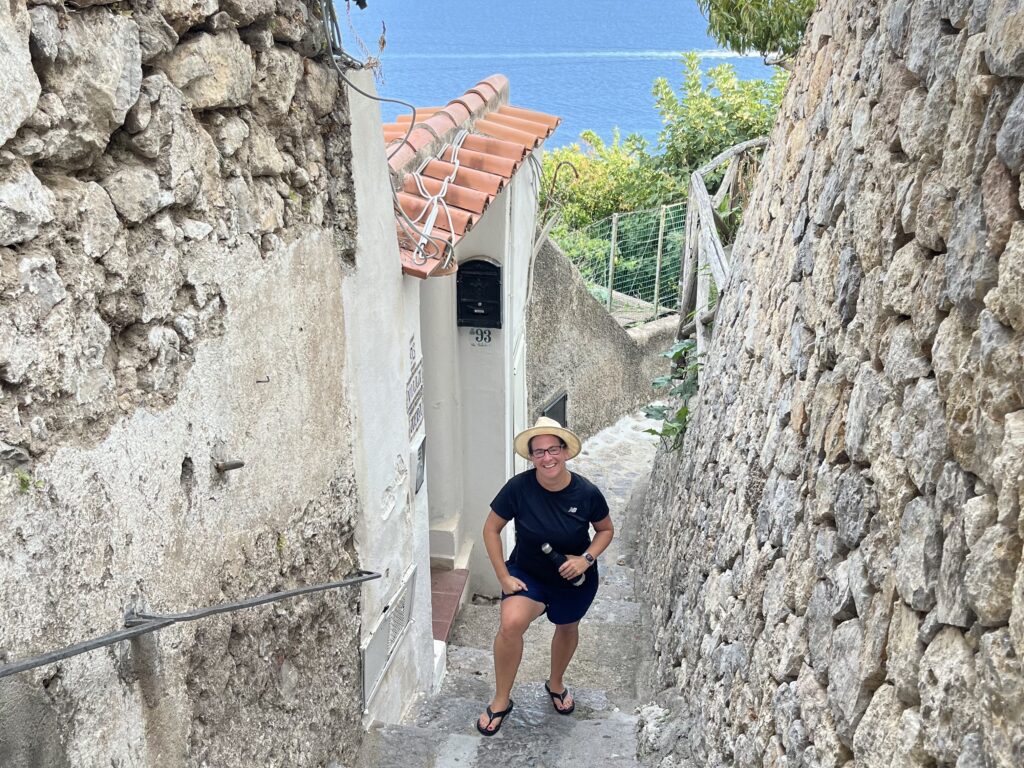 Private Boat Charter with Amalfi Sea Service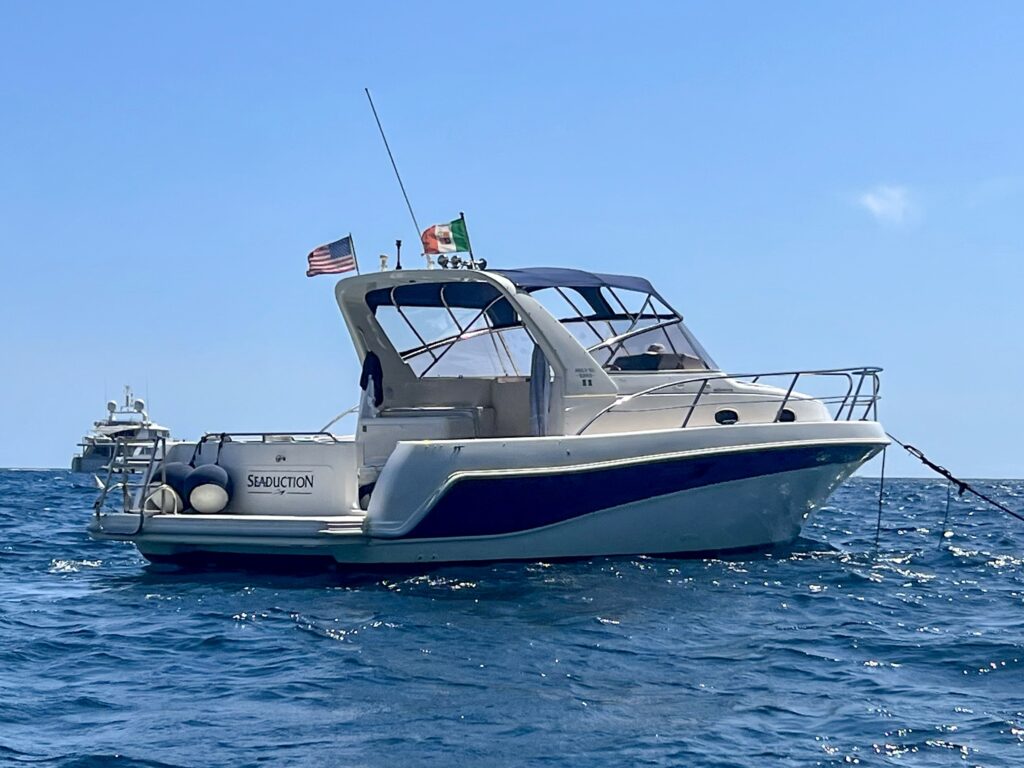 While researching boat tours to take while on this trip, Nik and I preferred doing a private charter versus a public shared tour. Luckily Courtney and Adam were on board for this idea, no pun intended.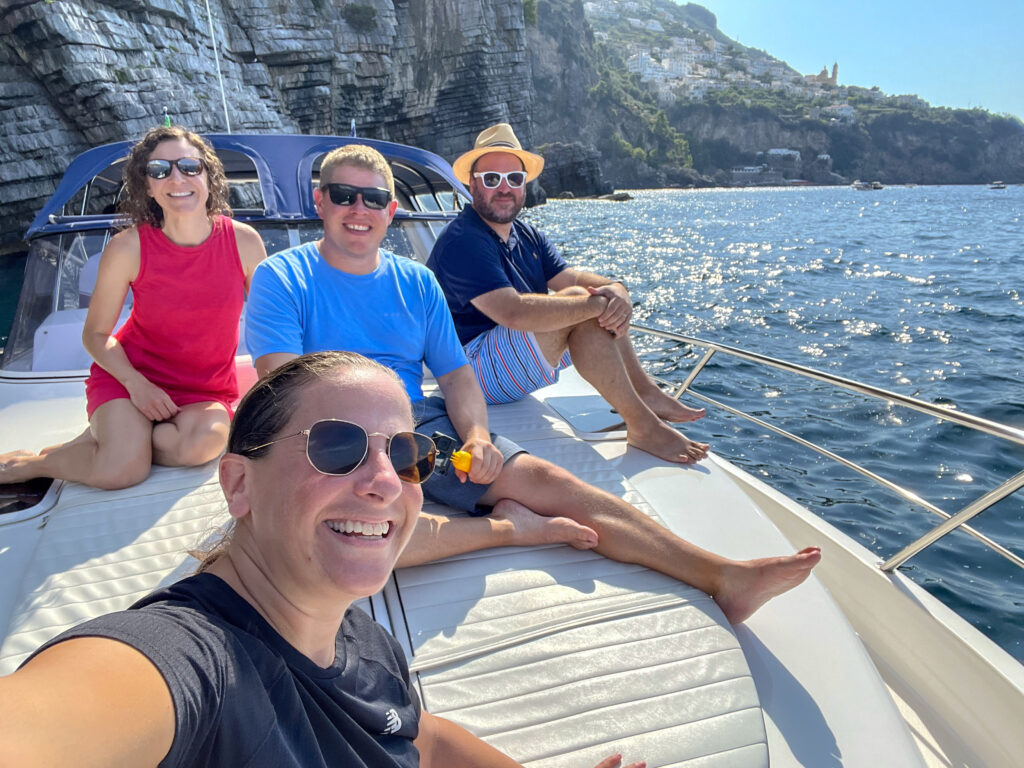 I arranged our private boat experience through Amalfi Sea Service. (Through Google and comparing companies/pricing I came to this choice.) I communicated with Cosimo through WhatsApp to arrange everything. He was always responsive and boat day ended up being the best part of the trip for me. He picked us up at the Marina di Praia so we didn't have to make our way to Amalfi. (This pickup location added a few bucks to our cost.)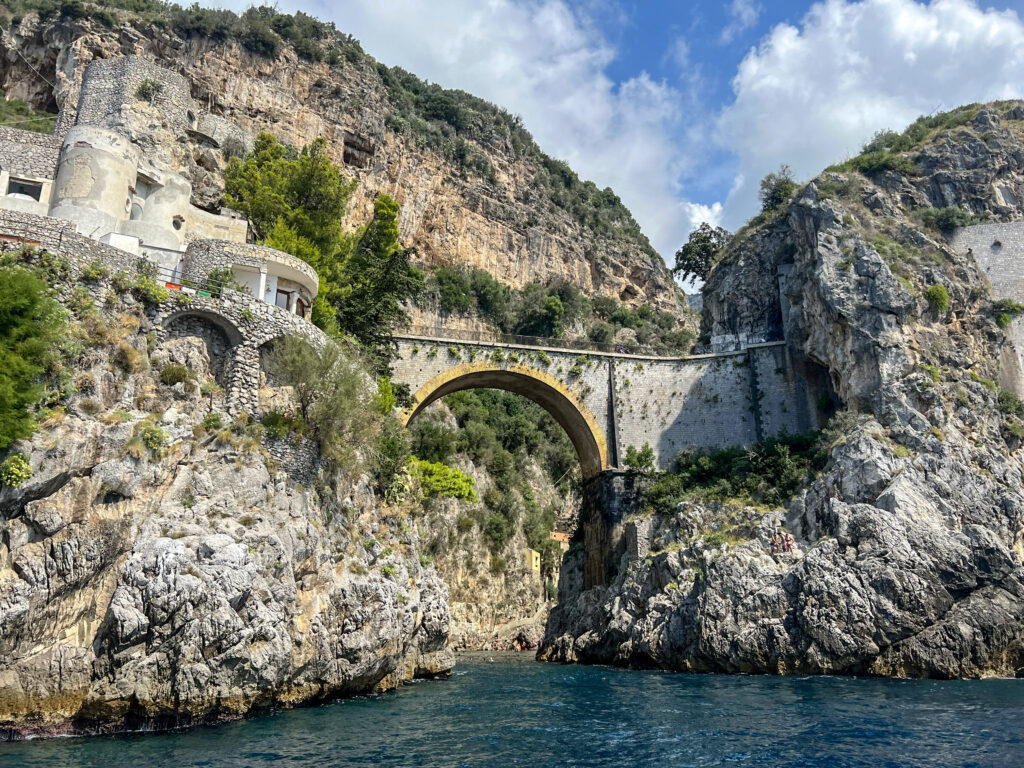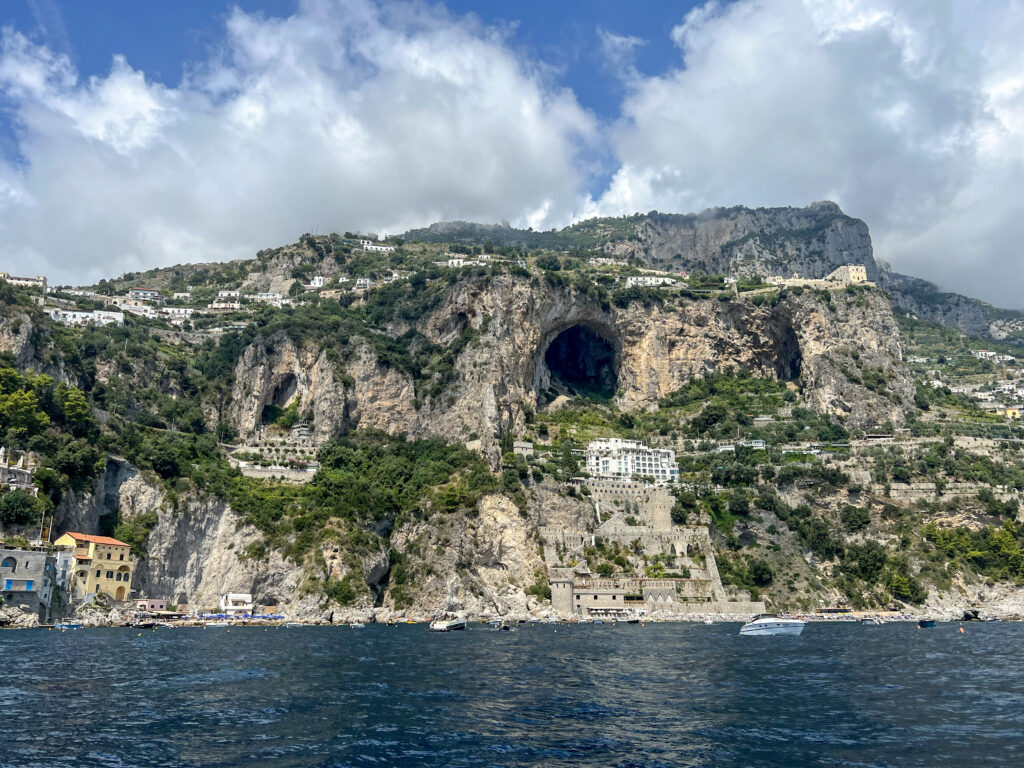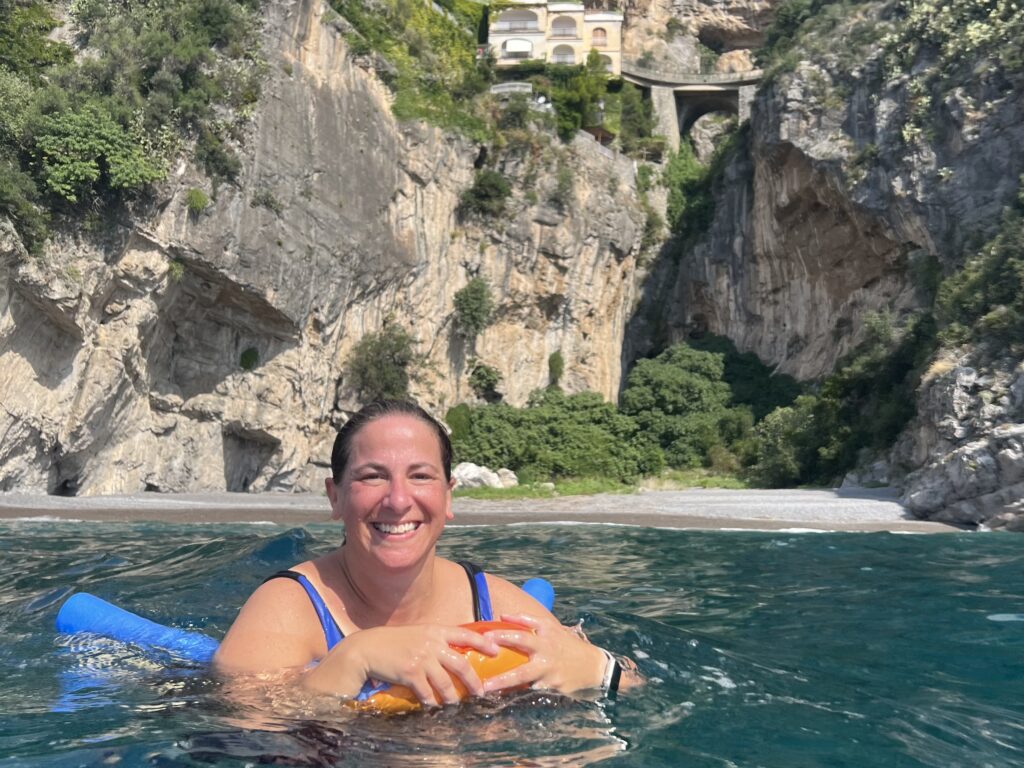 The boat sailed along the coast and we got views of Positano, Amalfi and other tiny towns such as Furore and Conca dei Marini. We made three stops to get in the water for floating/swimming and one stop for lunch at Ristorante Da Teresa which is only accessible by boat. (After we dropped anchor nearby, a smaller boat ferried us to the restaurant.) I had the most delicious lobster linguine for my lunch.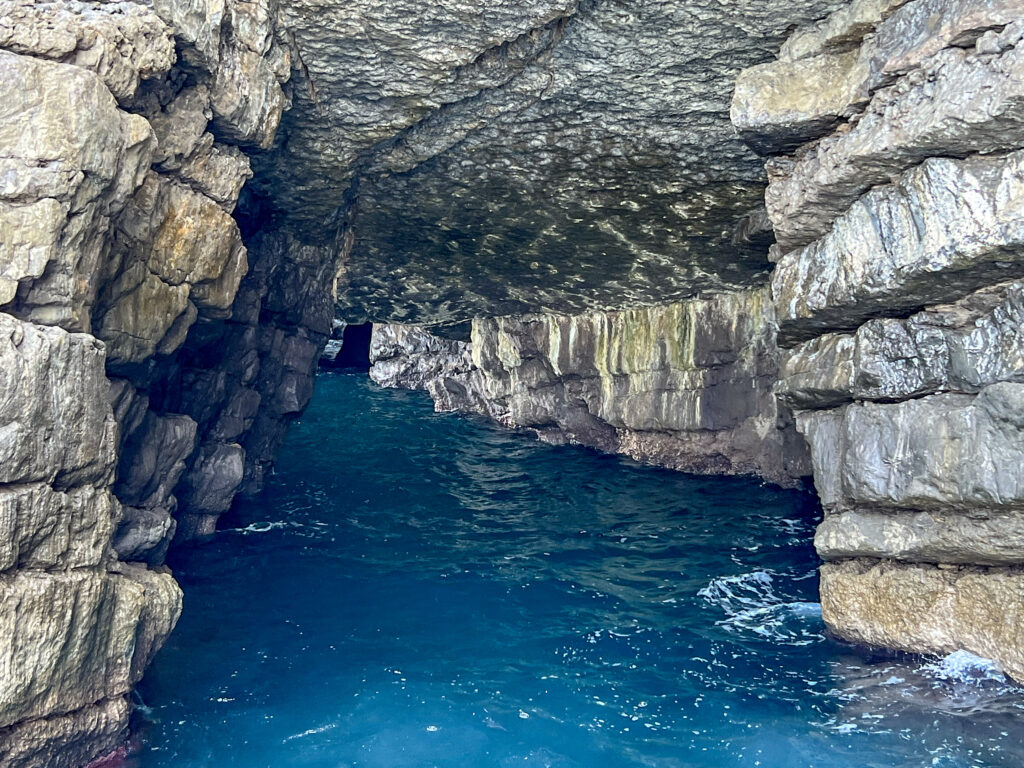 Being able to view the Amalfi Coast and its towns from the water was simply amazing. I was in constant awe of how the buildings and roads were built and how high up you could spot some houses. Just beautiful.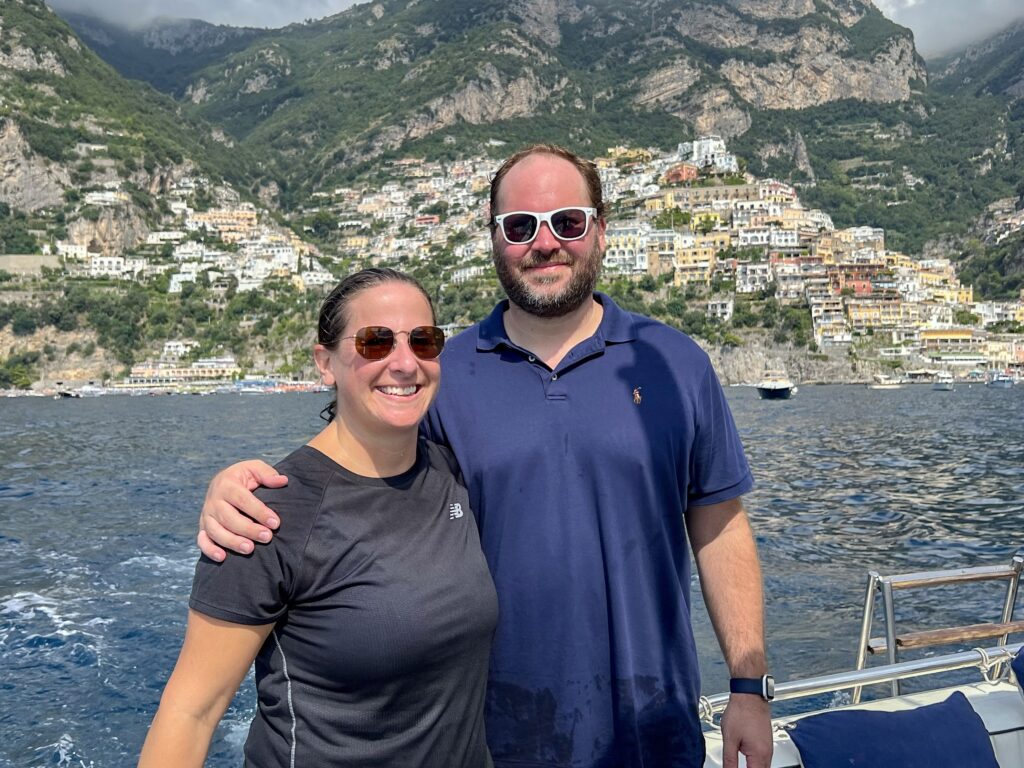 I'm sure on first glance in the Instagram reel I made, it looks like we spent a ton of money on this private boat experience. Depends how you look at it. For four people and roughly five and a half hours boating along the Amalfi Coast, it cost 650 Euro. Divided by four people, not bad. We got to enjoy an afternoon without strangers. A bottle of champagne and a few beers were also included and most importantly, noodles for the water which were my savior.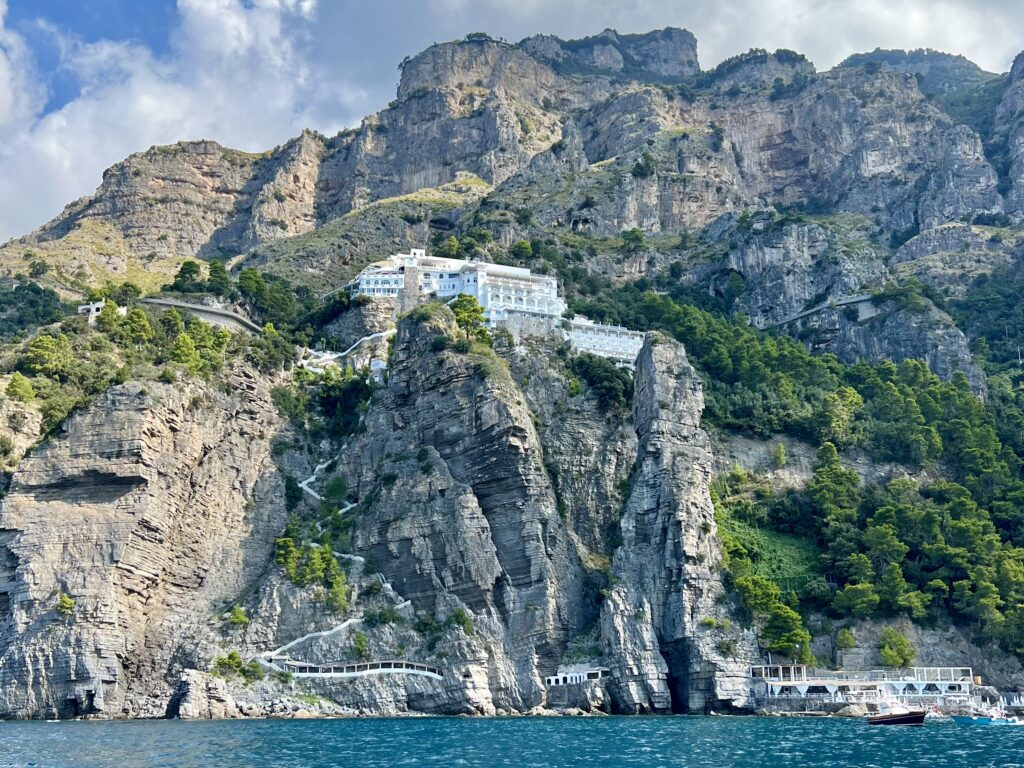 To wrap up our time in Praiano, Nik and I picked up pizzas for dinner, watched Northwestern beat Nebraska to open the college football season and headed to Naples the next morning.
Naples, Italy
Nik and I opted to take the ferry from Amalfi to Naples and spend the night there since we had an early flight back to Barcelona. We got some delicious pizza for a late lunch at Pizzeria Trattoria 900 which filled us for the rest of the day.
Following a nap at the hotel, we hit up OAK Napoli Wine And Craft Beer for a few hours.
The next morning we got to the airport and stopped at the Pasticceria Vincenzo Bellavia location for pastries before heading back to Barcelona.
This trip to the Amalfi Coast is by far my favorite trip we've taken so far. Three nights was perfect and I highly recommend people make the trip if the opportunity arises.