We spent about 48 hours in Brussels primarily to see the Mavis Staples concert but we also intended to see and experience some of the food and culture that Brussels had to offer.  We also experienced dramatically cooler temperatures and a ton of rain which we haven't seen in Barcelona since we arrived.
Transportation
Similar to Vienna, Brussels has a direct train from the airport to the center of the city. The train was about 12€ and took about 15 minutes. From there you arrive in Brussels Central Station with access to local train and bus service. We purchased a day pass with unlimited transfers and took the local bus to our hotel in the Ixelles neighborhood. The bus and train service also accepted ApplePay so for our second day we paid as we went.  The transit maps for the train were easy to use and showed the current location of trains throughout the system.
For a moment of excitement, we were on a bus that had armed security check all the passengers for valid tickets which was a first for us. This was on our way to the hotel and more or less a random check.  We assumed this was a passport check, but no, just bus passes.
Food & Culture
We did our best to hit the staples of being a Brussels tourist: food, i.e. waffles, chocolate and frites. In addition, we stopped at a couple small local places that were recommended for traditional food.
We also tracked down some old photographs Julie had of past family travels and were able to see the same sites 60 years or so later.
Grand Place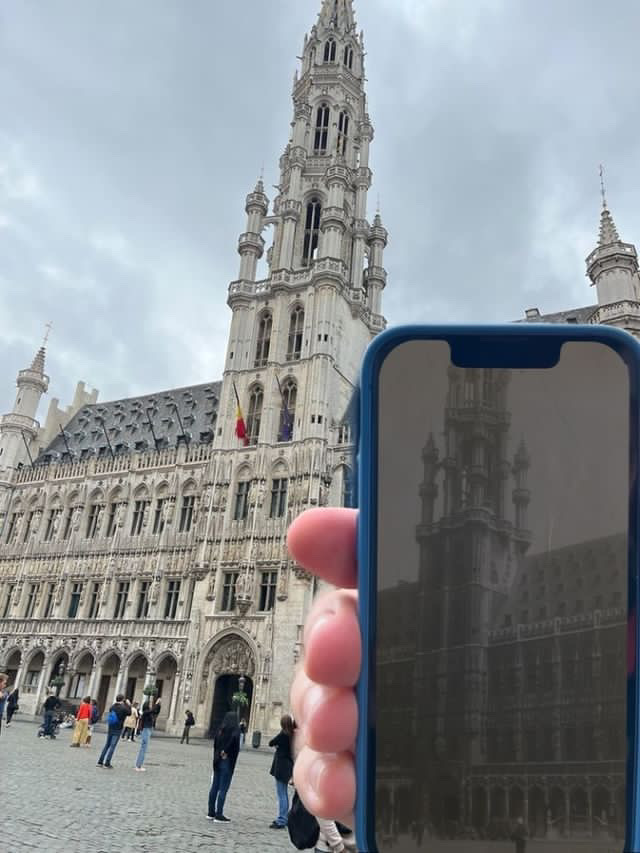 We came across these old pictures of the Grand Place in Brussels from Julie's grandmother and were able to see that not much has changed since then. The Grand Place consists of the major Guild Houses that date back to the 1400's.  This public square has seen some stuff in the past several hundred years. For example, the first Protestant martyrs were burned at the stake here in 1523. Also, a couple of statesman who spoke out against King Phillip II of Spain were beheaded here.  In 1695, an occupying French army used most of the buildings in the square as target practice and in 1914, the German's set up a field kitchen for their army during its occupation.  Good old fashion European History.
Waffles
Our first stop after arriving was Woodpecker for breakfast which included an eggs Benedict on waffles that Julie had tracked down. The food was good, but some rain had started and continued for most of the day.
We had some challenges getting the traditional waffles as street food due to the monsoon that occurred for most of our trip. There wasn't any seating at most Waffle places and the idea of a soggy waffle was not appealing. On our last afternoon, on the way to get drinks, we did stumble across the Pascalino Waffle Truck.
Spaghetti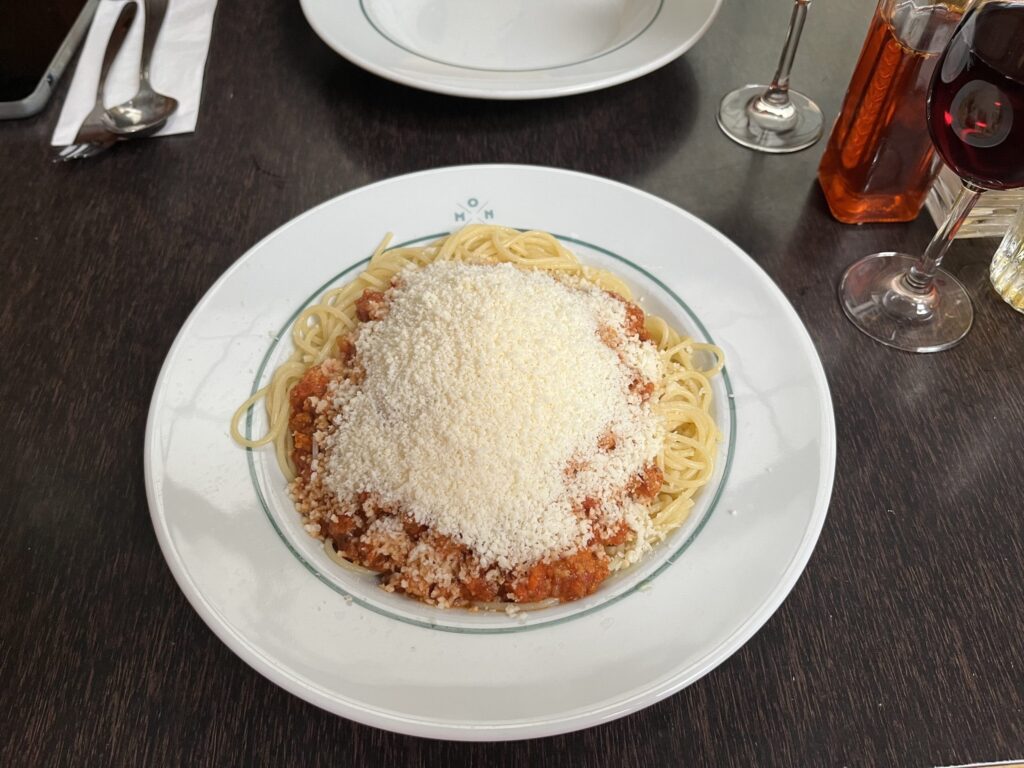 I'm not sure what the deal is but Spaghetti Bolognese seems to be a thing here.  We saw it on the menu at several locations but we were recommended to try it at Monk. It did not disappoint. Julie and I shared a bowl between the two of us for about 15€.  It was basically a tomato pasta with what seemed like two cups of Parmesan cheese on top and it was delicious.
Seafood
As the rain continued we stopped for a bowl of seafood stew at Noordzee before heading over to the Ancient Belgique for the concert.  The stew was good but somewhat expensive for the portion. Considering it was raining, it was just what we needed.
Drinks
One of the highlights of the trip for me was definitely drinks at La Pharmacie Anglaise.
La Pharmacie is in one of the older buildings still standing in Brussels and was an actual pharmacy for a couple hundred years until it was turned into this cocktail bar a couple years ago.  They have a relationship with Hendrick's Gin so there were a lot of special Hendrick's cocktails. The place is a quirky lounge filled with curiosities including a stuffed bear and several skulls in jars, etc.
We also hit Cantillon brewery for traditional lambic style beers. Not really my thing but it was off the beaten path and it was nice to see a different area of the city.  Cantillon was founded in 1900 and has been in continuous operation since.  It's kind of a staple of Belgium beer so we felt it was worth the trip.
Taking a Pis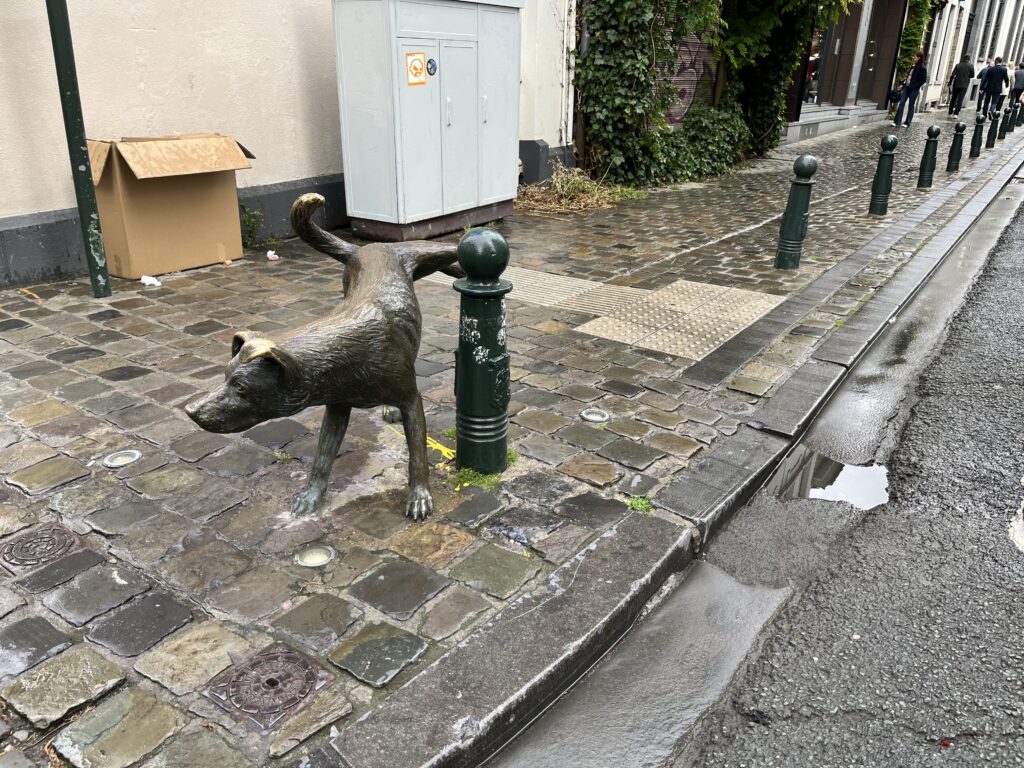 Brussels has a thing for Pissing statues.  The original is Manneken Pis which is kind of a city mascot that dates back to 1619  The statue is often dressed in different attire depending on time of year, social and sporting events etc.  Jeanneke Pis was added in 1985 as kind of counter to the male statue.  It is located near the complex that houses the Delirious Tremmes Brewery.  The Het Zinneke was added in 1998 to round out all forms of public urination that are socially acceptable.
In Summary
We had a good time spending about 48 hours in Brussels.