Julie and I did a short run to Berlin to see a couple of friends in town for the Marathon.  We didn't stay for the race but it was nice to get a change of weather, food and see some people from the other side of the world.
Food & Shopping
Having been to Berlin back in 2018, we already covered the major landmarks and could focus our first day on food and shopping.  Our hotel was near the major shopping street, Tauentzienstraße which has several department stores and many flagship stores of international brands.
KaDeWe
We started off at The Kaufhaus des Westens, or KaDeWe which is the second largest department store in Europe with 7 floors of shops and restaurants.  We spent a couple hours covering as much as possible and eating at the BRLO Brewing location for Chicken and Beer.  I was also able to score legit jars of Luxardo Cherries for €10.  The place had everything and I could have spent more time there.
KaDeWe was originally built in 1906 and has been upgraded, bombed and nearly destroyed over the years.  An American bomber plane crashed into the building in 1943 during a bombing raid over Berlin which practically gutted the store.  The store didn't reopen until the early 1950's and even then was just a couple of floors.  As the years went on it has been expanded to returned to its original grandeur.
Schleusen Krug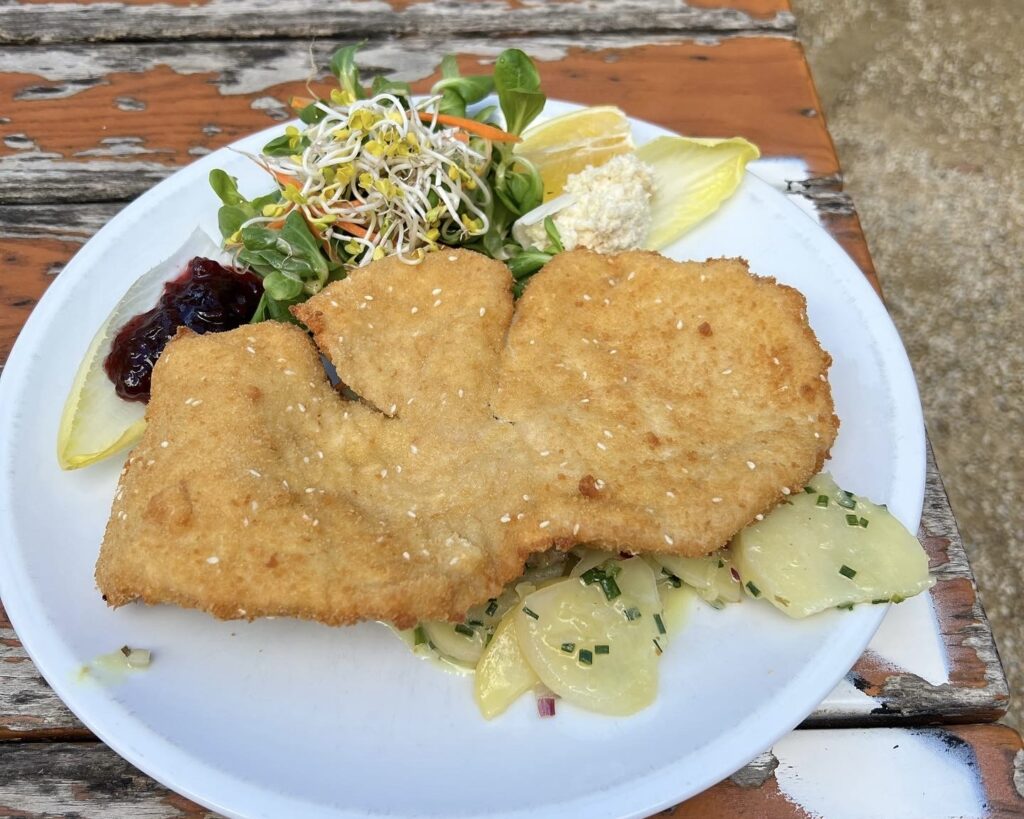 After checking out several of the flagship stores we headed to the Schleusen Krug beer garden.  Schleusen Krug is situated in the Tiergarten near the Berlin Zoo.  Julie and I shared the schnitzel and had a couple of beers enjoying the fall weather.
Following lunch, we walked along the zoo perimiter and towards an area of the city that houses a bunch of Embassies. We most notably passed the Spanish Embassy. The story of Berlin's embassy history and its architecture is very interesting.
Related: Seeing many of the historical and cultural sites on our trip in 2018
Kreuzberg Neighborhood
Markthalle Neun is a well-known indoor market with food and beer vendors in the Kreuzberg neighborhood, just south of the main city sights. To be frank, we were disappointed with our visit there. Granted it was around 4 in the afternoon, the website said things would be open until 6pm. So we grabbed a couple beers and then walked in the area towards another bar.
On the way, we passed by Die Apotheken Bar (The Pharmacy bar,) a vintage-style bar in a former apothecary. The window pictured above is really what drew us in.
From there it was onto Biererei Bar & Vintage Cellar for a couple of beers. They had a wide variety on draft and the cooler Berlin temps made it proper weather for Julie to have a stout. To end the evening we hit up the Oktoberfest event on Alexanderplatz. (Due to the nighttime lighting, no pictures are available to showcase.)
Stumble Stones
Much like our time in Vienna and Brussels we came across several Stumble Stones as we went about our days.  Most of them were near our hotel in what is the western part of Central Berlin.
Seeing Friends from the States
A highlight of the trip was seeing two different friends of ours who were in Berlin from the States.  They each had a group of friends with them and it was nice to catch up and just hang out.
We first met up with Julie's friend Johnny at another BRLO Brewery location next to Park am Gleisdreieck. Johnny was in town to support his friend running the marathon. Several hours and beers later, we took some pictures in what is probably the best lighting we've had in awhile.
Prater Biergarten
To wrap up our time in Berlin, we started the day meeting Johnny and friends down by the Bradenburg Gate before heading to the Prater Biergarten on the East side of Berlin. It's Berlin's oldest, dating back to 1837. We had been there previously and really enjoyed the space and they have A+ sausages.
Eventually people started trickling in. Johnny and his group and my buddy Luke, who was also in town to support a friend running in the marathon. We lost track of how long we were there, but it was long enough that the sun had set.
We walked from the biergarten to FC Magnet Bar for the Germany vs. Hungary Nation's League match. Hungary stunned Germany, winning 1-0.
Johnny noticed the Berlin Wall Memorial along Bernauer Strasse was a short walk away, so we headed over to it.
It was dark out but still pretty moving to see some remaining portions and footprint of where the wall stood. It's the only section preserved in its full depth. Reading about how the wall was built in that area, I can't imagine living there during that era.
All in all, it was a great trip. The comfortable weather, familiar faces and different food was perfect.