Now that the temperature around Barcelona has cooled down a little, we want to explore some ares south of us. Valencia is one of those cities and is roughly a three hour drive away. We found a nice Marriott property that allows pets so we booked two nights, rented a car and took Koval with us for a roadtrip to Valencia.
Old Town Valencia
Staying at the Palacio Santa Clara
Our hotel Palacio Santa Clara Autograph Collection was located in Old Town and was truly a wonderful stay. We had to sign one extra paper because we had Koval the dog with us, but we knew he'd be ok.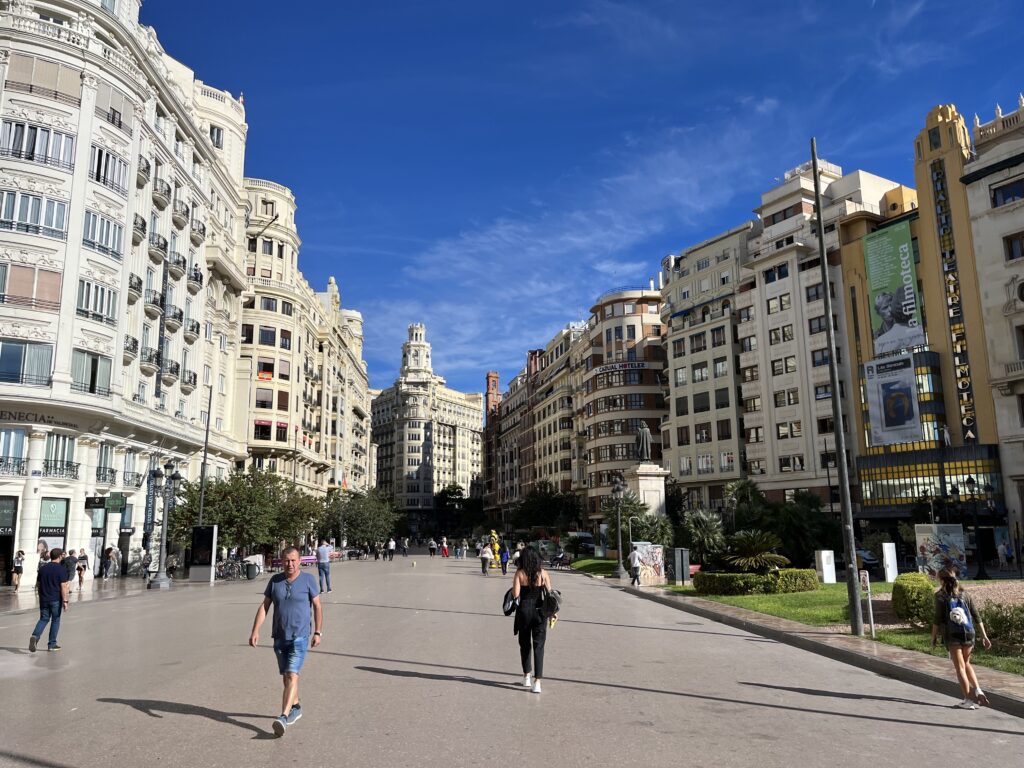 (There was also a 25 Euro per night pet fee). Koval has gone on two previous trips with us where we stayed in Airbnb's that were located in apartments. He never barked much or reacted to the various noises associated with a community building so we knew he'd be ok in a hotel. Luckily he's excellent in his crate when being left alone for a few hours. I had a little smirk each time we walked through the lobby to take him out. Most people smiled at us and a few wanted to pet him.
Since the weather was sunny, Nik and I opted to hang out at the rooftop bar and pool for the afternoon. The pool water was pretty cold so I only dipped my feet in. The bar was a very cool space in the dome of the hotel.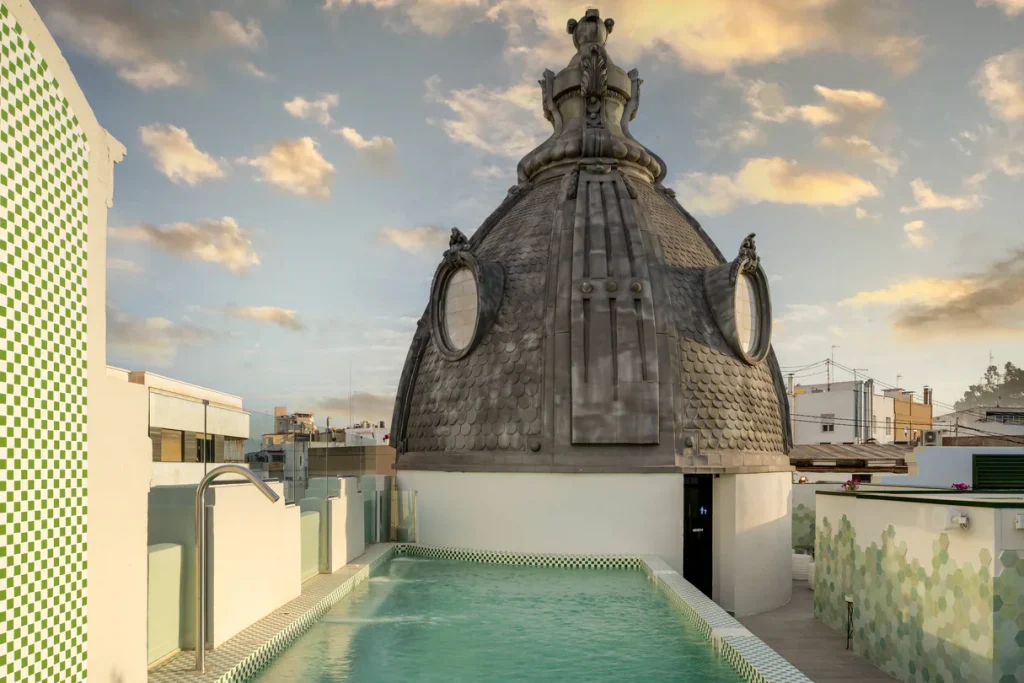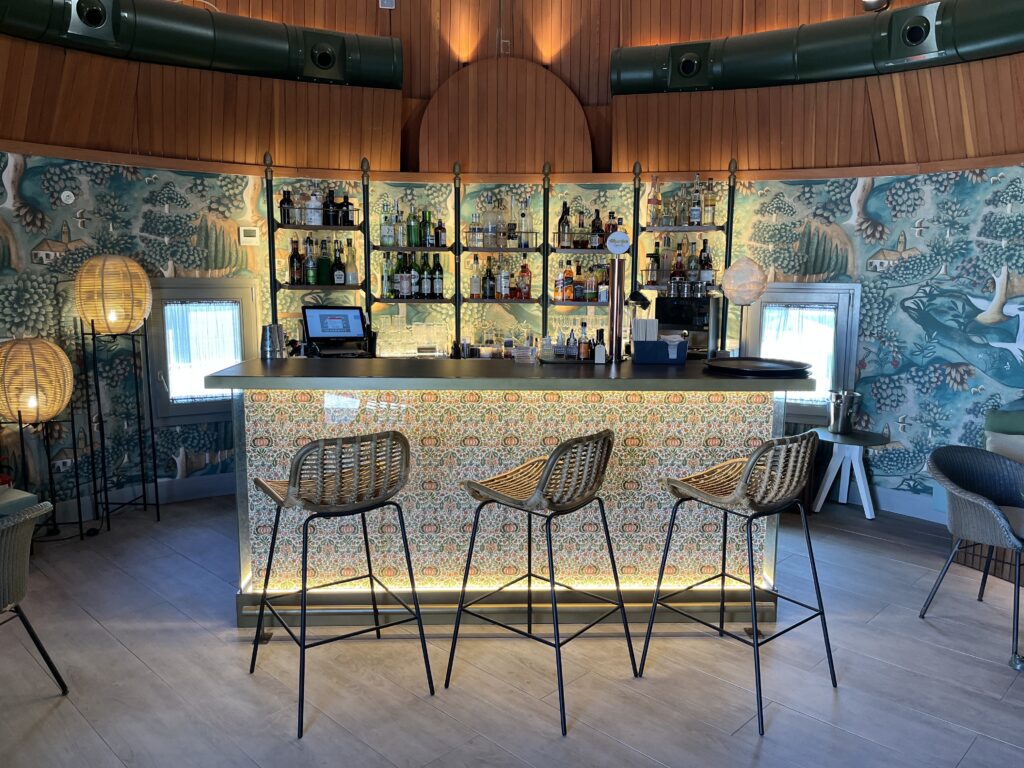 On our first night, after returning from an evening out, we entered our hotel room to see we had turndown service. They left little chocolates by each pillow and propped up Koval's bear. The latter gave us a good laugh.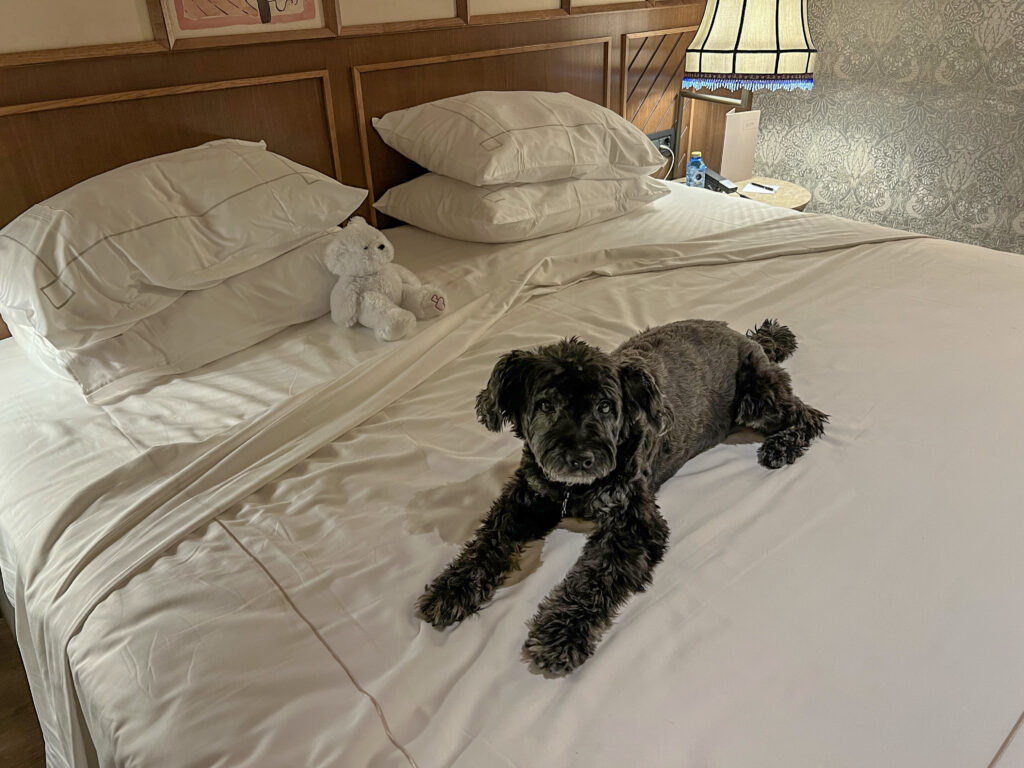 Sightseeing in Old Town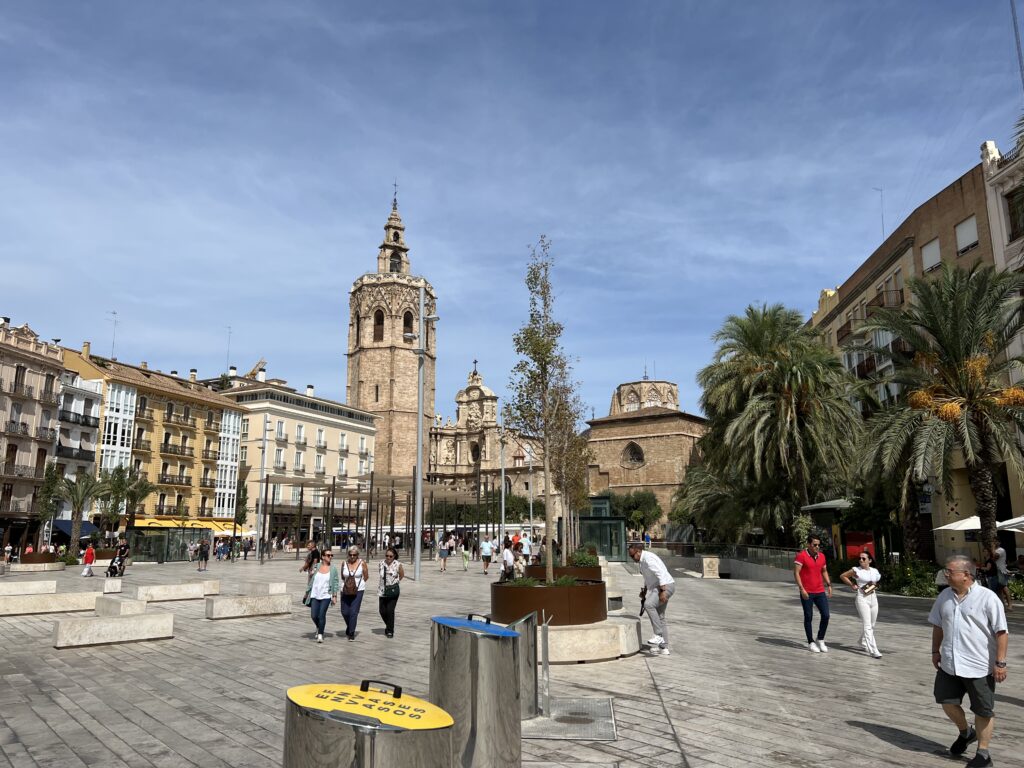 The location of our hotel was perfect for walking around the Old Town area. Similar to many of the cities we've visited so far, Old Town has a lot of small side cobblestone streets that were cute to walk through.
The Central Market was 10 minutes away and the historic Valencia Cathedral was a few minutes past the market. In typical Spanish market style, The Central Market had a variety of stalls for meat, seafood, sweets and much more.
The Valencia Cathedral is situated by Plaça de la Reina, a lively square bordered by cafes, bars, shops and historic buildings. It was in this plaza at a cute little cafe called L'Abadia that we drank the delicious Agua de Valencia.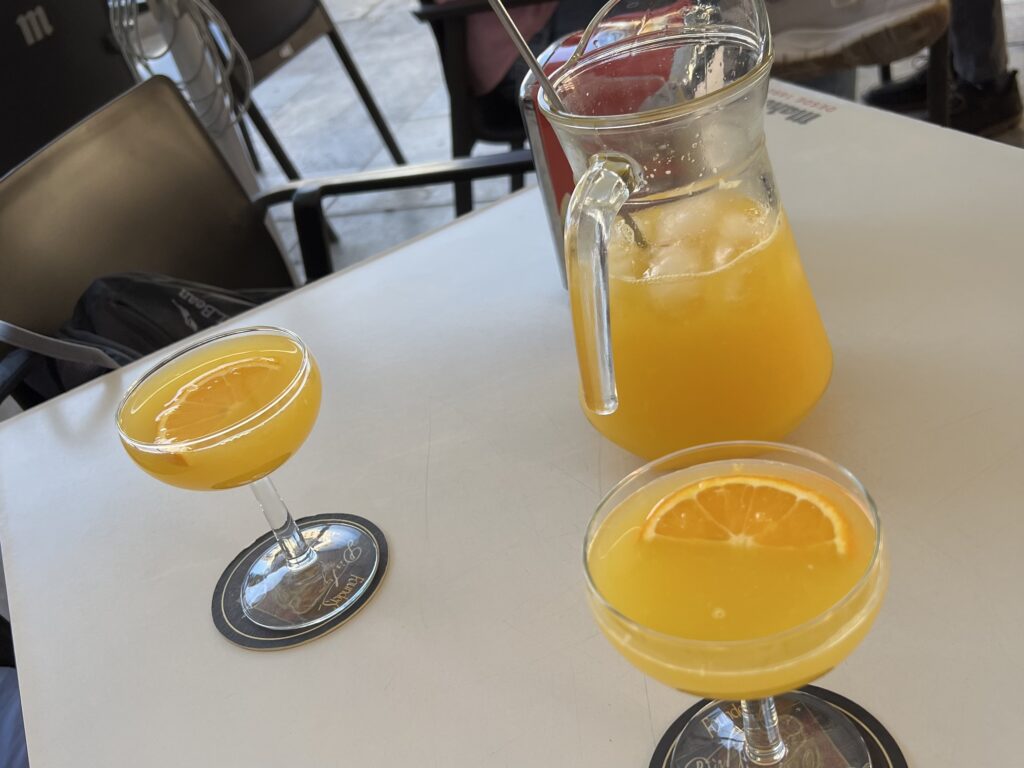 Most often served in a pitcher, it is a cocktail made from a base of cava or champagne, orange juice, vodka and gin.
A couple blocks from our hotel was Plaça de Bous de València, a still active bullring. While I don't condone the sport, the scale and grandeur of the building in the middle of the city is pretty impressive looking.
Eating in Valencia
I stumbled upon a Facebook post in a food group where someone listed a suggestions of where to eat and drink in Valencia. That's how we found two of the places we ate at, Llisa Negra and La Pepica.
Llisa Negra
A short walk from our hotel was Llisa Negra. This was where we had dinner our first night and was probably one of the best meals we've had so far while in Europe. Nik and I shared an appetizer of crab bechamel in its shell.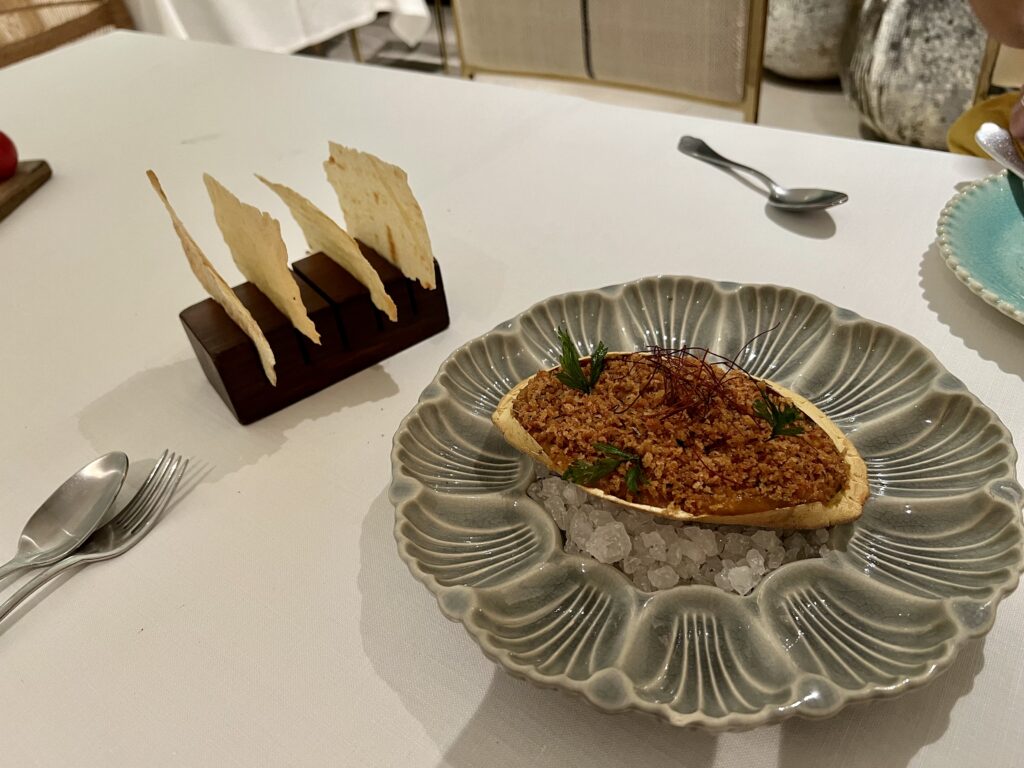 For entrees, I had the grilled lobster with spicy sea urchin gratin. I wasn't sure how the sea urchin would be since I've never eaten before and am leery on certain fish. But this all tasted pretty good.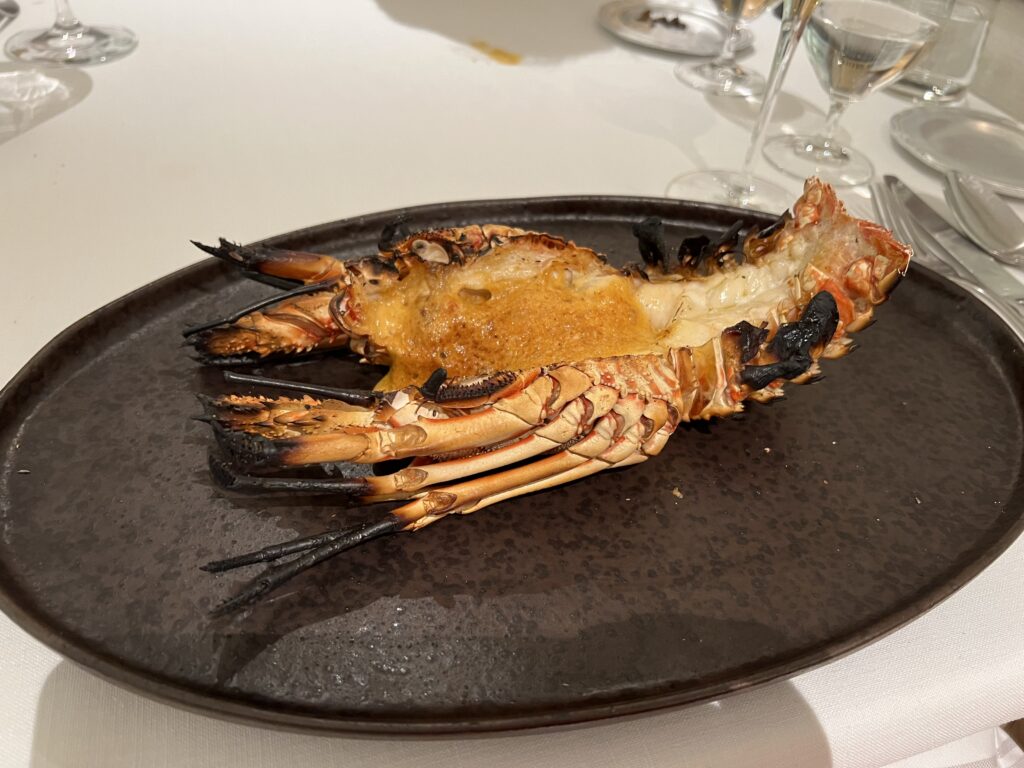 Nik had the grilled rib eye that was aged 30 days. It was a huge portion and there were leftovers that we brought back to Barcelona and used for delicious steak sandwiches. (Our hotel room had a fridge and we brought a cooler and ice packs with us to keep Koval's wet food fresh and it worked well to bring leftovers back!)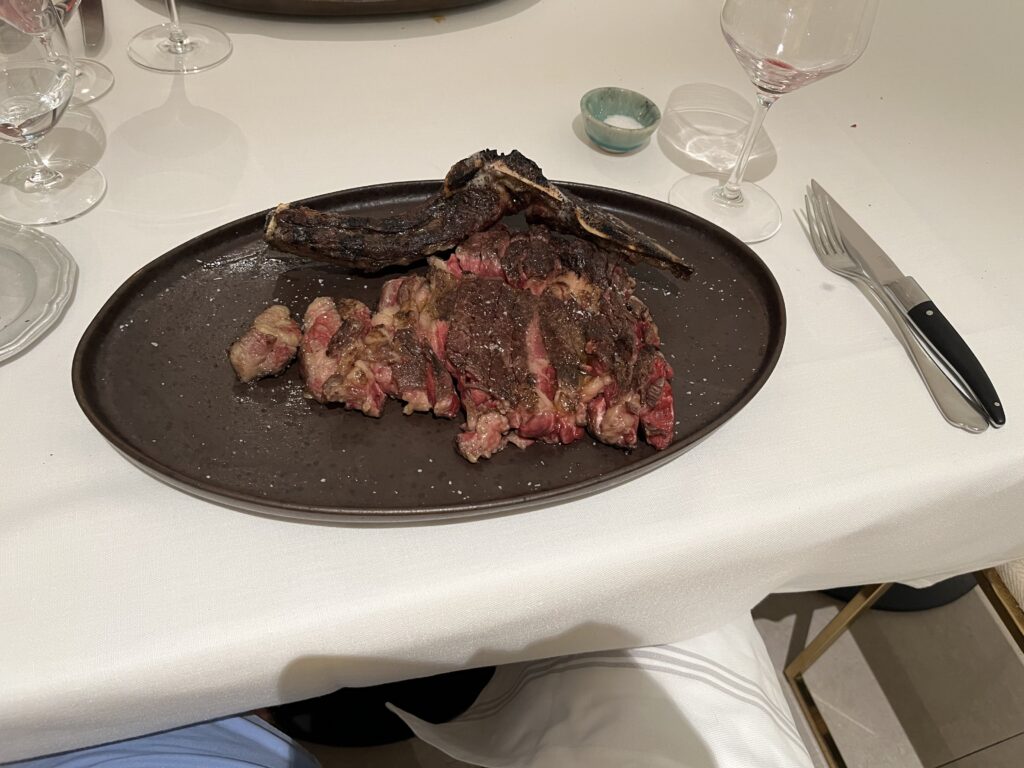 La Pepica
Valencia is known for its Paella, a rice based dish. I'd say the most popular style is a seafood paella, but traditional Valencia Paella often is made with duck, chicken and sometimes rabbit. No thank you. Through the same Facebook group I found La Pepica and so that's where we headed for lunch. It's located near the beach and got us to another part of the city. We opted for the lobster paella and it was pretty good. However, not as good as the one we had in Platja d'Aro.
Related: A weekend in Platja d'Aro
Ciudad de las Artes y las Ciencias (The City of Arts and Sciences)
Between the old and new styles, there is no shortage of beautiful architecture in Valencia. One such area of new architecture is the City of Arts and Sciences, a cultural complex in the city, designed by Santiago Calatrava and Félix Candela. Between the bridges, park spaces and buildings, the complex is made up of nine structures and buildings. Absolutely just beautiful and very peaceful to walk around.
Since it was late September that we were there, we definitely missed a lot of the tourist crowd. The cooler temps and low humidity made it the perfect time for a roadtrip to Valencia.