As our time in Spain and abroad was winding down, I wanted Nik and I to visit more of Southern Spain. I also wanted to work on my tan, so we decided on a trip to Cádiz and Sevilla. It also happened to overlap with my birthday, so I had that going for me. Both cities get extremely hot in the summer months, so we figured going in April would be a comfortable time to visit and it was.
Getting To Cádiz
Our best route from Barcelona was to fly to Sevilla and then take a train or rent a car and drive the roughly 90 minutes to Cádiz. As we were planning the trip, we learned the train doesn't run frequently between the two cities so we had to rent a car. We also decided to visit Cádiz first for two nights, then end in Sevilla for two nights so we'd have an easier time departing from the airport.
Staying in Cadiz
The drive from Sevilla to Cádiz was relatively easy and we parked a short walk away from our hotel, Hotel Casa Cánovas.
Hotel Casa Cánovas
I don't remember how we picked Hotel Casa Cánovas, but upon arriving, it turned out we booked the hotel for the wrong two nights and arrived on what was technically our second day. Oops. (That said, they never called us about it, nor did they give the room away, so we maybe got lucky in that regard.) Since it was a small boutique hotel, they didn't have availability for us to add the second night so we quickly found another hotel for the next night.
Our room was well appointed with a large couch, a huge shower – probably one of the biggest we had on any trip, and a window that looked out to the street below. It was very nice for our one night stay.
Parador de Cádiz
We easily found a hotel for our second night in Cádiz, the Parador. A much larger hotel, with a pool and views out to the ocean. It was a 15 minute walk from Hotel Casa Cánovas and served its purpose for our one night stay.
While the weather wasn't as hot as we expected for being in southern Spain, we did dip our feet into the pool and the ocean.
Sightseeing in Cádiz
Following a couple drinks and a light lunch at Quilla Restaurante, café y terraza, Nik and I walked along the coast. The weather was beautiful and walking around was a great way to see the area.
Catedral de Cádiz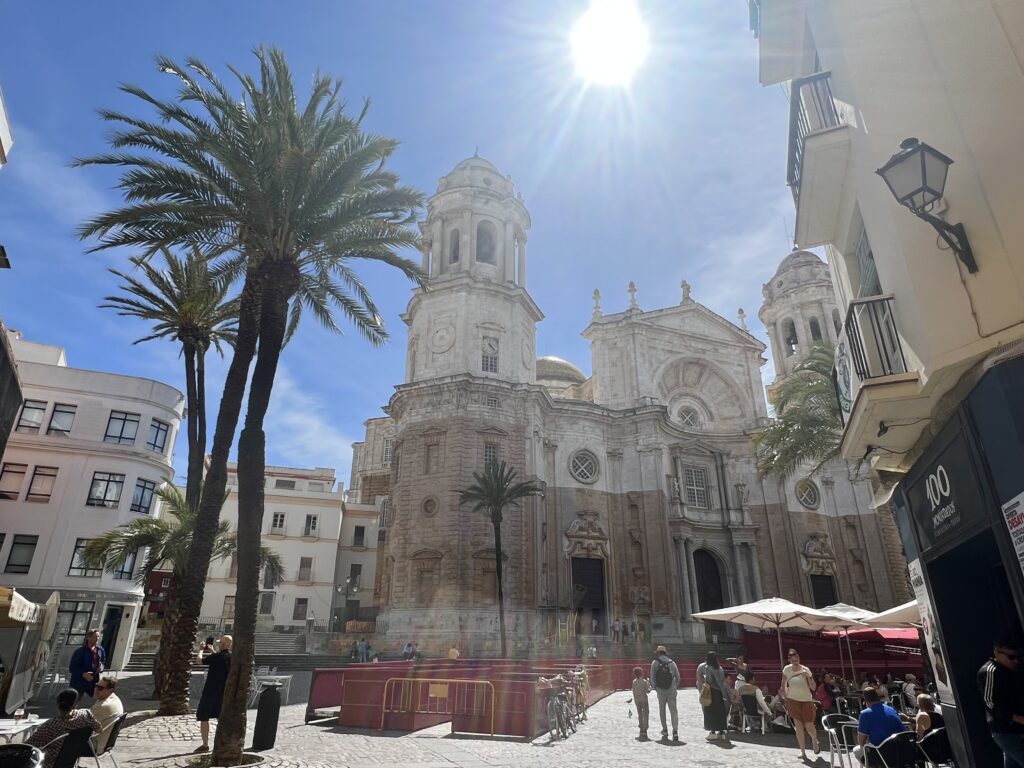 One of two main landmarks in the city is Catedral de Cádiz. It's giant and can be see from many vantage points around the city. We're not sure what the staging outside the Cathedral was from, maybe leftover from the Easter holiday? While we didn't go inside the Cathedral, we did pass it at night, and it was simply beautiful.
Teatro Romano de Cádiz
Similar to the Teatro Romano that I saw in Malaga, Cádiz also recently discovered an old Roman Theatre. The remains of Teatro Romano de Cádiz are only partially excavated and were discovered in 1980.
We didn't realize it had certain opening times and was fenced off, unlike the theatre in Malaga. Since we had limited time and it wasn't all that big of an area, we decided to take a few pictures between some fence openings and continue on our way.
Dining out in Cádiz
Like many cities in Spain, there is usually a main market or two. Cádiz has its Central Market and through a couple Facebook groups, we learned of a few restaurants to check out.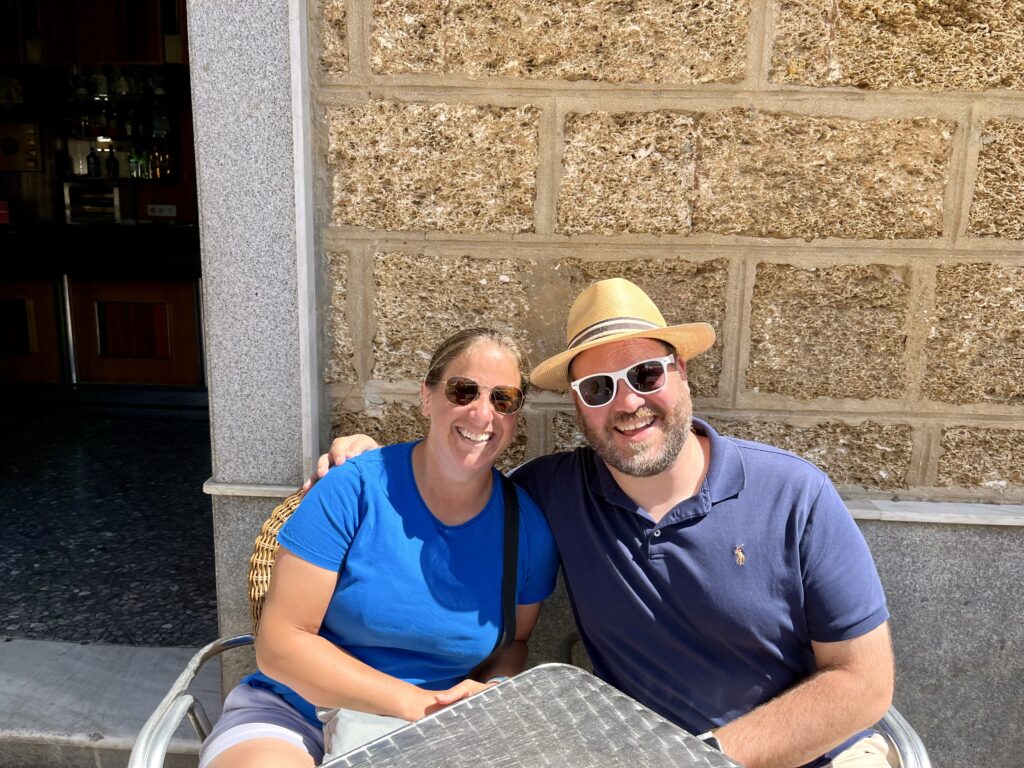 Casa Lazo
Casa Lazo is an old school place I learned of in the James Blick Spain Revealed Facebook group. It was perfect and we almost went back on our second night. Nik and I shared a piece of grilled fish over some glasses of wine.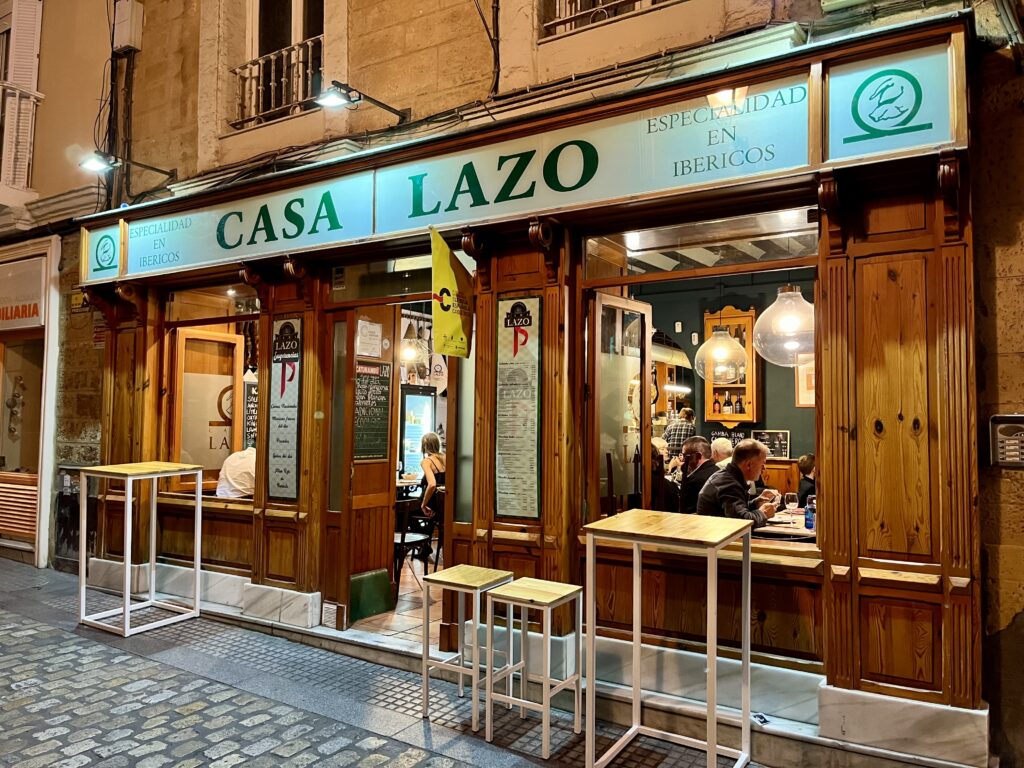 La Candela
I don't know why we didn't eat more at Casa Lazo, but when we got hungry for a later meal, we went to La Candela which had rave reviews in that same Facebook group. Described as a fusion tapas bar, we sat at the counter and shared a pork taco for an app and an overly large porterhouse steak that came with a generous portion of fries and padron peppers on top.
Both were very good, but we definitely didn't need the giant steak.
Central Market
Quite possibly our favorite place we went to during our trip to Cádiz was the Central Market.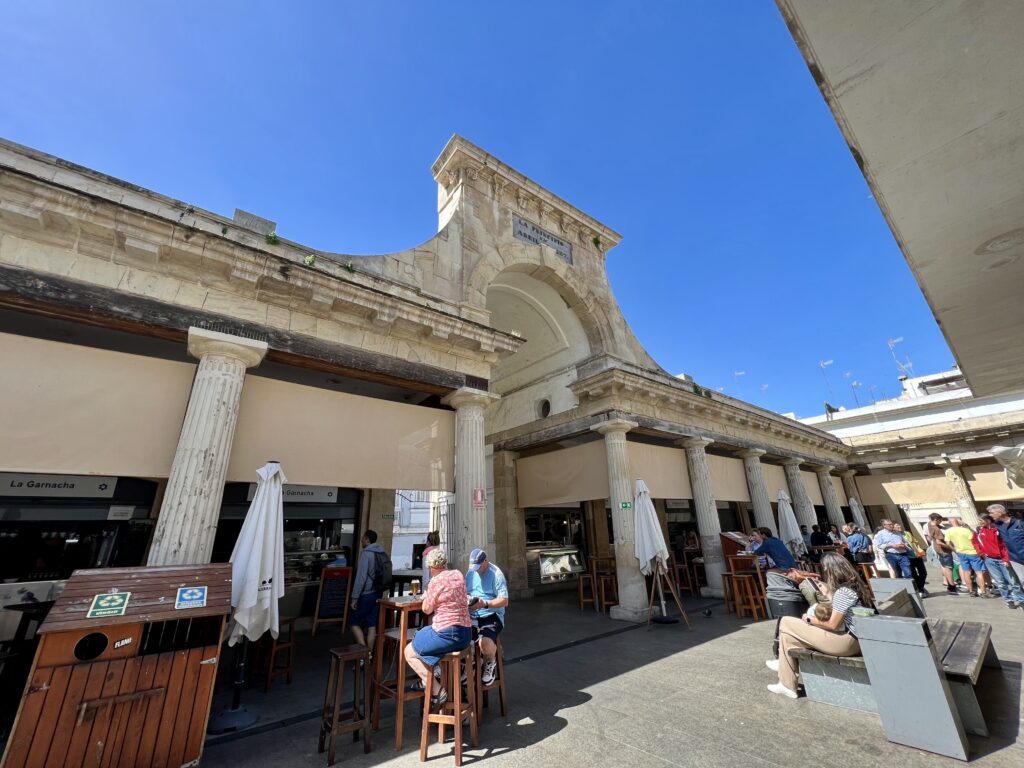 The market's perimeter is made of old columns and is open air. It's lined with little eateries and stalls selling meats, cheeses and other specialty products. In the center of the square is a large covered space full of meat, seafood, fruit and vegetable stands.
We started our visit to the market shortly after it opened in the morning with pints of Cruzcampo beer, one of the biggest beer brands in Spain, and a portion of Chicharrónes, more commonly known as fried pork rinds.
We then proceeded to spend a couple hours enjoying the sun and drinking beers from the La Cervecería Del Mercado. The market was a hotspot for tourists coming off cruise ships, most of whom were from he UK.
Cabin Beer Bar
A spot we went two twice was Cabin Beer Bar. Nik learned of it from the Man vs. Globe Travel Blog in a Cádiz craft beer post. One or two of the places mentioned in the post have since closed but it was helpful for our planning purposes. Cabin Beer Bar had a good variety of beers on draft and in cans. They had a large outdoor presence full of wooden picnic tables.
Onto Sevilla!
That about wraps up our trip to Cádiz. It was cute and easy walking and we were very content with our two night stay. We hit the road after breakfast to drive to Sevilla for our two night stay there.